Tarifa is a small town in the South of Spain situated at the Strait of Gibraltar, where the Atlantic and Mediterranean meet. It directly faces Morocco in Africa. Tarifa is a melting pot of traditions from both Africa and Spain. You cannot ignore the touches of this influence in music, food, and architecture. Tarifa is also famously considered the European capital of Kite Surfing because of the strong winds that blow through the town due to its location. It is also considered an ideal place to see different types of sea life and you can catch glimpses of dolphins, Orcas, and even whales. And different species of birds visit the town during their migration from and to Africa. Tarifa has a lot to offer with its magnificent beaches, adventurous sports, unspoiled natural parks, beautiful views of Africa, history, and good restaurants.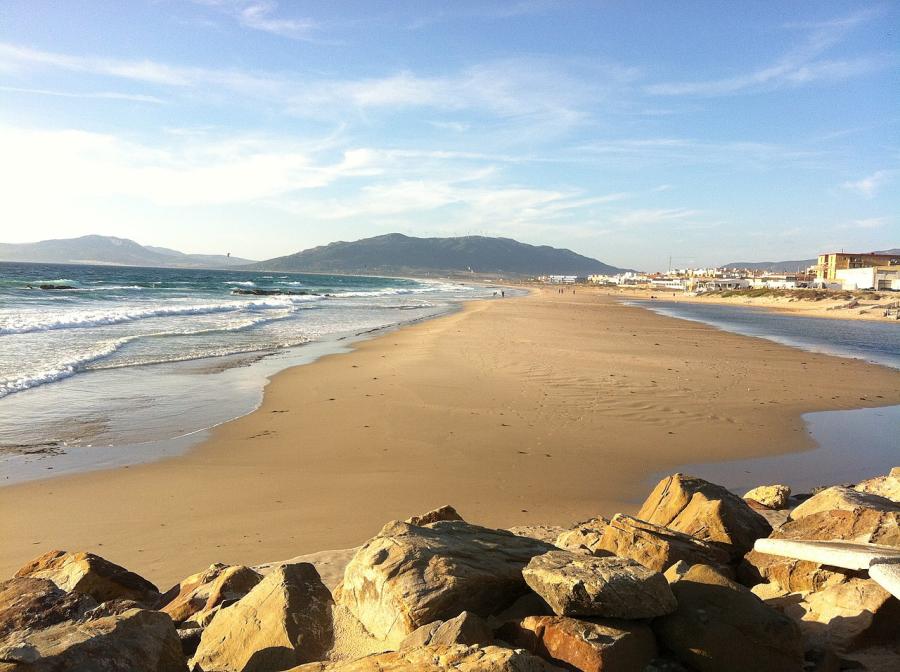 Why should people stay in Tarifa during the winter?
Tarifa is a good location for snowbirds that like to spend their winter in a compact town, with a lot of history, that is bursting with energy. The town has something to offer to everyone – whether you're you like to watch people kite surfing, love to walk, go horse riding, or you like to find a nice restaurant with a local Flamenco singer that can entertain you – Tarifa can be the right place for you! The low season has a lot to offer, and finding an apartment or house is easier and cheaper than in the busy summer season.
Climate
Tarifa boasts a Mediterranean climate with warm summers and very mild winters. The influence of the ocean has the effect of a smaller annual variation in temperature. But you can expect a lot of wind on some days, and the Atlantic Ocean will also bring clouds and some rainy days. The average winter day temperature is around 18°C (64°F). The nights can be a lot colder, so check that your apartment or house has some sort of heating.

Things to see in Tarifa
Tarifa has a lot to offer its vistors
Playa de los Lances is famous for being the best kite and windsurfing spot in Europe. Los Lances morphs into Valdevaqueros beach further up north.
Playa de Valdevaqueros is connected to the Los Lances beach. It has a bizarre landscape due to the strong winds which make the sand dunes change its shape almost like a desert.
Puerta de Jerez is the only survived medieval entrance to the city.
The old town with its narrow streets, white houses and typical Andalusian courtyards with bright blue doors and window frames. It gives you a glimpse of the Moroccan Influence.
Plaza de Santa Maria is located in the old town and has many famous architectural monuments, and buildings like the city hall and the local Library.
Castillo de Guzmán el Bueno is one of the most well-preserved medieval buildings in Spain. From the tower you have a beautiful 360 degrees views over Tarifa and the Strait of Gibraltar.
Iglesia San Francisco de Asis was built between 1794 and 1797. It has been extensively renovated and now has resulted in the Baroque and Neoclassical hybrid we see today.
Iglesia de San Mateo is located on a street in the old town named after the Christian King who captured Tarifa from the Moors in 1292 (Sancho IV "The Brave"). The stunning Baroque façade dates from the late 18th century, whilst the church itself was built during the early 1500s.
Things to see not far from Tarifa
There are a lot of places you can visit near Tarifa when you are done exploring the town itself. Here are some options:
Parque Natural del Estrecho: This is a natural park, located on the northern side of the Strait of Gibraltar. It has a strategic location, at the point where the Atlantic Ocean and the Mediterranean Sea meet in the Strait of Gibraltar. It is a place often used for many species of birds migrating to and from Africa.
Parque Natural de los Alcornocales: Just north of Tarifa, it is home to the biggest forest of cork oak trees in Spain. This is also a great place for a walk and admiring the park's outstanding natural beauty.
Playa de Bolonia is a splendid beach boasting clear waters and white sands. It is a popular day-trip and weekend destination for locals from both Tarifa and Cádiz. Located 25 km (16 Miles) north of Tarifa, it's also a kite and windsurfers' heaven.
Gibraltar: 44 km (27 Miles) from Tarifa. It is a British Overseas Territory located at the southern tip of the Iberian Peninsula. Gibraltar is most famous for The Rock of Gibraltar, a 426 meter (1398 feet) high limestone rock rising out of the sea. The rock can be seen for many miles.
Jerez: This is a Spanish city located 130 km (81 Miles) northwest of Tarifa and has its own airport. Most famous for its sherry, horses and flamenco, the city of Jerez should not be missed if you're traveling to southern Spain.
Activities in Tarifa in the winter
Visitors have plenty to do during their stay in Tarifa. Some of them include:
Walking: There are a lot of interesting walks for visitors to enjoy the landscape. Check with the local tourist office for more information.
Yoga retreats: A refreshing and healthy way to enjoy and connect to nature.
Nature walks: There are several organizations that organize nature walks in various parks in the region.
Bird Watching: Because of its location near Africa, Tarifa is host to several bird species migrating to or from Africa.
Language Schools: Learn the Spanish language in language centers to make your experience more interesting and widen your horizon.
Wine tours: for an exclusive taste of the Spanish way of life.
Nightlife: The nightlife in Tarifa is vibrant and interesting with often musical concerts by local Flamenco singers in local bars.
Cycling: There are many nice routes.
Nautical activities: Sailing, scuba diving, kayaking, and recreational fishing on the sea.
Kite Surfing and Wind Surfing: If you are interested, Tarifa is because of the wind conditions, basically a kite surfing haven. Besides kite surfing, you can also learn how to windsurf in Tarifa in a ton of good schools around town.
Whale Watching: Not into high-adrenalin wetsuit experiences? Tarifa is also one of Europe's top whale-watching destinations.
Horse riding: Several stables offer horseback riding. Explore the rocky landscape and coastal area around the region.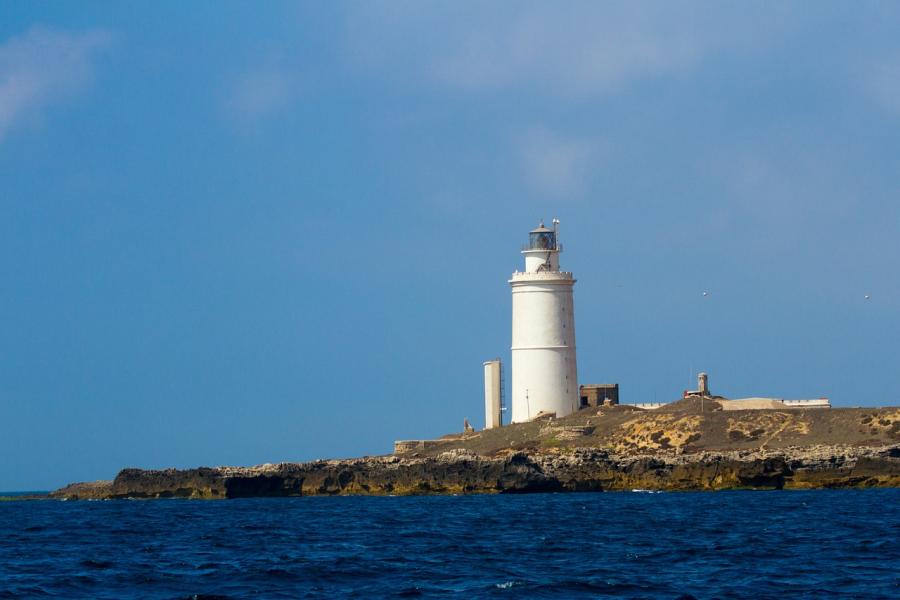 Shopping + Restaurants. Are they open in the winter?
Some of the restaurants and shops will be closed, or only open in the weekends in the winter season, but more then enough will remain open. Tarifa has everything ranging from streets lined with shops to high-end designer boutiques. The Mercado Publico de Tarifa is a huge building right on the edge of the walled old town. This indoor market sells fresh seafood and other goods. Calle Batalla del Salado is the main shopping street with many sporting goods and household items as well.
Tarifa is famous for its wonderful seafood dishes. Mouth-watering local dishes include fresh tuna, sea bass, the traditional tapas, and the tasty house wine. There are many cafés and restaurants where visitors can enjoy authentic Spanish cuisine.
Transport
Tarifa itself has no airport but you have a few options if you are flying in or out. The nearest airports to Tarifa are Gibraltar Airport which is 43.9 km (27 Miles) and Jerez Airport which is 128.4 km (80 Miles), but both do not have a lot of flights in the winter season. A little bit further is Malaga (around 1.5 hours by car), which has the most flights.
The town's bus station is at the end of the main shopping street, Calle Batalla del Salado, and next to the petrol station. There are several buses a day to nearby villages and cities like Cadiz, Sevilla (€32 (approx. $38, £28, $49 CAD, $50 AUD) round-trip), and Algeciras.
Taxis are also a convenient but more costly means of transport around the region.
If you have a car, parking is easy in the winter season and free.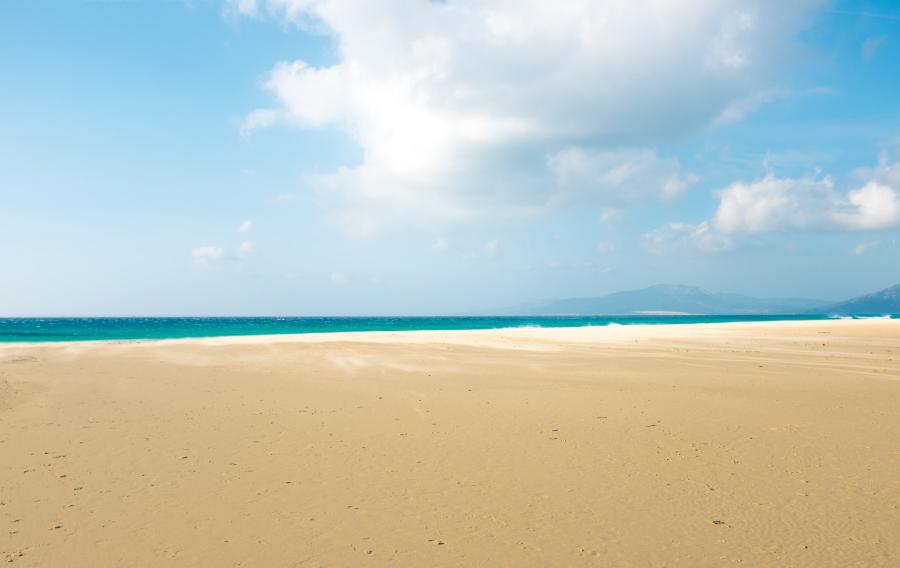 Health
Tarifa town has a public health center, Tarifa Centro de Salud, and private clinics like Clinica Playa Tarifa for its residents and visitors. It is open during weekdays from 8 am till 9 pm whereas the emergency unit remains open 24/7 throughout the week. The doctors are competent, and you will be fine with English. There are also several dentists in Tarifa.
Accommodation
During the summer months, the whole area can be quite expensive, but during the low season prices come down a lot. If you are an early booker and rent something for a longer period, you can find really good deals, even with sea view for a fraction from the summer price. Always make sure that there is some kind of heating, as nights can get cold. To do some research and gather information about rentals in Tarifa some websites are mentioned below:
Winter Camping
Finding a winter camping near Tarifa is not difficult. You can find lots of information about campsites at https://www.eurocampings.co.uk/spain/andalusia/cadiz/tarifa/. Some of the campsites are: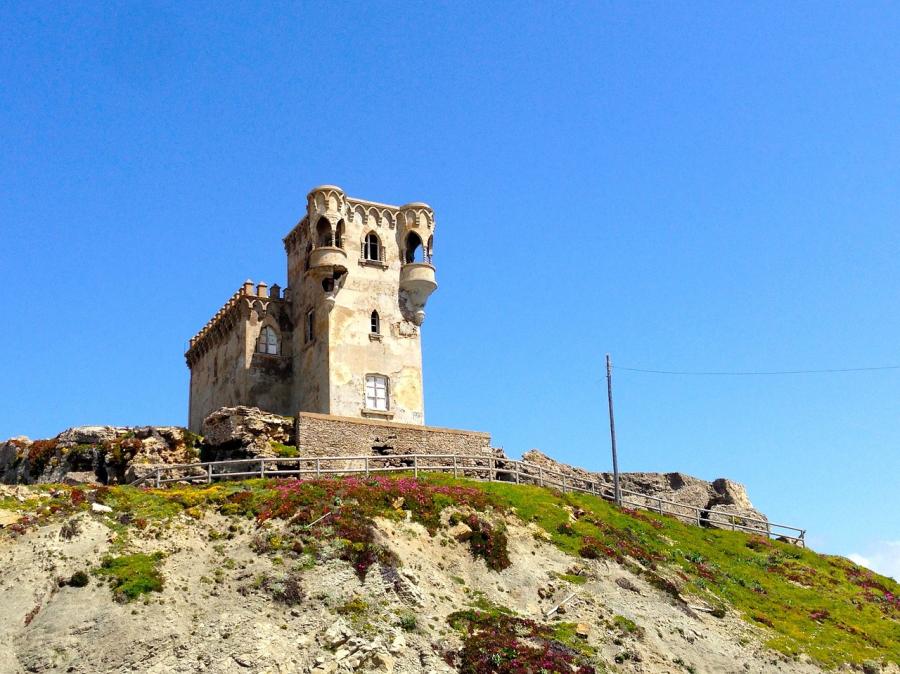 RV/Campers/Motorhome
If you own a campervan or RV you can enjoy the landscape and views by camping at a few of the well-equipped campsites around the region. Some of the campsites with their websites are mentioned below:
Packing List
Weather: The winter weather in Tarifa (Spain) will normally be warm during the day and can be cold during the night. You have to pack accordingly.

Warm clothing: Even when you go to a warm location like Tarifa (Spain) you should not forget to take some things with you for your trip back home. When you return you are adapted to the warmer weather and need something to protect you from your hometown temperatures.

Consider the Weather: Always look at the type of weather in Tarifa (Spain). Things like humidity, wind, and rain do not show up in the temperature graph but can have a great impact on your wardrobe. There are several sites with long term forecasts and climate information. Is there often a short afternoon downpour like in the tropics, you maybe need to take a strong umbrella and shoos that can cope with the rain. If there is often a lot of wind you might need a more wind-resistant coat.

Check the local Shopping options: Try to find information about the local shopping options near your location in Tarifa (Spain). Are there stores where you can buy all your daily supplies, or are some things difficult to get? For some more remote locations, the options can be limited. If a certain item is really important for you might need to take it with you.

Look at the Local Culture: The local culture in Tarifa (Spain) can impact your wardrobe. If most activities are in more upscale locations you might take some more appropriate clothes with you. Or travelling if you travel to certain countries women need to cover themselves in certain areas.

Amenities: Know what's Included in your house or apartment. Is there a coffee maker, a toaster, a washer and dryer, an iron, what is in the kitchen, what kind of towels are there? Things that are there means you do not have to take them with you. A furnished apartment or house can mean something from a few pieces of furniture to a well-stocked place with all the things you have at home. But most of the time your rental will not be stocked.

Mix and match: Wear layers so you can use your wardrobe more efficiently. And do not worry about wearing something more often, probably only you will notice this.

Important for you: If there is something that is really important for you that you want to have present in your house or apartment, take it with you. This can be something like a special knife for the kitchen, or a small mirror that you use in the morning. You can also purchase it locally if it is not that expensive.

Pet supplies: If you take your pet with you don't forget to take supplies for a few days with you. And enough medication, vitamins, or other supplies if you can not purchase them in Tarifa (Spain) locally.

Food: Don't take a lot of food with you. Only when there is something you really can not live without you, and it is not too heavy you could consider taking it with you.

Towels: Not all locations include bigger towels for the swimming pool or a visit to the beach. If you have to take them and don't have a lot of room you can buy some big thin towels.

Office supplies: Normally you will not find any office supplies in your house or apartment. If you think you will use them you could pack some supplies like a scissor, notepaper, envelopes, some pens, and more depending on your needs.

Limit yourself: Don't take too many shoes and jackets, you will not need them that often.

Best-fitting: Bring your favorite and best-fitting items that can multi-function

Washer: Do you have a washer and dryer onsite, you don't need to pack a lot of clothes
Clothing
Basics
Casual
Smart
Footwear
Toiletries
Beauty
Hygiene
Clothing
Basics
Casual
Outdoor
Footwear
Accessories
Toiletries
Medicine
Miscellaneous
Other
Toiletries
Beauty
Hygiene
Hair
Other
Medicine
Miscellaneous
Technology
Travel and Free time
Travel
Free time
Important
Documents
Money