What to do in September in Torrevieja, Spain - 2024
Torrevieja (in Valencian Torrevella) is a Spanish municipality located in the province of Alicante in the Autonomous Community of Valencia.
Torrevieja is the fifth largest city by number of inhabitants in the Valencian Community and the third in the province of Alicante.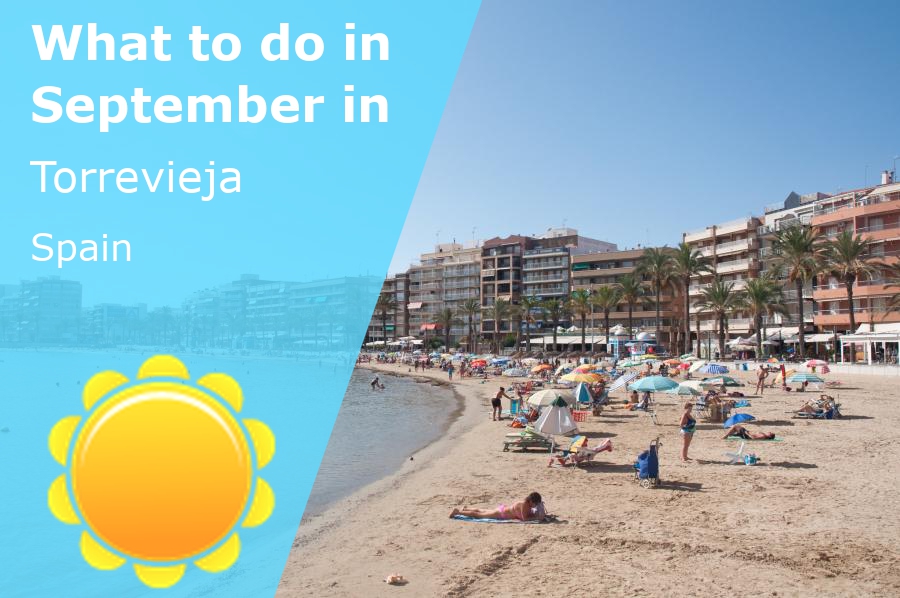 Before we have a look at what you can do in Torrevieja, let's first look at the weather you can expect in September.


September weather in Torrevieja Spain
To get a good overview of the type of weather you can expect in September in Torrevieja Spain, we will look at the day and night temperature, minimum and maximum water temperature, and if September is comfortable or humid
Generally, September in Torrevieja Spain will be really nice. Historical data shows that you can expect an average temperature of around 84°F / 29°C. As the humidty is low, it will feel very comfortable. During the night, it will cool down to around 64°F / 18°C.
Torrevieja Spain does not have a lot of rainy days in September. You can expect around 2 rainy days, with on average 0.2 inches / 4 mm of rain during the whole month.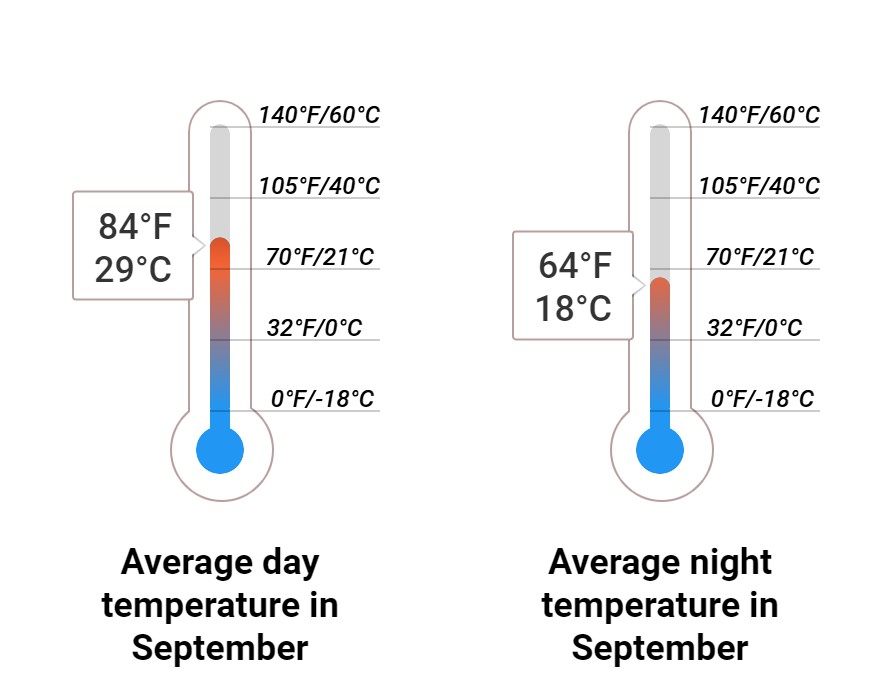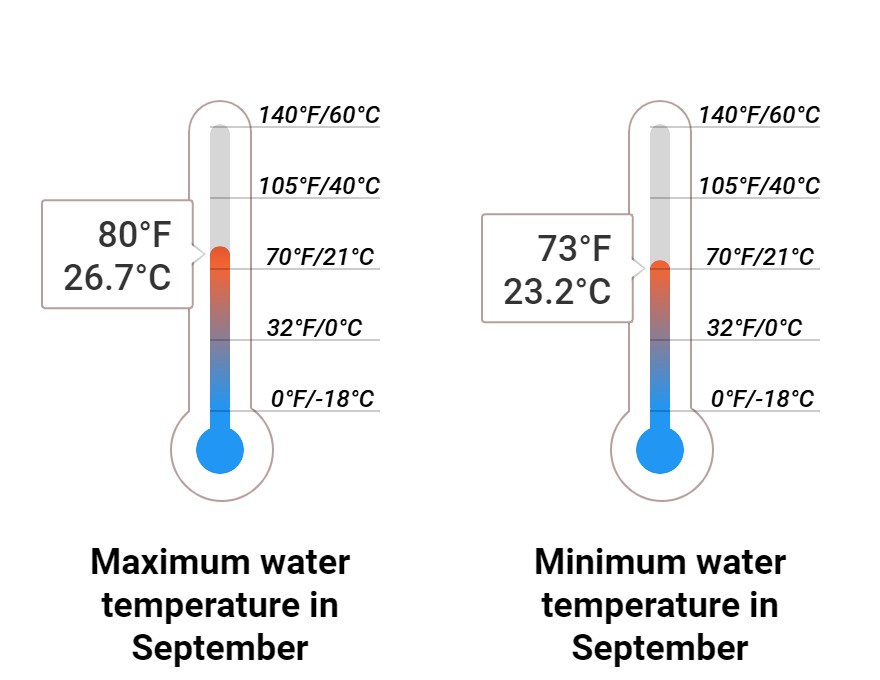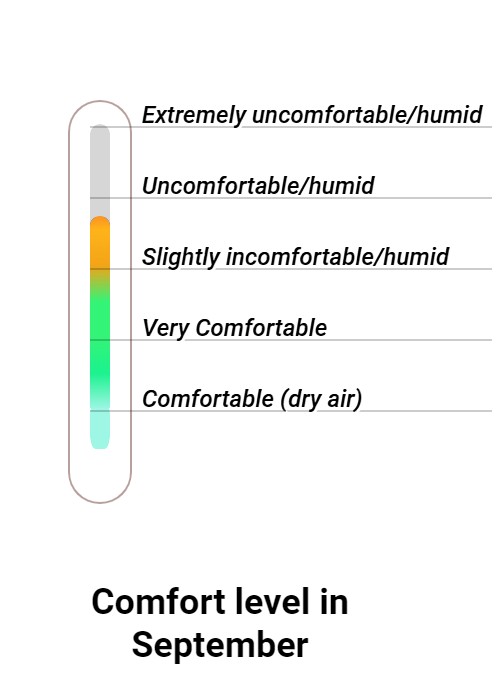 The forecast for September 2024 is based on historical data and are averages. They will give a good indication what you can expect, but the daily temperature and rain will fluctuate during the month.
Things to see and do in Torrevieja
Torrevieja has many things to soo. With help from our visitors we have dived a list of things to see in. If you have any sugestions or improvements for this list, please let us know.
Playa del Cura
Playa del Cura is a beach ideal for toddlers. There are ice cream vendors and hotels here.
Las Salinas de Torrevieja
Las Salinas de Torrevieja has two vast salt lagoons in the natural park.
La Mata Beach
La Mata Beach is ideal for surfing and walking.
Shopping in Torrevieja
Torrevieja is a lively city all year round, so you will always find shops and markets open like Centro Comercial Torrevieja - Ctra. Crevillente, km 34-400, 03184
Activities in Torrevieja
Discover the museums of Torrevieja
Torrevieja has numerous museums, for example, Vista Alegre and Los Aljibes, Museum of the Sea and Salt, the Habaneras Museum or La Imprenta.
The afternoon shows
In the Auditorium of Torrevieja you can enjoy a wide range of shows, throughout the entire year, from enchantment presentations to musicals, drama and the symphonic symphony.
Visit the Natural Park of Las Lagunas de la Mata and Torrevieja
There are several walking routes in the park. From short to long. https://alicantetoday.com/natural-park-of-las-lagunas-de-la-mata-_torrevieja_20163-a.html
Celebrations on the Coming of the Three Kings
The sixth of January is an extraordinary day in Spain, as families all through the nation observe 'La Fiesta De Los Reyes', the day when the three rulers were said to show up at Bethlehem. Marches will be held all through the Costa Brava on the night of the fifth of January, and Torrevieja will, obviously, be standing its ground.
Chrismas
One of the magical periods in Spain. Most shops in the center will be full of lights.
Restaurants in Torrevieja
We suggest Restaurante Christopher - Urb.Mar Azul, R. Eliseos playa local 1., 03185
www.christopher-torrevieja.com/es/menus/
The website is also available in English.
More things to see in Torrevieja
Punta Prima Beach
It's worth visiting beach close to the famous Nautilus Restaurant. It also has good access for disabled people through a lift. Also, a good place to start your coastal walk.
Open Air Markets
Every Friday there is one of the largest open-air markets in which all kinds of foods, groceries, clothes, textiles, and accessories are sold. Street markets can be easily found in different areas of the town on every day of the week. La Florida has a small market on Saturday every week.
Lined with bars and restaurants, everything from 'traditional Irish bars to ice-cream parlors, you will always find somewhere to sit outside and take in the stunning views and for people watching. A lovely walk right along the boardwalk.
Torrevieja Landmarks
Dique deLevante Breakwater, Iglesia de la inmaculada Conception, Sociedad Cultural Casino de Torrevieja, Plaza waldo calero
Museum of Sea salt
Lean about the salt and how it was mined around Torrevieja.
A day at the Spa
If it is too cold for the mud bath, or just to relax, you can visit a spa. Check the Thalasia Spa: https://www.thalasia.com/en-GB/planes-balneario.aspx
La Mata Beach
La Mata beach has something for everyone young or old a great place to lounge or walks and access for all is good. Plenty of bars and restaurants a great promenade.
Playa De Cura
Beautiful stretch of seafront right in the middle of Torrevieja. Winter is the perfect time to enjoy the beaches around Torrevieja. Now they are free of the many tourists that are there during the summer.
Lo Pagan mud baths
Take some mud from under the piers, spread it on all over. When it is dry go down to the very salty water and wash it off. Supposedly good for muscle, skin, aches, and pains. It can be cold in the winter.
Las Salinas de Torrevieja
True Spanish countryside beside a beautiful pink lake. If it is not too cold, you can go into the lake and float as if you were in the Dead Sea. Wear something on your feet, and it gets a bit squishy between your toes, and Fresh Water for drinking and to wash the mud and salt off afterward.
Torrevieja Floating Museum
Visit the 2 drifting historical 'museums'. One is housed inside the Submarine S61 Delfin (Dolphin) and the other in a former Customs Surveillance ship.
Salt lakes Torrevieja
Two colorful salt lakes are part of the Las Salinas de Torrevieja nature reserve. One lake is bubblegum pink, and the other is green-tinted. It is possible to swim in the salt lake.
Golf
20km from Torrevieja, La Finca Golf and Spa Resort is a good place for a round of golf.
More information about Torrevieja Spain
What to do in Torrevieja Spain in other months
Weather in Torrevieja Spain for each month