Spend your fall, winter, or spring in Torrevieja, Spain: Is Torrevieja a good snowbird location?
Torrevieja is a city in Spain's southeastern province of Alicante, on the Costa Blanca. It's well known for its Mediterranean climate and coastline. Its located approximately 40 minutes south of Alicante airport. This city has amazing gardens, tremendous beaches, and pools with delicate sand and crystal clear waters.
Like many of today's coastal resorts, Torrevieja's origins are heavily linked with fishing and the Mediterranean trade routes. This city was a safe haven for passing fishermen and sailors to protect themselves from storms. Some of these sheltering seamen decided to stay and make this area their new home, the town of Torrevieja. Many of these new inhabitants were from what is now the West coast of Italy, which is still evident today from the number of Italian surnames in the Torrevieja area.
Torrevieja has been a key producer of salt for many generations. The name Torrevieja (literal meaning Old Tower) comes from the Old Watch Tower that was located in the salt beds near the salt pier and used to keep an eye over this valuable mineral before it set off on its long journey overseas. Whilst salt extraction is still big business in the area, today, 2 of these unique lagoons are now the heart of the La Mata and Torrevieja Lagoons Nature Reserve. Together, these 2 protected reserves cover a total of 3,700 Hectares, 52% of the reserve, and are home to a large variety of animal and plant species making them a key tourist attraction in the area.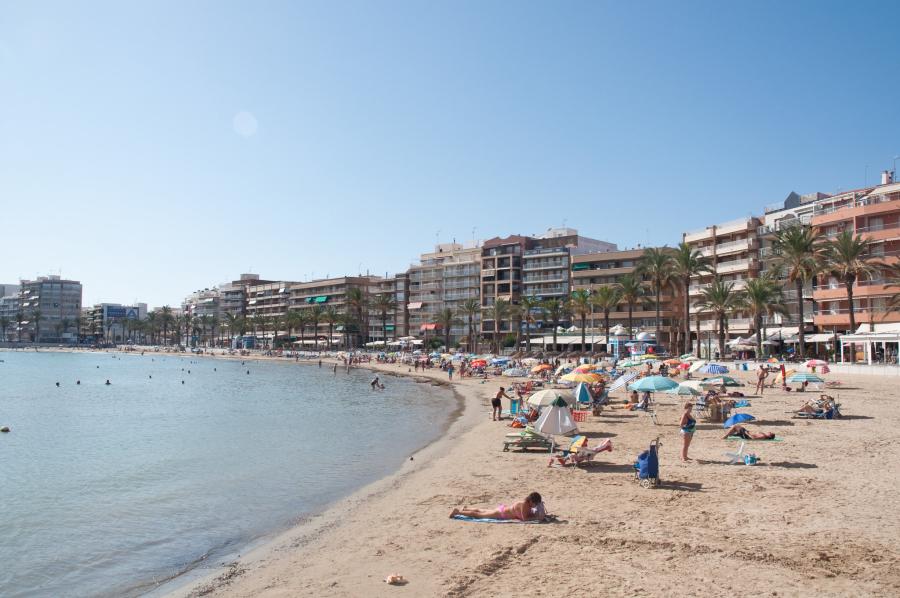 Why should people stay in Torrevieja during the fall, winter, or spring?
Torrevieja is a good choice if you are looking for a lively place, not far from Alicante that has enough open restaurants and shops. The Mediterranean climate means a mild winter with not a lot of rain and average temperatures from 16°C - 24°C (61°F - 75°F)16 to 24. Most days will be sunny or partly cloudy, and there only will be a few days with some rain. For the winter period, you can find good deals for apartments and houses, and if you are camping, there are multiple options as well.
Climate
Torrevieja has typical Mediterranean weather with a relatively mild summer and mild winter. The winter sees a lot of sunshine and the days can be really nice with temperatures that can exceed 20°C (68°F).

Things to see in Torrevieja
Lo Pagan mud baths: Take some mud from under the piers, spread it on all over. When it is dry go down to the very salty water and wash it off. Supposedly good for muscle, skin, aches, and pains. It can be cold in the winter.
A day at the Spa. If it is too cold for the mud bath, or just to relax, you can visit a spa. Check the Thalasia Spa: https://www.thalasia.com/en-GB/planes-balneario.aspx
Golf: 20km from Torrevieja, La Finca Golf and Spa Resort is a good place for a round of golf.
Salt lakes Torrevieja: There are two colorful salt lakes that are part of the Las Salinas de Torrevieja nature reserver. One lake is bubblegum pink and the other is green-tinted. It is possible to swim in the salt lake.
Open Air Markets: Every Friday there is one of the largest open-air markets in which all kinds of foods, groceries, clothes, textiles, and accessories are sold. Street markets can be easily found in different areas of the town on every day of the week. La Florida has a small market on Saturday every week.
Torrevieja Floating Museum: Visit the 2 drifting historical 'museums'. One is housed inside the Submarine S61 Delfin (Dolphin) and the other in a former Customs Surveillance ship.
Museum of Sea salt: Lean about the salt and how it was mined around Torrevieja.
Famous Beaches. The winter is the perfect time to enjoy the beaches around Torrevieja. Now they are free of the many tourists that are there during the summer.

Punta Prima Beach: It's worth visiting beach close to the famous Nautilus Restaurant. It also has good access for disabled people through a lift. Also, a good place to start your coastal walk.
Las Salinas de Torrevieja: True Spanish countryside beside a beautiful pink lake.
If it is not too cold you can go into the lake and float as if you were in the Dead Sea. Wear something on your feet and it gets a bit squishy between your toes, and Fresh Water for drinking and to wash the mud and salt off afterward.
Playa De Cura: Beautiful stretch of seafront right in the middle of Torrevieja.
Lined with bars and restaurants, everything from 'traditional Irish bars to ice-cream parlors, you will always find somewhere to sit outside and take in the stunning views and for people watching. A lovely walk right along the boardwalk.
La Mata Beach: La Mata beach has something for everyone young or old a great place to lounge or walks and access for all is good. Plenty of bars and restaurants a great promenade.
Torrevieja Landmarks:
Dique deLevante Breakwater
Iglesia de la inmaculada Conception
Sociedad Cultural Casino de Torrevieja
Plaza waldo calero
Things to see not far from Torrevieja
Visit some of the beaches between Torrevieja and Alicante
Torre del Moro: It is located in Cabo Cervera, one of the highest points of Torrevieja.
Calas: One of the best known is the Cala Ferrís, located to the south of the town center and surrounded by numerous palm trees.
Daytrip to Alicante
Daytrip to Murcia
Daytrip to Cartagena
Activities in Torrevieja in the fall, winter, or spring
Visitors can fill up their days by doing a variety of activities around the city and nearby countryside. Some of them are:
Visit the Natural Park of Las Lagunas de la Mata and Torrevieja: There are several walking routes in the park. From short to long. https://alicantetoday.com/natural-park-of-las-lagunas-de-la-mata-_torrevieja_20163-a.html
Discover the museums of Torrevieja: Torrevieja has numerous museums, for example, Vista Alegre and Los Aljibes, Museum of the Sea and Salt, the Habaneras Museum or La Imprenta.
 The afternoon shows: In the Auditorium of Torrevieja you can enjoy a wide range of shows, throughout the entire year, from enchantment presentations to musicals, drama and the symphonic symphony.
Christmas: One of the magical periods in Spain. Most shops in the center will be full of lights.
Celebrations on the Coming of the Three Kings: The sixth of January is an extraordinary day in Spain, as families all through the nation observe 'La Fiesta De Los Reyes', the day when the three rulers were said to show up at Bethlehem. Marches will be held all through the Costa Brava on the night of the fifth of January, and Torrevieja will, obviously, be standing its ground.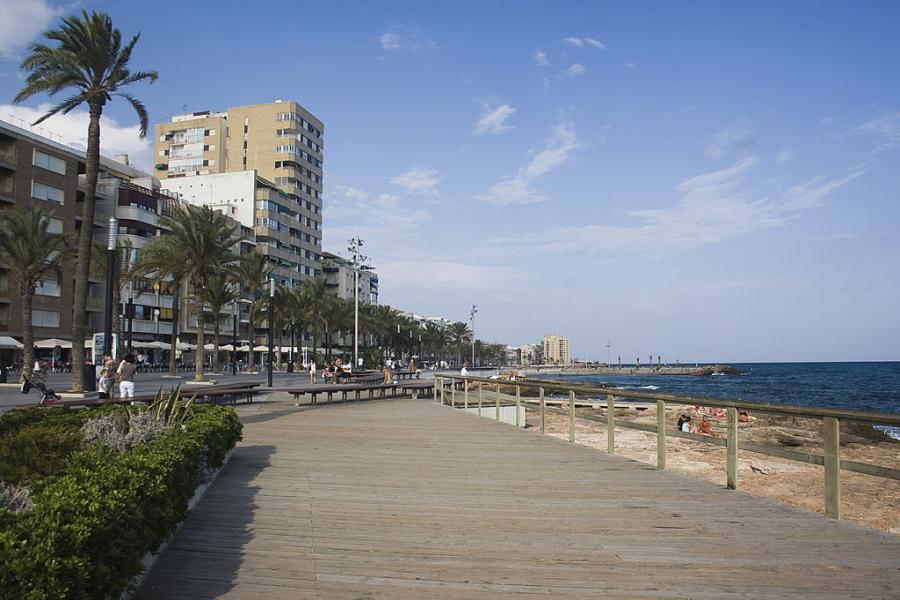 Shopping + Restaurants. Are they open in the fall, winter, or spring?
Not all the shops and restaurants in Torrevieja will be open in the winter. But due to the number of winter visitors there is a good selection that is open. Many of the tourist shops will be closed.
Habanera shopping center: With ample underground parking this is a very nice open-air Shopping Centre, with a great variety of shops, the top floor has various eateries It's situated next door to a huge Hypermarket, worth a visit. It's open throughout the year.
Punta Prima is about 4 km (2 Miles)

from Torrevieja. There are a lot of places to eat to choose from and practically nothing shuts at any time of the year.

The busy Friday street market in Torrevieja is one of the biggest in the region. In the winter it will be smaller, but still have more than enough stalls.
Dining: Torrevieja serves the best food variety from fast food to sea food, from budget to more expensive choices. Traditional Spanish, German, English, and Italian food are widely popular. 'Barlovento' is a traditional fish restaurant; the most interesting part of this restaurant is that you can select your seafood from the aquarium inside the restaurant.
Transport
– Car
If you visit Torrevieja by car you can access the town easily by using the AP7 Toll road, which runs from Alicante to Cartagena. In Torrevieja parking is mostly free, and finding a spot in the winter season is easy.
– Airport
The nearest airport is in Alicante, a 40 min drive. There is an express bus from the airport to Torrevieja. There is a bus (Costa Azul bus) from Alicante airport to Torrevieja that takes about 1 hour and runs every two hours from 08:00 am to 10:00 pm.
Or you can use Murcia International airport that is about 50 min away. But in general, Alicante has a better choice of flights.
– Bus
The Torrevieja bus station is located at Calle del Mar, 40. Is serves both the local city buses as express busses to Alicante, Cartagena, and Murcia. See https://torrevieja.com/horario-de-autobuses/
– Train
Torrevieja does not have a train station.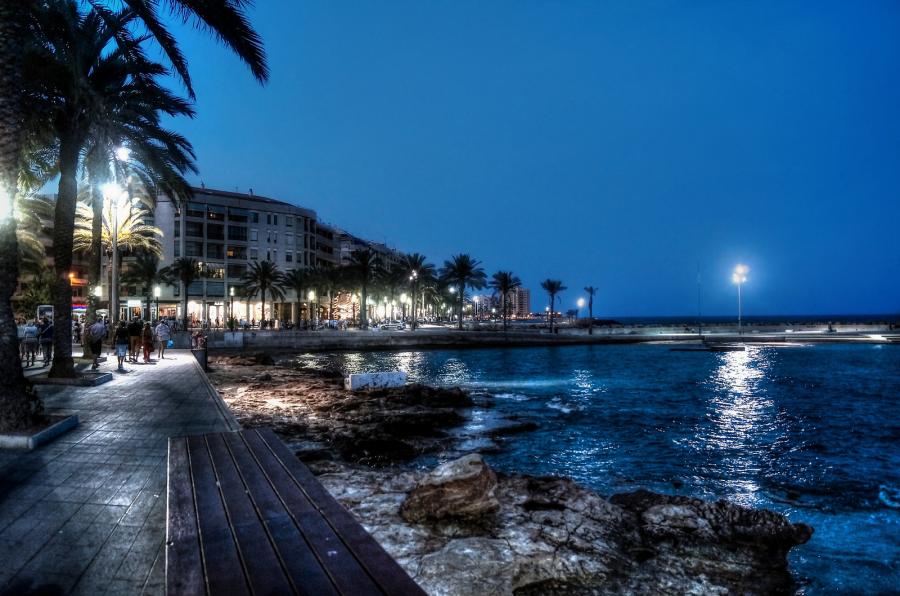 Health
Due to the many international visitors, Torrevieja has many places with English speaking doctors, dentists, and pharmacies. Also at the hospital, you will find enough English speaking staff.
Torrevieja has its own hospital: Hospital Quirón Torrevieja, Partida de la Loma, s/n. It is Open 24 hours and has English speaking staff.
Accommodation
Torrevieja has a large selection of apartments and rentals for longer periods.
You can expect prices for apartments from

€400 (approx. $431, £342, $585 CAD, $655 AUD)

per month for a small apartment.
Prices for a whole house will start from around

€700 (approx. $755, £600, $1025 CAD, $1147 AUD)

. For a large villa with a pool and not too far from Torrevieja expect prices starting at

€1000 (approx. $1079, £857, $1464 CAD, $1639 AUD)

.
Winter Camping
Torrevieja has several camping's that are open in the Winter. Both for campers, caravan's and tents. Most of them have special winter offers. As some periods in the winter can be quite busy it is advisable to make a reservation.
Camping Florantilles: just over 5 km (3 Miles) from the beach. More than 200 places with electricity, water and Wifi. Price from

€9 (approx. $9, £7, $13 CAD, $14 AUD)

for 29 days or more. https://www.campingflorantilles.com/
Camping Palm Mar: 10 min from the beach; https://www.lamerced.eu/
Camping Estrella Polar: 300 meter from the beach; 50 places; Price for a long stay (from 60 nights) from

€10 (approx. $10, £8, $14 CAD, $16 AUD)

; https://www.campingestrellapolar.com/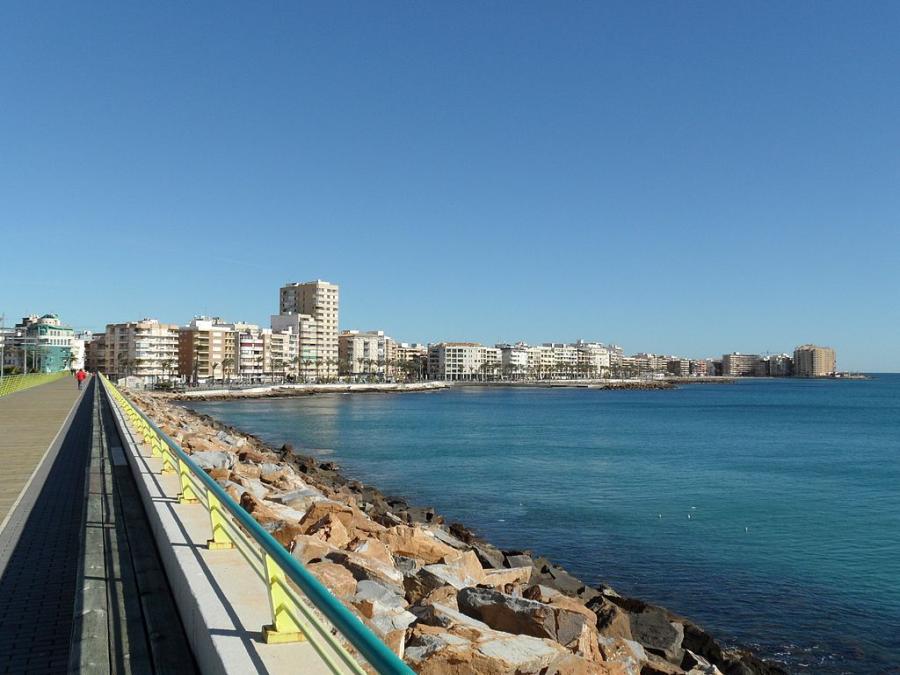 RV/Campers/Motorhome
If you have a Camper or Motorhome you can find several locations near Torrevieja.
Camper park San Fulgencio, Place 5.5 amp electricity, water connection, hot showers, WI-FI, toilets, sinks, barbecue, tank emptying; Long stay (more than 60 days) from

€10 (approx. $10, £8, $14 CAD, $16 AUD)

; https://www.camperparksanfulgencio.com/
Camper-area CP: Nice garden, Plots with water, electricity and drain, Free wifi, From

€380 (approx. $410, £325, $556 CAD, $623 AUD)

per month; https://www.escuera.com/
Packing List
Weather: The fall, winter, and spring weather in Torrevieja (Spain) will normally be warm during the day and can be cold during the night. Of course in the fall and spring it will be warmer than in the winter. You have to pack accordingly.

Warm clothing: Even when you go to a warm location like Torrevieja (Spain) you should not forget to take some things with you for your trip back home. When you return you are adapted to the warmer weather and need something to protect you from your hometown temperatures.

Consider the Weather: Always look at the type of weather in Torrevieja (Spain). Things like humidity, wind, and rain do not show up in the temperature graph but can have a great impact on your wardrobe. There are several sites with long term forecasts and climate information. Is there often a short afternoon downpour like in the tropics, you maybe need to take a strong umbrella and shoos that can cope with the rain. If there is often a lot of wind you might need a more wind-resistant coat.

Check the local Shopping options: Try to find information about the local shopping options near your location in Torrevieja (Spain). Are there stores where you can buy all your daily supplies, or are some things difficult to get? For some more remote locations, the options can be limited. If a certain item is really important for you might need to take it with you.

Look at the Local Culture: The local culture in Torrevieja (Spain) can impact your wardrobe. If most activities are in more upscale locations you might take some more appropriate clothes with you. Or travelling if you travel to certain countries women need to cover themselves in certain areas.

Amenities: Know what's Included in your house or apartment. Is there a coffee maker, a toaster, a washer and dryer, an iron, what is in the kitchen, what kind of towels are there? Things that are there means you do not have to take them with you. A furnished apartment or house can mean something from a few pieces of furniture to a well-stocked place with all the things you have at home. But most of the time your rental will not be stocked.

Mix and match: Wear layers so you can use your wardrobe more efficiently. And do not worry about wearing something more often, probably only you will notice this.

Important for you: If there is something that is really important for you that you want to have present in your house or apartment, take it with you. This can be something like a special knife for the kitchen, or a small mirror that you use in the morning. You can also purchase it locally if it is not that expensive.

Pet supplies: If you take your pet with you don't forget to take supplies for a few days with you. And enough medication, vitamins, or other supplies if you can not purchase them in Torrevieja (Spain) locally.

Food: Don't take a lot of food with you. Only when there is something you really can not live without you, and it is not too heavy you could consider taking it with you.

Towels: Not all locations include bigger towels for the swimming pool or a visit to the beach. If you have to take them and don't have a lot of room you can buy some big thin towels.

Office supplies: Normally you will not find any office supplies in your house or apartment. If you think you will use them you could pack some supplies like a scissor, notepaper, envelopes, some pens, and more depending on your needs.

Limit yourself: Don't take too many shoes and jackets, you will not need them that often.

Best-fitting: Bring your favorite and best-fitting items that can multi-function

Washer: Do you have a washer and dryer onsite, you don't need to pack a lot of clothes
Clothing
Basics
Casual
Smart
Footwear
Toiletries
Beauty
Hygiene
Clothing
Basics
Casual
Outdoor
Footwear
Accessories
Toiletries
Medicine
Miscellaneous
Other
Toiletries
Beauty
Hygiene
Hair
Other
Medicine
Miscellaneous
Technology
Travel and Free time
Travel
Free time
Important
Documents
Money
Other locations close to this location:
Travelers' Map is loading...
If you see this after your page is loaded completely, leafletJS files are missing.
If you have any additions, or comments on the content on this page, please use our contact form to let us know.
Detailed weather during the year for Torrevieja Spain
What to do during the year in Torrevieja Spain