What to do in April in Bradenton, Florida - 2023
Bradenton is a city and the county seat of Manatee County, Florida, United States.
It offers some great attractions and many activities for visitors.
Before we have a look at what you can do in Bradenton, let's first look at the weather you can expect in April.


April weather in Bradenton Florida
To get a good overview of the type of weather you can expect in April in Bradenton Florida, we will look at the day and night temperature, minimum and maximum water temperature, and if April is comfortable or humid
Generally, April in Bradenton Florida will be really nice. Historical data shows that you can expect an average temperature of around 82°F / 28°C. But due to the moderate humidity it can feel slightly uncomfortable for some. During the night, it will cool down to around 60°F / 16°C. Many will prefer a location with air conditioning due to the high humidity level.
Bradenton Florida has rainy days in April. You can expect around 7 rainy days, with on average 1.3 inches / 34 mm of rain during the whole month.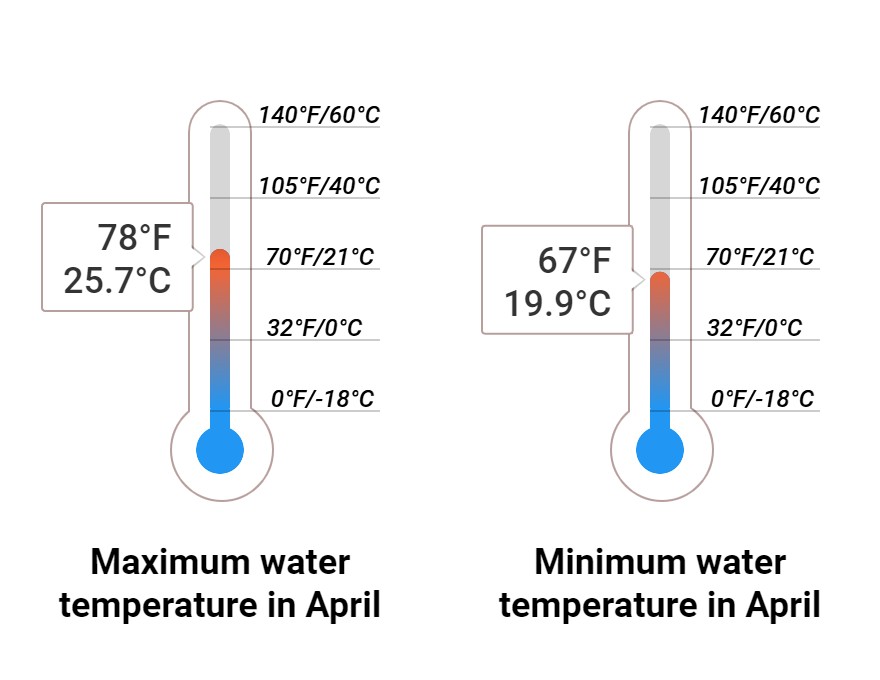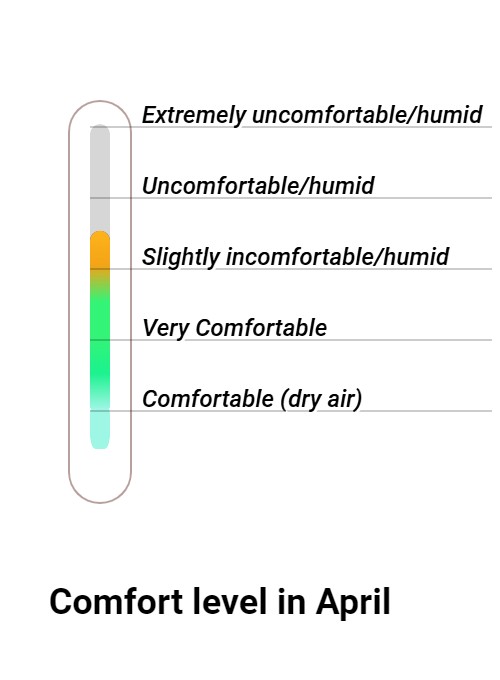 The forecast for April 2023 is based on historical data and are averages. They will give a good indication what you can expect, but the daily temperature and rain will fluctuate during the month.
Things to see and do in Bradenton
Bradenton has many things to soo. With help from our visitors we have dived a list of things to see in. If you have any sugestions or improvements for this list, please let us know.
Manatee Village Historical Park
Manatee Village Historical Park is a well-preserved place.
Lecom Park
Lecom Park is a popular baseball field home to spring training of the Pittsburgh Pirates. There are sports courts open to the public.
Red Barn Flea Market
Shopping/Eating
Throughout the Year
You will find fresh fruits and vegetables at Red Barn Flea Market.
Cortez Beach
Cortez Beach is best for swimming.
Robinson Nature Preserve
Nature/Wild Life
Throughout the Year
Robinson Nature Preserve is great for outdoor activities.
Palma Sola Botanical Park
There are so many pretty flowers and trees at Palma Sola Botanical Park.
Hunsader Farms
Nature/Wild Life
Throughout the Year
There is a store, market, zoo, and playground at Hunsader Farms.
De Soto National Memorial
Cultural
Throughout the Year
De Soto National Memorial is an ancient place.
Lake Manatee State Park
At Lake Manatee State Park, you will get a chance for different activities.
Riverwalk
Nature/Wild Life
Throughout the Year
At Riverwalk you can breathe in some fresh air.
Village of the Arts
Cultural
Throughout the Year
Village of the Arts is a beautiful display of folk art.
Bishop Museum Of Science And Nature
Museum
Throughout the Year
You will find skeletons of extinct animals at the Bishop Museum Of Science And Nature.
Shopping in Bradenton
If you love shopping in Bradenton you will find several smaller and bigger shopping centers and most major US chain present and there are also many food stores in the city.

Acapulco Tropical Supermarket
Key Food Supermarkets Bradenton
West Gate
Centre Point Commons
Cortez Plaza
Activities in Bradenton
Nautical activities
Nautical activities like boating, fishing, and scuba diving.
Horse riding
Horse riding at the coast and trails of various nature parks for experienced riders. Visitors can even take lessons from trainers.
Walking tours
Walking tours and hiking at the scenic trails in nature parks and near the coast.
Boar tour
Boat tours and Cruises during sunrise and sunsets near the beach.
Yoga
Enroll in a Yoga class at the beach.
Dancing
Join one of the dance lessons at dancing clubs and schools.
Golf
Golfing at River Run, which is a popular golf course in the region. This offers a rewarding experience for golfers of all ages and abilities.
Painting
Learning to paint at the establishment, promoting art and artist called 'Painting with a Twist' to unleash your inner creativity.
Cycling
Cycling tours of the city and the countryside.
Restaurants in Bradenton
Bradenton has a wide variety of dining options, from low-key to fine dining, in all parts of the city.

Pier 22 Restaurant Patio Catering
Ortygia
Cracker Barrel Old Country Store
Popeyes Louisiana Kitchen
RJ Gator's of Bradenton
More things to see in Bradenton
Robinsons Nature Preserve
Robinsons Nature Preserve is a vast area for the public where you can camp, have picnics, enjoy horse riding, and witness the region's flora and fauna. There is an observation tower as well.
Manatee Art Center
The Art Center Manatee is a center for art and art education. It has classrooms and a library as well. It also showcases spectacular exhibitions.
Bishop Museum of Science and Nature
The Bishop Museum of Science and Nature provides scientific and cultural knowledge of Florida, the world, and our universe. The Bishop Planetarium has educational shows about the universe.
Bradenton Riverwalk
Riverwalk Bradenton is a wonderfully scenic place to walk right along the Manatee River. As you walk, you'll see many different views. You can watch the cruise ships pass on the calm waters as the sun sets. There are also pieces of artwork for you to enjoy as well.
Downtown Bradenton
This is an exciting and developing area that offers all sorts of indoor and outdoor fun, including museums, an aquarium, a planetarium, a performing arts center; a charming park that rambles alongside Manatee River, a bustling Marina, and chic restaurants and cafes with diverse food choices. During the holiday season, this place is a hub of all festivity.
More information about Bradenton Florida
What to do in Bradenton Florida in other months
Weather in Bradenton Florida for each month