Spend your fall, winter, or spring in Bradenton, Florida: Is Bradenton a good snowbird location?
Bradenton is a friendly town located on the west coast of Florida. It is a developing suburban area with beautiful beaches. It offers some great attractions and many activities for visitors. It is strategically located near beach towns and major cities like Sarasota and Tampa, providing the residents and visitors many options to enjoy the sun, experience culture, arts, and gastronomy of the region.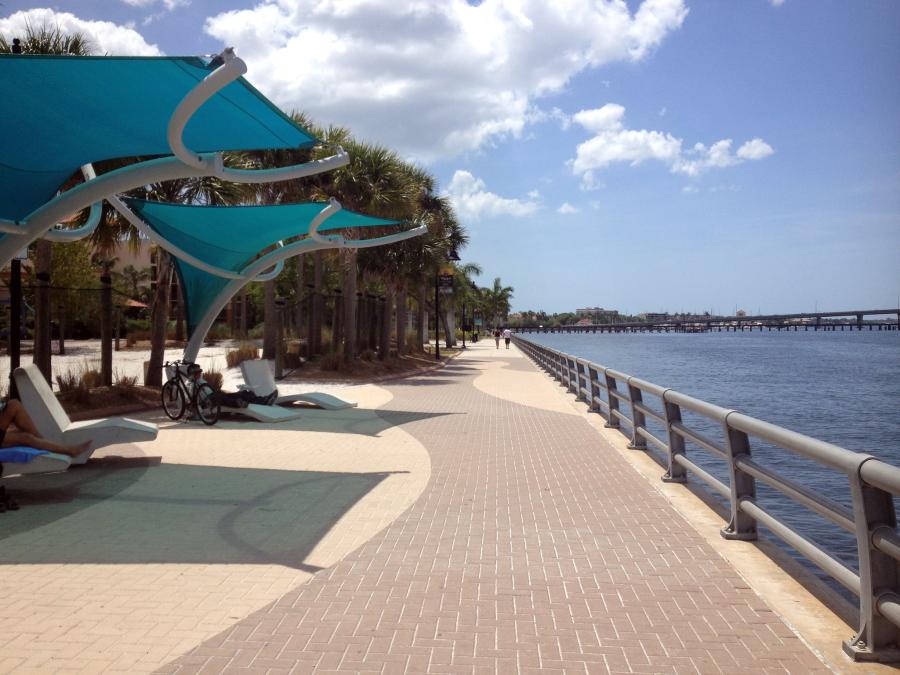 Why should people visit during the fall, winter, or spring?
Winter is a good season for visitors that are looking for nice warm weather and nice things to do. The temperature is excellent for outdoor activities, but also for just lounging at the beach. There are various nature parks in Bradenton to enjoy picnics or just a nice walk. Evening activities in Bradenton are centered in the downtown area, there you will find a wide variety of restaurants, bars, and cafes. During the winter holiday period, there will be an aura of festivity and fun throughout this period. Various markets and lighting are set up around the town which adds to the festivity.
Climate
The winter weather is mild and ideal compared to most other parts of the United States. On average there are 249 sunny days per year in Bradenton. The average temperature from November till March remains around 75°F (24°C). The night can be a little bit chilly, so pack accordingly. The winter period normally does not see hurricanes (the hurricane season is from June to November).

Things to see in Bradenton, Florida
Although Bradenton is a small town, it offers visitors some good places to explore and enjoy:
Downtown Bradenton; This is an exciting and developing area that offers all sorts of indoor and outdoor fun including museums, an aquarium, and a planetarium, a performing arts center; a charming park that rambles alongside Manatee River, a bustling Marina and chic restaurants and cafes with diverse food choices. During the holiday season, this place is a hub of all festivity.
The Bishop Museum of Science and Nature provides the scientific and cultural knowledge of Florida, the world, and our universe. The Bishop Planetarium has educational shows about the universe.
Riverwalk Bradenton is a wonderfully scenic place to walk right along the Manatee River. As you walk, you'll see many different views. You can watch the cruise ships pass on the calm waters as the sunsets. There are also pieces of artwork for you to enjoy as well.
The Art Center Manatee is a center for art and art education. It has classrooms and a library as well. It also showcases spectacular exhibitions.
Robinsons Nature Preserve is a vast area for the public where you can camp, have picnics, enjoy horse riding, and witness the flora and fauna of the region which has been preserved. There is an observation tower as well.
Things to see not far from Bradenton, Florida
There are a lot of nice places in the neighborhood that are worth a visit:
Anna Maria Island is just 9.4 Miles (15 km) from Bradenton and it has beautiful beaches like Coquina Beach and Bradenton Beach with scenic views and numerous opportunities to relax and unwind.
Siesta Key is rated as one of the topmost beaches in Florida and is located around 19.9 Miles (32 km)

from Bradenton near Sarasota.

Cortez is a historic fishing village located almost 9.5 Miles (15 km)

from Bradenton. It has a rich history and you can visit the old fish houses. Many seafood restaurants are located here which are a must-visit.

Sarasota City is located about 13.2 Miles (21 km)

from Bradenton and is mainly known for its beautiful beaches and art-centered activities as a community.

St. Petersburg is located around 24.9 Miles (40 km)

from Bradenton. It is surrounded by water on three sides and it is a superb place to enjoy nautical activities.

Tampa City is a major city on the Tampa Bay and it is located 45.6 Miles (73 km)

away. A plethora of outdoor and indoor attractions and activities define this city.
Activities in Bradenton, Florida in the winter
There is a lot to do in Bradenton during the winter:
Boat tours and Cruises during sunrise and sunsets on the beach.
Nautical activities like boating, fishing, and scuba diving.
Walking tours and hiking at the scenic trails in nature parks and near the coast.
Horse riding at the coast and trails of various nature parks for experienced riders. Visitors can even take lessons from trainers.
Cycling tours of the city and the countryside.
Golfing at River Run which is a popular golf course in the region. This offers a rewarding experience for golfers of all ages and abilities.
Learning to paint at the establishment, promoting art and artist called 'Painting with a Twist' to unleash your inner creativity.
Dance lessons at dancing clubs and schools.
Yoga classes at the beach.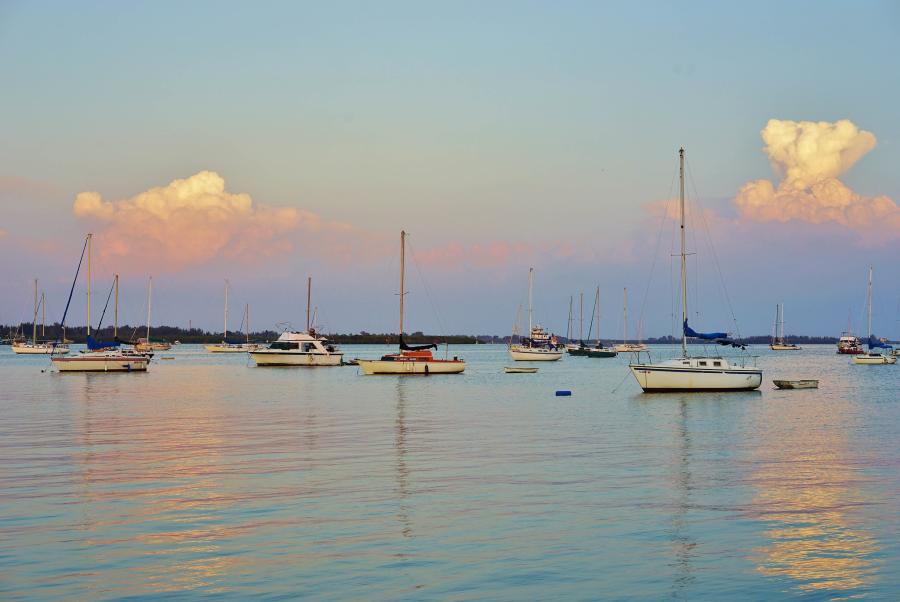 Shops & Restaurants. Are they Open in winters?
Bradenton is busy and full of life during the winter period. Shopping and enjoying the local cuisine is one of the favorite pass times of visitors who want to enjoy the true essence of the region. You will find several small and bigger shopping centers in the area. The Downtown and the River Walk is a tree-lined area that has numerous restaurants, cafes, shops, and boutiques lined up along the streets.
The Downtown Bradenton Farmers' Market offers fresh produce, local art, music, food, and free family activities. It takes place every Saturday and it is a source of great entertainment for locals and visitors. Arts and artists are given much importance in Bradenton and every third Saturday, Mainly Art hosts dozens of local artists and craftspeople to display and sell their creations. Art, crafts, live music, and food are available from 9 am to 2 pm on Fourth Avenue West, perpendicular to the Bradenton Farmers' Market on Main Street. Besides this, there are also good malls like Bradenton outlet mall and DeSoto Square Mall to explore.
Gastronomy in this region is as exciting and diverse as it is anywhere in Florida. The variety of food options include local dishes, fast food, and desserts. There are a variety of good seafood restaurants here, owing to the proximity of the Manatee River and beaches. Many restaurants offer international cuisine like Japanese, Korean and Indian food for a diverse dining experience.
Transport
The nearest airport to Bradenton is Sarasota/Bradenton Airport (SRQ) approximately 11.1 Miles (18 km)

away.

Amtrak serves Bradenton from around 19 destinations. The Bradenton Train Station is located near DeSoto Sq Mall at 303 – 301 Boulevard West, Bradenton, FL. It is the busiest train station in Bradenton. For more information on routes and train tickets, visit www.wanderu.com/
Various Bus stations around the town serve the public and have different routes within and outside of Bradenton, connecting other towns and cities. For more information visit www.busbud.com/en/
Renting a bike or a cycle and riding around the city can be a nice way to exercise and enjoy the surrounding.
Health
There are good medical and dental services available for the residents and visitors of Bradenton. Blake Medical Center, the general hospital, has a 24hour emergency department. Manatee Memorial Hospital is a private health care facility.
Florida Dental Centers and Manatee Dental of East Bradenton have competent dentists and a state of the art facilities to treat their patients.
Accommodation
Visitors can find affordable apartments or condos on www.airbnb.com, the online marketplace that connects people who want to rent out their homes with people who are looking for accommodations in that locale.
Visitors looking for long term accommodation in the city should also visit websites like www.trulia.com and www.rent.com to find apartments at reasonable rates during the winter period. On average a one-bedroom apartment for two guests can be rented from

$933 (approx. €883, £764, $1259 CAD, $1455 AUD)

to

$1,674 (approx. €0.95, £0.82, $1.35 CAD, $1.56 AUD)

per month.
RV/Campers/Motorhome
There are numerous campsites for RV campers in this region:
Winter Quarters Manatee RV Resort
Those who don't own an RV can enjoy camping at Robinsons Nature Preserve, and a few other nature parks along the coast close to Bradenton.
Packing List
Weather: The fall, winter, and spring weather in Bradenton (Florida) will normally be warm during the day and can be cold during the night. Of course in the fall and spring it will be warmer than in the winter. You have to pack accordingly.

Warm clothing: Even when you go to a warm location like Bradenton (Florida) you should not forget to take some things with you for your trip back home. When you return you are adapted to the warmer weather and need something to protect you from your hometown temperatures.

Consider the Weather: Always look at the type of weather in Bradenton (Florida). Things like humidity, wind, and rain do not show up in the temperature graph but can have a great impact on your wardrobe. There are several sites with long term forecasts and climate information. Is there often a short afternoon downpour like in the tropics, you maybe need to take a strong umbrella and shoos that can cope with the rain. If there is often a lot of wind you might need a more wind-resistant coat.

Check the local Shopping options: Try to find information about the local shopping options near your location in Bradenton (Florida). Are there stores where you can buy all your daily supplies, or are some things difficult to get? For some more remote locations, the options can be limited. If a certain item is really important for you might need to take it with you.

Look at the Local Culture: The local culture in Bradenton (Florida) can impact your wardrobe. If most activities are in more upscale locations you might take some more appropriate clothes with you. Or travelling if you travel to certain countries women need to cover themselves in certain areas.

Amenities: Know what's Included in your house or apartment. Is there a coffee maker, a toaster, a washer and dryer, an iron, what is in the kitchen, what kind of towels are there? Things that are there means you do not have to take them with you. A furnished apartment or house can mean something from a few pieces of furniture to a well-stocked place with all the things you have at home. But most of the time your rental will not be stocked.

Mix and match: Wear layers so you can use your wardrobe more efficiently. And do not worry about wearing something more often, probably only you will notice this.

Important for you: If there is something that is really important for you that you want to have present in your house or apartment, take it with you. This can be something like a special knife for the kitchen, or a small mirror that you use in the morning. You can also purchase it locally if it is not that expensive.

Pet supplies: If you take your pet with you don't forget to take supplies for a few days with you. And enough medication, vitamins, or other supplies if you can not purchase them in Bradenton (Florida) locally.

Food: Don't take a lot of food with you. Only when there is something you really can not live without you, and it is not too heavy you could consider taking it with you.

Towels: Not all locations include bigger towels for the swimming pool or a visit to the beach. If you have to take them and don't have a lot of room you can buy some big thin towels.

Office supplies: Normally you will not find any office supplies in your house or apartment. If you think you will use them you could pack some supplies like a scissor, notepaper, envelopes, some pens, and more depending on your needs.

Limit yourself: Don't take too many shoes and jackets, you will not need them that often.

Best-fitting: Bring your favorite and best-fitting items that can multi-function

Washer: Do you have a washer and dryer onsite, you don't need to pack a lot of clothes
Clothing
Basics
Casual
Smart
Footwear
Toiletries
Beauty
Hygiene
Clothing
Basics
Casual
Outdoor
Footwear
Accessories
Toiletries
Medicine
Miscellaneous
Other
Toiletries
Beauty
Hygiene
Hair
Other
Medicine
Miscellaneous
Technology
Travel and Free time
Travel
Free time
Important
Documents
Money
Other locations close to this location:
Travelers' Map is loading...
If you see this after your page is loaded completely, leafletJS files are missing.
If you have any additions, or comments on the content on this page, please use our contact form to let us know.
Detailed weather during the year for Bradenton Florida
What to do during the year in Bradenton Florida