What to do in April in Playa del Carmen, Mexico - 2024
Playa del Carmen is a fun beach town on Mexico's Yucatan Peninsula, part of the classic Riviera Maya route down the coast.
Before we have a look at what you can do in Playa del Carmen, let's first look at the weather you can expect in April.


April weather in Playa del Carmen Mexico
To get a good overview of the type of weather you can expect in April in Playa del Carmen Mexico, we will look at the day and night temperature, minimum and maximum water temperature, and if April is comfortable or humid
Generally, April in Playa del Carmen Mexico will be really nice. Historical data shows that you can expect an average temperature of around 84°F / 29°C. But due to the very high humidity, it can feel very uncomfortable. During the night, it will cool down to around 73°F / 23°C. Many will prefer a location with air conditioning due to the night temperature, and the high humidity level.
Playa del Carmen Mexico has rainy days in April. You can expect around 8 rainy days, with on average 0.7 inches / 19 mm of rain during the whole month.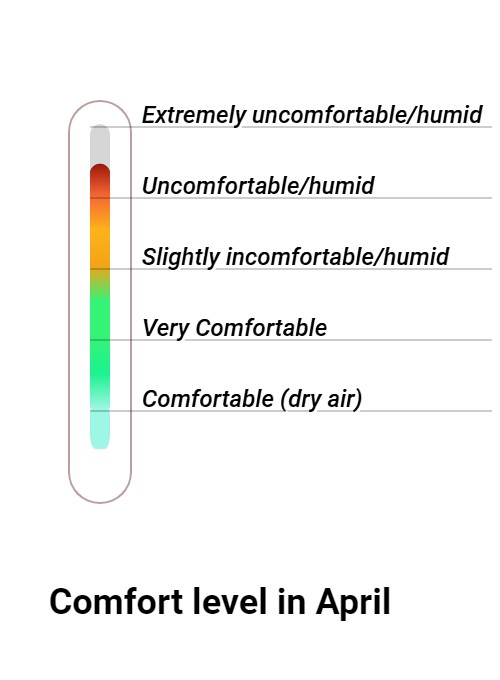 The forecast for April 2024 is based on historical data and are averages. They will give a good indication what you can expect, but the daily temperature and rain will fluctuate during the month.
Things to see and do in Playa del Carmen
Playa del Carmen has many things to soo. With help from our visitors we have dived a list of things to see in. If you have any sugestions or improvements for this list, please let us know.
La Quinta Avenida
La Quinta Avenida has many shopping malls, restaurants, and cafes providing one-stop refreshment and a break from the sun, sea, and sand to the tourists.
Xpu-Ha
Xpu-Ha is a beach perfect for kitesurfing, kayaking, and swimming.
Playacar
Playacar is a beach ideal for sunbathing, sandcastle building, shell collection, and diving.
The Mesoamerican Reef System
Nature/Wild Life
Throughout the Year
The Mesoamerican Reef System is more than six hundred miles long, stretching from Isla Contoy, near the Yucatan Peninsula, to Honduras. It is among the biggest reef systems on the planet.
Kool Beach
Kool Beach offers day beds for some tanning sessions and food during day hours.
Shopping in Playa del Carmen
If you can, it is better to pay in pesos. You will get a better rate of exchange.
Shopping on 5th Avenue starts around 10:00am but the best time is after 7:00pm when it is cooler and everything is open.

Shopping at Paseo Del Carmen
Plaza Las Americas Mall
Quinta Alegria Shopping Mall
Centro Maya Mall
Shopping at Plaza Playacar
Calle Corazon Shopping Plaza
Activities in Playa del Carmen
Snorkeling
Festival of life and death
takes place usually between October/November. This intriguing festival is to celebrate the time-honored tradition; Day of the Dead for people of Mexican heritage. As a spectator, you get to see vibrant cultural plays and dances. It normally takes place at Xcaret Park.
Mexican Taco tour
special restaurants to get authentic tacos are El Fogon and Don Sirloin
Mayakoba Golf Classic (November)
Join thousands of golf lovers at one of the most spectacular golf courses in the world.
A ride in a Colectivo (group taxi)
Visiting ancient Mayan ruins
Restaurants in Playa del Carmen
You can get some of the best tacos in the world for about $1.00 (approx. €0.95, £0.82, $1.35 CAD, $1.56 AUD) each. For just $5 (approx. €4, £4, $6 CAD, $7 AUD) or so, you can enjoy a lunch deal with a soup, main course, drink, and dessert. Even a nice dinner in a fancy restaurant can be had for under $50.00 (approx. €47, £40, $67 CAD, $77 AUD).

Porfirio's
La Perla Pixan
Zenzi
More things to see in Playa del Carmen
The Beaches
Playa del Carmen occupies a stretch of pristine white sand and a bevy of alluring beaches. Snowbirds can enjoy a nice relaxed time at the Playa Maroma Beach, Xpu-Ha, Playa Manitas, Los Pinos, Xcacal beach amongst others.
Art Gallery
Xamen Ha ruins, Arqueologica Playa del Carmen, Quinta Avenida.
Clubs
Snowbirds looking can satisfy their party craving at the Coco Bongo club, the Coratime Daylight Club.
Walking routes
The La Quinta (5th street) is definitely a place snowbirds want to pass through. It is a vibrant pedestrian street with hundreds of shops and vendors.
Nature and Parks
Some of the best places for nature and parks in Playa del Carmen are Rio Secreto (an underground river and collection of caves), Riviera Maya, and Cenote Choak Tun.
Golf clubs
Golf lovers would definitely be drawn to the city's most popular golf clubs like the Hard Rock Golf club, the Iberostar Golf Club Playa Paraiso, the Grand Coral Golf Riviera Maya, and El Cameleón Mayakoba Golf Club.
More information about Playa del Carmen Mexico
What to do in Playa del Carmen Mexico in other months
Weather in Playa del Carmen Mexico for each month