What to do in December in Clearwater, Florida - 2023
Clearwater is a city located in Pinellas County, Florida at the Gulf of Mexico. Really close to Tampa and St. Petersburg.
The global headquarters of the Church of Scientology is located in Clearwater.
Before we have a look at what you can do in Clearwater, let's first look at the weather you can expect in December.


December weather in Clearwater Florida
To get a good overview of the type of weather you can expect in December in Clearwater Florida, we will look at the day and night temperature, minimum and maximum water temperature, and if December is comfortable or humid
Generally, December in Clearwater Florida will be really nice. Historical data shows that you can expect an average temperature of around 73°F / 23°C. As there is not a lot of humidity, it will feel comfortable. During the night, it will cool down to around 53°F / 12°C. Many will prefer a location with air conditioning due to the humidity level.
Clearwater Florida has some rainy days in December. You can expect around 6 rainy days, with on average 1.4 inches / 36 mm of rain during the whole month.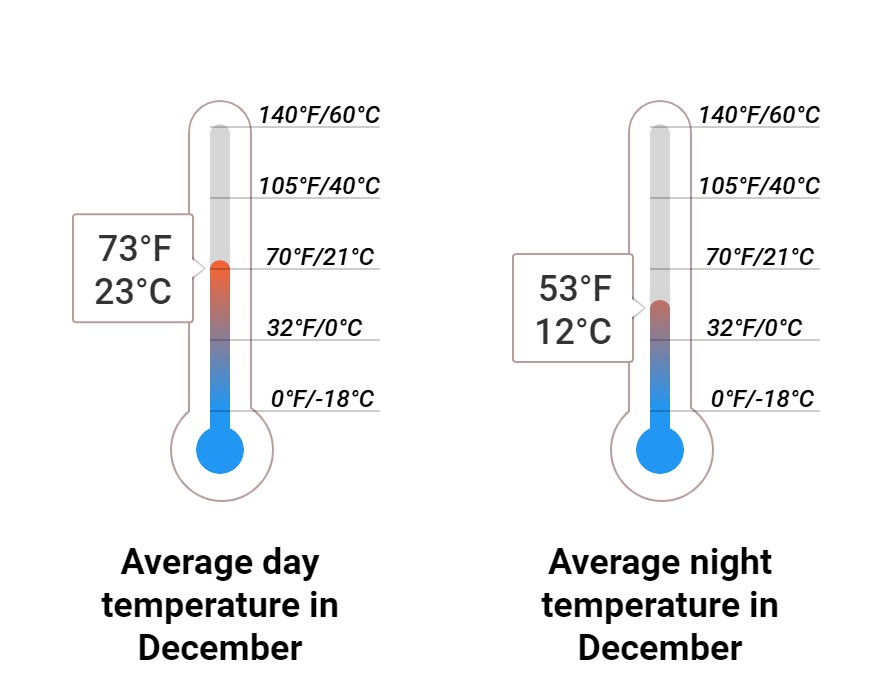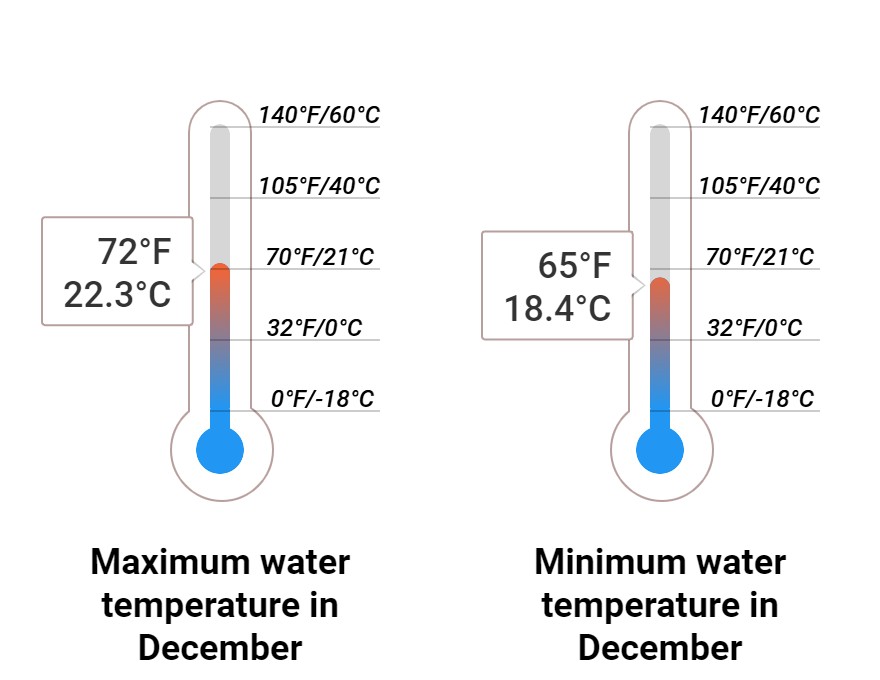 The forecast for December 2023 is based on historical data and are averages. They will give a good indication what you can expect, but the daily temperature and rain will fluctuate during the month.
Things to see and do in Clearwater
Clearwater has many things to soo. With help from our visitors we have dived a list of things to see in. If you have any sugestions or improvements for this list, please let us know.
Clearwater Marine Aquarium
Nature/Wild Life
Throughout the Year
Clearwater Marine Aquarium has hundreds of sea turtles especially attractive for young kids.
Escape Room
Escape Room provides a Sherlock Holmes experience.
Segway tour
To prevent fatigue, you can hire a PT at affordable prices from Segway tour.
Calypso Queen
Trip/Tour/Excursion
Throughout the Year
Calypso Queen is the name of a boat where you can dance and party.
Cliff Stephens Park
Cliff Stephens Park is great for cycling and walking.
Pier 60
Pier 60 is the fisher's favorite spot.
Westfield Countryside Mall
Shopping/Eating
Throughout the Year
Westfield Countryside Mall is a shopping center with an ice-skating rink.
Clearwater Threshers at BayCare Ballpark
Clearwater Threshers is a baseball team. You can watch their matches at BayCare Ballpark.
Moccasin Lake Nature Park
Moccasin Lake Nature Park has tall trees, creeks, and ponds.
Sand Key Park
Besides birdwatching, Sand Key Park is ideal for swimming and relaxing.
Clearwater Beach
You can go sailing at Clearwater Beach.
Helicopter tour of Clearwater Beaches
A helicopter tour will help you get an ariel view of beautiful Clearwater beach.
Busch Gardens
Busch Gardens have a world-famous rollercoaster.
Shopping in Clearwater
In and around Clearwater you will find multiple smaller and bigger shopping centers.

Cypress Point Shopping Center
Clearwater Mall
Countryside Square
Walmart Neighborhood Market
Activities in Clearwater
Yoga Retreats
You can spend your time in Clearwater wisely by joining in on some wonderful yoga meditation retreats.
Visit the Market
Clearwater is an attractive place famous for its outdoor lifestyle. You can enjoy the downtown nightlife and visit various flea markets and shopping areas because the city is filled with them.
Golf
Spend a nice day playing golf as the weather in the city is good for such a sport. There are various 9-hole and 18-hole golf courses as well as clubhouses within the city. You can also visit the popular Copperhead Course nearby Clearwater
Boat Excursions
You can visit many surrounding towns and nearby sightseeing places by booking a boat excursion. There are numerous tour guides and clubs available
Cycling
The weather is friendly for cycling especially in the morning. You can also ride along the beachfront or visit the Pinellas Marquis Trail for cyclin
Kayaking
You can rent a kayak and visit the Caladesi and Honeymoon Islands or just experience the spectacular views of the Gulf of Mexico. There are multiple kayaking and canoeing clubs available.
Art classes
Join an art class and learn how to paint, draw, or start with pottery
Fishing
Clearwater has beautiful lakes, beaches, and piers where you can do both shore and boat fishing. The fishing sites also host crafts and entertainment in the evening with a splendid view of the sunset.
Walking tour of the city
You can go around the city with a tour guide and visit various parks, beaches, and water clubs. You can taste the delicacies of Clearwater as well.
Cooking
Always wanted to improve your cooking? Join a cooking class and learn how to cook something special.
Restaurants in Clearwater
The dining experience in Clearwater will not leave you disappointed. You can enjoy typical American cuisine and restaurants with international cuisine are also available.

Okeefe's Tavern
Hacienda Corralejo Mexican Kitchen
Popeyes Louisiana Kitchen
Capogna's Dugout
More things to see in Clearwater
Clearwater Beach
The beach is known for its soft, white sand and calm waters. You can visit the beach to enjoy the sun and indulge in other activities such as para-sailing, jet-skiing, or cycle along the beachfront. There are various seafood restaurants nearby as well.
Caladesi and Honeymoon Island State Parks
The islands are the perfect places to visit if you want to have fun and enjoy the quiet atmosphere. You can take strolls on the natural trails or a ferry ride in the sea.
Clearwater Marine Aquarium
The aquarium is dedicated to the rescue and rehabilitation of sick and injured marine animals. There are numerous forms of life present in the aquarium. The best-known permanent resident is winter, a bottlenose dolphin which was brought in due to its tail injury. Winter has starred in Dolphin Tale and Dolphin Tale 2 which led to its popularity.
Sand Key Park
A sandy beach with available parking space. The park offers a wonderful view of amenities that makes a family picnic such as beach cabanas, large bathhouses, a dog park, and much more worthwhile. The park offers a wheelchair for the disabled visitors free of charge, it is easier to use on the sand and float in the water.
Pier 60
Enjoy the relaxing marina views and enjoy the 'Sunset at Pier 60', a Clearwater tradition along with a variety of arts and entertainment from 6-9 PM each night. You can also visit this place for fishing.
More information about Clearwater Florida
What to do in Clearwater Florida in other months
Weather in Clearwater Florida for each month