What to do in February in Gran Canaria, Spain - 2024
Grand Canary Island, is the third largest and second most populous island of the Canary Islands, an archipelago off the Atlantic coast of Northwest Africa which is part of Spain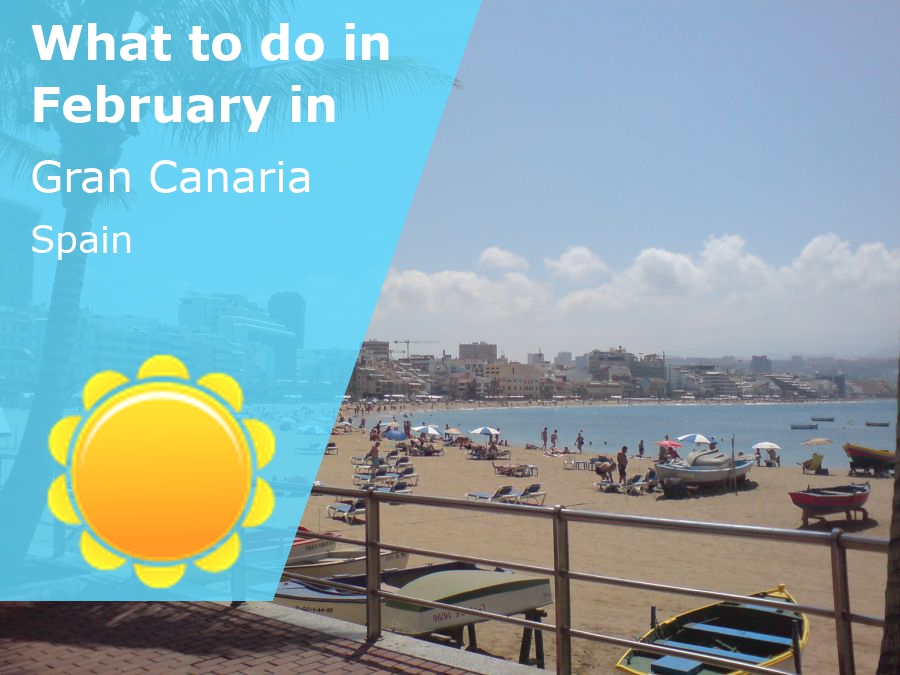 Before we have a look at what you can do in Gran Canaria, let's first look at the weather you can expect in February.


February weather in Gran Canaria Spain
To get a good overview of the type of weather you can expect in February in Gran Canaria Spain, we will look at the day and night temperature, minimum and maximum water temperature, and if February is comfortable or humid
Generally, February in Gran Canaria Spain will be really nice. Historical data shows that you can expect an average temperature of around 71°F / 22°C. Due to the dry air, it will feel very comfortable. During the night, it will cool down to around 55°F / 13°C.
Gran Canaria Spain does not have a lot of rainy days in February. You can expect around 2 rainy days, with on average 0.3 inches / 8 mm of rain during the whole month.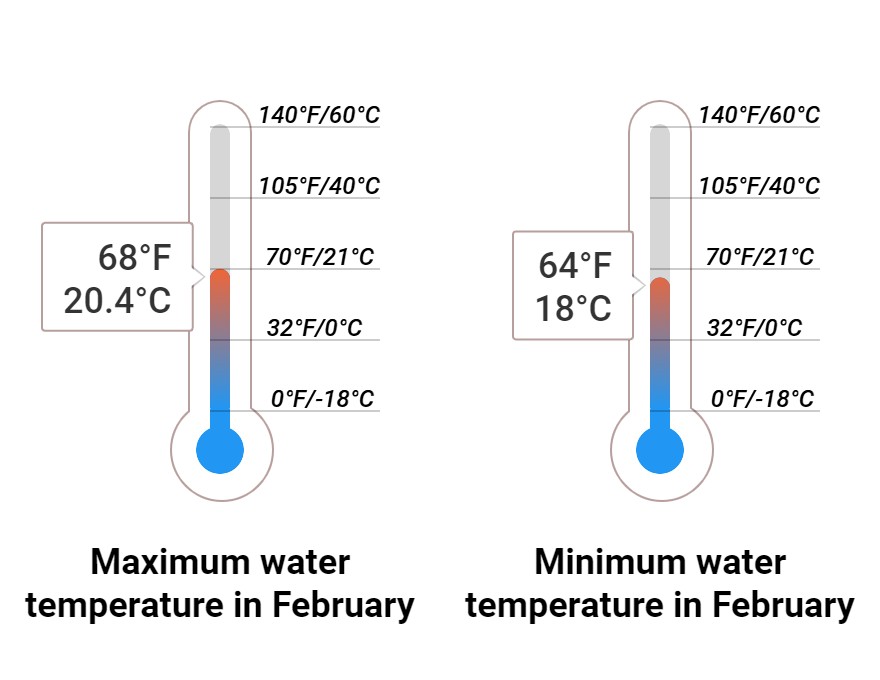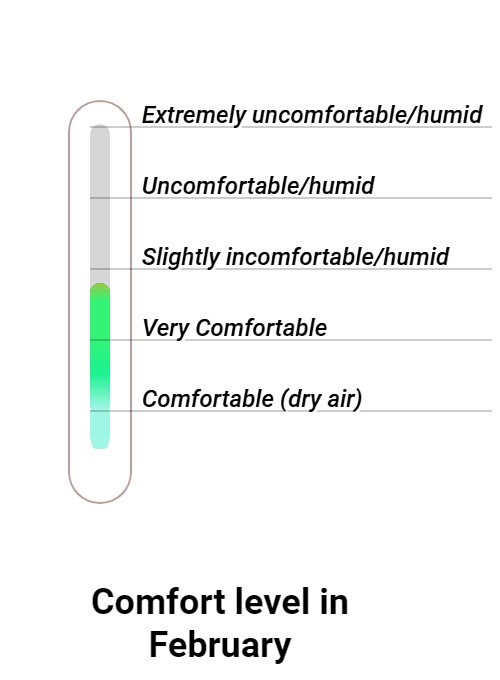 The forecast for February 2024 is based on historical data and are averages. They will give a good indication what you can expect, but the daily temperature and rain will fluctuate during the month.
Things to see and do in Gran Canaria
Gran Canaria has many things to soo. With help from our visitors we have dived a list of things to see in. If you have any sugestions or improvements for this list, please let us know.
Carnival
Carnival has dances, songs, and parties. The exact date of the carnival changes year by year.
Dia de los Reyes Magos (Day of The Three Wise Men)
Dia de Los Reyes Magos (Day of The Three Wise Men) has street parades where kids are given sweets.
Fiesta del Almendro en Flor (Festival of the Almond in Blossom)
Fiesta del Almendro en Flor (Festival of the Almond in Blossom) has songs, dances, wine, and sweets.
Playa de Las Canteras
Playa de Las Canteras is a beach ideal for swimming, kayaking, and cooking out.
Roque Nublo
Roque Nublo is a park ideal for trekking and many other activities.
Playa del Ingles
Playa del Ingles is a beach ideal for sunbathing, fishing, and boating.
Las Palmas de Gran Canaria
Las Palmas de Gran Canaria is the scenic capital where it is a little cooler and rains more than in the south/west. There are many options for adventures, drinks, and dining out.
Maspalomas Dunes
Nature/Wild Life
Throughout the Year
Maspalomas Dunes is ideal for walking and sunset viewing. A beach and lighthouse are located nearby.
Shopping in Gran Canaria
In Gran Canaria, there is a wide range of shopping opportunities, including
craft shops,

San Agustín,
designer boutiques,
Meloneras, there are a large number of shops to suit all tourists' needs.
Puerto Rico,
sports shops and
Playa del Inglés and
perfume shops,
The capital from Gran Canaria, Las Palmas de GRan Canaria. There you will find all major stores, and many nice small boutiques.
nautical shops.

Locations where you can find many shops:
Maspalomas,
Activities in Gran Canaria
Carnival of Las Palmas de Gran Canaria
this is one of the most famous Carnivals in Spain and is held in Gran Canaria. It usually takes place between February and March.
World of Music, Arts and Dance Festival in Gran Canaria (WOMAD)
this awesome festival puts together music and art from around the world in Las Palmas de Gran Canaria.
Walking
Take a walk through Gran Canaria's history- Vegueta
Walking
A hike to the middle of Gran Canaria - Roque Nublo
The Three Kings Day (January 6th)
Apparently, Spanish people celebrate Christmas until the first week of January.
All Saints' Day (November 1th)
snowbirds enjoy Theatre plays, films, and religious tradition.
Bird Park
Visit the Palmitos bird park
Dinner show
Glam up for Garbo's dinner show: Garbo's is a Gran Canaria institution. This glamorous gala cabaret has been serenading audiences since 1997 with show-stopping song and dance numbers, and enough sequins
Teror
Discover the town of Teror
Sioux City Park
Visit the Wild West in Gran Canaria
Las Palmas
See the sights at Las Palmas de Gran Canaria
Rum
Sip some Arehucas rum: Sample Gran Canaria's finest liquor. Arehucas Rum is a traditional and much-loved drink which is made in Gran Canaria and exported around the world
Restaurants in Gran Canaria
Restaurants are open all year round and they offer a variety of cuisine including Spanish, Italian, Arabic, Japanese, Indian and American.
In Las Palmas there are many excellent fish restaurants.

Restaurante La Quilla.
Playa de las Canteras
Clipper La Puntilla
Restaurante La Marinera
More things to see in Gran Canaria
N.B- Every beach uses a flag system to warn locals and snowbirds about the water conditions. A green flag means all is OK. The yellow flag means only experienced swimmers should go out in the water. The red flag says no swimming allowed at all for safety reasons. Pay attention to the flag system for your own safety and the safety of your family.
Nature & Parks
The Rural Park of Nublo, The Doramas Jungle, the Azuaje Ravine, Tamadaba, Pino Santo, Palmitos Park amongst others are a must-see.
The Beaches
Snowbirds get to experience the beautiful beaches of Gara Canaria. Some of which include Anfi del Mar, Playa de Amadores, Gui Gui Beach are definitely worth the while.
Art/History
The Cathedral of Santa Ana is the area's focal point and has a striking neo-Gothic design. Meanwhile, the Casa de Colón - where Christopher Columbus is said to have stayed in 1492 - clearly dates from the Renaissance era.
Archeological sites
some well-known rock formations are El Cura (also known as El Fraile), The Frog (La Rana), Roque Bentayga, the Roque de Gando, and the Peñón Bermejo.
More information about Gran Canaria Spain
What to do in Gran Canaria Spain in other months
Weather in Gran Canaria Spain for each month