Spend your fall, winter, or spring in Clearwater, Florida: Is Clearwater a good snowbird location?
The city of Clearwater is located in Pinellas County in Florida. The city has multiple beaches and borders on the west side The Gulf of Mexico and on the east side old Tampa bay. It enjoys tropical weather and is a perfect place for visitors of all ages and interests due to its stunning views on the Gulf Coast. Clearwater has been named one of the most affordable destinations in the US, and it offers a thriving downtown nightlife and popular shopping district. The city has the largest gated community for seniors in the world, and it was awarded the best beach in 2018.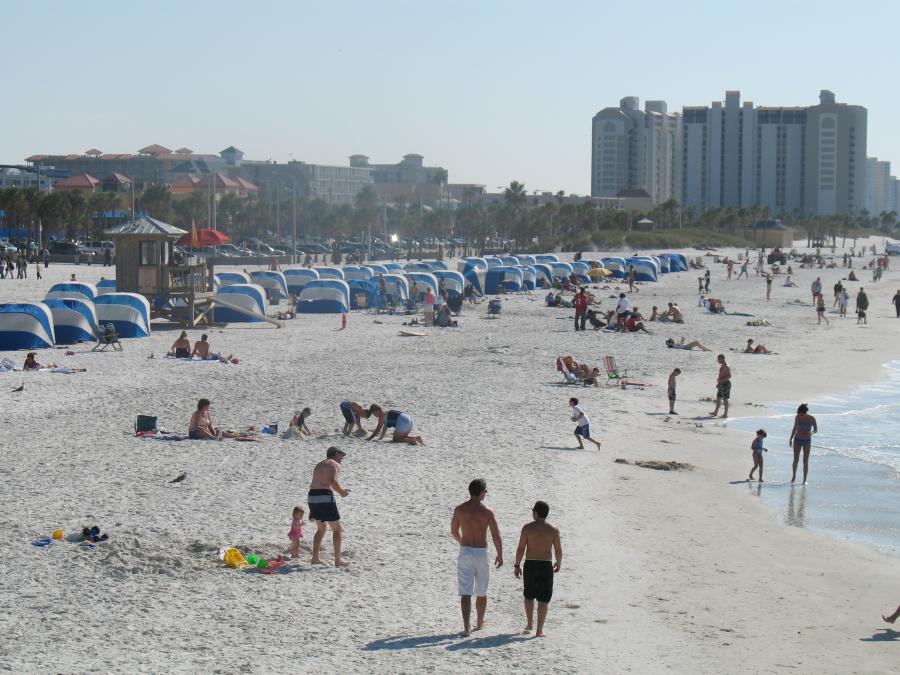 Why should people visit during the fall, winter, or spring?
Clearwater has many beautiful beaches, and combined with its sunny weather makes the city a perfect escape from the winter cold. The city offers a lot of amenities with everything you need, from shopping malls, golf courses, museums, parks, sports, and various nightlife. And, Clearwater is one of the most affordable cities in the US.
Climate
The weather in winter is mild, most days have sun and some clouds, and it can be windy. The coldest month of January offers an average high temperature of 72°F (22°C) and an average low of 52°F (11°C). Due to the lower night temperature, appropriate clothing and heating systems are recommended. The winter period normally does not see hurricanes (the hurricane season is from June to November).

Things to see in Clearwater, Florida
Clearwater is an important tourist location and has many places you can visit:
Clearwater Beach: The beach is known for its soft, white sand and calm waters. You can visit the beach to enjoy the sun and indulge in other activities such as para-sailing, jet-skiing, or cycle along the beachfront. There are various seafood restaurants nearby as well.
Clearwater Marine Aquarium: The aquarium is dedicated to the rescue and rehabilitation of sick and injured marine animals. There are numerous forms of life present in the aquarium. The best-known permanent resident is winter, a bottlenose dolphin which was brought in due to its tail injury. Winter has starred in Dolphin Tale and Dolphin Tale 2 which led to its popularity.
Caladesi and Honeymoon Island State Parks: The islands are the perfect places to visit if you want to have fun and enjoy the quiet atmosphere. You can take strolls on the natural trails or a ferry ride in the sea.
Pier 60: Enjoy the relaxing marina views and enjoy the 'Sunset at Pier 60', a Clearwater tradition along with a variety of arts and entertainment from 6-9 PM each night. You can also visit this place for fishing.
Sand Key Park: A sandy beach with available parking space. The park offers a wonderful view of amenities that makes a family picnic such as beach cabanas, large bathhouses, a dog park, and much more worthwhile. The park offers a wheelchair for the disabled visitors free of charge, it is easier to use on the sand and float in the water.
Things to see not far from Clearwater, Florida
There are many neighboring towns and places that are worth a visit:
Florida Botanical Gardens: Located 6.5 Miles (10 km)

from Clearwater, it educates and inspires the visitors on the flora, fauna, and natural resources showcased in the surroundings which promote environment-friendly approaches and techniques.

Fred Marquis Pinellas Trail: It is a rail trail and it stretches from various towns of Pinellas County. The trail is located 6.8 Miles (11 km)

from Clearwater, it is used for walking, jogging, and cycling.

Innisbrook, A Salamander Golf & Spa Resort: Located at 12.5 Miles (20 km)

from Clearwater, the city offers various commendable amenities but it is famous for the Copperhead Course which is one of the 4 18-hole courses in the resort. The Copperhead Course is famous for the PGA Tours.

Splash Harbour Water Park: The Park offers a variety of slides, kids' splash zones, a lazy river, casual dining & a tiki bar. It is located 7.9 Miles (13 km)

from Clearwater.

Palm Harbor Museum: The museum contains a variety of exhibits on the history of the Palm Harbor, Crystal Beach, and the Ozona as well as Curlew communities.
Activities in Clearwater, Florida in the winter
Clearwater has a lot of activities that you can join:
Visit the Market: Clearwater is an attractive place famous for its outdoor lifestyle. You can enjoy the downtown nightlife and visit various flea markets and shopping areas because the city is filled with them.
Kayaking: You can rent a kayak and visit the Caladesi and Honeymoon Islands or just experience the spectacular views of the Gulf of Mexico. There are multiple kayaking and canoeing clubs available.
Art classes: Join an art class and learn how to paint, draw, or start with pottery.
Cooking: Always wanted to improve your cooking? Join a cooking class and learn how to cook something special.
Walking tour of the city: You can go around the city with a tour guide and visit various parks, beaches, and water clubs. You can taste the delicacies of Clearwater as well.
Cycling: The weather is friendly for cycling especially in the morning. You can also ride along the beachfront or visit the Pinellas Marquis Trail for cycling.
Fishing: Clearwater has beautiful lakes, beaches, and piers where you can do both shore and boat fishing. The fishing sites also host crafts and entertainment in the evening with a splendid view of the sunset.
Yoga Retreats: You can spend your time in Clearwater wisely by joining in on some wonderful yoga meditation retreats.
Golf: Spend a nice day playing golf as the weather in the city is good for such a sport. There are various 9-hole and 18-hole golf courses as well as clubhouses within the city. You can also visit the popular Copperhead Course nearby Clearwater.
Boat Excursions: You can visit many surrounding towns and nearby sightseeing places by booking a boat excursion. There are numerous tour guides and clubs available.

Shops & Restaurants. Are they Open in winters?
In and around Clearwater you will find multiple smaller and bigger shopping centers. Most US chains are present, and Tampa and St. Petersburg are not very far. You can find a lot of fresh produce markets in Clearwater such as Kiev Euro Deli, John's Fresh Produce Market, and Whole Food Market. There you can find a variety of fruits, vegetables, and other fresh products. Pompey's Seafood Market is right on the coast and is the place for fresh seafood. You can also find several souvenir and gift shops like Aloha and Suncoast souvenir shops.
Being so close to the sea makes the local delicacy seafood, like Crabs, oysters, and clams. The whole region of Florida is also known for the production of fresh fruit, so orange juice, key lime pie, and strawberry shortcake are some of the popular items on many menus.
Transport
The closest airport is St. Petersburg Clearwater International Airport, just 10.5 Miles (17 km) from downtown of Clearwater. To reach your destination you can use one of the various airport shuttle services, rent a car, use an Uber or taxi, or use the local bus.
There is a well-established public transportation system with several bus stations in the city. You can use the bus both for local destinations as for inter-city travel.
If you want to use public transport, an easy way to find the best route is to use Google Maps. Find the directions from your starting point to the destination, and click on transit. It will then show you the public transport options.
Health
In Clearwater, public and private health facilities are located nearby and are easily accessible. The health sector is suitable for anyone who walks in with a problem. Emergency cases are handled well. Some of the popular healthcare centers are:
Accommodation
There are several rental companies present in Clearwater. Some of the more popular organizations are:
These websites connect you to local real estate agents in Clearwater. You can rent a 1-bedroom and 1-bath from around $800 (approx. €746, £644, $1074 CAD, $1208 AUD) per month.
RV/Campers/Motorhome
Scottish Traveler RV Park: There are 155 full-service RV parking spaces available in the park. Water, electricity, and sewer services are available. It costs nearly $40 (approx. €37, £32, $53 CAD, $60 AUD) for one night. For more information, you can visit(https://www.leestravelpark.com/)
Vacation Village RV Resort: There are 275 full-service RV parking spaces available in the resort. Water, electricity, and sewer services are available. It costs nearly $49 (approx. €45, £39, $65 CAD, $74 AUD) for one night. For more information, you can visit (https://www.rvonthego.com/florida/vacation-village-rv-resort/)
Sherwood RV Resort: This is a great site for campers as the visitors are provided with many facilities at the camping site and it is also one of the most preferred camping locations in the area. It costs nearly $80 (approx. €74, £64, $107 CAD, $120 AUD) for camping, electricity included. You can visit their website for more information (https://sherwoodrvresort.com/)
Packing List
Weather: The fall, winter, and spring weather in Clearwater (Florida) will normally be warm during the day and can be cold during the night. Of course in the fall and spring it will be warmer than in the winter. You have to pack accordingly.

Warm clothing: Even when you go to a warm location like Clearwater (Florida) you should not forget to take some things with you for your trip back home. When you return you are adapted to the warmer weather and need something to protect you from your hometown temperatures.

Consider the Weather: Always look at the type of weather in Clearwater (Florida). Things like humidity, wind, and rain do not show up in the temperature graph but can have a great impact on your wardrobe. There are several sites with long term forecasts and climate information. Is there often a short afternoon downpour like in the tropics, you maybe need to take a strong umbrella and shoos that can cope with the rain. If there is often a lot of wind you might need a more wind-resistant coat.

Check the local Shopping options: Try to find information about the local shopping options near your location in Clearwater (Florida). Are there stores where you can buy all your daily supplies, or are some things difficult to get? For some more remote locations, the options can be limited. If a certain item is really important for you might need to take it with you.

Look at the Local Culture: The local culture in Clearwater (Florida) can impact your wardrobe. If most activities are in more upscale locations you might take some more appropriate clothes with you. Or travelling if you travel to certain countries women need to cover themselves in certain areas.

Amenities: Know what's Included in your house or apartment. Is there a coffee maker, a toaster, a washer and dryer, an iron, what is in the kitchen, what kind of towels are there? Things that are there means you do not have to take them with you. A furnished apartment or house can mean something from a few pieces of furniture to a well-stocked place with all the things you have at home. But most of the time your rental will not be stocked.

Mix and match: Wear layers so you can use your wardrobe more efficiently. And do not worry about wearing something more often, probably only you will notice this.

Important for you: If there is something that is really important for you that you want to have present in your house or apartment, take it with you. This can be something like a special knife for the kitchen, or a small mirror that you use in the morning. You can also purchase it locally if it is not that expensive.

Pet supplies: If you take your pet with you don't forget to take supplies for a few days with you. And enough medication, vitamins, or other supplies if you can not purchase them in Clearwater (Florida) locally.

Food: Don't take a lot of food with you. Only when there is something you really can not live without you, and it is not too heavy you could consider taking it with you.

Towels: Not all locations include bigger towels for the swimming pool or a visit to the beach. If you have to take them and don't have a lot of room you can buy some big thin towels.

Office supplies: Normally you will not find any office supplies in your house or apartment. If you think you will use them you could pack some supplies like a scissor, notepaper, envelopes, some pens, and more depending on your needs.

Limit yourself: Don't take too many shoes and jackets, you will not need them that often.

Best-fitting: Bring your favorite and best-fitting items that can multi-function

Washer: Do you have a washer and dryer onsite, you don't need to pack a lot of clothes
Clothing
Basics
Casual
Smart
Footwear
Toiletries
Beauty
Hygiene
Clothing
Basics
Casual
Outdoor
Footwear
Accessories
Toiletries
Medicine
Miscellaneous
Other
Toiletries
Beauty
Hygiene
Hair
Other
Medicine
Miscellaneous
Technology
Travel and Free time
Travel
Free time
Important
Documents
Money
Other locations close to this location:
Travelers' Map is loading...
If you see this after your page is loaded completely, leafletJS files are missing.
If you have any additions, or comments on the content on this page, please use our contact form to let us know.
Detailed weather during the year for Clearwater Florida
What to do during the year in Clearwater Florida