What to do in December in Hollywood, Florida - 2023
Hollywood is a city in Florida, located between Fort Lauderdale and Miami.
Hollywood was founded in 1925.
Before we have a look at what you can do in Hollywood, let's first look at the weather you can expect in December.


December weather in Hollywood Florida
To get a good overview of the type of weather you can expect in December in Hollywood Florida, we will look at the day and night temperature, minimum and maximum water temperature, and if December is comfortable or humid
Generally, December in Hollywood Florida will be really nice. Historical data shows that you can expect an average temperature of around 77°F / 25°C. But due to the moderate humidity it can feel slightly uncomfortable for some. During the night, it will cool down to around 64°F / 18°C. Many will prefer a location with air conditioning due to the high humidity level.
Hollywood Florida has some rainy days in December. You can expect around 6 rainy days, with on average 0.6 inches / 16 mm of rain during the whole month.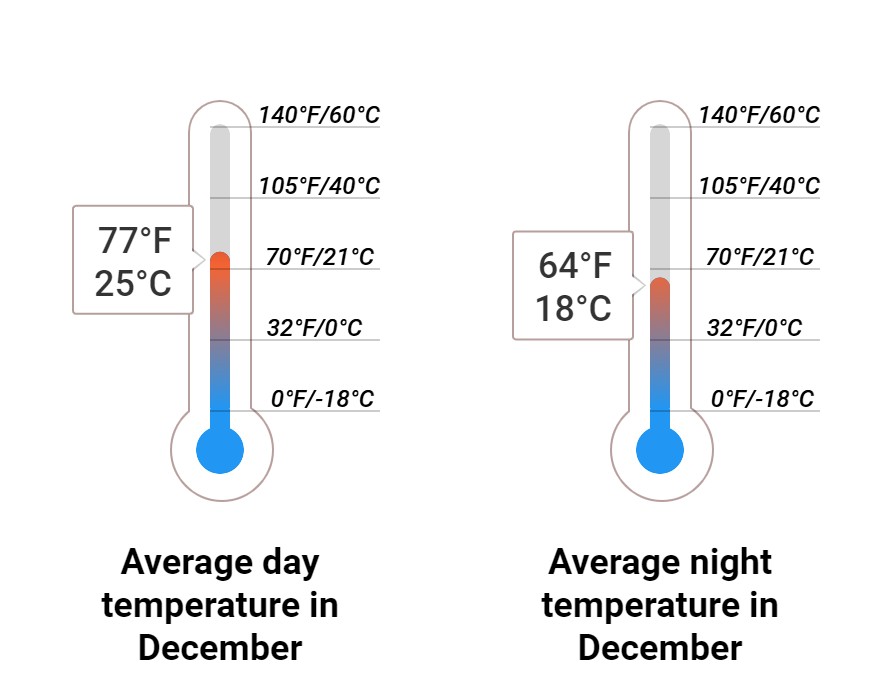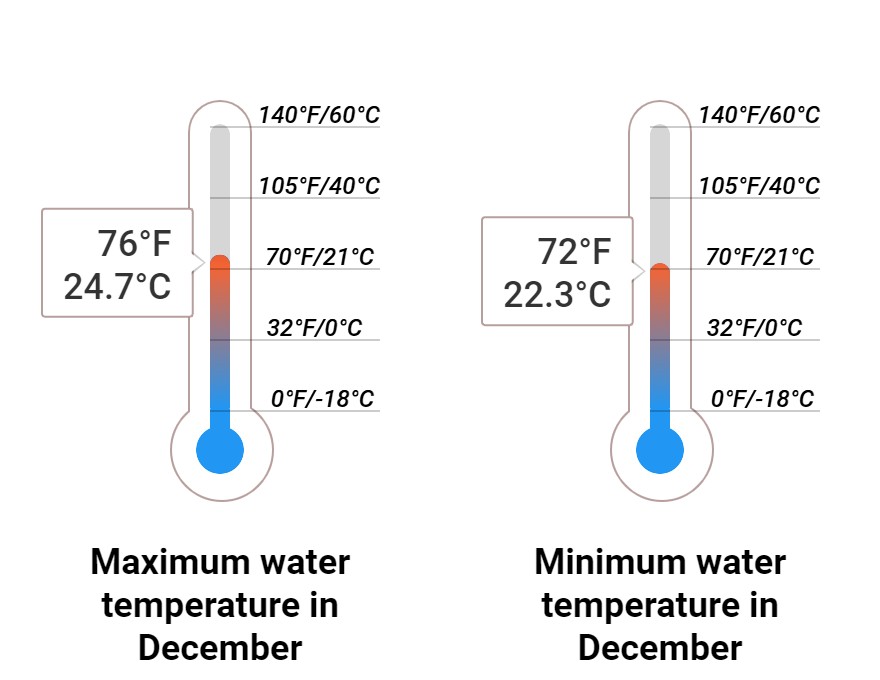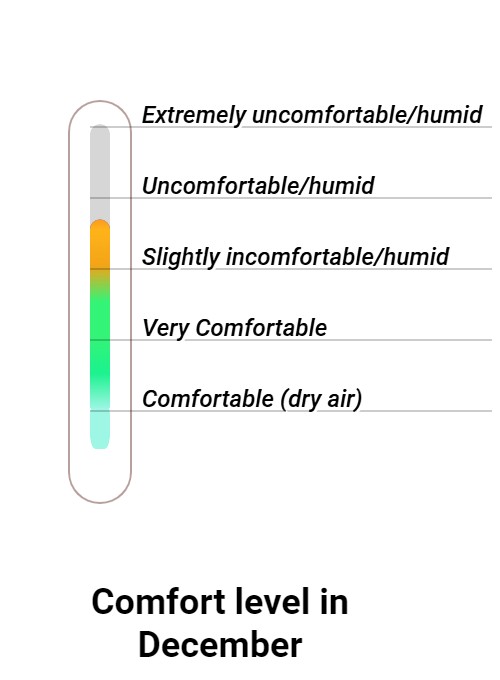 The forecast for December 2023 is based on historical data and are averages. They will give a good indication what you can expect, but the daily temperature and rain will fluctuate during the month.
Things to see and do in Hollywood
Hollywood has many things to soo. With help from our visitors we have dived a list of things to see in. If you have any sugestions or improvements for this list, please let us know.
ArtsPark at Young Circle
ArtsPark at Young Circle has walking paths, a splash pad, and an amphitheater.
Candy Cane Parade #66 & Hollywood Lions Club Toy Drive Hollywood North Beach Park Kemp's Ridley
This interesting parade features dozens of illuminated floats and cars along the parade road entertaining the thousands of viewers who are standing at the Broadwalk.
Anne Kolb Nature Center
Nature/Wild Life
Throughout the Year
Anne Kolb Nature Center is great for fishing and other activities.
Topeekeegee Yugnee Park
Topeekeegee Yugnee Park is great for fishing and sports.
Hollywood Beach Boardwalk
Hollywood Beach Boardwalk is a perfect place for a walk.
Fort Lauderdale
Cultural
Throughout the Year
Fort Lauderdale is located to the North of Hollywood beach.
Hollywood North Beach Park
The cool breeze gives a pleasant fishing experience at Hollywood North Beach Park.
Shopping in Hollywood
Hollywood is a city with a year-round population. You can find small and bigger shopping centers with all the main US chains in the city.

RK Diplomat Center
Hollywood Hills Plaza
Young Circle Shopping Center
Oakwood Plaza
Activities in Hollywood
Golf
Spend a nice day golfing in the 18-hole 4-star rated golf course located in the Jacaranda Golf Club.
Visit the Arts & Culture Center of Hollywood
Visit the Arts & Culture Center of Hollywood to watch the visual and performing art shows and live stage shows.
Visit St. Bernard De Clairvaux
Visit the 12th Century Spanish monastery for an exceptional Spanish infrastructure as well as the artifacts of the William Randolph Hearst. You can also attend various events and concerts hosted there.
Visit the Market
Hollywood is an attractive place popular for its outdoor lifestyle. You can enjoy it by roaming in the city with lots of shopping malls, golf courses, parks, and visits to the flea markets, and "shop till you drop".
Airboat Tour
You can go to the Everglades Holiday Park for a lifeboat tour and enjoy the presentation by the Gator Boys.
Kayaking/Canoe
You can rent a kayak or canoe and visit the Oleta River State Park, the largest urban park of Florida, and other parks to enjoy and witness nature in its beautiful landscape.
Fishing
You can visit Oleta River State Park and similar attractions, Deerfield Beach International Fishing Pier, and similar locations for fishing.
Walking tour of the city
You can visit the city and various parks with a tour guide, shopping centers, pavilions, and golf clubs.
Tram Ride in Flamingo Gardens
Take a tram ride and enjoy the wildlife sanctuary, trees, and aviary of the Flamingo Gardens.
Hiking
You can go on a hike because of the vast hiking space in the surroundings of Hollywood to enjoy the refreshing atmosphere and majestic views.
Beach Broadwalk
You can go on a morning jog, walk, or even cycling on the
2.5 Miles (4 km)

America's award-winning beach Broadwalk.
Spa & Fitness Clubs
There are various health clubs and spas nearby you can visit to have a quality time and be involved in activities beneficial for health like yoga too.
Horse Riding
You can enjoy horseback riding in the Oleta River State Park.
Restaurants in Hollywood
There are many restaurants and bars along the intracoastal waterway that are very good. Downtown Hollywood in particular can offer a good and reasonably priced meal.

Le Tub Saloon
The Greek Joint Kitchen & Bar
Runas Peruvian Cuisine
Mickey Byrne's Irish Pub & Restaurant
Mauro's Pizza
Florio's Of Little Italy
More things to see in Hollywood
Oleta River State Park
It is the largest urban park in Florida. The Park is filled with tangled, tidal mangroves. It has 1,033-acres of green space set against Biscayne Bay and it offers kayaking, hiking, camping, swimming, horse riding, and biking. The Park also hosts events all year-round, showcasing the nature of South Florida.
Hollywood Beach Broadwalk
Stretching nearly
2.5 Miles (4 km)

along the Atlantic, it was awarded as America's Best Beach Broad-walk. It is a haven for the bicyclists, joggers, and kids with roller-blades. You can jog or walk in the morning so that you can witness a beautiful sunrise and the sublime windy weather or you can enjoy the sunset in the evening. You can also take a late-night walk along the beach. You can visit the restaurants along the Broad-walk.
St. Bernard De Clairvaux
You can visit the 12th Century Spanish monastery with scenic gardens offering regular tours and concerts. The monastery has many interesting artifacts belonging to the collection of William Randolph Hearst.
Naval Air Station Fort Lauderdale Museum
It is the only military museum in Broward County. It is a small, historic museum packed with displays about naval aviation, World War II history, and Flight 19. The building stands as the only remains of what was once a naval complex of over 200 buildings.
Art & Culture Center of Hollywood
You can visit the Center for visual and performing arts shows, the adjacent art school, and the Hollywood Central Performing Arts Center. The Center hosts live stage performances, high-quality education programs, and gallery exhibitions.
More information about Hollywood Florida
What to do in Hollywood Florida in other months
Weather in Hollywood Florida for each month