Spend your fall, winter, or spring in Hollywood, Florida: Is Hollywood a good snowbird location?
A visit to Florida is always incomplete without a visit to the iconic city of Hollywood. The city is located in Broward County, Florida, between Fort Lauderdale and Miami. It was established in 1925 and it is the twelfth largest city in Florida. The city is home to America's Best Beach Broadwalk, Hollywood Beach Broadwalk stretched over 2.5 Miles (4 km) along the Atlantic Coast. The city is a beachfront community, and it has all that winter visitors need. Be it for a walk on the beach, water activities, sunbathing or fine warm winter weather, Hollywood is the perfect escape from the chilly weather home. The city is filled with gorgeous beaches, amazing galleries, parks, and all the places deemed perfect for an outdoor lifestyle. Along with these prerogatives of Hollywood, snowbirds should visit the city because of the high average of sunny days per year which is suitable for the visitors in winter to spend more time exploring the city.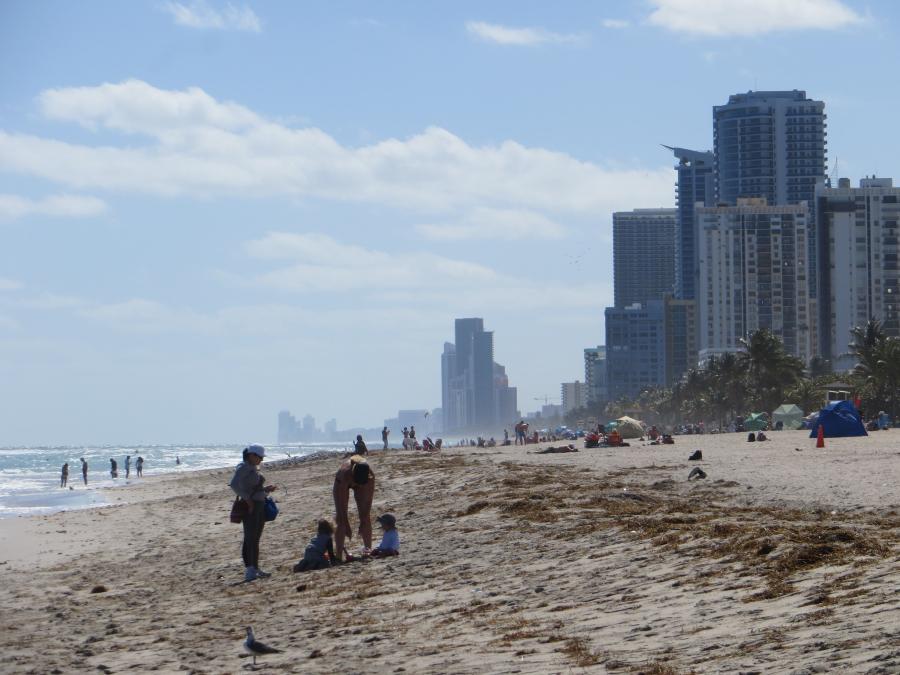 Why should people visit during the fall, winter, or spring?
The best time to visit Hollywood is in the winter. The warm weather makes it possible to go out and relax in the fresh atmosphere and attend some of the city's various activities. The city has the 41st percentile in pleasant weather compared to tourist destinations worldwide. The weather of the city averages 246 sunny days per year. It has a lot of places to visit and things to do which should be part of your itinerary. You can explore the city on foot, go to the beach and relax, or taste some of the delicacies you can find in some of the stores.
Climate
The winter weather of Hollywood is moderately warm, but the nights can be chilly. Even in January the city has a high temperature of around 76°F (24°C) and a low temperate of 63°F (17°C) on average. The winter period normally does not see hurricanes (the hurricane season is from June to November).

Things to see in Hollywood, Florida
Hollywood is a prominent tourist location with many interesting places you can visit:
Oleta River State Park: It is the largest urban park in Florida. The Park is filled with tangled, tidal mangroves. It has 1,033-acres of green space set against Biscayne Bay and it offers kayaking, hiking, camping, swimming, horse riding, and biking. The Park also hosts events all year-round, showcasing the nature of South Florida.
St. Bernard De Clairvaux: You can visit the 12th Century Spanish monastery with scenic gardens offering regular tours and concerts. The monastery has many interesting artifacts belonging to the collection of William Randolph Hearst.
Hollywood Beach Broadwalk: Stretching nearly 2.5 Miles (4 km)

along the Atlantic, it was awarded as America's Best Beach Broad-walk. It is a haven for the bicyclists, joggers, and kids with roller-blades. You can jog or walk in the morning so that you can witness a beautiful sunrise and the sublime windy weather or you can enjoy the sunset in the evening. You can also take a late-night walk along the beach. You can visit the restaurants along the Broad-walk.

Art & Culture Center of Hollywood: You can visit the Center for visual and performing arts shows, the adjacent art school, and the Hollywood Central Performing Arts Center. The Center hosts live stage performances, high-quality education programs, and gallery exhibitions.
Naval Air Station Fort Lauderdale Museum: It is the only military museum in Broward County. It is a small, historic museum packed with displays about naval aviation, World War II history, and Flight 19. The building stands as the only remains of what was once a naval complex of over 200 buildings.
Things to see not far from Hollywood, Florida
There are many neighboring towns and places that are worth a visit:
MAC Fine Art Gallery: MAC Art Galleries was awarded as the best gallery in Florida for 2020. This award-winning gallery displays the artwork of over 60 professional artists. You can visit the gallery to see the masterpieces yourself. It is located 12 Miles (19 km)

from Hollywood.

Jacaranda Golf Club: It is an 18-hole golf course located 14.1 Miles (23 km)

from Hollywood. It offers two 4-star rated golf courses and hosted PGA, USGA, and FSGA Championship Events. The Club also hosts private tournaments. The facilities include a practice area, driving range, a pro shop, and restaurants. The golf course also offers great packages for the traveling golfers.

Flamingo Gardens: It is a not-for-profit wildlife sanctuary, aviary, zoo as well as botanical garden. You can also take a tram ride and get a tour of the whole place while enjoying the sight of the wildlife, birds as well as the trees. It is located 18.5 Miles (30 km)

from Hollywood.

Everglades Holiday Park: It is a wildlife preserve and wildlife park but it especially known for its airboat tours. You can go on an airboat tour and enjoy the thrilling alligator presentation performed by the Gator Boys. You can also have one professional group photo at an airboat dock and one baby gator group photo free for a memory. It is located 31 Miles (50 km)

from Hollywood.

Miami: Visit the famous city.
Key West: the most southern point of the US.
Activities in Hollywood, Florida in the winter
There are numerous activities you can participate in during your stay in Hollywood:
Visit the Market: Hollywood is an attractive place popular for its outdoor lifestyle. You can enjoy it by roaming in the city with lots of shopping malls, golf courses, parks, and visits to the flea markets, and "shop till you drop".
Kayaking/Canoe: You can rent a kayak or canoe and visit the Oleta River State Park, the largest urban park of Florida, and other parks to enjoy and witness nature in its beautiful landscape.
Walking tour of the city: You can visit the city and various parks with a tour guide, shopping centers, pavilions, and golf clubs.
Airboat Tour: You can go to the Everglades Holiday Park for a lifeboat tour and enjoy the presentation by the Gator Boys.
Horse Riding: You can enjoy horseback riding in the Oleta River State Park.
Visit the Arts & Culture Center of Hollywood: Visit the Arts & Culture Center of Hollywood to watch the visual and performing art shows and live stage shows.
Visit St. Bernard De Clairvaux: Visit the 12th Century Spanish monastery for an exceptional Spanish infrastructure as well as the artifacts of the William Randolph Hearst. You can also attend various events and concerts hosted there.
Spa & Fitness Clubs: There are various health clubs and spas nearby you can visit to have a quality time and be involved in activities beneficial for health like yoga too.
Fishing: You can visit Oleta River State Park and similar attractions, Deerfield Beach International Fishing Pier, and similar locations for fishing.
Golf: Spend a nice day golfing in the 18-hole 4-star rated golf course located in the Jacaranda Golf Club.
Hiking: You can go on a hike because of the vast hiking space in the surroundings of Hollywood to enjoy the refreshing atmosphere and majestic views.
Beach Broadwalk: You can go on a morning jog, walk, or even cycling on the 2.5 Miles (4 km)

America's award-winning beach Broadwalk.

Tram Ride in Flamingo Gardens: Take a tram ride and enjoy the wildlife sanctuary, trees, and aviary of the Flamingo Gardens.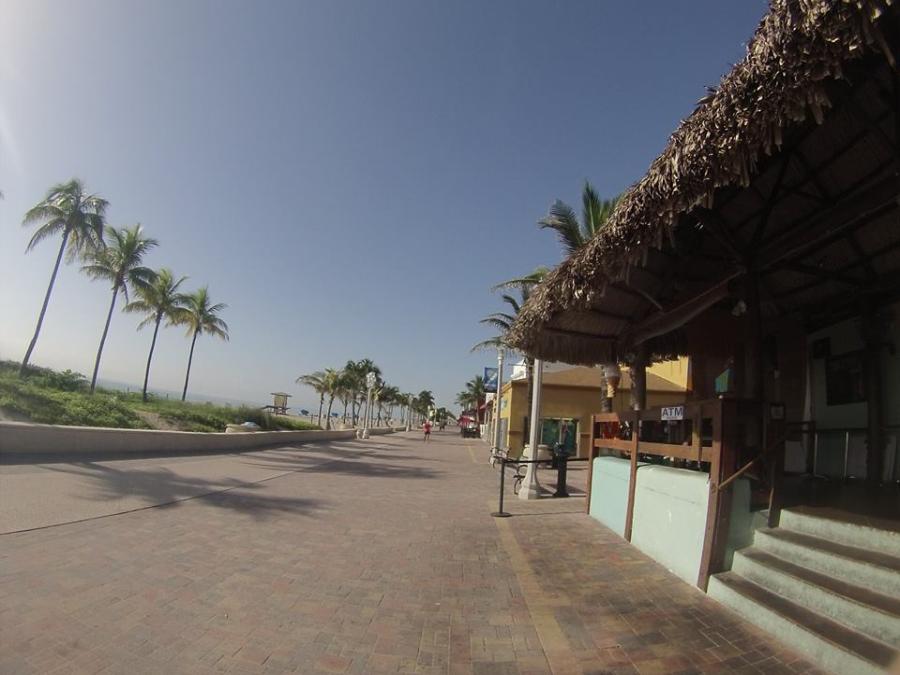 Shops & Restaurants. Are they Open in winters?
Of course, you can find small and bigger shopping centers with all the main US chains in Hollywood. But you can also visit some of the fresh produce markets in Hollywood, such as the Yellow Green Farmers Market, the largest farmers market in South Florida, with over 300 under-roof booths in a 100,000 square foot facility. All the vendors gather around at a commonplace on Saturdays & Sundays, year-round, from 8 AM to 4 PM. You can purchase freshly picked fruits & vegetables from local farmers.
The city is bordered by the Atlantic Coast, so you can also find a fresh variety of seafood. Other than meat, fruits, or vegetables, you can also find a variety of other products like handmade ice cream, home goods, furniture, dairy, and much more.
If you get hungry while shopping, you can also get a taste of lots of exquisite cuisines. There are no signature dishes that are historically related to Hollywood. The cuisine of Hollywood is as versatile as the city itself. If you are looking for a quick bite, you can opt for fast food but if you want a proper dine-in, you can find multiple restaurants belonging to different ethnicities as well.
Transport
The nearest airport to Hollywood is Fort Lauderdale-Hollywood International Airport located north of the city and only 4.9 Miles (8 km) from Hollywood. There are various airport shuttle services available which you can use or you can take an Uber or taxi to reach the city and vice versa. Of course, renting a car can be a good option if you plan to use it more often.
There is a "Sun Shuttle" service operated by Circuit. It is an environmentally-friendly, electric public transportation service providing transportation to the riders through service areas in downtown Hollywood, on Hollywood Beach along the Federal Highway. The Broward County Transit has nine routes through Hollywood that you can use to get around the city and connect to other local destinations. You can also take the option of Greyhound Bus services whose station is located in the city for intercity travel.
There are three train stations available in Hollywood including two tri-rail stations. There is one Hollywood Train Station served by Tri-rail and Amtrak, Sheridan Street Tri-rail Station along with Fort Lauderdale Airport Tri-Rail Station in the city. You can take these rail options for inter-city as well as intra-city traveling.
Health
In Hollywood, public and private health facilities are located in the city and are easily accessible. The health sector is perfectly suitable for anyone who walks in with a problem. 24/7 emergency is available in hospitals, and emergency cases are handled well. Some of the better healthcare centers are:
Accommodation
There are many different rental companies in Hollywood, whether you're looking for an apartment, cottage, or villa. Some of the most popular organizations are:
These prominent websites, along with other websites connect you to the local real estate agents in Hollywood. You can rent a 1-bedroom and 1-bath starting from around $850 (approx. €792, £682, $1141 CAD, $1285 AUD).
RV/Campers/Motorhome
Twin Lakes Travel Park: There are nearly 374 campsites in the Park. It costs nearly from $60 (approx. €55, £48, $80 CAD, $90 AUD) for camping, including the facilities. You can visit their website for more information (twinlakestravelpark.com/)
Packing List
Weather: The fall, winter, and spring weather in Hollywood (Florida) will normally be warm during the day, but can be chilly during the night. Of course in the fall and spring it will be warmer than in the winter. You have to pack accordingly.

Warm clothing: Even when you go to a warm location like Hollywood (Florida) you should not forget to take some things with you for your trip back home. When you return you are adapted to the warmer weather and need something to protect you from your hometown temperatures.

Consider the Weather: Always look at the type of weather in Hollywood (Florida). Things like humidity, wind, and rain do not show up in the temperature graph but can have a great impact on your wardrobe. There are several sites with long term forecasts and climate information. Is there often a short afternoon downpour like in the tropics, you maybe need to take a strong umbrella and shoos that can cope with the rain. If there is often a lot of wind you might need a more wind-resistant coat.

Check the local Shopping options: Try to find information about the local shopping options near your location in Hollywood (Florida). Are there stores where you can buy all your daily supplies, or are some things difficult to get? For some more remote locations, the options can be limited. If a certain item is really important for you might need to take it with you.

Look at the Local Culture: The local culture in Hollywood (Florida) can impact your wardrobe. If most activities are in more upscale locations you might take some more appropriate clothes with you. Or travelling if you travel to certain countries women need to cover themselves in certain areas.

Amenities: Know what's Included in your house or apartment. Is there a coffee maker, a toaster, a washer and dryer, an iron, what is in the kitchen, what kind of towels are there? Things that are there means you do not have to take them with you. A furnished apartment or house can mean something from a few pieces of furniture to a well-stocked place with all the things you have at home. But most of the time your rental will not be stocked.

Mix and match: Wear layers so you can use your wardrobe more efficiently. And do not worry about wearing something more often, probably only you will notice this.

Important for you: If there is something that is really important for you that you want to have present in your house or apartment, take it with you. This can be something like a special knife for the kitchen, or a small mirror that you use in the morning. You can also purchase it locally if it is not that expensive.

Pet supplies: If you take your pet with you don't forget to take supplies for a few days with you. And enough medication, vitamins, or other supplies if you can not purchase them in Hollywood (Florida) locally.

Food: Don't take a lot of food with you. Only when there is something you really can not live without you, and it is not too heavy you could consider taking it with you.

Towels: Not all locations include bigger towels for the swimming pool or a visit to the beach. If you have to take them and don't have a lot of room you can buy some big thin towels.

Office supplies: Normally you will not find any office supplies in your house or apartment. If you think you will use them you could pack some supplies like a scissor, notepaper, envelopes, some pens, and more depending on your needs.

Limit yourself: Don't take too many shoes and jackets, you will not need them that often.

Best-fitting: Bring your favorite and best-fitting items that can multi-function

Washer: Do you have a washer and dryer onsite, you don't need to pack a lot of clothes
Clothing
Basics
Casual
Smart
Footwear
Toiletries
Beauty
Hygiene
Clothing
Basics
Casual
Outdoor
Footwear
Accessories
Toiletries
Medicine
Miscellaneous
Other
Toiletries
Beauty
Hygiene
Hair
Other
Medicine
Miscellaneous
Technology
Travel and Free time
Travel
Free time
Important
Documents
Money
Other locations close to this location:
Travelers' Map is loading...
If you see this after your page is loaded completely, leafletJS files are missing.
If you have any additions, or comments on the content on this page, please use our contact form to let us know.
Detailed weather during the year for Hollywood Florida
What to do during the year in Hollywood Florida