What to do in February in Cape Coral, Florida - 2024
Cape Coral is a city located in Lee County, Florida, United States, on the Gulf of Mexico.
The city has over of navigable waterways, more than any other city on earth.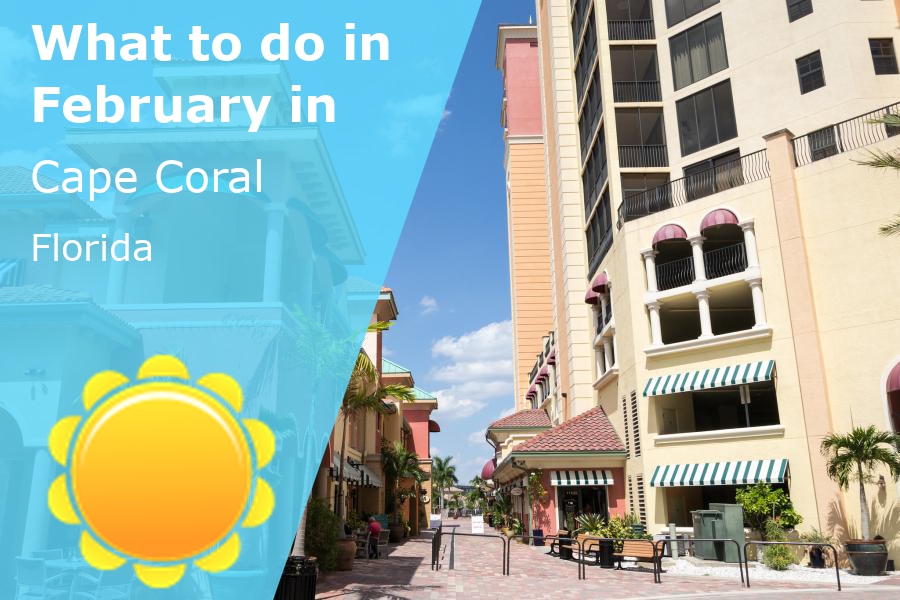 Before we have a look at what you can do in Cape Coral, let's first look at the weather you can expect in February.


February weather in Cape Coral Florida
To get a good overview of the type of weather you can expect in February in Cape Coral Florida, we will look at the day and night temperature, minimum and maximum water temperature, and if February is comfortable or humid
Generally, February in Cape Coral Florida will be really nice. Historical data shows that you can expect an average temperature of around 77°F / 25°C. As the humidty is low, it will feel very comfortable. During the night, it will cool down to around 55°F / 13°C.
Cape Coral Florida has some rainy days in February. You can expect around 6 rainy days, with on average 1.3 inches / 32 mm of rain during the whole month.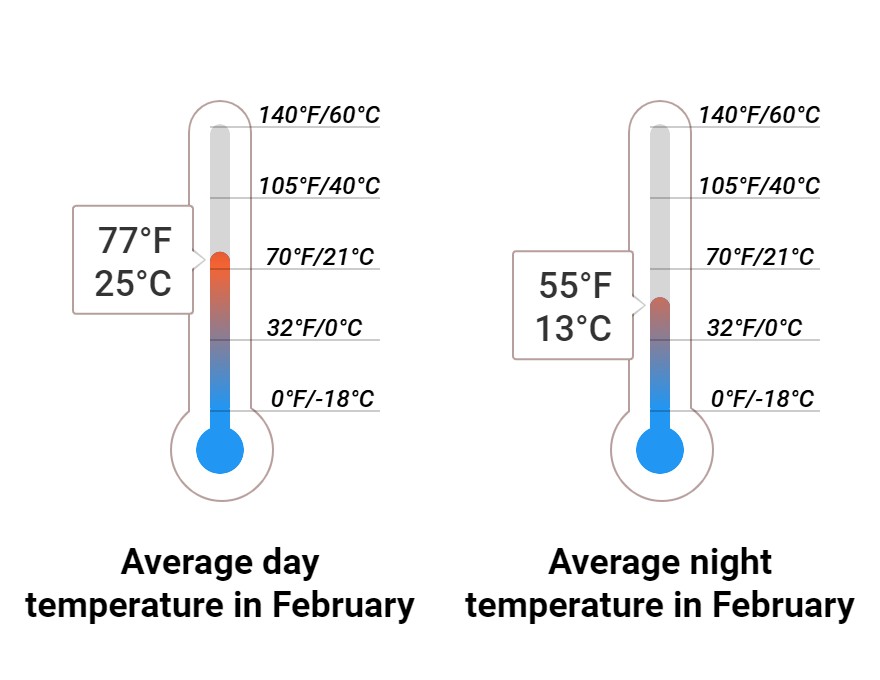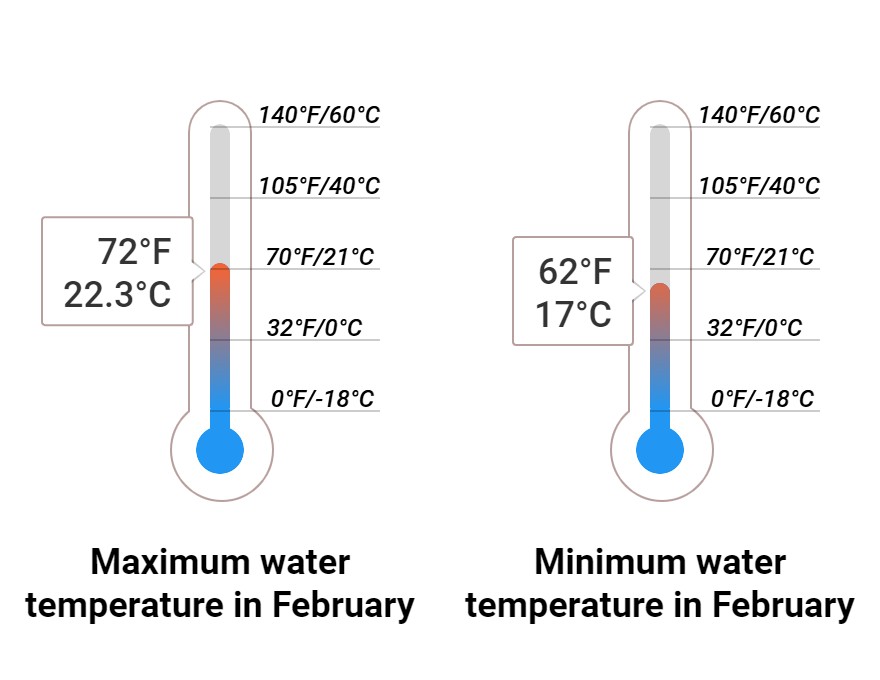 The forecast for February 2024 is based on historical data and are averages. They will give a good indication what you can expect, but the daily temperature and rain will fluctuate during the month.
Things to see and do in Cape Coral
Cape Coral has many things to soo. With help from our visitors we have dived a list of things to see in. If you have any sugestions or improvements for this list, please let us know.
Cape Coral Burrowing Owl Festival
Cape Coral Burrowing Owl Festival is held each February with tours to the owl nests at the beginning of the nesting season.
Taste of the Cape
Taste of the Cape is a food and music festival. There is a live music performance, tasty local food, and a fun atmosphere.
Shopping in Cape Coral
In and around Cape Coral you will find many small and big shopping areas and shopping malls.

Pine Island Marketplace - 511 SW Pine Island Rd, Cape Coral
Coralwood Shopping Center - 2301 Del Prado Blvd S, Cape Coral
The Shops at Midpoint Center - 2522 Santa Barbara Blvd, Cape Coral
Activities in Cape Coral
Yoga Retreats
You will find some of the top-class fitness and yoga retreats in Cape Coral for your yoga.
Day trips to other cities
There are many towns located near the city which are worth visiting.
Fishing
There are many preserves and beaches in the area where you can go fishing.
Coastal Biplane
You can take plane rides on the salty waters of the Gulf and enjoy the beautiful scenery.
Art classes
Join an art class and learn how to paint, draw, or start with pottery.
Golf
There are amazing golf courses in and around the city that have other amusement activities like pools and arcade games.
Theater
There are several theaters located in and around the town. Many events are held every day. You can watch all kinds of stories, plays of different genres in these theaters.
Walking around the town
There are a lot of places to visit in Cape Coral. You can take casual strolls to these places and don't miss out on anything.
Cooking
Always wanted to improve your cooking? Join a cooking class and learn how to cook something special.
Murder Mystery
You can board the historical train of southwest Florida to solve a murder mystery and have a 5-course meal.
Kayaking
You can go kayaking in the gentle Gulf. All guides and safeties are available.
Safari
You can visit the preserves in the area to have an amazing safari experience. You will find many locations where wildlife is preserved.
Restaurants in Cape Coral
This city is a must-visit for all foodies!

FINS Seafood & Dive Bar
Ariani Ristorante Italiano
Point 57 Kitchen & Cocktails
The Melting Pot
Applebee's Grill + Bar
More things to see in Cape Coral
Sirenia Vista Park
This is the best place to visit in winter because you can enjoy the tropical feels of the park. You can also go fishing in this park or take strolls in the trails 8-acre land.
Cape Coral History Museum
You can learn about the history of Cape Coral in this museum by taking a look at the artifacts, documents, photographs, and other items related to the history of Cape Coral in the museum.
Trent Art Gallery
You can visit the Trent art gallery in Cape Coral. There are a lot of great art pieces to see in this gallery and many art-related events are held here now and then.
Four Mile Cove Ecological Preserve
You can find the most beautiful blend of flora and fauna in this preserve. There are many recreational activities present here and you can play golf, visit an art center, or visit the lake.
Beaches
Cape Coral is bordered by sea so there are many beaches that you can visit. You can select a different location for every day, take a stroll across the beach, do some sun-soaking, and get delicious food to eat from local vendors.
Southwest Florida Military Museum & Library
This museum is dedicated to preserving and displaying military artifacts and memorabilia for the education of the people about the heritage of the military.
More information about Cape Coral Florida
What to do in Cape Coral Florida in other months
Weather in Cape Coral Florida for each month