Spend your fall, winter, or spring in Cape Coral, Florida: Is Cape Coral a good snowbird location?
Cape Coral is located on the Gulf of Mexico and was initially founded at Redfish point. Cape Coral is a well-established city with beautiful beaches and even more a beautiful city structure. There are many attractive spots in and around Cape Coral that are worth a visit. Generally, this is a busy town with a lot of things going on. The weather is pleasant all year round, so you can enjoy this spectacular city whenever you want.
Why should people visit during the fall, winter, or spring?
Cape Coral is a coastal area with pleasant and stable weather throughout the year. Even in the winter months, you will have a lot of sunny days. This allows you to enjoy long strolls amidst the hustles of the city of Cape Coral, and all the recreational areas and restaurants are open during this time of the year. The city never dulls down and you can find a lot of attractions in and around the city.
Climate
Cape Coral stays pleasant all year round and never gets super hot. The temperature rarely goes below 54°F (12°C) or above 81°F (27°C) in winter. It can get chilly in the evenings during the winter, but the day time is mostly sunny and comfortable. There is minimal rain during winters. The winter period normally does not see hurricanes (the hurricane season is from June to November).

Things to see in Cape Coral
Cape Coral is an important tourist location. There are many places that are worthwhile visiting:
Four Mile Cove Ecological Preserve: You can find the most beautiful blend of flora and fauna in this preserve. There are many recreational activities present here and you can play golf, visit an art center, or visit the lake.
Cape Coral History Museum: You can learn about the history of Cape Coral in this museum by taking a look at the artifacts, documents, photographs, and other items related to the history of Cape Coral in the museum.
Trent Art Gallery: You can visit the Trent art gallery in Cape Coral. There are a lot of great art pieces to see in this gallery and many art-related events are held here now and then.
Southwest Florida Military Museum & Library: This museum is dedicated to preserving and displaying military artifacts and memorabilia for the education of the people about the heritage of the military.
Sirenia Vista Park: This is the best place to visit in winter because you can enjoy the tropical feels of the park. You can also go fishing in this park or take strolls in the trails 8-acre land.
Beaches: Cape Coral is bordered by sea so there are many beaches that you can visit. You can select a different location for every day, take a stroll across the beach, do some sun-soaking, and get delicious food to eat from local vendors.
Things to see not far from Cape Coral
There are a few great neighboring towns and places in the surrounding areas that one can visit:
Sanibel Island: It is located 18 Miles (29 km)

from Cape Coral. It is only accessible by boat. You can enjoy the beaches in this place, visit the historical sites, and eat some great food.

Six Miles Cypress Slough Preserve: It is located 9.6 Miles (15 km)

from Cape Coral. It is a non-profit organization that preserves the natural wildlife. You can have guided tours throughout the park and even shop for a few things from the local gift shops.

Edison and Ford winter estates: It is located 10 Miles (16 km)

from Cape Coral. The area is 20 acres of historical land with the museum, laboratory, and gardens. It dates back to 1885 when Edison bought his first vacation home here.

Sidney & Berne Davis Art Center (SBDAC): It is located 9.5 Miles (15 km)

from Cape Coral. You can visit the art center, music center and even attend the events held there.
Activities in Cape Coral in the fall, winter, or spring
Cape Coral has many winter activities you can join:
Coastal Biplane: You can take plane rides on the salty waters of the Gulf and enjoy the beautiful scenery.
Fishing: There are many preserves and beaches in the area where you can go fishing.
Theater: There are several theaters located in and around the town. Many events are held every day. You can watch all kinds of stories, plays of different genres in these theaters.
Safari: You can visit the preserves in the area to have an amazing safari experience. You will find many locations where wildlife is preserved.
Murder Mystery: You can board the historical train of southwest Florida to solve a murder mystery and have a 5-course meal.
Cooking: Always wanted to improve your cooking? Join a cooking class and learn how to cook something special.
Kayaking: You can go kayaking in the gentle Gulf. All guides and safeties are available.
Walking around the town: There are a lot of places to visit in Cape Coral. You can take casual strolls to these places and don't miss out on anything.
Yoga Retreats: You will find some of the top-class fitness and yoga retreats in Cape Coral for your yoga.
Art classes: Join an art class and learn how to paint, draw, or start with pottery.
Golf: There are amazing golf courses in and around the city that have other amusement activities like pools and arcade games.
Day trips to other cities: There are many towns located near the city which are worth visiting.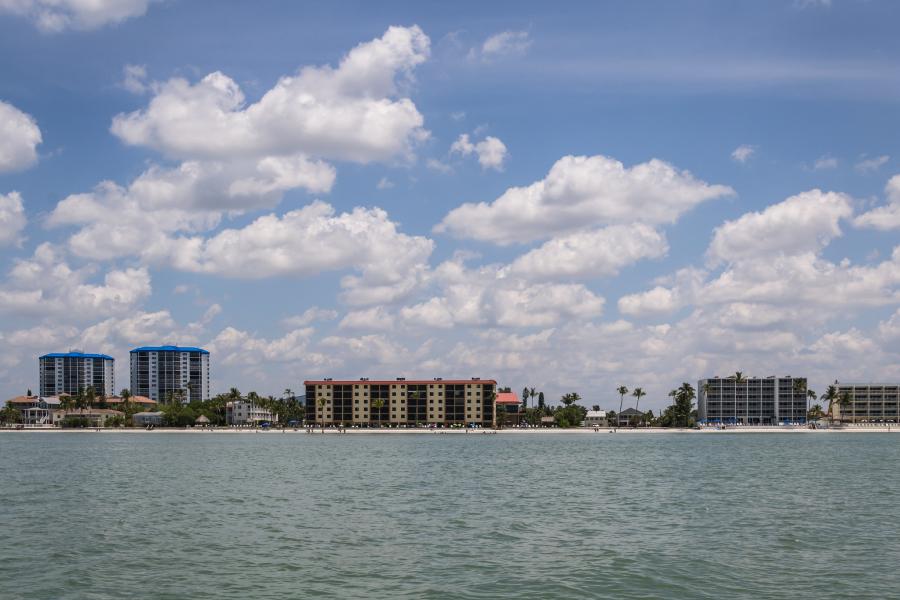 Shops & Restaurants. Are they Open in winters?
In and around Cape Coral you will find many small and big shopping areas and shopping malls. There is also a large selection of restaurants.
Farmers Market: One of the best fresh produce markets in the area. You can buy fresh Floridian fruits and vegetables in this market along with flowers. You can also find local handmade souvenir shops here. You can visit the Island Seafood market, which is located on the beach to get some fresh seafood.
There are no signature dishes related to the city of Cape Coral. Cape Coral is located in the Gulf of Mexico, so you can get fresh, delicious seafood. You can find a lot of citrus in the food that is served in the restaurants. Green vegetables are more preferred as the side of the food.
Transport
The nearest airport to Cape Coral is Southwest Florida International Airport. It is located 15.7 Miles (25 km) from Cape Coral. You can take a bus, train, taxi, Uber or a private car to reach Cape Coral. The bus is the cheapest way to commute from the airport.
There is a well-established bus transportation system in Cape Coral. You can find several schedules for different locations within and outside the city as well. Different companies operate and charge different prices. The bus is the cheapest way to commute.
There is no train station near Fort Meyers (the nearest station is in Tampa).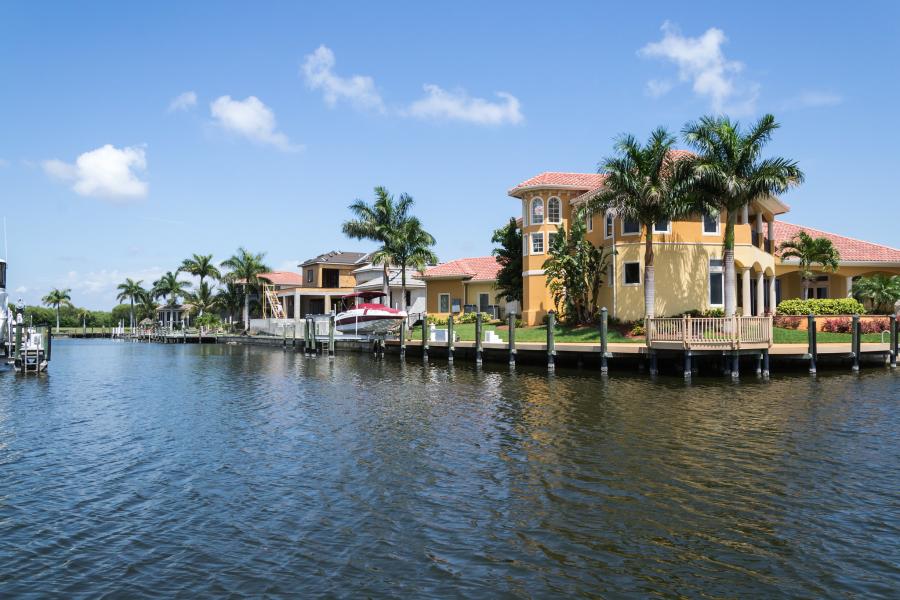 Health
There are many great medical and health care centers within the city of Cape Coral. The city has general hospitals, private hospitals, and private clinics. In general private hospitals are preferred over the general hospitals. All the hospitals have 24/7 emergency and departments to treat every kind of illness:
Accommodation
There are many different rental companies present in Cape Coral, and there are lots of options for apartments and villas. You can get a nice apartment in the area with rates starting from $850 (approx. €778, £686, $1150 CAD, $1267 AUD) per month. Some of the more popular sites for renting a second home in Cape Coral include: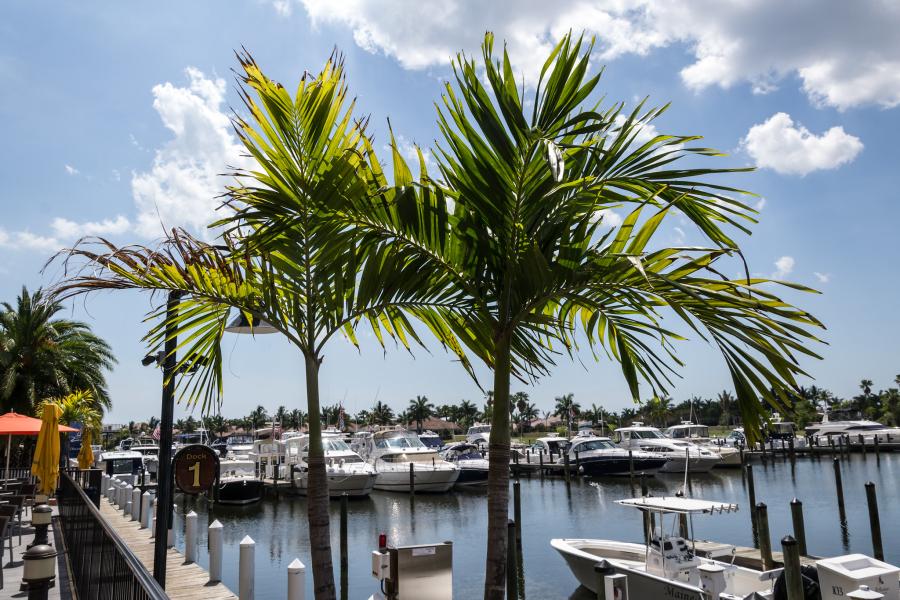 RV/Campers/Motorhome
If you are traveling with a Motorhome there are many options available:
Sugar and beach RV resort: It is a good site for RV camping within the town. Facilities like restrooms, laundry, and running water are available. Prices start from $100 (approx. €91, £80, $135 CAD, $149 AUD) per night. (https://www.sugarsandbeachrvresort.com/)
Tamiami RV Park: 100+ full sites available for RV or motorhomes. All modern facilities are available. Prices start from $40 (approx. €36, £32, $54 CAD, $59 AUD) per night. (https://www.tamiamicommunity.com/)
There are also many great options outside Cape Coral:
Fort Myers / Pine Island KOA Holiday: It is a great camping site and It is located in the city. It is also accessible by boat from Cape Coral. Basic facilities like toilets, water, and electricity are available. It costs $45 (approx. €41, £36, $60 CAD, $67 AUD) per night (https://koa.com/campgrounds/fort-myers/)
Gulf Air RV Resort: Camping space for tents is available. 209 sites are available. All the facilities are available in this resort. Prices start from $48 (approx. €43, £38, $64 CAD, $71 AUD) per night. (https://www.rvonthego.com/florida/gulf-air-rv-resort/)
Packing List
Weather: The fall, winter, and spring weather in Cape Coral (Florida) will normally be warm during the day and can be cold during the night. Of course in the fall and spring it will be warmer than in the winter. You have to pack accordingly.

Warm clothing: Even when you go to a warm location like Cape Coral (Florida) you should not forget to take some things with you for your trip back home. When you return you are adapted to the warmer weather and need something to protect you from your hometown temperatures.

Consider the Weather: Always look at the type of weather in Cape Coral (Florida). Things like humidity, wind, and rain do not show up in the temperature graph but can have a great impact on your wardrobe. There are several sites with long term forecasts and climate information. Is there often a short afternoon downpour like in the tropics, you maybe need to take a strong umbrella and shoos that can cope with the rain. If there is often a lot of wind you might need a more wind-resistant coat.

Check the local Shopping options: Try to find information about the local shopping options near your location in Cape Coral (Florida). Are there stores where you can buy all your daily supplies, or are some things difficult to get? For some more remote locations, the options can be limited. If a certain item is really important for you might need to take it with you.

Look at the Local Culture: The local culture in Cape Coral (Florida) can impact your wardrobe. If most activities are in more upscale locations you might take some more appropriate clothes with you. Or travelling if you travel to certain countries women need to cover themselves in certain areas.

Amenities: Know what's Included in your house or apartment. Is there a coffee maker, a toaster, a washer and dryer, an iron, what is in the kitchen, what kind of towels are there? Things that are there means you do not have to take them with you. A furnished apartment or house can mean something from a few pieces of furniture to a well-stocked place with all the things you have at home. But most of the time your rental will not be stocked.

Mix and match: Wear layers so you can use your wardrobe more efficiently. And do not worry about wearing something more often, probably only you will notice this.

Important for you: If there is something that is really important for you that you want to have present in your house or apartment, take it with you. This can be something like a special knife for the kitchen, or a small mirror that you use in the morning. You can also purchase it locally if it is not that expensive.

Pet supplies: If you take your pet with you don't forget to take supplies for a few days with you. And enough medication, vitamins, or other supplies if you can not purchase them in Cape Coral (Florida) locally.

Food: Don't take a lot of food with you. Only when there is something you really can not live without you, and it is not too heavy you could consider taking it with you.

Towels: Not all locations include bigger towels for the swimming pool or a visit to the beach. If you have to take them and don't have a lot of room you can buy some big thin towels.

Office supplies: Normally you will not find any office supplies in your house or apartment. If you think you will use them you could pack some supplies like a scissor, notepaper, envelopes, some pens, and more depending on your needs.

Limit yourself: Don't take too many shoes and jackets, you will not need them that often.

Best-fitting: Bring your favorite and best-fitting items that can multi-function

Washer: Do you have a washer and dryer onsite, you don't need to pack a lot of clothes
Clothing
Basics
Casual
Smart
Footwear
Toiletries
Beauty
Hygiene
Clothing
Basics
Casual
Outdoor
Footwear
Accessories
Toiletries
Medicine
Miscellaneous
Other
Toiletries
Beauty
Hygiene
Hair
Other
Medicine
Miscellaneous
Technology
Travel and Free time
Travel
Free time
Important
Documents
Money
Other locations close to this location:
Travelers' Map is loading...
If you see this after your page is loaded completely, leafletJS files are missing.
If you have any additions, or comments on the content on this page, please use our contact form to let us know.
Detailed weather during the year for Cape Coral Florida
What to do during the year in Cape Coral Florida