What to do in February in Tulum, Mexico - 2024
Tulum is a city on the Caribbean coast of Mexico's Yucatán Peninsula. It is known for the well-preserved ruins of an ancient Mayan port city. The main building is a stone structure called Castillo (castle).
Before we have a look at what you can do in Tulum, let's first look at the weather you can expect in February.


February weather in Tulum Mexico
To get a good overview of the type of weather you can expect in February in Tulum Mexico, we will look at the day and night temperature, minimum and maximum water temperature, and if February is comfortable or humid
Generally, February in Tulum Mexico will be really nice. Historical data shows that you can expect an average temperature of around 82°F / 28°C. But due to the moderate humidity it can feel slightly uncomfortable for some. During the night, it will cool down to around 69°F / 21°C. Many will prefer a location with air conditioning due to the high humidity level.
Tulum Mexico has rainy days in February. You can expect around 8 rainy days, with on average 0.7 inches / 18 mm of rain during the whole month.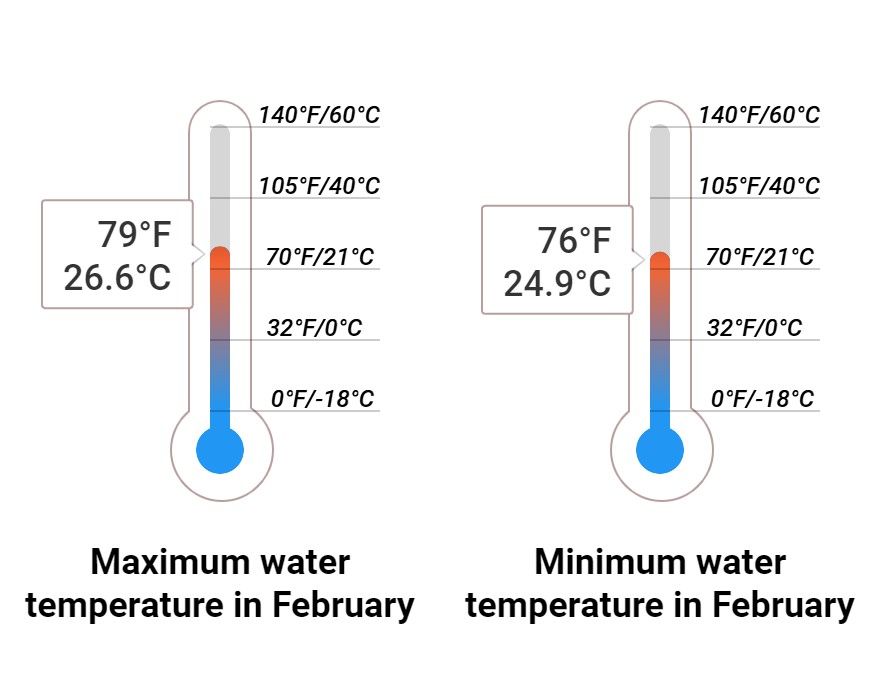 The forecast for February 2024 is based on historical data and are averages. They will give a good indication what you can expect, but the daily temperature and rain will fluctuate during the month.
Things to see and do in Tulum
Tulum has many things to soo. With help from our visitors we have dived a list of things to see in. If you have any sugestions or improvements for this list, please let us know.
Cenote Dos Ojos
Nature/Wild Life
Throughout the Year
Cenotes are natural swimming holes in the forests formed when water flows out of limestones. Cenote Dos Ojos is easily accessible.
Playa Paraiso
Playa Paraiso is a beach with crystal clear water making it ideal for an aerial shot.
Tulum Sign
Landmark
Throughout the Year
Tulum Sign is an artistic display located in the center of the town.
Papaya Playa Project
Papaya Playa Project is great for sunbathing, and other water activities.
Mayan Ruins
Cultural
Throughout the Year
Mayan Ruins date back to the 13th century. One of them is located on the cliff overlooking the sea making it the most attractive spot.
Caves at Cenote Caracol
Nature/Wild Life
Throughout the Year
Caves at Cenote Caracol have hanging stalactites making it scenic and worth visiting.
Villa Pescadores
Villa Pescadores is the most affordable beach club here.
Sian Ka'an Biosphere
Sian Ka'an Biosphere is great for birdwatching, dolphin watching, and 4x4 fun ride.
Laguna de Kaan Luum
Laguna de Kaan Luum is ideal for a mud bath.
Coba Ruins
Cultural
Throughout the Year
Coba Ruins are located inside a mysterious jungle but they are easily accessible.
Shopping in Tulum
Tulum Beach Road is sprinkled with stores and shops. They are filled with the most beautiful assortment of gauzy sundresses, kaftans, and accessories that also make fashionable souvenirs for you to take home and reminisce over your adventures in paradise.
Some examples:

Lolita Lolita
The Jungles Stores
Wildsea Boutique
Arte Sano
La Troupe
Activities in Tulum
Chichen Itza
A day trip to Chichen Itza from Tulum
Festival of life and death
takes place usually between October/November. This intriguing festival is to celebrate the time-honored tradition; Day of the Dead for people of Mexican heritage. As a spectator, snowbirds get to see vibrant cultural plays and dances.
Biking
Join a bike tour to enjoy the neighborhood.
Visit Sian Ka'an Biosphere Reserve
This large natural reserve of jungle, marsh, and mangroves is filled with animals and bird species. It is best for snowbirds to go with a guide, either arranged from Tulúm or Punta Allen.
Comunite festival
Visit the Comunite festival in January
Beach
A day out at the beach which opens at 9.00 am
Swimming and snorkeling
Swim, Snorkel or Dive in a Cenote
Cooking
Learning to cook authentic Mexican food - Riviera Kitchen is one of the popular cooking classes in Tulum.
Day Zero Festival
Day Zero Festival is one of the most renowned music festivals in Tulum and takes place in the jungle at Cenote dos Palmas. It usually takes place in January.
Zamna festival
Visit the Zamna festival in December.
Mayan Ruins
Visit Tulum Mayan Ruins, which opens at 8.00 am
Restaurants in Tulum
You'll find most restaurants open all year round. We can recommend:

El Rincón Chiapaneco
La Gloria de Don Pepe
Sabor de Mar
Acqua & Farina
More things to see in Tulum
The Beaches
The beaches in Tulúm are gorgeous. Arguably, the best beach in Tulúm is Playa Ruinas at the ruins, for that picture-perfect dip in the water next to ancient Mayan temples. Other popular beach spots are Playa Paraíso, and the secluded Las Palmas beach.
Cenotes
A large number of cenotes are located in the Tulúm area such as Maya Blue, Naharon, Temple of Doom, Tortuga, Vacaha, Grand Cenote, Abejas, Nohoch Kiin, and Carwash cenotes and cave systems.
Archeological sites
El Castillo, the Temple of the Frescoes, and the Temple of the Descending God.
Art/Museum
The newly built Treehouse Art Gallery- this seaside gallery is located on the site of Tulúm's eco-friendly Azulik Resort.
More information about Tulum Mexico
What to do in Tulum Mexico in other months
Weather in Tulum Mexico for each month