What to do in November in Trinidad And Tobago - 2024
Trinidad and Tobago is a nation consisting primarily of two Caribbean islands, Trinidad and Tobago, just off the northeastern coast of Venezuela. The country has a cosmopolitan society inhabited by many different peoples and cultures who live together in relative peace and harmony.
Before we have a look at what you can do in Trinidad And Tobago, let's first look at the weather you can expect in November.


November weather in Trinidad And Tobago
To get a good overview of the type of weather you can expect in November in Trinidad And Tobago, we will look at the day and night temperature, minimum and maximum water temperature, and if November is comfortable or humid
Generally, November in Trinidad And Tobago will be really nice. Historical data shows that you can expect an average temperature of around 84°F / 29°C. But due to the very high humidity, it can feel very uncomfortable. During the night, it will cool down to around 77°F / 25°C. Many will prefer a location with air conditioning due to the night temperature, and the high humidity level.
Trinidad And Tobago has its share of rainy days in November. You can expect around 26 rainy days, with on average 5.3 inches / 135 mm of rain during the whole month.
But remember that rain can be short and heavy for many tropical locations, particularly during the rainy season. It means that the number of days with rain and the amount of rain can be high, but you will still see many lovely days with a short period of heavy rain.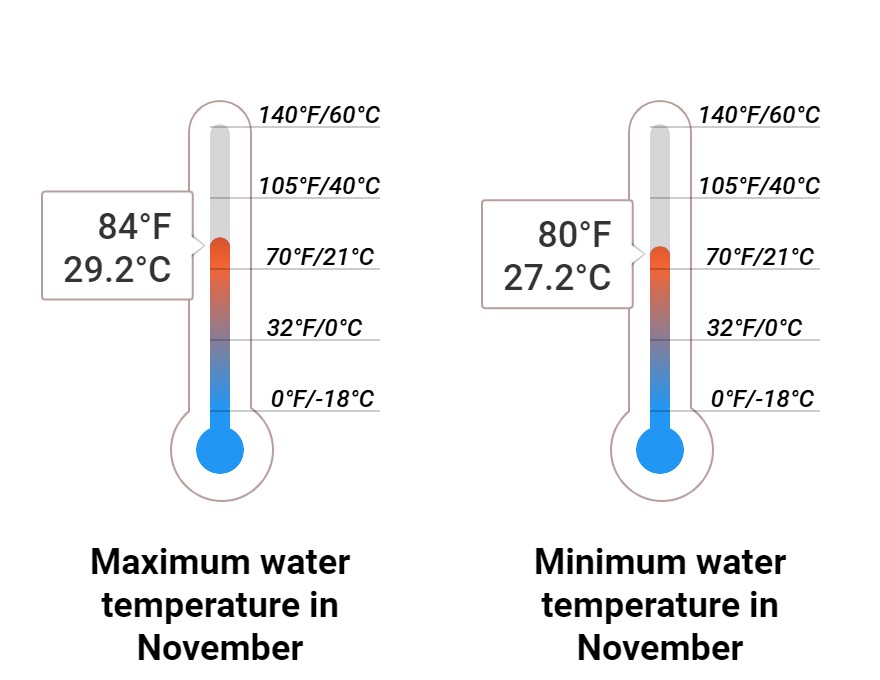 The forecast for November 2024 is based on historical data and are averages. They will give a good indication what you can expect, but the daily temperature and rain will fluctuate during the month.
Things to see and do in Trinidad And Tobago
Trinidad And Tobago has many things to soo. With help from our visitors we have dived a list of things to see in. If you have any sugestions or improvements for this list, please let us know.
Pigeon Point
Pigeon Point is a coastal park ideal for kayaking, swimming, and paddleboarding.
Port of Spain
Port of Spain is the country's capital with a park, parliament, botanic garden, art gallery, and museum.
Maracas Bay
Maracas Bay is the prettiest beach you can imagine and read about in fairy tales. The calm nature is family-friendly.
Asa Wright Nature Centre & Lodge
Nature/Wild Life
Throughout the Year
Asa Wright Nature Centre & Lodge is located in a beautiful valley with millions of hummingbirds, coffee plants, and a nearby farm.
Englishman's Bay
Englishman's Bay is one of the most romantic places on the planet, ideal for swimming, snorkeling, and kayaking.
Shopping in Trinidad And Tobago

Trinidad and Tobago offer a wide variety of souvenirs and products to suit every budget, from woven palm hats to expensive jewellery in Port of Spain's malls. Local artists create

beaten copper pieces, as well as
lovely leather sandals.

Trincity Mall is the biggest mall in Trinidad and Tobago.
fine woodcarvings,
paintings and
shell and bead jewellery,
Activities in Trinidad And Tobago
Visit a museum
There are historical points in the city and museums celebrating monumental moments in the island's history. You can see precious and well-preserved pieces like the bones of a giant sloth, geological specimens, and other artifacts on display.
Relax on the beach
With its many available beach options, there is no shortage of beaches to spend your winter days sunbathing, reading a book, or swimming in the ocean.
Bird watching
There are over 250 species of birds in Trinidad and Tobago houses in the many reserves and sanctuaries on the island. Nature lovers can spend their days watching these colorful birds and learning all about how they live.
Visit Trinidad's pitch lake
Pitch lake is among the only three natural asphalt lakes in the world, this ten-acre field is mined, and its asphalt is exported to all parts of the world. You can take a swim in the water of its lake, which is reputed to have excellent results on the skin.
Restaurants in Trinidad And Tobago
Due to its varied background, Trinidad and Tobago has excellent and varied food options.
In particular, the Indian roots have added to some of the best foods of any country in the world.
More things to see in Trinidad And Tobago
Caroni Bird Sanctuary
Caroni Bird Sanctuary is a must-see location for nature lovers. Located in the south of Port of Spain to spend they can watch the vibrantly colored national bird of the country - the Scarlet Ibis. There are also other forms of wildlife, like anteaters and species of birds like egrets and herons, in the mangrove-lined waterways of the sanctuary.
Maracas Bay
Some of the best beaches with stunning golden sand and towering palm trees are located in Maracas Bay Trinidad. It's relatively close to the city of Port of Spain, and it has its share of restaurants and amenities like showers.
Mount St. Benedict Monastery
Mount St. Benedict Monastery is founded in 1912, and is the oldest and largest monastery in the Caribbean. The monastery has a farm, Guesthouse, rehabilitation centers, and religious buildings. The monastery is self-sufficient and also produces a country-famous yogurt that is shipped to stores nationwide.
Main Ridge Forest Reserve. Main Ridge Forest Reserve is acclaimed to be one of if not the oldest legally protected forest and nature reserves in the Western Hemisphere. This reserve is rich in biodiversity as it has multiple bird species, snakes, butterflies, reptiles, and more.
More information about Trinidad And Tobago
What to do in Trinidad And Tobago in other months
Weather in Trinidad And Tobago for each month