Spend your fall, winter, or spring in Tulúm, Mexico: is Tulúm a good snowbird location?
Tulúm is a town on the Caribbean coastline of Mexico's Yucatán Peninsula. It stands on a bluff facing east toward the Caribbean Sea. It is also known for its beaches and well-preserved ruins of an ancient Mayan port city. Tulúm is a special place- far less touristy, and much cheaper, than Cancun and Playa del Carmen. It has become the place to visit on the Mexican Riviera Maya.
Tulúm used to be a chilled out little fishing town, now it is growing in size and popularity but still manages to maintain that hippy vibe. The site might have been called Zama, meaning the City of Dawn, because it faces the sunrise. Tulúm is also the Yucatán Mayan word for fence, wall, or trench. The walls surrounding the site allowed the Tulúm fort to be defended against invasions. The city has access to both land and sea trade routes, making it an important trade hub.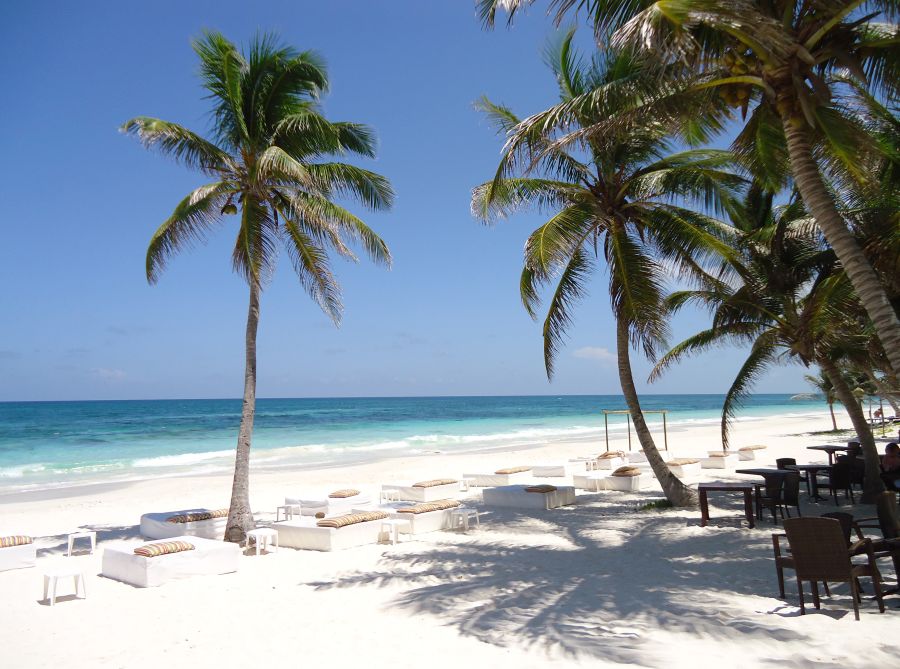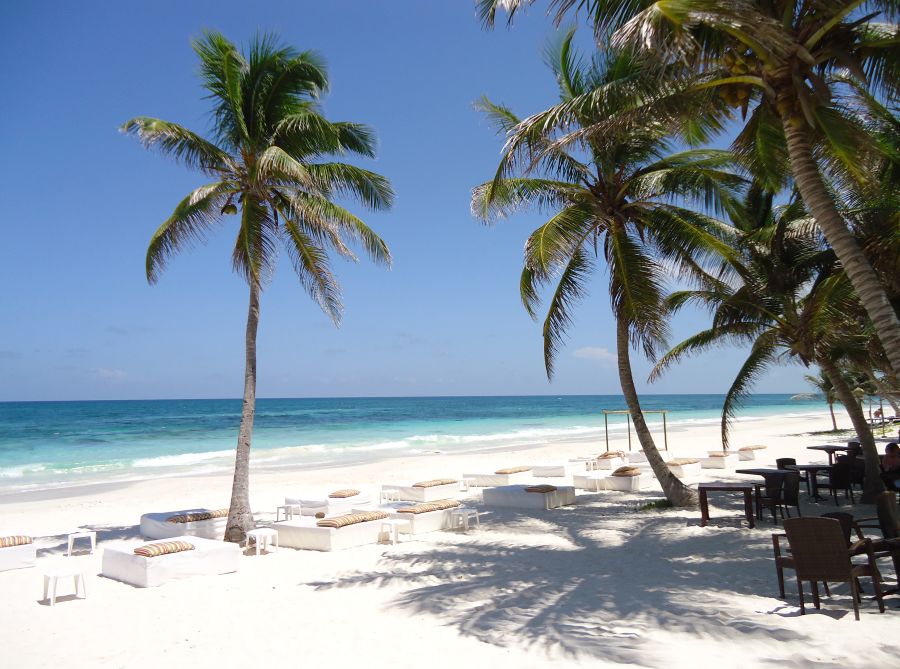 Why should people visit during the winter?
Tulúm is a peaceful destination for people seeking pure relaxation. Come winter, Tulúm, Mexico is the playground for snowbirds to be as close to nature as possible, with just the slightest hint of luxury thanks to the pristine location and authentic cuisine served in hanging beach beds.
It has been known as the perfect paradise with a bohemian eco-chic and relaxing atmosphere, a place for snowbirds to reunite with nature and disconnect from the fast pace of life. Tulúm is also known for being an energy vortex, a place with a high energy field which is amplified by the nature that surrounds it.
Climate
Tulúm tends to have warm weather all year round. The summers are short, hot, oppressive, and partly cloudy and the winters are short, comfortable, muggy, and mostly clear. Over the course of the year, the average temperature typically varies from 62°F - 92°F (17°C - 33°C) and is rarely below/above 53°F - 96°F (12°C - 36°C) respectively.

Safety
Tulúm is very safe. Tulum unlike Cancun is a lot more laid back, there are no issues here with violent crime. Tulúm was ranked as the 2nd best place to visit in Mexico by US News, ahead of other top destinations like Cancun, Playa del Carmen, and Mexico City, and is known as a safe haven for locals and visitors alike.
However, snowbirds should be aware, petty theft does still exist here, as it does nearly everywhere. Personal possessions should not be left unattended.
There are some basic safety tips for snowbirds in Tulúm though, like avoid walking on isolated beaches or roads at night, don't flash expensive jewelry or cash, and don't end up drunk in a pool of vomit with no one to look after you.
Communication, internet, and cellphone in Tulúm, Mexico
Although there are many English-speaking snowbirds visiting Tulúm, most of the locals don't speak English. They speak Spanish but snowbirds will definitely be able to meet with locals that speak English.
For phone and internet access, Telcel is the major service provider in Tulúm so it has the largest coverage. There are several small stores within the pueblo where snowbirds can purchase new SIM cards and recharge. Just look for the big blue signs.
Telcel SIM:

$8 (approx. €7, £6, $10 CAD, $11 AUD)

.
Package (data only): 1.5GB for

$11 (approx. €10, £8, $15 CAD, $16 AUD)

over 30 days every month. This can be sufficient if snowbirds also try to use wifi when they can (at home and in restaurants).
The process for buying SIM cards is pretty straightforward and snowbirds won't need to bring their passport – just ask to see the list of packages, then choose your preference. The Telcel assistant will set up your SIM and recharge. No passport required. Once the process is complete, a confirmation SMS will be sent to your mobile. Snowbirds are advised to test the data on their phone before leaving the store. This is just an extra precaution.
Things to see in Tulúm, Mexico
Tulúm has notable places that are worthwhile visiting:
Archeological sites: El Castillo, the Temple of the Frescoes, and the Temple of the Descending God.
The Beaches: The beaches in Tulúm are gorgeous. Arguably, the best beach in Tulúm is Playa Ruinas at the ruins, for that picture-perfect dip in the water next to ancient Mayan temples. Other popular beach spots are Playa Paraíso, and the secluded Las Palmas beach.
Cenotes: A large number of cenotes are located in the Tulúm area such as Maya Blue, Naharon, Temple of Doom, Tortuga, Vacaha, Grand Cenote, Abejas, Nohoch Kiin, and Carwash cenotes and cave systems.
Art/Museum: The newly built Treehouse Art Gallery- this seaside gallery is located on the site of Tulúm's eco-friendly Azulik Resort.
Activities in Tulúm, Mexico in the fall, winter, or spring
Visit Tulúm Mayan Ruins which opens at 8.00 am
A day out at the beach which opens At 9.00 am
Swim, Snorkel or Dive in a Cenote
Take a bike tour
Visit Sian Ka'an Biosphere Reserve: This large natural reserve of jungle, marsh, and mangroves is filled with animals and bird species. It is best for snowbirds to go with a guide, either arranged from Tulúm or Punta Allen.
A day trip to Chichen Itza from Tulúm
Learning to cook authentic Mexican food – Riviera Kitchen is one of the popular cooking classes in Tulúm.
Day Zero Festival is one of the most renowned music festivals in Tulúm and takes place in the jungle at Cenote dos Palmas. It usually takes place in January.
Zamna festival in December.
Comunité festival in January
Festival of life and death: takes place usually between October/November. This intriguing festival is to celebrate the time-honored tradition; Day of the Dead for people of Mexican heritage. As a spectator, snowbirds get to see vibrant cultural plays and dances.
Shopping + Restaurants. Are they open in the fall, winter, or spring?
Most shops and restaurants are open in the winter.
The best place to shop is in the town, not on the beach strip. In comparison to the beach strip which is filled with expensive local designer shops, the shops in town are more budget-friendly. Snowbirds can find anything from handbags to hammocks.
Eating anywhere on the beachfront guarantees snowbirds an amazing view while enjoying their meals. Some amazing restaurants but slightly pricey is Taqueria La Eufemia, and Villa Pescadores. Some favorite proper local places to eat in Tulúm on a budget include Antojitos a la Chiapaneca, El Camello Jr for huge plates of ceviche, freshly grilled fish, and delicious seafood and Cremeria La Campanella, a delicious ice cream parlor a few doors down from La Chiapaneca.
Most restaurants and shops, even the pricey ones, are cash only. Snowbirds can pay in either Mexican pesos or U.S. dollars, but the exchange rate works in their favor if they pay in pesos. Thankfully, there are plenty of ATMs around-they just need to make sure that the one they're using dispenses local currency.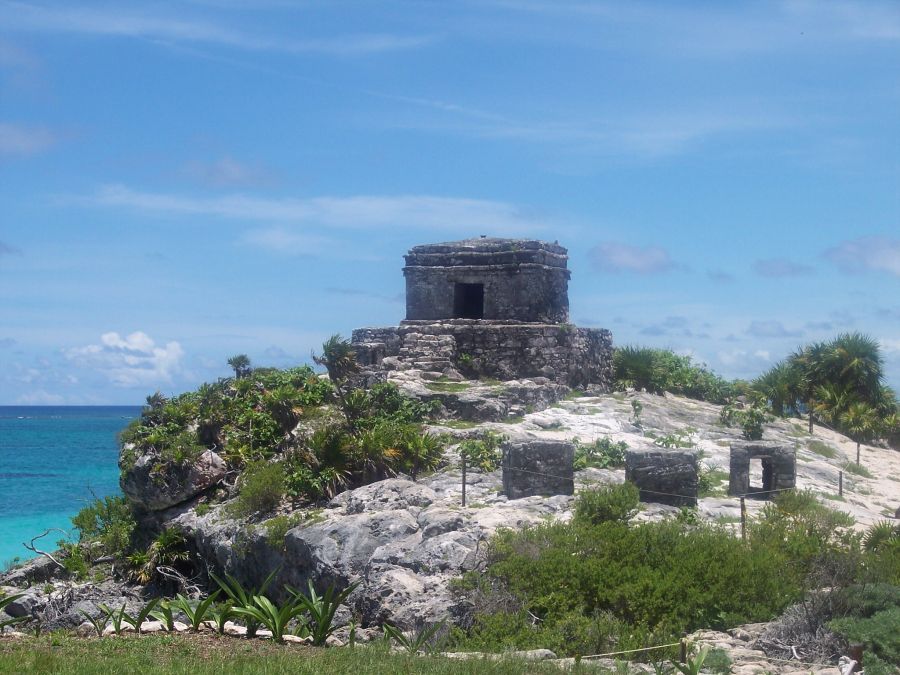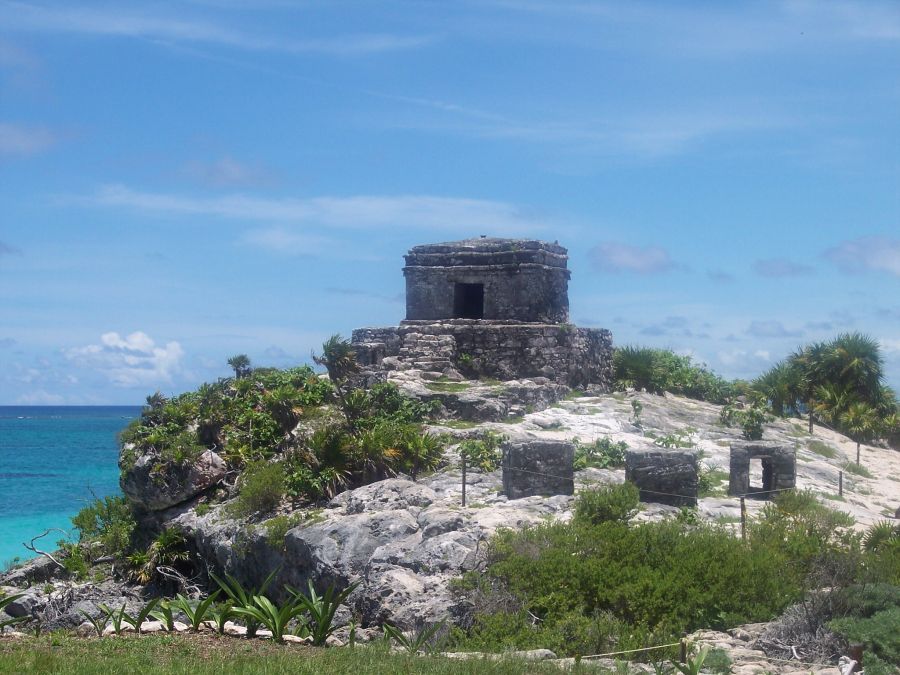 Transport
Most snowbirds to Tulúm will fly into Cancun Airport and travel down the coast to Tulúm. The distance from Cancun to Tulum is about 73 Miles (117 km). These 2 cities are connected by Highway 307, and it's a pretty straight drive from Cancun airport to Tulum. It is safe and easy to take a bus from Cancun to Tulúm, as there are ADO buses that run directly from Cancun Airport to Tulúm, or snowbirds may have to change buses at the ADO bus station in Cancun. ADO is the most reliable bus company, and have clean, comfortable buses. Other ways to move around within the town include:
By Bike: There's a nice bike path connecting the town to the beach. Snowbirds can rent one for about

$7 (approx. €6, £5, $9 CAD, $10 AUD)

a day. Make sure it comes with a lock.
By Taxi: Taxis are everywhere. It is the most common mode of transportation and it is very easy to find one. From the town to the beach, it's approximately

$5 (approx. €4, £4, $6 CAD, $7 AUD)

.
By Colectivo: These shared vans will take snowbirds from the town to anywhere on the beach for

$1 (approx. €0.93, £0.82, $1.37 CAD, $1.49 AUD)

. They can be found on the main avenue. Snowbirds can also wave it down if they see one on the road, going in the same direction as they want to go. Once you hop on, tell the driver your destination.
By Car: snowbirds planning to do a few day trips, consider renting a car. It cost around

$45 (approx. €41, £36, $61 CAD, $66 AUD)

round-trip.
Health
The hospitals in Tulúm offer some services to the residents of this paradise, among which are walk-ins, emergencies, and a number of medical specialties. Tulúm Hospitals also has specialty medical services as:
General Surgery
Gastroenterology
Gynecology and obstetrics
Pediatrics
Traumatology and orthopedics
Aesthetic Plastic Surgery
Internal Medicine
Ear, throat and ear care
Anesthesiology
Some of the hospitals include Costamed Tulúm, Hospital de Tulúm, and Centro de Salud amongst others. Snowbirds can find doctors and dentists that speak English as well as other languages.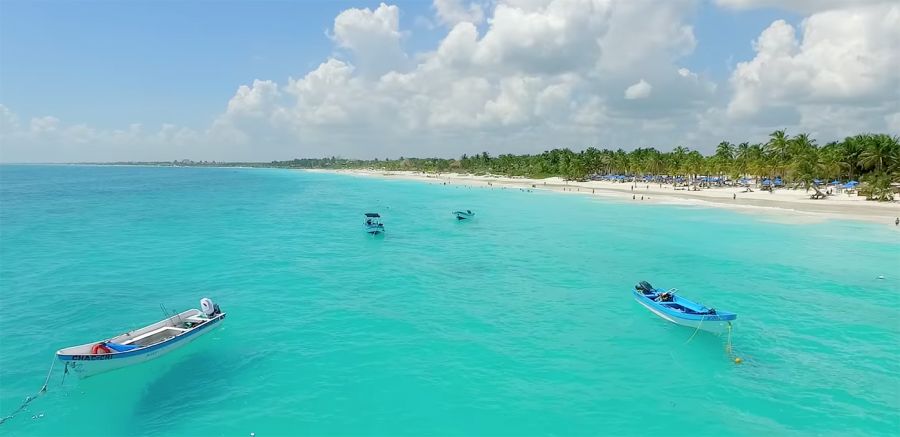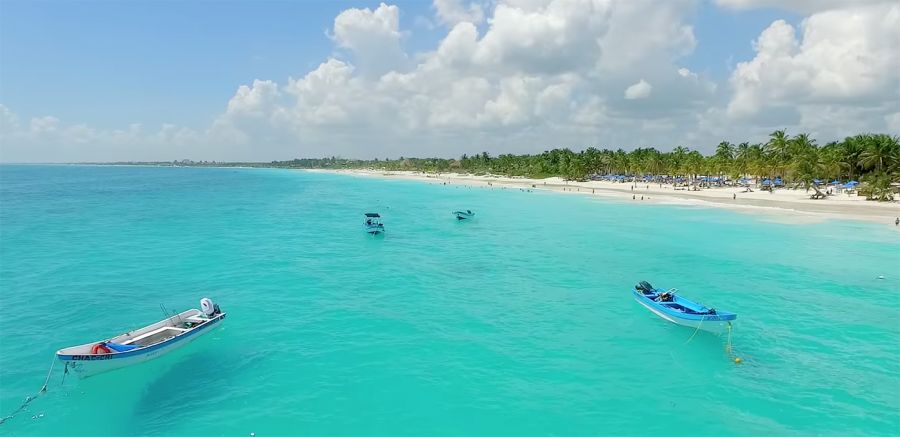 Accommodation
Tulúm is blissfully free of mega-hotels and resorts, instead, snowbirds will find small boutique hotels and eco-lodges. Snowbirds should avoid staying anywhere too far away from the center as there are no street lights and it is very dark walking back to the hotel alone! (Or you could get a taxi of course).
Beachfront Hotels in Tulúm – The best value hotels in Tulúm are in the 'town' center, but on the beach, snowbirds will find plenty of amazing hotels and cabanas with beachfront views.The average price is roughly $300 (approx. €279, £244, $409 CAD, $446 AUD) per night.
Motorhomes/RV/Campers parks in Tulúm
Most of them are set on the beach, such as:
Chavez Eco Beach Camping and Cabanas
Cenote Encantado Tent Lodges
Tulúm Nueve
Serena Tulúm (for Adults only)
VnBalam: Campervan Rental Tulúm
LA VIAJERA TULÚM Beachfront RV in Soliman Bay. Average price is

$32 (approx. €29, £26, $43 CAD, $47 AUD)

.
Packing List
Weather: The fall, winter, and spring weather in Tulúm (Mexico) will normally be warm during the day and warm during the night. Of course in the fall and spring it will be warmer than in the winter. You have to pack accordingly.

Warm clothing: Even when you go to a warm location like Tulúm (Mexico) you should not forget to take some things with you for your trip back home. When you return you are adapted to the warmer weather and need something to protect you from your hometown temperatures.

Consider the Weather: Always look at the type of weather in Tulúm (Mexico). Things like humidity, wind, and rain do not show up in the temperature graph but can have a great impact on your wardrobe. There are several sites with long term forecasts and climate information. Is there often a short afternoon downpour like in the tropics, you maybe need to take a strong umbrella and shoos that can cope with the rain. If there is often a lot of wind you might need a more wind-resistant coat.

Check the local Shopping options: Try to find information about the local shopping options near your location in Tulúm (Mexico). Are there stores where you can buy all your daily supplies, or are some things difficult to get? For some more remote locations, the options can be limited. If a certain item is really important for you might need to take it with you.

Look at the Local Culture: The local culture in Tulúm (Mexico) can impact your wardrobe. If most activities are in more upscale locations you might take some more appropriate clothes with you. Or travelling if you travel to certain countries women need to cover themselves in certain areas.

Amenities: Know what's Included in your house or apartment. Is there a coffee maker, a toaster, a washer and dryer, an iron, what is in the kitchen, what kind of towels are there? Things that are there means you do not have to take them with you. A furnished apartment or house can mean something from a few pieces of furniture to a well-stocked place with all the things you have at home. But most of the time your rental will not be stocked.

Mix and match: Wear layers so you can use your wardrobe more efficiently. And do not worry about wearing something more often, probably only you will notice this.

Important for you: If there is something that is really important for you that you want to have present in your house or apartment, take it with you. This can be something like a special knife for the kitchen, or a small mirror that you use in the morning. You can also purchase it locally if it is not that expensive.

Pet supplies: If you take your pet with you don't forget to take supplies for a few days with you. And enough medication, vitamins, or other supplies if you can not purchase them in Tulúm (Mexico) locally.

Food: Don't take a lot of food with you. Only when there is something you really can not live without you, and it is not too heavy you could consider taking it with you.

Towels: Not all locations include bigger towels for the swimming pool or a visit to the beach. If you have to take them and don't have a lot of room you can buy some big thin towels.

Office supplies: Normally you will not find any office supplies in your house or apartment. If you think you will use them you could pack some supplies like a scissor, notepaper, envelopes, some pens, and more depending on your needs.

Limit yourself: Don't take too many shoes and jackets, you will not need them that often.

Best-fitting: Bring your favorite and best-fitting items that can multi-function

Washer: Do you have a washer and dryer onsite, you don't need to pack a lot of clothes
Clothing
Basics
Casual
Smart
Footwear
Toiletries
Beauty
Hygiene
Clothing
Basics
Casual
Outdoor
Footwear
Accessories
Toiletries
Medicine
Miscellaneous
Other
Toiletries
Beauty
Hygiene
Hair
Other
Medicine
Miscellaneous
Technology
Travel and Free time
Travel
Free time
Important
Documents
Money
Other locations close to this location:
Travelers' Map is loading...
If you see this after your page is loaded completely, leafletJS files are missing.
If you have any additions, or comments on the content on this page, please use our contact form to let us know.
Detailed weather during the year for Tulúm Mexico
What to do during the year in Tulúm Mexico