What to do in February in Zihuatanejo, Mexico - 2024
Zihuatanejo is a city of 130,000 people (2020) on the Pacific Coast of Mexico in the state of Guerrero. It is a fishing village that has developed into one of the most-visited areas in Mexico. It is popular with sports fishermen.
Before we have a look at what you can do in Zihuatanejo, let's first look at the weather you can expect in February.


February weather in Zihuatanejo Mexico
To get a good overview of the type of weather you can expect in February in Zihuatanejo Mexico, we will look at the day and night temperature, minimum and maximum water temperature, and if February is comfortable or humid
Generally, February in Zihuatanejo Mexico will be quite hot. Historical data shows that you can expect an average temperature of around 91°F / 33°C. But due to the very high humidity, it can feel very uncomfortable. During the night, it will cool down to around 71°F / 22°C. Many will prefer a location with air conditioning due to the high humidity level.
Zihuatanejo Mexico does not have a lot of rainy days in February. You can expect around 1 rainy days, with on average 0.2 inches / 5 mm of rain during the whole month.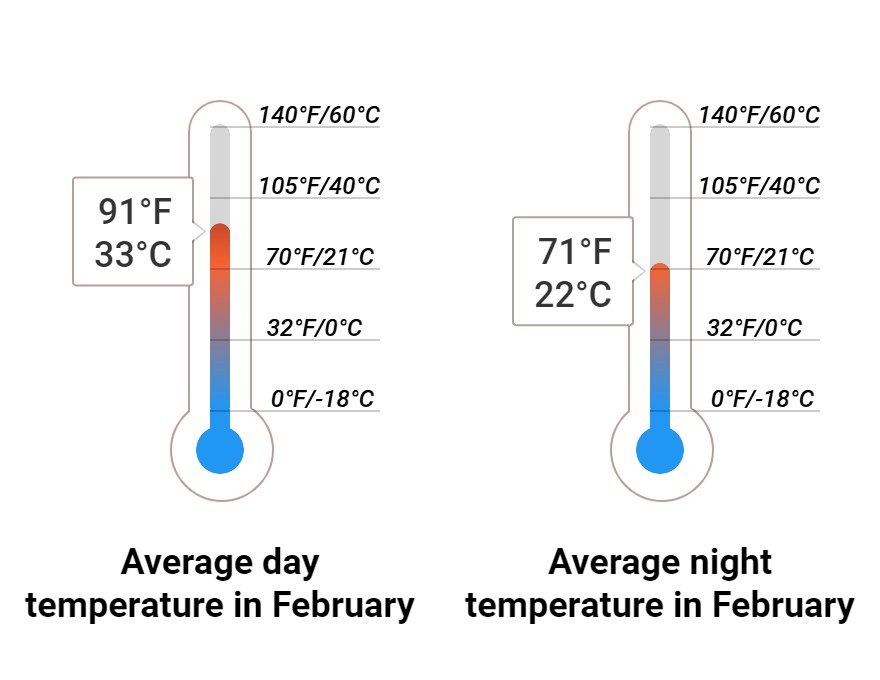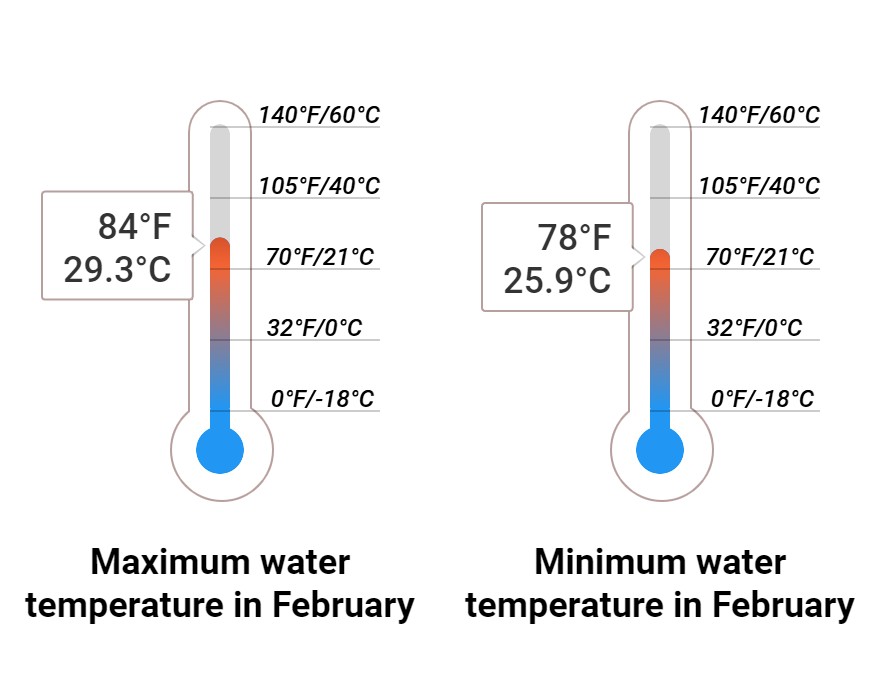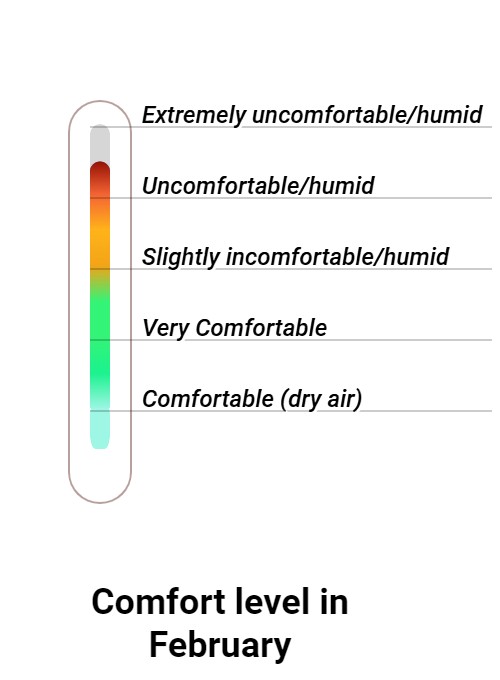 The forecast for February 2024 is based on historical data and are averages. They will give a good indication what you can expect, but the daily temperature and rain will fluctuate during the month.
Things to see and do in Zihuatanejo
Zihuatanejo has many things to soo. With help from our visitors we have dived a list of things to see in. If you have any sugestions or improvements for this list, please let us know.
Costa Grande Archaeological Museum
Museum
Throughout the Year
Costa Grande Archaeological Museum has six rooms to exhibit the facts of the colonial era.
Ixtapa Island
Landmark
Throughout the Year
Ixtapa Island has a coral reef and calm waters.
Parque Aztlan
Parque Aztlan is a natural park with biking trails.
Ruins at Xihuacan
Cultural
Throughout the Year
Ruins at Xihuacan tell the story of 3000-year-old tribes living here in hardships.
Playa Linda
Playa Linda is a beach ideal for cycling.
Playa Principal
Playa Principal is a beach great for spending a sleepy day under the sun.
Sailfest
Sailfest is a multi nationalities Sailboat Regatta. It includes sailing trips and other activities.
Shopping in Zihuatanejo
Visit the shops and market close to the Playa Municipal, fanning outward from the pier. There is an excellent textile shop right along the water.
Activities in Zihuatanejo
Snorkeling
Thanks to an artificial reef in the bay that dates back to the pre-Columbian time, the beaches south of Zihuatanejo and Isla Ixtapa are amazing snorkeling spots.
Day trips to Ixtapa
Being five miles away from Ixtapa, Snowbirds can get the best of two worlds. Enjoying the less crowded vibe of Zihuatanejo and all else that Ixtapa offers.
Stroll on the Pier
The pier is an excellent spot for evening walks along the sea. With people also coming around to enjoy the experience, it is great for people watching and also seeing dances and live music performances.
Restaurants in Zihuatanejo
Many restaurants will be open in the winter. You can find restaurants that provide international dishes and tasty local favorites.

Restaurante Bistro del Mar
Margaritas Zihuatanejo Restaurant
La Papa Loca
More things to see in Zihuatanejo
The Guerrero Coast
You can discover more about the history and the archaeology of Zihuatanejo by visiting the archaeological museum of the Costa Grande. Zihuatanejo has a rich deep-rooted historic connection to the Aztec empire, the cuitlatecs, and the craftwork from different communities like Teotihuacan, olmee, Tarascan & Mexican communities.
Playa Las Gatas
This is an isolated stretch of sandy beach across the bay, beyond the more visited and crowded Playa la Ropa. You could explore your way through the trees on the cliffside, or get a boat lift through the pristine inlet. Snowbirds can snorkel in the shallow waters, enjoy tasty seafood, or just sunbath.
The Bahia Zihuatanejo
This area is blessed with several beaches like the Playa La Ropa and the Playa Contramar. Close by is the more secluded Playa las Gatas that is accessible by a boat ride from across the bay.
Picante Cataraman
This is a popular location known for its wide variety of food, great music, and sailing. You can also watch the beautiful sunset here.
More information about Zihuatanejo Mexico
What to do in Zihuatanejo Mexico in other months
Weather in Zihuatanejo Mexico for each month