Spend Your Fall, Winter, or Spring in Zihuatanejo, Mexico: Is Zihuatanejo A Good Snowbird Location?
Zihuatanejo is a planned resort city located northwest of Acapulco, on Mexico's Pacific coast. It is one of the most popular locations in the Guerrero state. Zihuatanejo has the atmosphere of a typical small Mexican town. Its white-sand beaches like Playa La Ropa, are popular. The beaches are lined with seafood restaurants, bars, and souvenir shops. Further away from the Centro area is a much quieter scene. Close by is the long, pristine sandy Playa El Palamar, which is the main beach in the town of Ixtapa. Zihuatanejo is also a culturally rich town.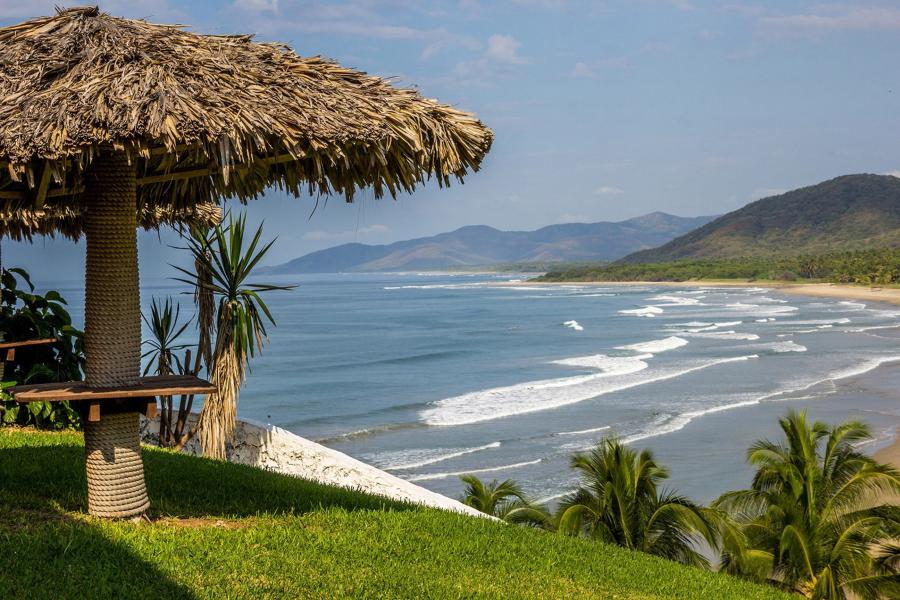 Why should people stay during the winter?
For snowbirds looking for that authentic Mexican village experience, or simply interested in discovering the Guerrero state, Zihuatanejo is an ideal destination.
You will thoroughly enjoy the busy fish market by the pier, where you can buy different types of fish, explore the beaches, and walk through the narrow streets of the Centro area. The tropical climate of Zihuatanejo is also the main attraction. It is warm all year round, with some humidity.
Climate
Zihuatanejo has much lower levels of rainfall during winter than in the summer. The city enjoys a warm tropical climate.
The average annual temperature of Zihuatanejo is 27.4°C (81°F).

Safety
Petty thieves, pickpockets, bag snatchers, and other small criminals target the city because of its tourist population and businesses, but there are few cases of incidents. Zihuatanejo is considered to be a peaceful and safe location for visitors. There is also local law enforcement to ensure there's order, and discourage any criminal activity.
Snowbirds can rest easy during their stay, and enjoy their time without fear of an incident.
Communication, internet, and cellphone in Zihuatanejo, Mexico
Like every part of Mexico, Spanish is the official language in Zihuatanejo. Many signs you will come across will be in Spanish, but sometimes in English also. English is also widely spoken, seeing as it's a tourist destination.
In Zihuatanejo, you can choose to roam with your phones, but it is advised you know the costs beforehand. Snowbirds from the U.S. and Canada using Bell, Fido, AT & T, Nextel, and Verizon can use their sim cards.
You can easily purchase a local SIM card at stores around. Some of the network service providers are TelCel, Movistar, and IUSACEL. A son card costs about $6 (approx. €5, £4, $8 CAD, $9 AUD) and a phone could cost as little as $15 (approx. €14, £12, $20 CAD, $23 AUD). These network service providers offer both call and data plans you could select from.
Things to see in Zihuatanejo, Mexico
Once in Zihuatanejo, there are several things you could see that might interest you. A few of those things are:
The Bahia Zihuatanejo: This area is blessed with several beaches like the Playa La Ropa and the Playa Contramar. Close by is the more secluded Playa las Gatas that is accessible by a boat ride from across the bay.
The Guerrero Coast: You can discover more about the history and the archaeology of Zihuatanejo by visiting the archaeological museum of the Costa Grande. Zihuatanejo has a rich deep-rooted historic connection to the Aztec empire, the cuitlatecs, and the craftwork from different communities like Teotihuacan, olmee, Tarascan & Mexican communities.
Playa Las Gatas: This is an isolated stretch of sandy beach across the bay, beyond the more visited and crowded Playa la Ropa. You could explore your way through the trees on the cliffside, or get a boat lift through the pristine inlet. Snowbirds can snorkel in the shallow waters, enjoy tasty seafood, or just sunbath.
Picante Cataraman: This is a popular location known for its wide variety of food, great music, and sailing. You can also watch the beautiful sunset here.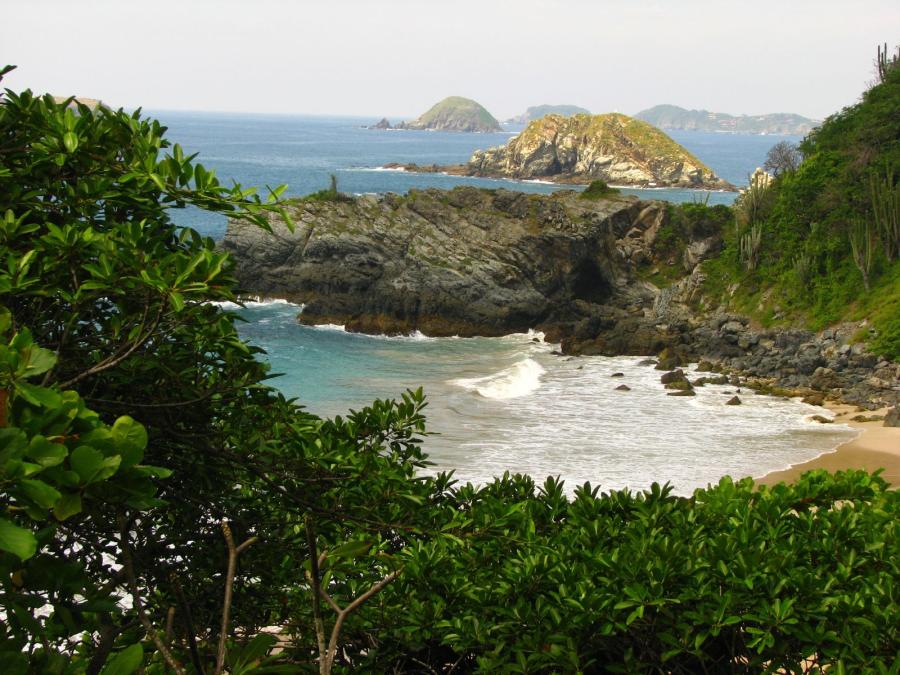 Things to see not far from Zihuatanejo, Mexico
Some interesting attractions can also be found not so far away from Zihuatanejo. Looking to explore further, there are some things you might be interested in seeing like:
Delfiniti de Mexico: As one of the major highlights of experiencing Mexico, you can see and also swim with adorable, fun, and friendly dolphins. You can get up close and personal, get a hug or two and take photos.
Isla Ixtapa: Just off the shores of Zihuatanejo, Isla Ixtapa is a delightful island that feels like paradise. Surrounded by outstanding sea life, you can swim, snorkel or go on scuba diving excursions. There are also wonderful restaurants on land and amazing scenery.
Activities in Zihuatanejo, Mexico in the fall, winter, or spring
If you're trying to come up with an itinerary for the things you will want to do in Zihuatanejo in winter, or willing to be spontaneous, here are some suggestions:
Stroll on the Pier: The pier is an excellent spot for evening walks along the sea. With people also coming around to enjoy the experience, it is great for people watching and also seeing dances and live music performances.
Snorkeling: Thanks to an artificial reef in the bay that dates back to the pre-Columbian time, the beaches south of Zihuatanejo and Isla Ixtapa are amazing snorkeling spots.
Day trips to Ixtapa: Being five miles away from Ixtapa, Snowbirds can get the best of two worlds. Enjoying the less crowded vibe of Zihuatanejo and all else that Ixtapa offers.
Shopping + Restaurants. Are they open in the fall, winter, or spring?
Zihuatanejo has many shopping and dining options. Zihuatanejo usually has a steady flow of tourists, so many shops remain open in the winter. Some stores aren't tourist-dependent. Snowbirds can enjoy cheaper rates, many options, and guaranteed quality. You can also shop for local art and crafts.
At Zihuatanejo, you are sure to enjoy an extraordinary dining experience. Many restaurants will be open in the winter. They offer a wide variety of dishes like delicious seafood, cocktails, etc. You can find restaurants that provide international dishes and tasty local favorites.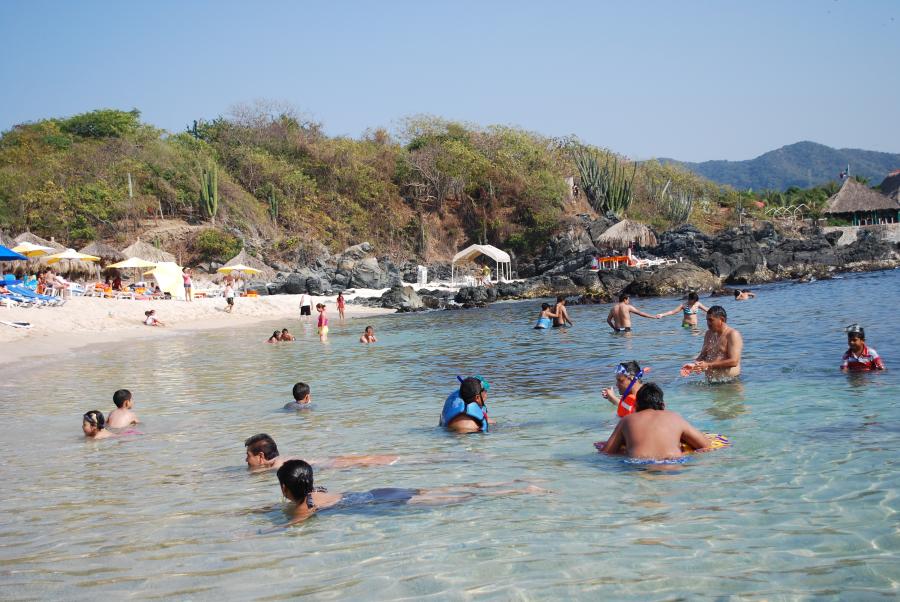 Transport
The Ixtapa-Zihuatanejo international airport (ZIH) is 8 Miles (13 km). So upon arrival, snowbirds can take a taxi or book private transport to take them to town. Coming from Mexico City, you can also get to Zihuatanejo by bus or Car.
Transportation isn't going to be a problem in Zihuatanejo. Buses or Collectivo Vans are amongst the convenient ways to get around town.
Near the pier is the best place to find taxis. They are usually cheap and fast. Snowbirds can also rent a car, including insurance. Some of the car rental services at the airport include Green-Motion, Payless, Ace, Alamo, Budget, and Hertz.
Health
Private and public healthcare services available in Zihuatanejo. Minor ailments can be taken care of at most of the clinics. However, for more serious cases, you may need to visit a hospital. There are Government and Private hospitals available in Zihuatanejo, but Private services will be more costly. The doctors and dentists here are well trained and speak Spanish, English and sometimes other languages. There are also several pharmacies open at all hours. Some of these hospitals are Clínica Mediciel, Cirugía Bucal Iluminando Sonrisas, Centro de Salud "El Embalse" and, Hospital de Especialidades.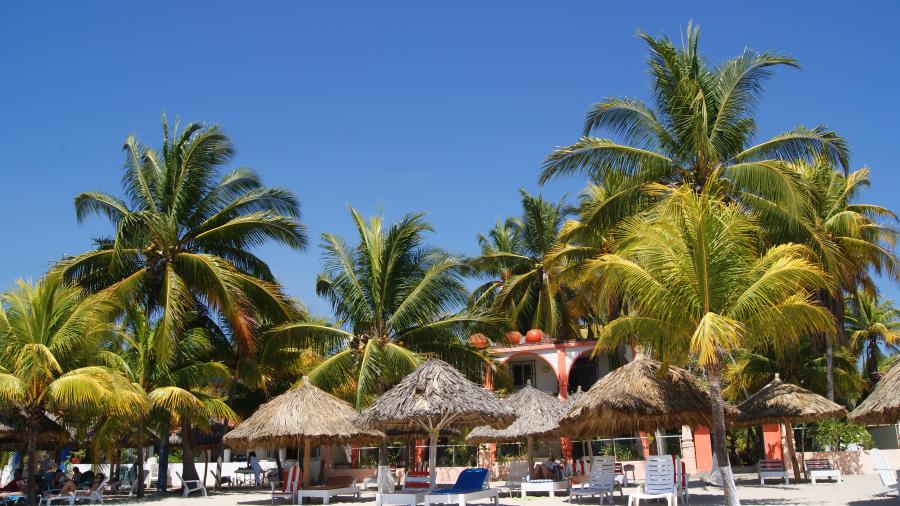 Accommodation
Accommodation is quite pricey in Zihuatanejo. This is largely due to the nature of the town. The apartments, condos, and villas you will find in the city could cost about $400 (approx. €381, £329, $546 CAD, $627 AUD) monthly. They usually come fully furnished and serviced, with basic amenities and are located in safe areas. However, there are cheaper options you can find away from the city center. Some of these come with some spectacular views or could be close to a beach. Rent in these areas can be as low as $250 (approx. €238, £206, $341 CAD, $392 AUD) each month. Avoid renting a place that is very isolated, or far from all the places you intend to visit.
Packing List
Weather: The fall, winter, and spring weather in Zihuatanejo (Mexico) will normally be hot during the day and hot/warm during the night. Of course in the fall and spring it will be warmer than in the winter. You have to pack accordingly.

Warm clothing: Even when you go to a warm location like Zihuatanejo (Mexico) you should not forget to take some things with you for your trip back home. When you return you are adapted to the warmer weather and need something to protect you from your hometown temperatures.

Consider the Weather: Always look at the type of weather in Zihuatanejo (Mexico). Things like humidity, wind, and rain do not show up in the temperature graph but can have a great impact on your wardrobe. There are several sites with long term forecasts and climate information. Is there often a short afternoon downpour like in the tropics, you maybe need to take a strong umbrella and shoos that can cope with the rain. If there is often a lot of wind you might need a more wind-resistant coat.

Check the local Shopping options: Try to find information about the local shopping options near your location in Zihuatanejo (Mexico). Are there stores where you can buy all your daily supplies, or are some things difficult to get? For some more remote locations, the options can be limited. If a certain item is really important for you might need to take it with you.

Look at the Local Culture: The local culture in Zihuatanejo (Mexico) can impact your wardrobe. If most activities are in more upscale locations you might take some more appropriate clothes with you. Or travelling if you travel to certain countries women need to cover themselves in certain areas.

Amenities: Know what's Included in your house or apartment. Is there a coffee maker, a toaster, a washer and dryer, an iron, what is in the kitchen, what kind of towels are there? Things that are there means you do not have to take them with you. A furnished apartment or house can mean something from a few pieces of furniture to a well-stocked place with all the things you have at home. But most of the time your rental will not be stocked.

Mix and match: Wear layers so you can use your wardrobe more efficiently. And do not worry about wearing something more often, probably only you will notice this.

Important for you: If there is something that is really important for you that you want to have present in your house or apartment, take it with you. This can be something like a special knife for the kitchen, or a small mirror that you use in the morning. You can also purchase it locally if it is not that expensive.

Pet supplies: If you take your pet with you don't forget to take supplies for a few days with you. And enough medication, vitamins, or other supplies if you can not purchase them in Zihuatanejo (Mexico) locally.

Food: Don't take a lot of food with you. Only when there is something you really can not live without you, and it is not too heavy you could consider taking it with you.

Towels: Not all locations include bigger towels for the swimming pool or a visit to the beach. If you have to take them and don't have a lot of room you can buy some big thin towels.

Office supplies: Normally you will not find any office supplies in your house or apartment. If you think you will use them you could pack some supplies like a scissor, notepaper, envelopes, some pens, and more depending on your needs.

Limit yourself: Don't take too many shoes and jackets, you will not need them that often.

Best-fitting: Bring your favorite and best-fitting items that can multi-function

Washer: Do you have a washer and dryer onsite, you don't need to pack a lot of clothes
Clothing
Basics
Casual
Smart
Footwear
Toiletries
Beauty
Hygiene
Clothing
Basics
Casual
Outdoor
Footwear
Accessories
Toiletries
Medicine
Miscellaneous
Other
Toiletries
Beauty
Hygiene
Hair
Other
Medicine
Miscellaneous
Technology
Travel and Free time
Travel
Free time
Important
Documents
Money
Other locations close to this location:
Travelers' Map is loading...
If you see this after your page is loaded completely, leafletJS files are missing.
If you have any additions, or comments on the content on this page, please use our contact form to let us know.
Detailed weather during the year for Zihuatanejo Mexico
What to do during the year in Zihuatanejo Mexico