What to do in June in Abu Dhabi, UAE - 2024

Abu Dhabi is the capital of the United Arab Emirates and at the same time the second-most populous city of this country.

Abu Dhabi is the fourth most expensive city for expatriate workers in the region.
In 2014, it was voted the 68th most expensive city in the world.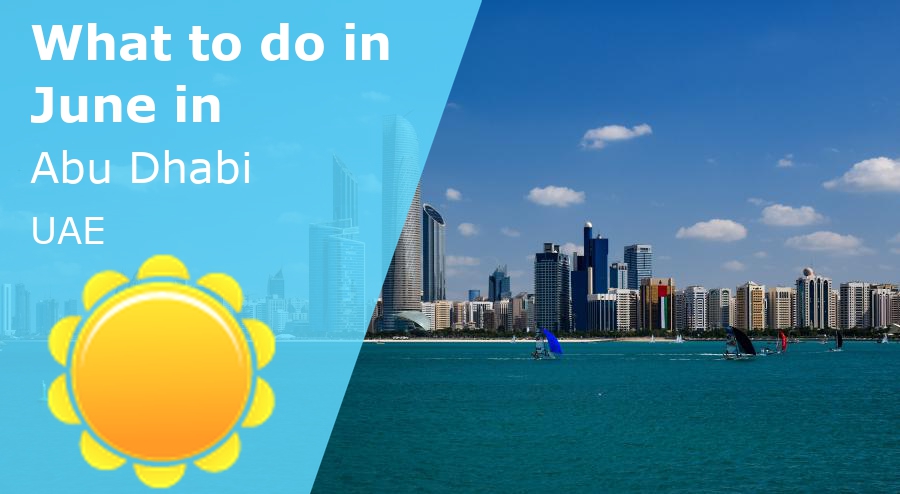 Before we have a look at what you can do in Abu Dhabi, let's first look at the weather you can expect in June.


June weather in Abu Dhabi UAE
To get a good overview of the type of weather you can expect in June in Abu Dhabi UAE, we will look at the day and night temperature, minimum and maximum water temperature, and if June is comfortable or humid
Generally, June in Abu Dhabi UAE will be really hot. Historical data shows that you can expect an average temperature of around 111°F / 44°C. But due to the extreme humidity it can feel extremely uncomfortable. During the night, it will cool down to around 75°F / 24°C. Many will prefer a location with air conditioning due to the night temperature, and the high humidity level.
Abu Dhabi UAE does not have a lot of rainy days in June. You can expect around 0 rainy days, with on average 0 inches / 0 mm of rain during the whole month.
The forecast for June 2024 is based on historical data and are averages. They will give a good indication what you can expect, but the daily temperature and rain will fluctuate during the month.
Things to see and do in Abu Dhabi
Abu Dhabi has many things to soo. With help from our visitors we have dived a list of things to see in. If you have any sugestions or improvements for this list, please let us know.
Shopping in Abu Dhabi
There are several malls, they include popular foreign chain stores, as well as designer places. There are also many small, independent stores around the city.

Abu Dhabi Mall
Yas Mall
Marina Mall
Activities in Abu Dhabi
Yas Island
One of the most of luxury hotels is located on Yas Island. Yas Island is also where you will find the city's most pristine beaches. The sandy beaches welcome you with their powdery softness, and the perfect warm weather is ideal for sunbathing, swimming, or relaxing.
Boat tours
A boat tour of the city from the water is one of the best ways for anyone to see Abu Dhabi. You get to see all the high-rise buildings and enjoy the gorgeous marina. You can also go island hopping to the different islands in the bay.
Etihad Towers
Visit the observation deck of the Etihad Towers and get unfiltered access to skyline views of the city when you visit the 74th floor. Visitors can enjoy snacks, light meals, or high tea as they observe this wondrous city spread out below them.
Falcon hospital
Animal lovers can enjoy tours of the falcon hospital in Abu Dhabi that rehabilitates injured falcons. You can observe these marvelous birds of prey and learn about the history of falconry.
Restaurants in Abu Dhabi
Hotel restaurants are usually the most expensive. However, in the city you can also find restaurants with international cuisine, such as Indian, Italian or Japanese.

Check the Islamic calendar to determine whether you will be visiting during the month of Ramadan. Since Muslims fast during daylight hours, restaurants are, by law, closed during the day.

Zuma Abu Dhabi
Prego's Restaurant
Moti Mahal Delux Restaurant
Off The Hook Seafood Restaurant
More things to see in Abu Dhabi
Qasr Al-Hosn
Qasr Al-Hosn is also known as the white fort or the old fort, this restored building is a historical treasure in Abu Dhabi. It was built in 1793 for the ruling family, and the palace was also the seat of government. Now it serves as a museum with historic photographs on display.
Sheik Zayed Grand Mosque
The Sheik Zayed Grand Mosque is a stunning landmark and one of the best places to see in Abu Dhabi. It is the largest mosque in the country, and its doors are open to people of all religions to come in and bask in this beautiful architectural wonder. Mameluke, Fatimid, and ottoman design elements were used together with Macedonian marble to create a modern mosque that presents Islamic architecture at its finest. It also houses the world's largest carpet.
Louvre Abu Dhabi
Visitors can get to experience humanity's artistic achievements in their entirety in the Louvre Abu Dhabi museum. Everything from Neolithic sculptures, Egyptian statues, and famous paintings to modern-day art can be viewed here. The outside of the Louvre is also a work of art as its silver domes dominate its area.
Ferrari world
Car lovers will have their fill of amazing old and new model luxury cars as they view the collection of Ferrari cars on display in Ferrari world. There is also a tour of the Ferrari factory, and you can settle in to watch the cars zoom past in races.
More information about Abu Dhabi UAE
What to do in Abu Dhabi UAE in other months
Weather in Abu Dhabi UAE for each month