Spend Your Fall, Winter, or Spring in Abu Dhabi, UAE: Is Abu Dhabi A Good Snowbird Location?
Abu Dhabi, the capital of the United Arab Emirates, and one of the most visited tourist destinations in the world. It is located on a T shaped island that protrudes into the Arabian Gulf and is the largest out of all seven emirates in the UAE and is the official seat of the government and home to the president.
It is a developed city with lots of attractions and things to do in addition to being the commercial center of the country. This area also has a rich history as some archaeological finds suggesting evidence of civilizations dating back to the third millennium were discovered here.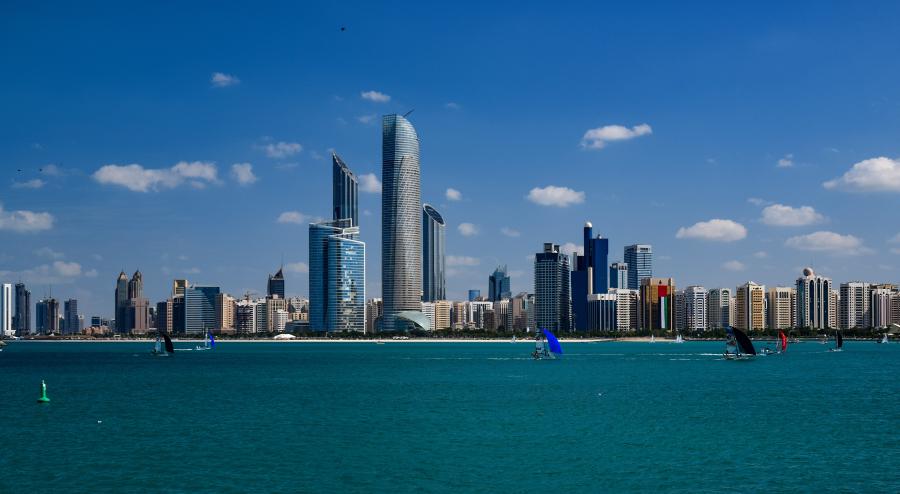 Why should people visit in winter?
One of the best reasons to visit Abu Dhabi in the winter is that there is a lot of sunshine and a very pleasant temperature with hardly any rainfall. It has beautiful beaches along its coastline, and there are lots of activities to engage in. Experiencing the Arabian hospitality and intriguing culture is also another solid reason to visit this beautiful city. You also get to see some of nature's finest moments, such as dolphins riding the oceans waves or turtles burrowing in the sand. The UAE is known for doing things big, and one of the major things to do in Abu Dhabi involves seeing the world's largest carpet.
Climate
Abu Dhabi is usually dry during the winter months with hardly any rainfall. The summers are very hot, and the hottest month (August) has temperatures that go up to 43°C (109°F). Winter is one of the best times to visit the city as you can enjoy all the outdoor activities in this pleasant weather. Abu Dhabi temperature in the winter is often around 25°C - 30°C (77°F - 86°F).

Safety
Abu Dhabi is one of the safest cities for travelers in the world. There are hardly ever any incidents of pickpocketing and scams are also very rare. However, we always advise that you stay aware of your surroundings at all times. Many tourists are able to enjoy the city without worrying about their safety at night as well.
Communication
English is widely spoken in most areas in Abu Dhabi as foreigners make up most of the city's population. The official language is Arabic and most signs around the city, as well as restaurant menus, are usually in both languages. Snowbirds will have little to no trouble conversing with almost everyone they meet in Abu Dhabi. The more you venture to the outskirts of the city into areas with more locals, the more likely you are to be faced with Arabic speaking nationals.
Upon your arrival in Abu Dhabi, you can buy a local sim card to avoid expensive charges that come with roaming your home sim. There are mobile network stands at the airport and in the shops in the city so you can either buy a sim when you land or wait until you settle in. Sim cards start from Etisalat are around $27 (approx. €25, £22, $36 CAD, $42 AUD) for 700mb data and 40 minutes of talk time for 90 days, the duration of a travel visa.
The other cell phone provider Du offers free sim cards that are distributed at passport control. It comes with a free 20MB data package and 3 minutes talk time. Once you exhaust these, you can top it up with a minimum of $14 (approx. €13, £11, $19 CAD, $21 AUD).
Things to see in Abu Dhabi
Sheik Zayed Grand Mosque – this stunning landmark is one of the top places to see in Abu Dhabi. It is the largest mosque in the country and its doors are open to people of all religions to come in and bask in this beautiful architectural wonder. Mameluke, Fatimid, and ottoman design elements were used together with Macedonian marble to create a modern mosque that presents Islamic architecture at its finest. It also houses the world's largest carpet.
Louvre Abu Dhabi- snowbirds can get to experience humanity's artistic achievements in its entirety in this museum. Everything from Neolithic sculptures, Egyptian statues, famous paintings to modern-day art can be viewed here. The outside of the Louvre is also a work of art as its silver domes dominate the area its located in.
Ferrari world – car lovers will have their fill of amazing old and new model luxury cars as they view the collection of Ferrari cars on display here. There is also a tour of the Ferrari factory and you can settle in to watch the cars zoom past in races.
Qasr Al-Hosn – also known as the white fort or the old fort, this restored building is a historical treasure in Abu Dhabi. It was built in 1793 for the ruling family and the palace was also the seat of government. Now it serves as a museum with historic photographs on display.
Things to see not far from Abu Dhabi
Desert safari – snowbirds can either enjoy a day trip or chose to spend the night in the desert on a desert safari. Some of the largest sand dunes in the world can be found in The Empty Quarter. You can also visit a camel farm.
Sharjah – lovers of art and history can visit Sharjah's multiple galleries and museums in Al Ain.
Dubai – Visit the other well known UAI city with its many attractions.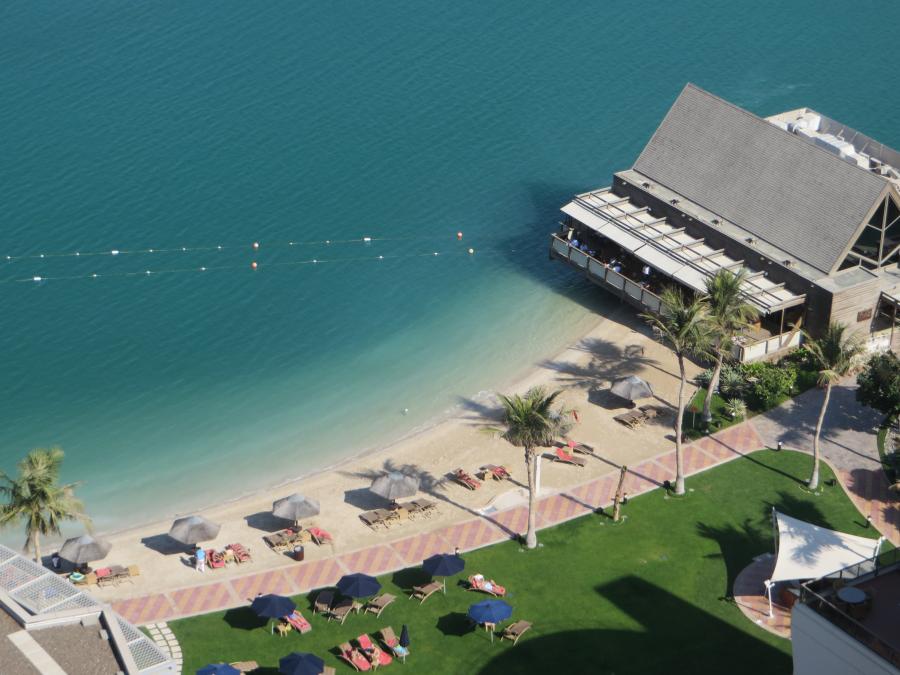 Activities in Abu Dhabi in the fall, winter, or spring
Boat tours – a tour of the city from the water is one of the best ways for anyone to see Abu Dhabi. You get to see all the high rise buildings and enjoy the gorgeous marina. You can also go island hopping to the different islands in the bay.
Visit the observation deck, Etihad Towers – get unfiltered access to skyline views of the city when you visit the 74th floor of Jumeirah, Etihad Towers. Snowbirds can enjoy snacks, light meals, or high tea as they observe this wondrous city spread out below them.
Falcon hospital – animal lovers can enjoy tours of the falcon hospital in Abu Dhabi that rehabilitates injured falcons. You can observe these marvelous birds of prey and learn about the history of falconry.
Yas island – most of the luxury hotels are located on Yas Island and so are the most pristine beaches the city has to offer. The sandy beaches welcome you with their powdery softness and with the perfect warm weather, it is ideal for sunbathing, swimming, or relaxing.
Shopping + Restaurants. Are they open in the fall, winter, or spring?
Shops and restaurants are open in the winter in Abu Dhabi. During the winter months, outdoor dining is at its peak thanks to the cooler weather. Snowbirds can enjoy either local or intercontinental dishes as they bask in the pleasant weather. For shoppers looking for something outside of the usual western retail outlets, you can visit the women's handicraft center in Karam street. You can buy everything from baskets, textiles, shawls, and more or watch the women as they work and observe their skills. Abu Dhabi is famous for its jewelry markets so shoppers looking to buy gold crafted in the traditional Arab style can visit the Gold souk at Madinat Zayed Shopping Center. Day to day shopping can be done in one of the many supermarkets, or smaller shops.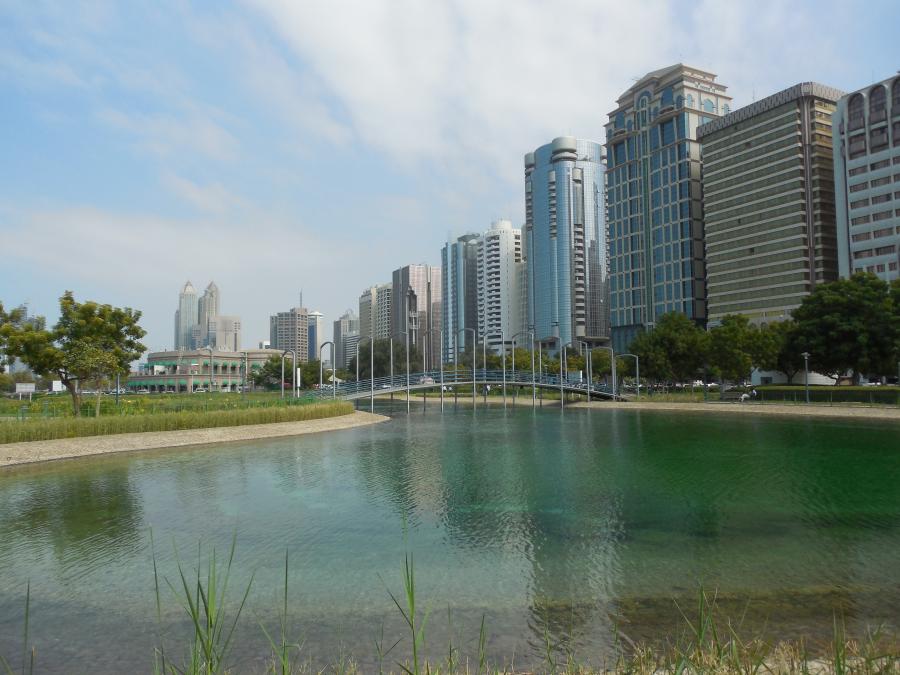 Transport
Abu Dhabi International airport is about 20 Miles (32 km) from the city centre. Over 20 airlines service this airport so you can expect to land here when you arrive in the emirates. Getting from the airport to the city by taxi will cost you around $22 (approx. €20, £18, $30 CAD, $34 AUD)
Taxis can also be easily found around the city. A silver car with a roof sign in yellow or a gold car with a roof sign in green is most likely a taxi and can be flagged down. You can also book a trip in advance using the cab association hotline. Taxi prices start at $1 (approx. €0.95, £0.82, $1.37 CAD, $1.57 AUD) per kilometre and additional kilometres will cost $1.60 (approx. €1.52, £1.32, $2.19 CAD, $2.51 AUD)
There is an extensive bus network with over 95 bus routes around the city so using the bus as a means of getting around would be quite easy for most snowbirds. Bus rides can start at $0.50 (approx. €0.48, £0.41, $0.68 CAD, $0.78 AUD) you can also get weeklong bus passes for unlimited transport from the bus stations at $8 (approx. €7, £6, $10 CAD, $12 AUD)
Getting around the city by car can also be a good option, as there are major car rental agencies in the city. The road networks are good with light traffic (usually as a result of construction). Daily rental rates can cost from $13 (approx. €12, £10, $17 CAD, $20 AUD) for an economy-sized vehicle and $19 (approx. €18, £15, $25 CAD, $29 AUD) for a compact SUV.
Health
The standard of healthcare in Abu Dhabi is high and most residents enjoy great healthcare. The hospitals have up to date facilities and infrastructure. Healthcare costs for visitors can be high but with proper healthcare, insurance snowbirds will have no trouble getting treated while staying in Abu Dhabi. Many doctors are foreign-trained and speak English fluently.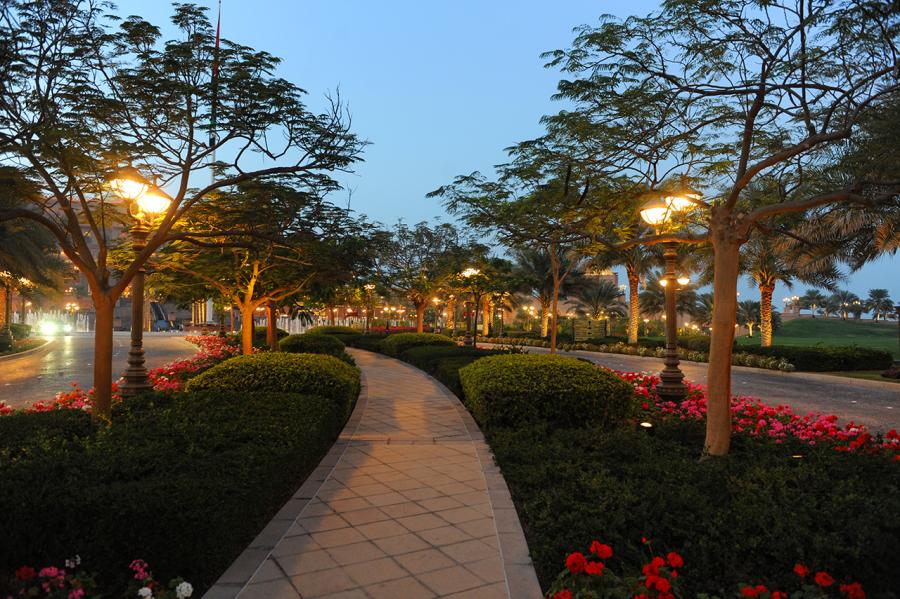 Accommodation
Accommodation can be found easily in Abu Dhabi using apartment listing websites. One-bedroom apartments in the city center cost around per month, outside the city center you can expect to pay around $1023 (approx. €974, £843, $1397 CAD, $1605 AUD). A three-bedroom outside the city center would cost $1928 (approx. €1836, £1590, $2634 CAD, $3025 AUD), and in the city center it would cost $2504 (approx. €2385, £2065, $3421 CAD, $3929 AUD).
Packing List
Weather: The fall, winter, and spring weather in Abu Dhabi (UAE) will normally be warm during the day, but can be chilly during the night. Of course in the fall and spring it will be warmer than in the winter. You have to pack accordingly.

Warm clothing: Even when you go to a warm location like Abu Dhabi (UAE) you should not forget to take some things with you for your trip back home. When you return you are adapted to the warmer weather and need something to protect you from your hometown temperatures.

Consider the Weather: Always look at the type of weather in Abu Dhabi (UAE). Things like humidity, wind, and rain do not show up in the temperature graph but can have a great impact on your wardrobe. There are several sites with long term forecasts and climate information. Is there often a short afternoon downpour like in the tropics, you maybe need to take a strong umbrella and shoos that can cope with the rain. If there is often a lot of wind you might need a more wind-resistant coat.

Check the local Shopping options: Try to find information about the local shopping options near your location in Abu Dhabi (UAE). Are there stores where you can buy all your daily supplies, or are some things difficult to get? For some more remote locations, the options can be limited. If a certain item is really important for you might need to take it with you.

Look at the Local Culture: The local culture in Abu Dhabi (UAE) can impact your wardrobe. If most activities are in more upscale locations you might take some more appropriate clothes with you. Or travelling if you travel to certain countries women need to cover themselves in certain areas.

Amenities: Know what's Included in your house or apartment. Is there a coffee maker, a toaster, a washer and dryer, an iron, what is in the kitchen, what kind of towels are there? Things that are there means you do not have to take them with you. A furnished apartment or house can mean something from a few pieces of furniture to a well-stocked place with all the things you have at home. But most of the time your rental will not be stocked.

Mix and match: Wear layers so you can use your wardrobe more efficiently. And do not worry about wearing something more often, probably only you will notice this.

Important for you: If there is something that is really important for you that you want to have present in your house or apartment, take it with you. This can be something like a special knife for the kitchen, or a small mirror that you use in the morning. You can also purchase it locally if it is not that expensive.

Pet supplies: If you take your pet with you don't forget to take supplies for a few days with you. And enough medication, vitamins, or other supplies if you can not purchase them in Abu Dhabi (UAE) locally.

Food: Don't take a lot of food with you. Only when there is something you really can not live without you, and it is not too heavy you could consider taking it with you.

Towels: Not all locations include bigger towels for the swimming pool or a visit to the beach. If you have to take them and don't have a lot of room you can buy some big thin towels.

Office supplies: Normally you will not find any office supplies in your house or apartment. If you think you will use them you could pack some supplies like a scissor, notepaper, envelopes, some pens, and more depending on your needs.

Limit yourself: Don't take too many shoes and jackets, you will not need them that often.

Best-fitting: Bring your favorite and best-fitting items that can multi-function

Washer: Do you have a washer and dryer onsite, you don't need to pack a lot of clothes
Clothing
Basics
Casual
Smart
Footwear
Toiletries
Beauty
Hygiene
Clothing
Basics
Casual
Outdoor
Footwear
Accessories
Toiletries
Medicine
Miscellaneous
Other
Toiletries
Beauty
Hygiene
Hair
Other
Medicine
Miscellaneous
Technology
Travel and Free time
Travel
Free time
Important
Documents
Money
Other locations close to this location:
Travelers' Map is loading...
If you see this after your page is loaded completely, leafletJS files are missing.
If you have any additions, or comments on the content on this page, please use our contact form to let us know.
Detailed weather during the year for Abu Dhabi UAE
What to do during the year in Abu Dhabi UAE