What to do in June in Torre del Mar, Spain - 2024
Torre del Mar is a locality on the southern coast of Spain, part of the municipality of Vélez-Málaga, Axarquía, located in the province of Málaga.
It is a popular summer tourist resort for Spanish people.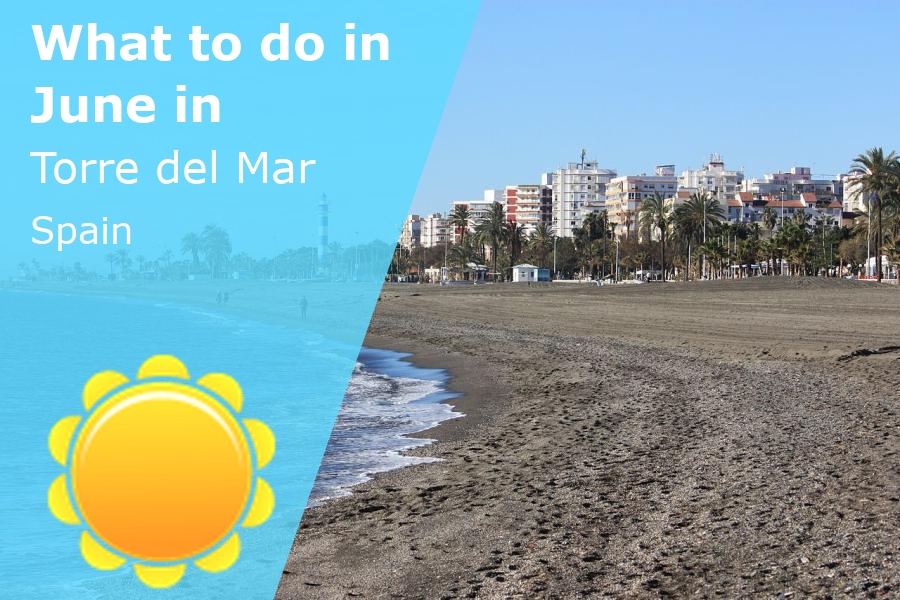 Before we have a look at what you can do in Torre del Mar, let's first look at the weather you can expect in June.


June weather in Torre del Mar Spain
To get a good overview of the type of weather you can expect in June in Torre del Mar Spain, we will look at the day and night temperature, minimum and maximum water temperature, and if June is comfortable or humid
Generally, June in Torre del Mar Spain will be quite hot. Historical data shows that you can expect an average temperature of around 87°F / 31°C. As there is not a lot of humidity, it will feel comfortable. During the night, it will cool down to around 66°F / 19°C. Many will prefer a location with air conditioning due to the humidity level.
Torre del Mar Spain does not have a lot of rainy days in June. You can expect around 3 rainy days, with on average 0.3 inches / 8 mm of rain during the whole month.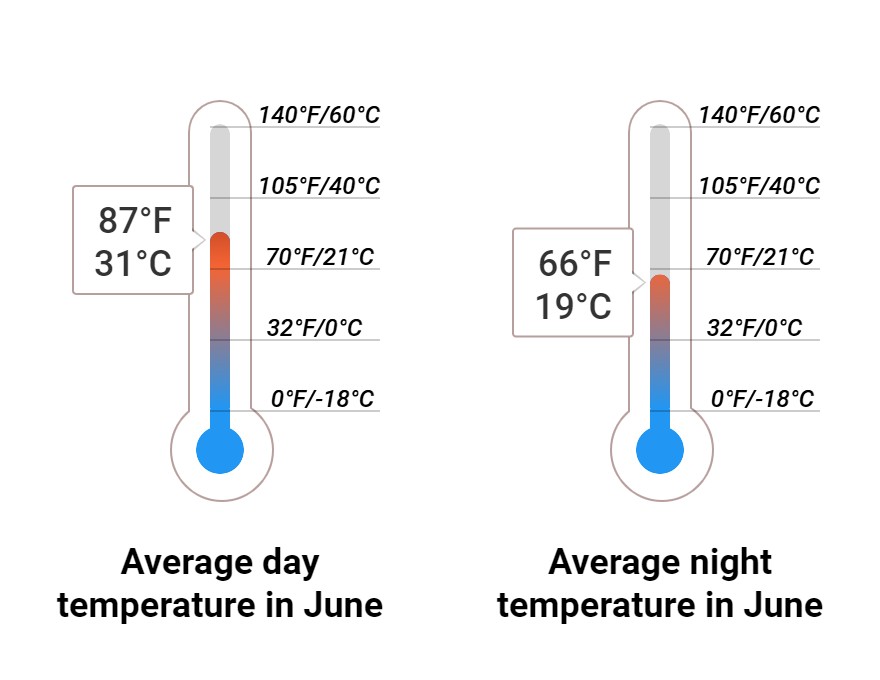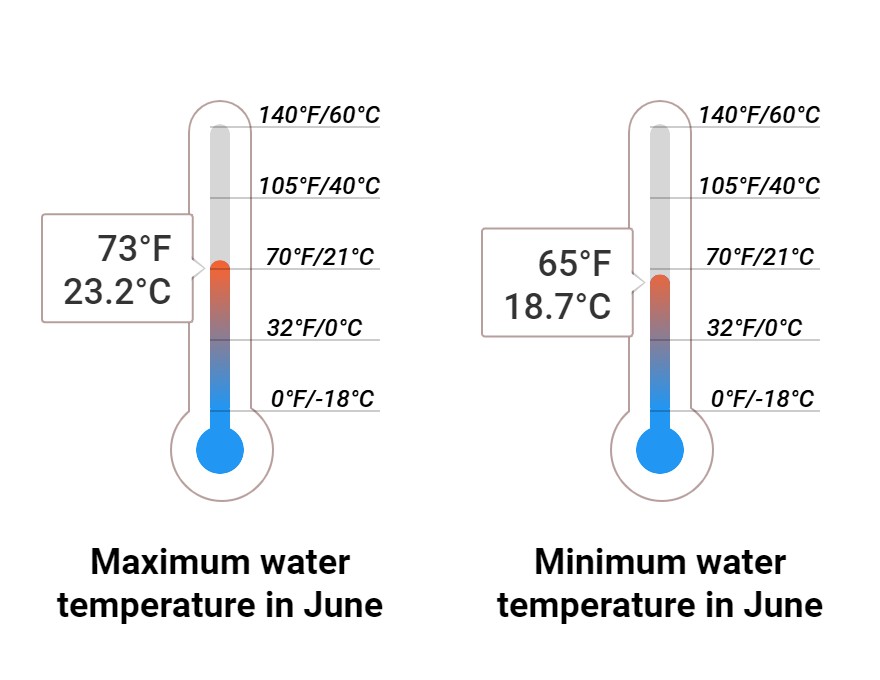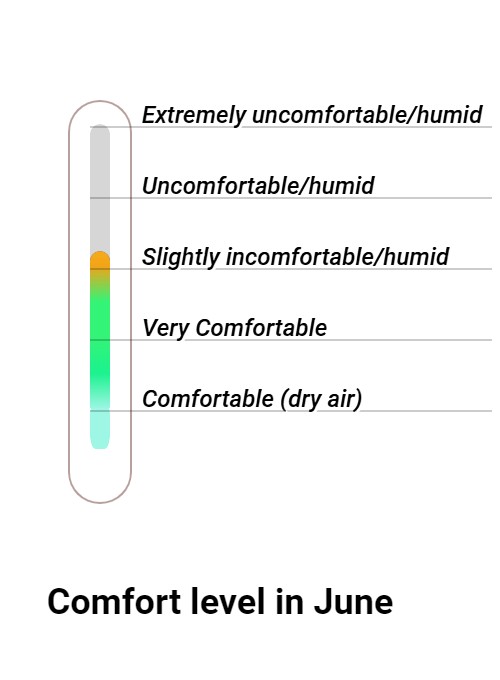 The forecast for June 2024 is based on historical data and are averages. They will give a good indication what you can expect, but the daily temperature and rain will fluctuate during the month.
Things to see and do in Torre del Mar
Torre del Mar has many things to soo. With help from our visitors we have dived a list of things to see in. If you have any sugestions or improvements for this list, please let us know.
Nuestra Señora del Carmen
Cultural
Throughout the Year
Nuestra Señora del Carmen is an old factory. You can learn a lot about their lifestyle here.
Night of San Juan
Night of San Juan is a pagan tradition.
Aquavelis
Pool/Water Park
Throughout the Year
Aquavelis is a water park where you can enjoy yourself in summer with your kids amid slides and drinks.
Shopping in Torre del Mar
When it comes to your Torre del Mar shopping needs, you'll be happy to know there are lots of stores to choose from.

Shopping Centre El Ingenio - Av. del Rey Juan Carlos I, 29700 Velez
Merceria Mar del Plata - This haberdashery can be found along Calle del Mar, which is perpendicular to the Paseo Maritimo promenade.
Lukuma - For accessories, bags, boots, fashion clothing, jewelry, beads, bracelets, and other related items, we recommend this chic boutique along Paseo de Larios.
Activities in Torre del Mar
Walking/Cycling
You can easily rent a bike and take a stroll around the main town. You will find many people cycling/walking on the promenade.
Shopping
One can visit the El Ingenio shopping mall to shop for souvenirs or to do some window shopping. There are many restaurants present here as well.
Golf
Visitors can enjoy golf facilities at the nearby golf club, Baviera Golf Course which is a 5-minute drive from the town.
Yoga Retreats
Beaches
Visitors can spend time ample time at the beaches of Torre de Mar by sunbathing, relaxing and taking a walk along the coast
Boat excursions/Sailing
Local Cuisine
The place is known to have the most authentic Spanish taste when it comes to their local seafood. If you're visiting Torre del Mar, make sure you take full advantage of your stay there.
Restaurants in Torre del Mar
Torre del Mar is famous for its wonderful seafood dishes. There are many cafés and restaurants where visitors can enjoy authentic Spanish cuisine. You can also find restaurants with international cuisine here in Torre del Mar.

La Cocina De Antonio
El Horno Torre del Mar
El Señuelo
Tierra y mar
Marisqueria el Yate
More things to see in Torre del Mar
Torre del Mar Lighthouse
Located on the Paseo Marítimo de Poniente. It holds significant historic value and is an interesting landmark of the town.
Playa de Torre del Mar
A
3 km (2 Miles)

long beach which is the most famous among tourists. It has a large promenade lined with restaurants and bars and is easily accessible to the people living nearby.
Fabrica de Azukar
A former sugar factory located in the town. It is now recognized as an industrial heritage.
Paseo Maritimo
This famous promenade is
4 km (2 Miles)

long and has beautiful views of the sea. It is lined with Palm trees and linked through the marina to the adjacent city of Caleta de Velez.
Antiguo Castillo de Torre del Mar
A landmark with historical relevance build in the 1700s. This fort is oddly located in the town center and is a fascinating sight to see for visitors.
Centro Cultural Nuestra Sra del Carmen Antigua Azucarera
An interesting museum associated with iron and its different equipment. A great experience and definitely one of the things you should visit.
More information about Torre del Mar Spain
What to do in Torre del Mar Spain in other months
Weather in Torre del Mar Spain for each month