What to do in May in Bonaire - 2023
Bonaire is a Caribbean island just north of Venezuela, politically part of the Netherlands. Along with its neighboring Dutch islands of Aruba and Curaçao, it forms the ABC Islands, though it is much quieter. It is a mostly flat, riverless coral island renowned for diving, windsurfing, and bird watching. The official languages are Dutch and Papiamento, the latter of which is the traditional language spoken by the locals. Many locals also speak Spanish, and employees at hotels, dive shops and restaurants will almost always also speak English.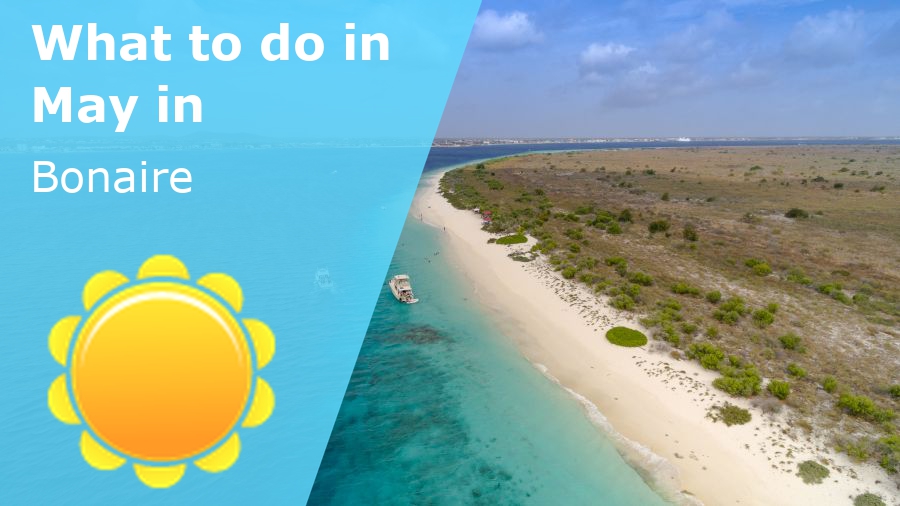 Before we have a look at what you can do in Bonaire, let's first look at the weather you can expect in May.


May weather in Bonaire
To get a good overview of the type of weather you can expect in May in Bonaire, we will look at the day and night temperature, minimum and maximum water temperature, and if May is comfortable or humid
Generally, May in Bonaire will be quite hot. Historical data shows that you can expect an average temperature of around 87°F / 31°C. But due to the moderate humidity it can feel slightly uncomfortable for some. During the night, it will cool down to around 75°F / 24°C. Many will prefer a location with air conditioning due to the night temperature, and the high humidity level.
Bonaire has its share of rainy days in May. You can expect around 14 rainy days, with on average 2.4 inches / 60 mm of rain during the whole month.
But remember that rain can be short and heavy for many tropical locations, particularly during the rainy season. It means that the number of days with rain and the amount of rain can be high, but you will still see many lovely days with a short period of heavy rain.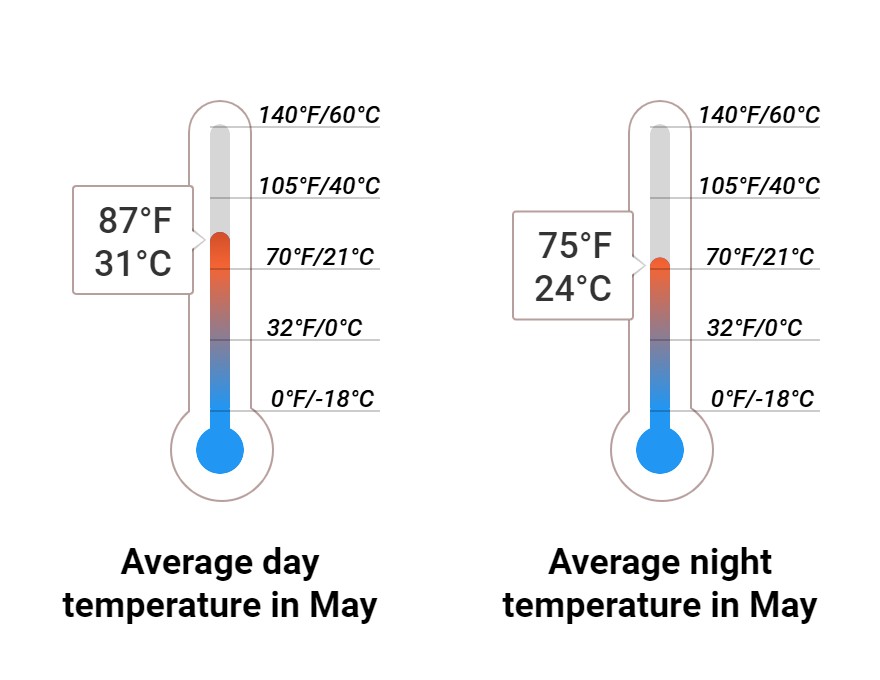 The forecast for May 2023 is based on historical data and are averages. They will give a good indication what you can expect, but the daily temperature and rain will fluctuate during the month.
Things to see and do in Bonaire
Bonaire has many things to soo. With help from our visitors we have dived a list of things to see in. If you have any sugestions or improvements for this list, please let us know.
Downtown Kralendijk
Nature/Wild Life
Throughout the Year
Downtown Kralendijk is a pretty place for a walk.
Divi Flamingo Beach
Divi Flamingo Beach is an addictive beach both for sunbathing and swimming.
Bonaire National Marine Park
Bonaire National Marine Park is a good place to go with kids.
Labor Day
Labor Day is celebrated on the first of May. There are numerous concerts organized by the most renowned singers. The temperature of the island at this time of the year is ideal for outdoor parties.
Shopping in Bonaire
There are shopping malls and markets where you can buy clothes and local items typical of the island.
Activities in Bonaire
Bonaire Christain Shopping Night/Fiesta Di Bari
At the Bonaire Christmas Shopping Night, snowbirds will have the opportunity to experience amazing shopping with discounts in most of the stores in Kaya Grandi and Kaya Grandi adjacent. On top of that, snowbirds will have the opportunity to see the elderly Christmas themed parade. Also, local Christmas dishes will be available downtown. Taking place in Kaya Grandi and Kaya Grandi adjacent, the event starts at 6 pm till 10 pm.
Children Carnival Parade
The children's Carnival Parade in Ricon in February- The neighborhood of Rincon demonstrates its Carnival spirit with the presentation of its own children's parade.
Washington-Slagbaai National Park
Take a trip to the Washington-Slagbaai National Park, which covers an area of 5.643 hectares.
Swim to Klein Bonaire
Swim to Klein Bonaire, the event, is held every year at Eden Beach Resort (starting point) and takes place in October, starting at 9 am. Tickets are usually available at Jong Bonaire and at Spice Beach.
Aletta's Goat Farm
Visit Aletta's Goat Farm, where Bonaire's Local Goat Cheese is Made
Bonaire Sailing Regatta
During the evening, enjoy the festivities in the downtown area by attending the Bonaire Sailing Regatta. The regatta is normally held in September/October.
Nos Zjilea
Cultural Event 'Nos Zjilea', which is held in October- This event has a fusion of local arts & crafts, plants & vegetables, and educational presentations. The event is from 8 am to 2 pm.
Water sports
Bonaire is a great place for Scuba Diving and snorkeling to discover the coral and sea life.
Taste of Bonaire Healthy
At the Taste of Bonaire Healthy, visitors can experience Healthy Food, Locally grown products, and all things health-related offered on Bonaire. On top of that, snowbirds will have the opportunity to participate in interactive activities such as Zumba, Yoga, Etc. at Wilhelmina Park. It starts at 5 pm till 10 pm.
Sea Turtles
Joining the sea turtle experts at STCB (Sea Turtle Conservation Bonaire), as they walk the beaches of Klein Bonaire doing sea turtle nest monitoring
Bara di Karta
Explore the area of Bara di Karta and the Trails of the Valley of Rincon using bikes, driving, cycling, or walking.
Horse Riding
Seeing a part of Bonaire rarely seen while horse riding on some of the island's back trails
Cadushy Distillery
Bonaire's Cadushy Distillery in Rincon is the only distillery on Bonaire. You can join a tour and taste rum, vodka, whiskey, and other unique spirits.
Bird watching
Bonaire is a great place for bird watching. There are over 190 species on the island, including migratory birds that commonly visit Bonaire. Join one of the bird-watching tours.
Restaurants in Bonaire
Bonaire has many restaurants and quite varied cuisine given the overall island population. Other cuisines common on the islands are

Argentine
Suriname
Chinese
Indonesian
Italian
More things to see in Bonaire
Nature & Parks
Natural Marine park, Washington-Slagbaai National Park, Iguanas (wild), Flamingoes.
The Beaches
The best beaches of Bonaire are Klein Bonaire, Lac Bay, Te Amo Beach, Bachelor's Beach, Donkey Beach, Coco Beach, Pink Beach, and Lac Cai amongst others.
Attractions
Bonaire's Cadushy Distillery in Rincon, biking Trails of the Valley of Rincon, Goat farm, Disused Slave Shelters, Rock art, and Salt flats.
More information about Bonaire
What to do in Bonaire in other months
Weather in Bonaire for each month