What to do in May in Cape Verde - 2023
Cape Verde is a country in West Africa. It comprises a group of islands of the Atlantic Ocean, west of Senegal.
Before we have a look at what you can do in Cape Verde, let's first look at the weather you can expect in May.


May weather in Cape Verde
To get a good overview of the type of weather you can expect in May in Cape Verde, we will look at the day and night temperature, minimum and maximum water temperature, and if May is comfortable or humid
Generally, May in Cape Verde will be really nice. Historical data shows that you can expect an average temperature of around 71°F / 22°C. But due to the moderate humidity it can feel slightly uncomfortable for some. During the night, it will cool down to around 69°F / 21°C. Many will prefer a location with air conditioning due to the high humidity level.
Cape Verde does not have a lot of rainy days in May. You can expect around 1 rainy days, with on average 0 inches / 0 mm of rain during the whole month.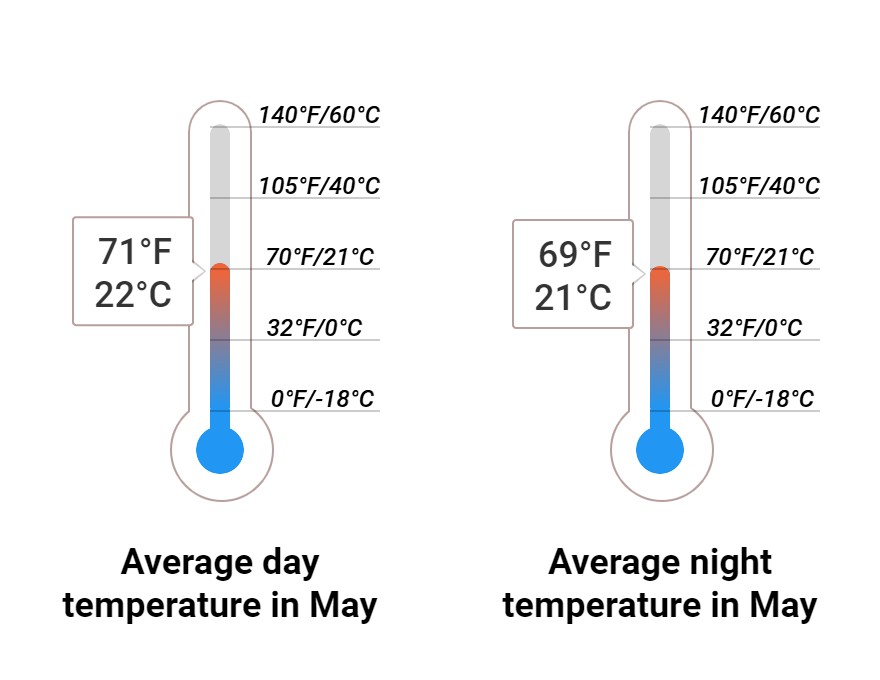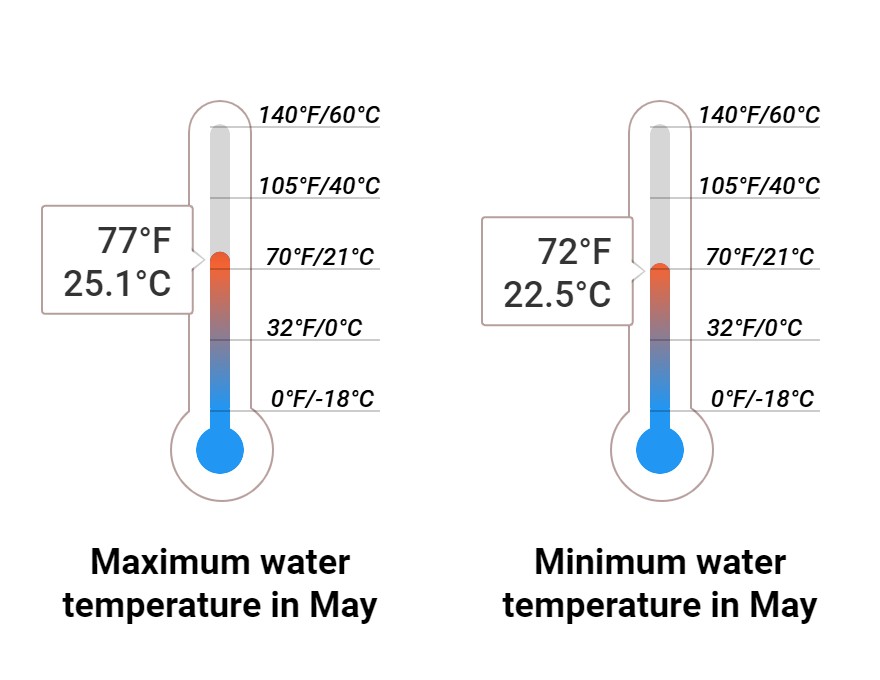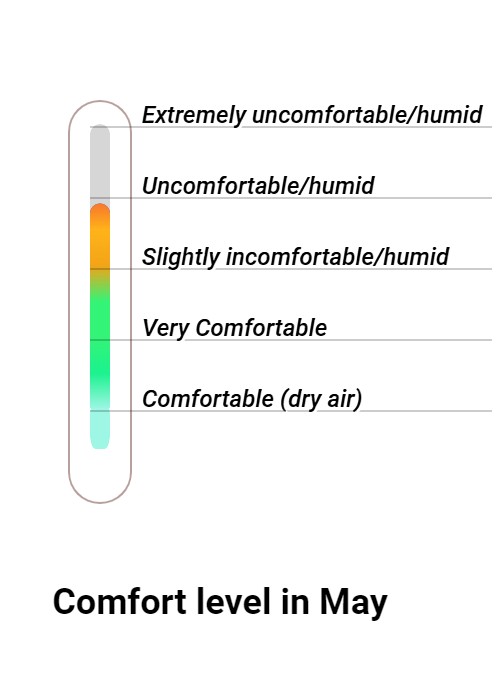 The forecast for May 2023 is based on historical data and are averages. They will give a good indication what you can expect, but the daily temperature and rain will fluctuate during the month.
Things to see and do in Cape Verde
Cape Verde has many things to soo. With help from our visitors we have dived a list of things to see in. If you have any sugestions or improvements for this list, please let us know.
Ribeira Brava
Landmark
Throughout the Year
Ribeira Brava is surrounded by mountains and has an interesting modern-day market.
Mindelo
Landmark
Throughout the Year
Mindelo has a harbor, fish market, bars, and nightclubs that are worth exploring.
Sal Rei
Landmark
Throughout the Year
Sal Rei has many churches reflecting the colonial architecture styles. There are many shops selling handmade stuff.
Praia
Landmark
Throughout the Year
Praia is the capital of Cape Verde located on an island called Santiago. The city has many churches dating back to the colonial era, a palace, and many beaches.
Fogo Island
Landmark
Throughout the Year
Fogo means fire. On this island, there is an airport and the volcano Pico de Fogo that can be climbed in six hours, starting from Cha de Caldeiras.
Palmeira
Landmark
Throughout the Year
Palmeira is a harbor on Sal island. There are coral reefs making it the divers' favorite spot.
Porto Novo
Landmark
Throughout the Year
Porto Novo has a palace, museum, and many colonial buildings.
Ribeira Grande
Landmark
Throughout the Year
Ribeira Grande has a famous church, restaurants, food market, and many hot springs.
Santa Maria
Landmark
Throughout the Year
Santa Maria is a town on Sal island with a harbor that has an interesting weighhouse that was used in the past.
Sal
Landmark
Throughout the Year
Sal is an island with an airport. It is the sunniest island among the country's ten islands.
Shopping in Cape Verde
In the resort islands of Sal and Boa Vista, euros are commonly accepted, although you might receive change in escudos.
Since most goods are imported, the cost of living is moderate to high. On the island resorts of Boa Vista and Sal, the cost of living oftentimes can be compared to their Caribbean counterparts.
Activities in Cape Verde
Fishing
Cape Verdes numerous waters are home to some of the most beautiful fishes such as a world-record-holding marlin. There are fishing trips available from rock fishing, beach fishing, and deep-sea fishing.
Watch water and wind sports
In some parts of Cape Verde, during the winter the winds get very high and many people use this as an opportunity for windsurfing and other sailing sports. Snowbirds can watch as sportspeople practice and put on beautiful displays of their colorful equipment.
Visit the beaches
Perhaps the most attractive features of most islands in Cape Verde are the stunning beaches available. You can spend hours each day lounging in the warm weather, sunbathing, reading a book or swimming.
Carnival
The festivals in Cape Verde are truly amazing and rival those found in Rio. It's a charismatic display of music, dancing, and festivities. Dancers and performers in beautiful carnival outfits and amazing floats line the streets during carnival season.
Restaurants in Cape Verde
Cape Verde has fantastic fresh seafood. Tuna is common, as is Wahoo - a white fleshed fish with similar texture. European food is common on all the islands. Italian is especially popular on Sal.

Restaurante Barracuda
Ristorante Pizzeria Palm Beach
Morabeza Beach Bar & Lounge Restaurant
The Bounty Beach Restaurant
More things to see in Cape Verde
Volcanoes
Although they haven't been active in recent times, there are scenic views of once erupting volcanoes and interesting craters to be seen on some of the islands of Cape Verde.
Buracona
Located in Sal, Buracona is part of the protected landscape in the region. The stunning azure lagoon has rock walls around it that give the appearance of an open eyelid.
Praia da Atalanta
This beautiful beach still has the wreckage from a Spanish ship on its shores that provides a stunning insight into its 1968 tragedy.
Salt mines
In years past, salt was a major export for Cape Verde. The salt mines of Pedra de Lume are surrounded by the most beautiful backdrop. You can even spend some time soaking yourself and floating in the salt ponds that are now all that is left of the salt mines.
Loggerhead turtles
These beautiful sea creatures come to nest and lay their eggs in Cape Verdes sandy beaches. You have a higher chance of seeing the turtles at night and local companies provide guided tours for nature lovers who wish to see the third most important site for loggerhead turtles.
More information about Cape Verde
What to do in Cape Verde in other months
Weather in Cape Verde for each month