What to do in November in Malta - 2023
Malta is famous for its breathtaking coastline. Traditionally, visitors flock to Malta to soak up the sun and enjoy the warm, clear waters that surround the archipelago. But even in winter, this island has a lot to offer, especially since it is less crowded with tourists. You can discover the true authenticity of this island.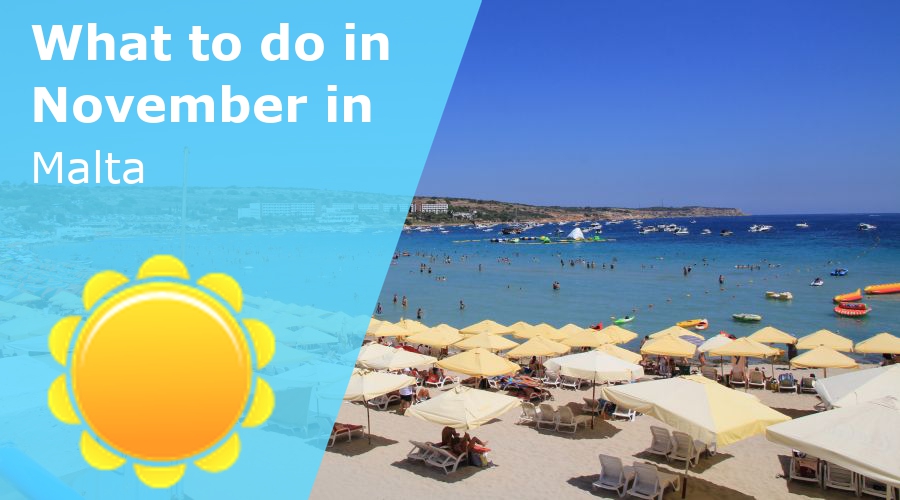 Before we have a look at what you can do in Malta, let's first look at the weather you can expect in November.


November weather in Malta
To get a good overview of the type of weather you can expect in November in Malta, we will look at the day and night temperature, minimum and maximum water temperature, and if November is comfortable or humid
Generally, November in Malta will be slightly on the colder side. Historical data shows that you can expect an average temperature of around 66°F / 19°C. During this month the air is quite dry. During the night, it will cool down to around 64°F / 18°C.
Malta has rainy days in November. You can expect around 10 rainy days, with on average 2 inches / 52 mm of rain during the whole month.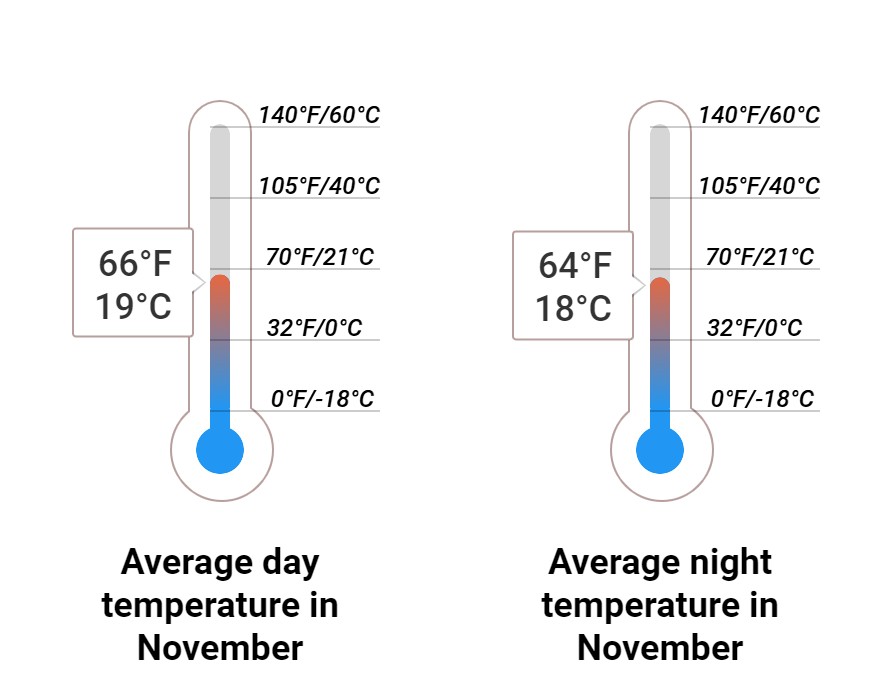 The forecast for November 2023 is based on historical data and are averages. They will give a good indication what you can expect, but the daily temperature and rain will fluctuate during the month.
Things to see and do in Malta
Malta has many things to soo. With help from our visitors we have dived a list of things to see in. If you have any sugestions or improvements for this list, please let us know.
Town of Mdina
Nature/Wild Life
Throughout the Year
The town of Mdina has a very beautiful and popular cathedral, and the national museum has a wide collection of fossils.
Hal Saflieni Hypogeum
Cultural
Throughout the Year
Hal Saflieni Hypogeum has an underground cemetery, a museum, and some awesome paintings and carvings.
Valletta
Valletta is a seaport with two main harbors and an ancient palace. All means of transportation are easily accessible and affordable.
Rabat
Rabat has a convent, museums, and churches that tell a lot about the local architecture and lifestyle.
Island of Gozo
Nature/Wild Life
Throughout the Year
The Island of Gozo has beautiful beaches and towns with an ancient temple, resort, churches, and bay.
Shopping in Malta
In Malta you will never lack anything even in winter time. You'll always find stores, bars and restaurants open for you.
Activities in Malta
Diving
Driving around malta is a great way to explore the island at your own pace.
Explore Islands
there are several smaller islands around Malta that you could visit.
Sea Excursions
feel free to go on paid excursions to explore the open sea around Malta.
Golfing
Golf enthusiasts can visit the golf course to shoot some holes.
Visit UNESCO Sites
History buffs can travel back in time at the UNESCO World Heritage Sites in Malta.
Beaches
Malta has so many beaches and coves you could sunbathe, swim or mingle with other tourists.
Spa visits
Treat your body right while you have a thrilling time in Malta at some great wellness spas.
Restaurants in Malta
Eating in Malta will be for you a unique and unrepeatable experience thanks to its ancient culinary tradition which is strongly linked and influenced by the nearby Sicily, Africa and the peoples who have dominated this wonderful land.
All restaurants in Malta offer fish dishes and meat dishes which are cooked with products and raw materials coming exclusively from the sea, from local farms and agriculture.
More things to see in Malta
Mnajdra
The Mnajdra is a popular Megalithic limestone temple complex.
Hagar Qim
This is a well preserved ancient temple ruins that date back to 3200 BC.
St George's Basilica
This is a beautiful Church that attracts tourists with marble & gold ornamentation.
The Grandmaster's Palace
This is the former residence of the famous Knights. It now serves as a government building.
Upper Barrakka Gardens
Nature lovers will be in awe at this scenic garden with panoramic water views.
Hal Saflieni Hypogeum
One of the most popular attractions in Malta, the Hal Saflieni Hypogeum is an excavated prehistoric burial site.
Azure Window
Picturesque ocean landscape & collapsed natural arch.
St. John's Co-Cathedral
Built in the 16th Century, St. John's Cathedral is a high baroque cathedral.
More information about Malta
What to do in Malta in other months
Weather in Malta for each month