What to do in November in Puerto Vallarta, Mexico - 2023
Puerto Vallarta is a Mexican beach resort city situated on the Pacific Ocean's Bahía de Banderas in the Mexican state of Jalisco. Puerto Vallarta is named after Ignacio Vallarta, a former governor of Jalisco.
Before we have a look at what you can do in Puerto Vallarta, let's first look at the weather you can expect in November.


November weather in Puerto Vallarta Mexico
To get a good overview of the type of weather you can expect in November in Puerto Vallarta Mexico, we will look at the day and night temperature, minimum and maximum water temperature, and if November is comfortable or humid
Generally, November in Puerto Vallarta Mexico will be quite hot. Historical data shows that you can expect an average temperature of around 93°F / 34°C. But due to the moderate humidity it can feel slightly uncomfortable for some. During the night, it will cool down to around 69°F / 21°C. Many will prefer a location with air conditioning due to the high humidity level.
Puerto Vallarta Mexico has some rainy days in November. You can expect around 5 rainy days, with on average 1 inches / 25 mm of rain during the whole month.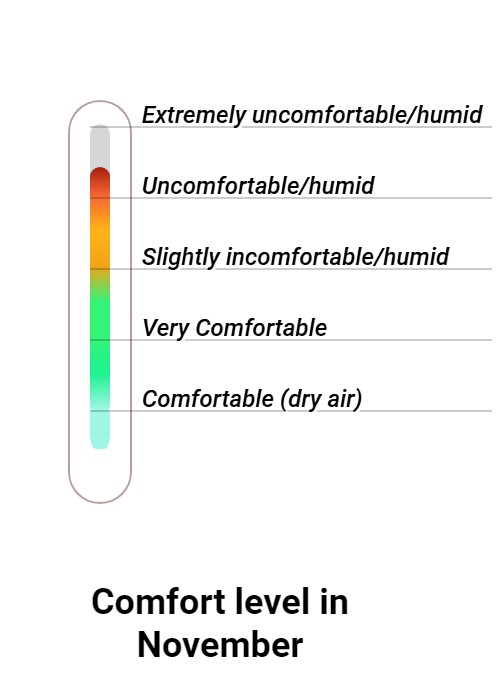 The forecast for November 2023 is based on historical data and are averages. They will give a good indication what you can expect, but the daily temperature and rain will fluctuate during the month.
Things to see and do in Puerto Vallarta
Puerto Vallarta has many things to soo. With help from our visitors we have dived a list of things to see in. If you have any sugestions or improvements for this list, please let us know.
Playa Las Gemelas
Playa Las Gemelas is located towards the South of the town. The beach is ideal for kayaking, rafting, batting, yachting, swimming, and diving.
Day of the Dead
Day of the Dead is called Día de Muertos in the local language. It is a week-long celebration with live music, ballet dance, Catrinas (painted skeleton mask) contests, and traditional dishes.
Our Lady of Guadalupe Parish
Cultural
Throughout the Year
Our Lady of Guadalupe Parish is called Parroquia de Nuestra Señora de Guadalupe, locally. Here a festival is celebrated throughout the month of December with music, floats, dances, and parades.
Art & Market Marina Vallarta
Event/Festival
Jan, Feb, March, April, May, Oct, Nov, Dec
Art & Market Marina Vallarta is held every Thursday evening between the months of October and May. There are handicraft shops, tasty food, and drinks amidst live local music.
Turtle Releasing Season
Event/Festival
June, July, Aug, Sept, Oct, Nov, Dec
Turtle Releasing Season is the time between the month of June and December each year. Baby turtles are released in the late afternoon so the predatory birds may not catch them and they reach a safe shelter before the next morning.
Mirador Cerro de La Cruz
Landmark
Throughout the Year
Mirador Cerro de La Cruz is a lookout point offering a bird's eye view of the town, ocean, and hills.
Bay of Banderas
Bay of Banderas is one of the planet's biggest bays. The bay is ideal for dolphin and whale watching along with octopuses, and turtles.
Zona Romantica
Zona Romantica has cobblestone streets with purple bougainvillea hanging from the balconies of the lines of houses.
Yelapa
Yelapa is accessible only by boat from Los Muertos pier or by a private charter from Boca de Tomatlan. It is a remote fishing village with cheap rooms or apartments to rent which will suit you if you are on a tight budget.
Magic Towns
Cultural
Throughout the Year
There are three Magic Towns in this region: Sebastian del Oeste, Talpa de Allende, and Mascota, with lots of pine and oak tress and cobblestone streets.
Playa Mismaloya
Playa Mismaloya is a popular beach as a 1964 movie, The Night of the Iguana, was shot here, making the site popular and driving millions of visitors each year. It is a tourist attraction due to its moderate temperatures and hundreds of sunny days per year.
Shopping in Puerto Vallarta
Puerto Vallarta is a shopping lover's dream come true.

Paradise Plaza Shopping Center Nuevo Vallarta, Nayarit
Plaza Caracol
La Isla
Galerias Vallarta
Activities in Puerto Vallarta
Whale watching
During the winter, whales can be spotted in the waters around Puerto Vallarta and watched from a safe distance. You get the chance to see some of the biggest animals in nature upfront.
Beaches
There are several amazing beaches where people of all ages can relax, swim or stroll down its pristine sands.
Sportfishing
Several companies offer fishing charters. Both beginners and experienced level fishers can have tailored experiences, and fish can be caught and released back into the waters.
Restaurants in Puerto Vallarta
Puerto Vallarta has a host of excellent restaurants for all tastes and budgets. You'll find something to delight your tastebuds in almost any setting, be it on the beach, at a roadside stand, or in one of the city's many fine restaurants.

San Angel Burgers And Tacos
La Ribera Restaurant
No Se Nada Bary Restaurante
Maria Baja
More things to see in Puerto Vallarta
Islas Marietas National Park
Islas Marietas National Park is a UNESCO biosphere and RAMSAR site, this protected island is home to animals like whales, dolphins, seabirds, and other species of tropical fish.
Museo Del Cuale
Museo Del Cuale has several stunning prehistoric ceramics from as far back as 2000 A.C. These artworks give a glimpse into the area's history. There are also hunting tools, an excavated tomb, and panels displaying information on each exhibit.
Area Natural Protegida Estero El Salado
Area Natural Protegida Estero El Salado is a natural estuary home to different species of animals like birds, reptiles, and fishes. Birdwatchers will enjoy watching the over 100 species of birds living here.
Malecon
The Malecon promenade is located along the city's downtown area and is open to pedestrians. You can explore the area, visit some of the seaside restaurants, and purchase trinkets and souvenirs from the vendors here. There are also sand sculptures and intricate motifs to be seen as well.
Bahia de Banderas
Bahia de Banderas is the largest bay in the country and has sailboats available for exploring the bay, including an on-ship museum modeled after Christopher Columbuses ship with interesting artifacts from conquistador times.
More information about Puerto Vallarta Mexico
What to do in Puerto Vallarta Mexico in other months
Weather in Puerto Vallarta Mexico for each month