What to do in November in Southeast Asia - 2023
Southeast Asia is the geographical term used to indicate the region at the southeastern end of the Asian continent, which groups together states that are heterogeneous in some respects and squeezed between the two giants of India and China.

Singapore,
Brunei,
Thailand,
East Timor,
Malaysia,
Indonesia,
Philippines,
Burma,
Cambodia,
Laos,
Vietnam.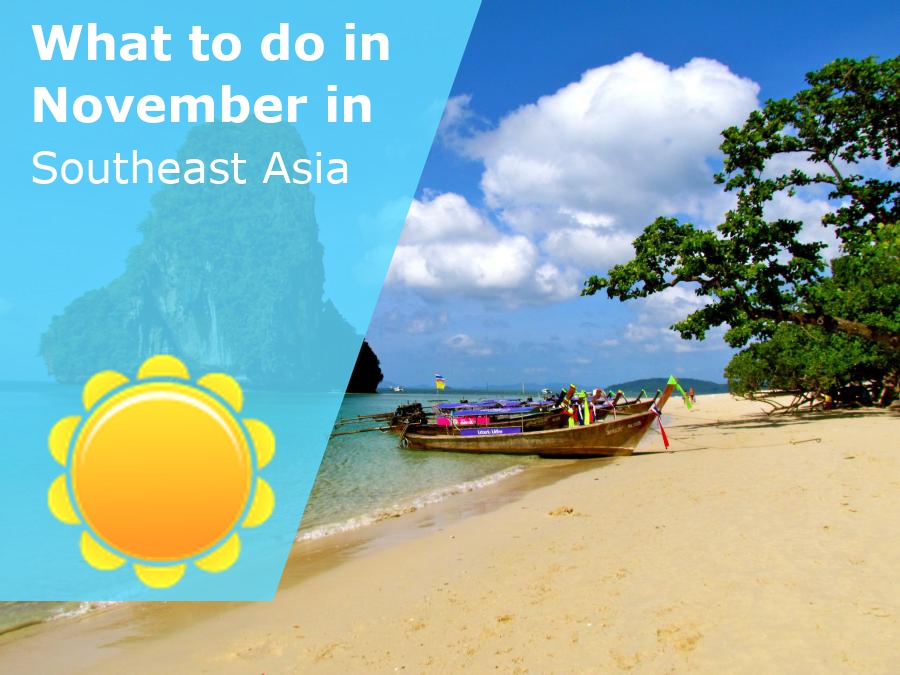 Before we have a look at what you can do in Southeast Asia, let's first look at the weather you can expect in November.


November weather in Southeast Asia
To get a good overview of the type of weather you can expect in November in Southeast Asia, we will look at the day and night temperature, minimum and maximum water temperature, and if November is comfortable or humid
Generally, November in Southeast Asia will be really nice. Historical data shows that you can expect an average temperature of around 86°F / 30°C. But due to the moderate humidity it can feel slightly uncomfortable for some. During the night, it will cool down to around 71°F / 22°C. Many will prefer a location with air conditioning due to the high humidity level.
Southeast Asia has its share of rainy days in November. You can expect around 18 rainy days, with on average 4.1 inches / 103 mm of rain during the whole month.
But remember that rain can be short and heavy for many tropical locations, particularly during the rainy season. It means that the number of days with rain and the amount of rain can be high, but you will still see many lovely days with a short period of heavy rain.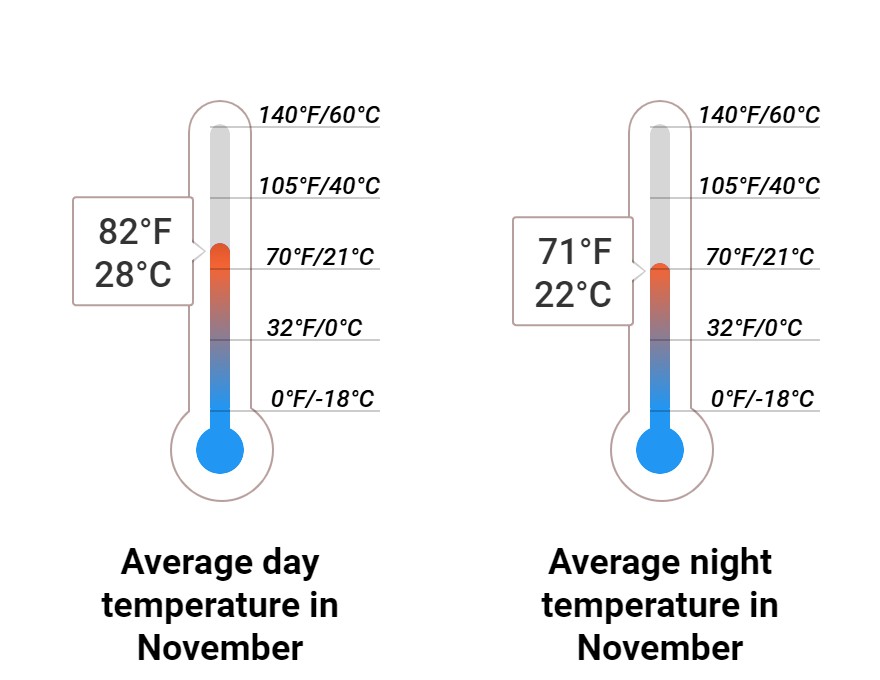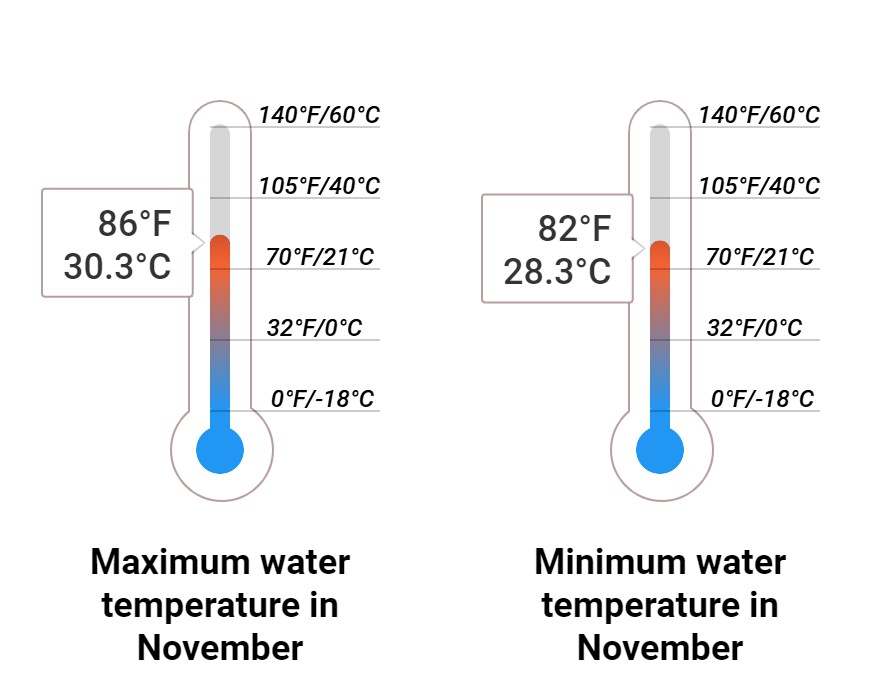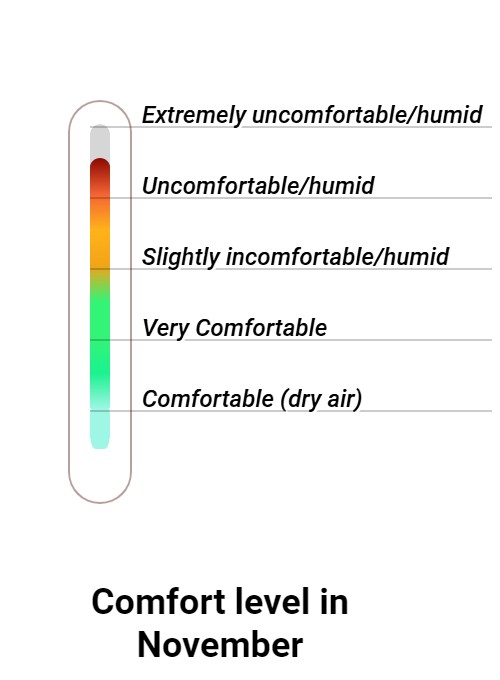 The forecast for November 2023 is based on historical data and are averages. They will give a good indication what you can expect, but the daily temperature and rain will fluctuate during the month.
Things to see and do in Southeast Asia
Southeast Asia has many things to soo. With help from our visitors we have dived a list of things to see in. If you have any sugestions or improvements for this list, please let us know.
Boracay
Nature/Wild Life
Throughout the Year
Boracay is located in the Philippines. It is the biggest island here. You can go cliff diving, kitesurfing, and kiteboarding.
Naga Fire Ball Festival
Naga Fire Ball Festival is held in Thailand above a river where a fireball is raised above the water. The people believed that a giant serpent creates these fireballs.
Loi Krathong
Loi Krathong is held in Thailand. People release paper lanterns into the sky to release their worries.
Koh Samui
Nature/Wild Life
Throughout the Year
Koh Samui is located in Thailand. It has beaches, resorts, spas and lots more for the visitors.
Bon Om Tuk (Khmer Water Festival)
Bon Om Tuk (Khmer Water Festival) is held in Cambodia. There are dragon boat races in a river. There is tasty food, fireworks, and parades.
The Cambodia Landmine Museum and Relief Center
Museum
Throughout the Year
The Cambodia Landmine Museum and Relief Center are located in Siem Rep. It shows about the landmines.
Ha Long Bay
Nature/Wild Life
Throughout the Year
Ha Long Bay is located in Vietnam. It has many caves and islands.
Shopping in Southeast Asia
It depends on where you choose your base camp to be.
If you visit any of these countries you should buy:

Tailored Clothing
Rice
Coconut shell bowls
Handmade Crafts
Coffee
Lanterns
Kampot pepper
Activities in Southeast Asia
Wellness therapies
Many popular spa treatments originate from southeast Asian monasteries or villages. Activities like massages, yoga, and meditations are widely available at really good prices. Whether you want a luxury experience, beach massage, or traditional monastery massage, you're bound to find something that works for you.
Tour islands
Ranking among the world's most beautiful places, tropical islands such as Palawan in the Philippines are magnetic, to say the least. Apart from its astonishing beaches, there are shipwreck sites, underground rivers, and lagoons just waiting to be explored. There are tons of wildlife to be seen too.
Nature walks
Southeast Asia has many nature parks and reserves that stay open during the winter. You can start off your day with a long walk in the park while observing animals like orang-utans, elephants, Komodo dragons, birds, and other wildlife in their natural habitat.
Visit the beaches
The number of idyllic beaches in almost every Southeast Asian country is enough to provide you with the chance to spend almost every day lounging on the beach. Emerald oceans and white sands cliffs that take your breath away are at your fingertips in southeast Asia.
Restaurants in Southeast Asia
Southeast Asian cuisine includes a strong emphasis on lightly prepared dishes with a strong aromatic component that features such flavors as citrus and herbs such as lime, coriander/cilantro and basil.

The ideal Southeast Asian meal is made up of mostly vegetables, rice and broth, with a little protein to add flavor and a satiating quality. A meal for one might be rice, a grilled fish and some pickled vegetables, while a meal for two might add another vegetable dish.

More things to see in Southeast Asia
Khao Yao National Park
Khao Yao National Park is one of Thailand's UNESCO listed national parks, elephants inhabit this park, and its beautiful walking trails are something nature-loving snowbirds would appreciate. There are breathtakingly amazing waterfalls and different species of colorful birds to behold.
Beaches
You can find some of the most pristine beaches in Thailand's Krabi Province. The water is the brightest emerald, and there are several quiet islands you can explore away from all the tourists like the Ko Lanta beaches.Pangkor Island, Perak. Of course, there are many other fine beaches in Southeast Asia.
Gardens by the bay
Gardens by the bay is a botanical feat located in Singapore challenges gardens worldwide. Thanks to the biodomes controlled using temperature, you get to see what environments from the montane rainforest to Mediterranean gardens look like. One of the most stunning parts of this garden is its supertrees that put on a light show every night.
Luang Prabang
Luang Prabang is a UNESCO heritage site located in Laos and is filled with some of the most interesting Lao architecture. There are also echoing caves, bathing pools, and waterfalls to explore if you ever tire of the quiet temples in Laos.
Angkor temples
The Angkor temples are among the world's most iconic monuments, these temples in Cambodia were once the great capital of the Khmer Empire. Many visitors choose to ride bicycles around the temples to take in the sites, but you can also take a leisurely stroll instead to appreciate the jaw-dropping beauty of the temple walls fully.
More information about Southeast Asia
What to do in Southeast Asia in other months
Weather in Southeast Asia for each month