What to do in November in Tunisia - 2024
Tunisia officially the Republic of Tunisia, is the northernmost country in Africa. It is a part of the Maghreb region of North Africa, and is bordered by Algeria to the west and southwest, Libya to the southeast, and the Mediterranean Sea to the north and east; covering , with a population of 11 million.
Before we have a look at what you can do in Tunisia, let's first look at the weather you can expect in November.


November weather in Tunisia
To get a good overview of the type of weather you can expect in November in Tunisia, we will look at the day and night temperature, minimum and maximum water temperature, and if November is comfortable or humid
Generally, November in Tunisia will be really nice. Historical data shows that you can expect an average temperature of around 69°F / 21°C. But due to the very dry air, it can feel somewhat uncomfortable for some people. During the night, it will cool down to around 53°F / 12°C.
Tunisia has rainy days in November. You can expect around 7 rainy days, with on average 1.3 inches / 34 mm of rain during the whole month.
But remember that rain can be short and heavy for many tropical locations, particularly during the rainy season. It means that the number of days with rain and the amount of rain can be high, but you will still see many lovely days with a short period of heavy rain.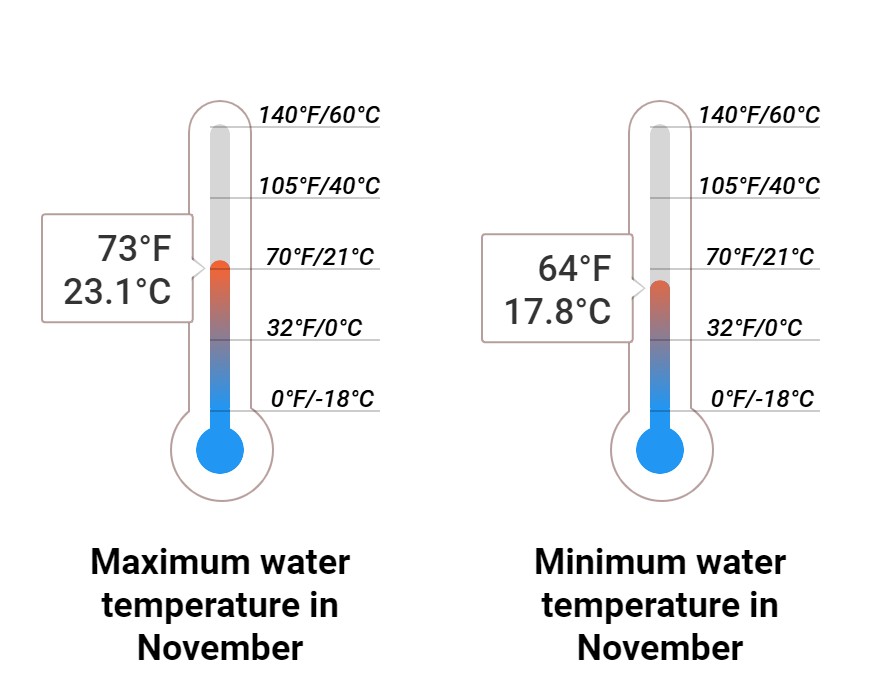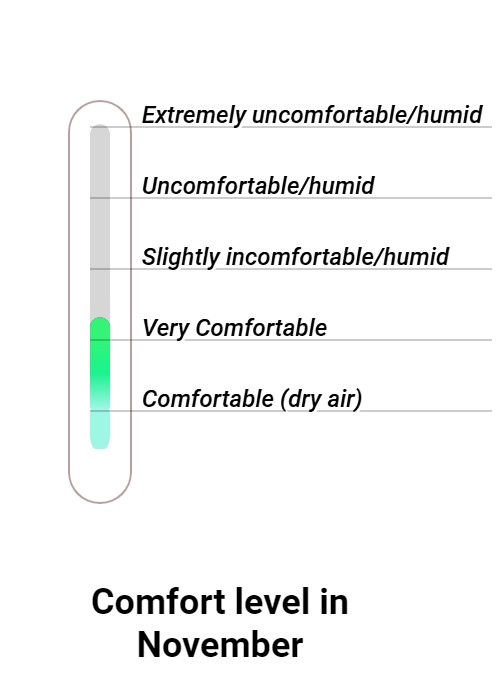 The forecast for November 2024 is based on historical data and are averages. They will give a good indication what you can expect, but the daily temperature and rain will fluctuate during the month.
Things to see and do in Tunisia
Tunisia has many things to soo. With help from our visitors we have dived a list of things to see in. If you have any sugestions or improvements for this list, please let us know.
The village of "Mos Espa"
There is a Star Wars set in The village of "Mos Espa" making it ideal for kids.
Corbeille in Nefta
Corbeille in Nefta is a nice palm grove to visit.
Ksar Ouled Soltane
Cultural
Throughout the Year
Ksar Ouled Soltane is an ancient palace portraying medieval architecture.
Ksar Ouled Debbab
Cultural
Throughout the Year
IKsar Ouled Debbab an old palace turned into a hotel.
Shopping in Tunisia
All of Tunisia's major cities contain plenty of modern shopping malls, but the country's most unique and unforgettable shopping experiences lie within its souks and medinas.
Activities in Tunisia
Explore archaeological sites
There are so many pockets of history is Tunisia that snowbirds can choose to explore during their stay in Tunisia. These include caves, medinas, ruins of ancient cities and impressive architecture.
Hammam baths
A trip to Tunisia is far from complete without a trip to traditional Tunisian sauna called Hammams. Snowbirds can enjoy the centuries-long tradition of sitting in old tiled traditional steam baths for a 5-star experience.
Visit the beaches
Countless stunning beaches with pristine soft white stand await snowbirds who visit Tunisia in the winter. Dotted with beautiful date palm trees and well kept, you will have an amazing time relaxing by the Mediterranean Sea and sunbathing.
Visit Ichkeul lake
Nature lovers would be excited to partake in some of the most amazing and beautiful feats of nature albeit from a distance. Snowbirds will have a wonderful time bird watching at Ichkeul Lake during the winter. The migratory birdslike egrets, flamingos, and storks flock to this UNESCO heritage site for the winter.
Festival of the Sahara
Snowbirds can enjoy beautiful displays of traditional Tunisian outfits, horseback riding, and camel racing during the international festival of the Sahara. It is one of the most amazing displays of North African culture.
Tour the desert
Some of Tunisia's deserts have featured in several Hollywood movies like The English Patient. You can either ride a camel through the desert and admire the beautiful waves of sand or enjoy a jeep tour if you prefer.
Restaurants in Tunisia
Tunisian cuisine has similarities with the Middle Eastern cuisine, and mainly builds on the Northern African Maghreb tradition. Lamb forms the basis of most meat dishes and local seafood is plentiful.

Le Comptoir De Tunis
Restaurant La Mamma
Restaurant Dar Slah
El Ali Restaurant & Cafe
More things to see in Tunisia
Kainouan
This ancient city is riddled with mosques, tombs, and madrassas. It is one of the top four major Muslim cities and its ethereal beauty continues to draw those who are from other faiths or irreligious to visit this feat of Arabic architecture.
Bardo National Museum
Massive displays of stunning mosaic grace the interior of this museum which is among the top museums in North Africa. The most treasured and important mosaics in Africa can be seen within the walls of the Bardo and showcases how skilled and masterful artists of the Byzantine and Roman era were.
El Jem Amphitheatre
Surrounded by a modern town, this remnant of the Roman empire's presence in Tunisia is truly a sight to behold. It is one of the highlights of Tunisia's tourist attractions and it gives solid insight into what amphitheaters from old times were like.
Sidi Bou Said
This quaint and delightfully picturesque village sits on top of a cliff with houses that have whitewashed walls and petite proportions. The Mediterranean provides a chic backdrop to this stunning village which snowbirds can enjoy as they stroll its streets and shop at local stalls.
Carthage
This UNESCO heritage site is all that remains of one of the major military rivals of ancient Rome. Situated next to the sea, snowbirds can immerse themselves in North Africa's ancient past and stroll through the extensive ruins of this once formidable city.
More information about Tunisia
What to do in Tunisia in other months
Weather in Tunisia for each month