The Republic of Tunisia, located in North Africa covers around 163.610 km (102 Miles) of the Maghreb region and is home to the northernmost point of Africa. It also has the second and third points closest to Europe in Africa so it is a favorite location for many snowbirds. This stunning jewel of the north has both the Sahara Desert and the Atlas Mountains and its coastline touches the Mediterranean basin. In ancient times, what is now Tunisia was a major rival to the roman empire before they were finally conquered. The presence of the Romans resulted in heavy Roman architectural influences in most parts of the country. Tunisia was then conquered by the Ottomans and later, colonized by the French. These diverse influences have contributed to the rich culture and history of modern-day Tunisia where it is believed descendants of the demigod Hercules army settled after his death.
Tunisia sits on extremely fertile land and agricultural products form most of its exports. Beautiful mosaics and ceramics were also part of the items exported from the region in ancient times. The official language of Tunisia is Arabic however many nationals speak French, Berber and Tunisian Arabic. Tunisia is home to several UNESCO world heritage sites like medinas housing breathtaking mosaics, archaeological sites, and stunning desert views.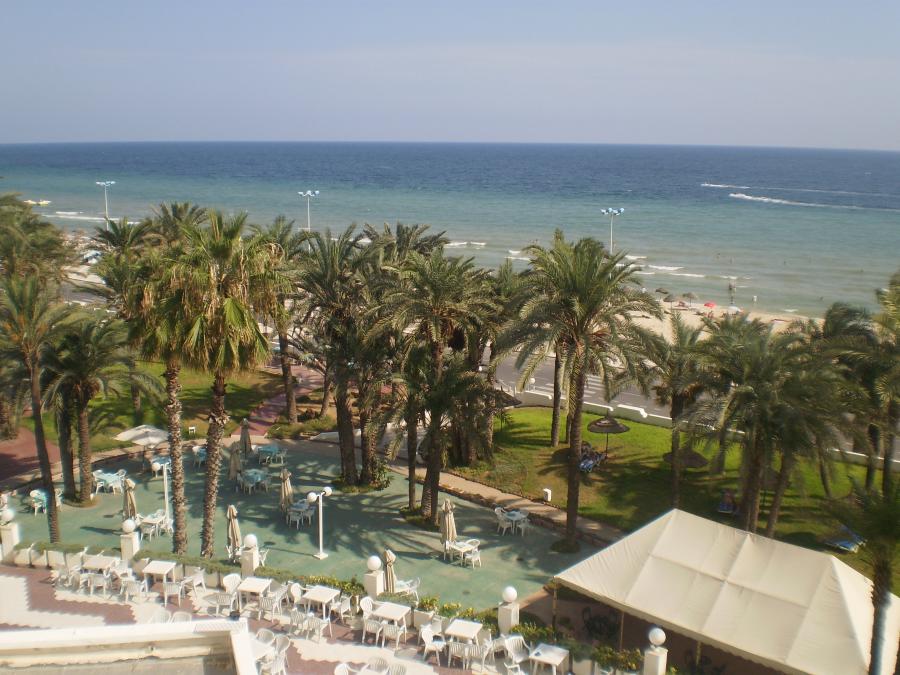 Why should people stay in Tunisia
Tunisia is a great place to visit in the winter because of its beautiful weather, exciting winter activities, and attractive sites. Snowbirds who are keen to get a taste of North African life will have a delightful time in Tunisia. Many species of birds travel from the north to Tunisia during the winter migratory season and can be observed during long leisurely strolls. They are several spas and Thalasso centers that are open during the winter, and you will find beautiful resorts near the sea. Avid golfers can expect to find beautiful golf courses and putting greens open and active during the winter. For snowbirds looking to experience boat life, the countless marinas where yachts and boats are docked promises to be an exciting experience.
Climate
Tunisia has a hot and dry summer but winters are mild, a bit rainy, and welcoming. Tunisia's climate often varies and one can experience either a Mediterranean or African style climate during their stay in Tunisia depending on what region you chose to visit. Many places stay open in the winter despite the windier and colder weather. Winter in Tunisia ranges from snowbirds are advised to still pack warm clothing as it can drop to 7°C - °C (45°F - 32°F) at night time.

Safety
Tunisia is considered a safe country for snowbirds. The capital and other northern cities are safe with low crime rates and snowbirds can feel safe engaging in their preferred activities in these areas. Travelers are advised to keep abreast of happenings in the country through the local media and keep their valuable items secure. There are a few areas in the south of the country that are deemed unsafe due to military operations and terrorist attacks. Places like the border with Algeria and Libya and the western mountains are to be avoided.
Communication, internet, and cellphone in Tunisia
Although Tunisia's official language is Arabic, foreign languages like French, English, and Italian are spoken in the major cities. A few locals also speak Turkish as well. Snowbirds are advised to travel with a phrasebook as many service people like taxi drivers and waiters will speak only rudimentary English. Snowbirds who also speak French will have no trouble with communication, as French is the second language of most people in Tunisia.
Roaming your home sim while in Tunisia can be quite expensive so snowbirds are advised to get a local sim. Prepaid sim cards in Tunisia offer some of the best deals in the world. They also have a special sim for tourists that lasts for 90 days with up to 400% bonus on top-ups. Prepaid sim cards can be purchased for $3.48 (approx. €2, £2, $4 CAD, $4 AUD) and they can be purchased in the airport once you land. There are also pay-phones in major cities.
Wintersun Locations in Tunisia
Some of the locations where snowbirds could stay in Tunisia include:
Hammamet and Yasmine Hammamet: These two areas are right next to each other and have an abundance of beaches, restaurants, interesting attractions like medina's, castles, and nature views like lemon trees. For a feel of old Tunisia, snowbirds can stay in Hammamet and those looking for a developed, modern area with more of a European feel, Yasmine Hammamet would be the perfect place to stay. Both places offer numerous cafes, restaurants, and shops to keep you occupied.
Sousse: This old town has beautiful ancient attractions like museums, cafes, and bars with decent accommodation as well. Among its most attractive features is a 9th-century fortress where snowbirds can explore and be transported to a different era. You can also visit a local souk to shop for locally made items.
Monastir: Monastir has an interesting fishing port, and a museum housed by a huge fortress. In addition to this, a new marina and the charming beaches are part of what makes this old town an appealing place to stay in Tunisia.
Djebar: For snowbirds who prefer quiet and relaxed surroundings, staying in Djebar is ideal. There are countless Moorish buildings, Berber villages and the town of Houmt Souk to be explored or you can opt to relax and sunbathe under the swaying palm trees.
Things to see in Tunisia
El Jem Amphitheatre: Surrounded by a modern town, this remnant of the Roman empire's presence in Tunisia is truly a sight to behold. It is one of the highlights of Tunisia's tourist attractions and it gives solid insight into what amphitheaters from old times were like.
Carthage: This UNESCO heritage site is all that remains of one of the major military rivals of ancient Rome. Situated next to the sea, snowbirds can immerse themselves in North Africa's ancient past and stroll through the extensive ruins of this once formidable city.
Sidi Bou Said: This quaint and delightfully picturesque village sits on top of a cliff with houses that have whitewashed walls and petite proportions. The Mediterranean provides a chic backdrop to this stunning village which snowbirds can enjoy as they stroll its streets and shop at local stalls.
Kainouan: This ancient city is riddled with mosques, tombs, and madrassas. It is one of the top four major Muslim cities and its ethereal beauty continues to draw those who are from other faiths or irreligious to visit this feat of Arabic architecture.
Bardo National Museum: Massive displays of stunning mosaic grace the interior of this museum which is among the top museums in North Africa. The most treasured and important mosaics in Africa can be seen within the walls of the Bardo and showcases how skilled and masterful artists of the Byzantine and Roman era were.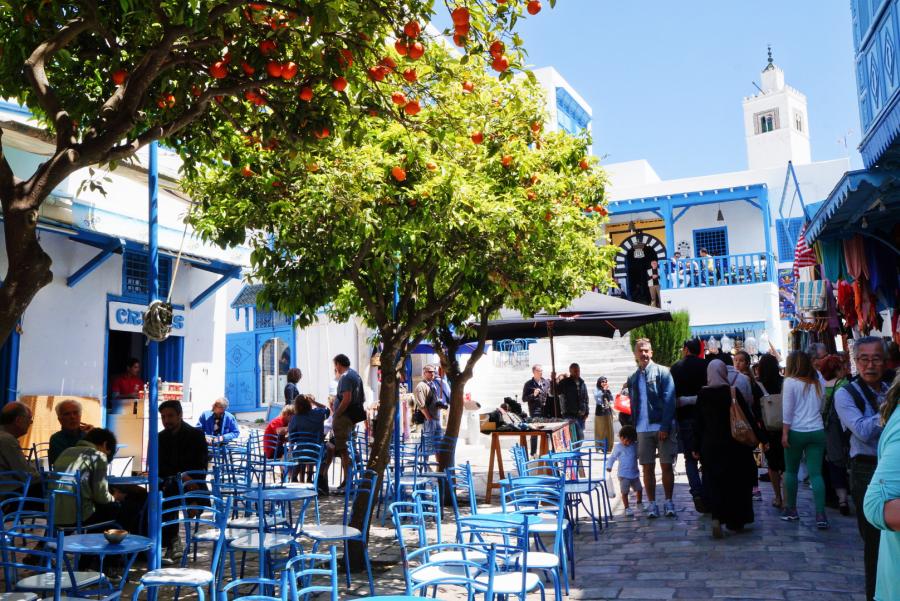 Activities in Tunisia in the winter
Visit Ichkeul lake: Nature lovers would be excited to partake in some of the most amazing and beautiful feats of nature albeit from a distance. Snowbirds will have a wonderful time bird watching at Ichkeul Lake during the winter. The migratory birdslike egrets, flamingos, and storks flock to this UNESCO heritage site for the winter.
Festival of the Sahara: Snowbirds can enjoy beautiful displays of traditional Tunisian outfits, horseback riding, and camel racing during the international festival of the Sahara. It is one of the most amazing displays of North African culture.
Explore archaeological sites: There are so many pockets of history is Tunisia that snowbirds can choose to explore during their stay in Tunisia. These include caves, medinas, ruins of ancient cities and impressive architecture.
Tour the desert: Some of Tunisia's deserts have featured in several Hollywood movies like The English Patient. You can either ride a camel through the desert and admire the beautiful waves of sand or enjoy a jeep tour if you prefer.
Visit the beaches: Countless stunning beaches with pristine soft white stand await snowbirds who visit Tunisia in the winter. Dotted with beautiful date palm trees and well kept, you will have an amazing time relaxing by the Mediterranean Sea and sunbathing.
Hammam baths: A trip to Tunisia is far from complete without a trip to traditional Tunisian sauna called Hammams. Snowbirds can enjoy the centuries-long tradition of sitting in old tiled traditional steam baths for a 5-star experience.
Shopping + Restaurants. Are they open in the winter?
During the winter, shops and restaurants are usually open. As the winter is the low season, you can find some closed shops and restaurants in areas that are only focussing on tourists.
You can also stop for some syrupy Arabian coffee at any of the many cafes the country has to offer. Shops close an hour earlier during the winter by 7 pm and they usually have an hour-long break at 12 pm. Snowbirds can try traditional Tunisian meals at various restaurants or from street food vendors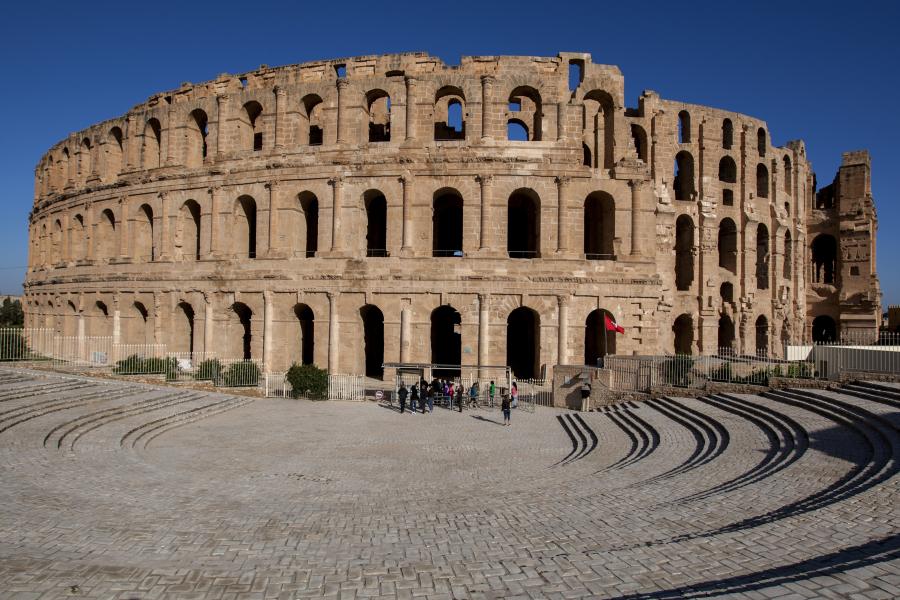 Transport
Tunisia has a fair number of international airports in the following major cities; Tunis, Enfidha, Monastir, Djebar, Sfax, Gabes, Gafsa, and Tozeur. Domestic flights are also not uncommon although because Tunisia is small, they are not entirely necessary snowbirds can use this as a major means of quickly getting around the country. Major airlines include Sevenair, Tunisair, Nouvelair, and Tuninter.
The transport system is reliable and most places in each city are easily accessible by trains or buses. Tunisia has two major bus companies, TCV green and white busses tend to cost more than SNT busses. Bus tickets start from $4 (approx. €3, £2, $5 CAD, $5 AUD). In addition to trains, there are also trams that run through the city. Train tickets are booked in advance. The train's intercity network is not as developed as that of busses and they can be slow so if you wish to move through the country by road, a bus would be the best way to go.
There are also metered taxis that run through the major cities at affordable prices. Shared vehicles are also another form of transport popular in Tunisia which costs the same as using a bus or train. Taxi prices start from $ (approx. €0, £0, $0 CAD, $0 AUD)
Renting a car in Tunisia is quite costly but not hard to find. Renting a car can set you back between $21 (approx. €17, £15, $26 CAD, $27 AUD) a day to $105 (approx. €86, £76, $133 CAD, $135 AUD) depending on the type of car you choose. Tunisian roads are well maintained and comparable to roads in Europe and road signs are in Arabic and French. If you intend to spend most of your stay in a single city, you may want to use buses and trains as they would be much more affordable.
Health
Tunisia enjoys a reasonable healthcare system thanks to the country's wealth, with a public health system that all citizens benefit from. But in general, do not expect it to be on the level of US and European hospitals. There are also private healthcare systems with well-trained personnel and infrastructure although expenses may be high. Snowbirds should have adequate travel insurance to help with these costs especially in the event of an emergency. There are a few English speaking doctors in international hospitals, however, smaller hospitals may only have Arabic or French-speaking doctors. There are also a good number of pharmacies that stay open at all hours.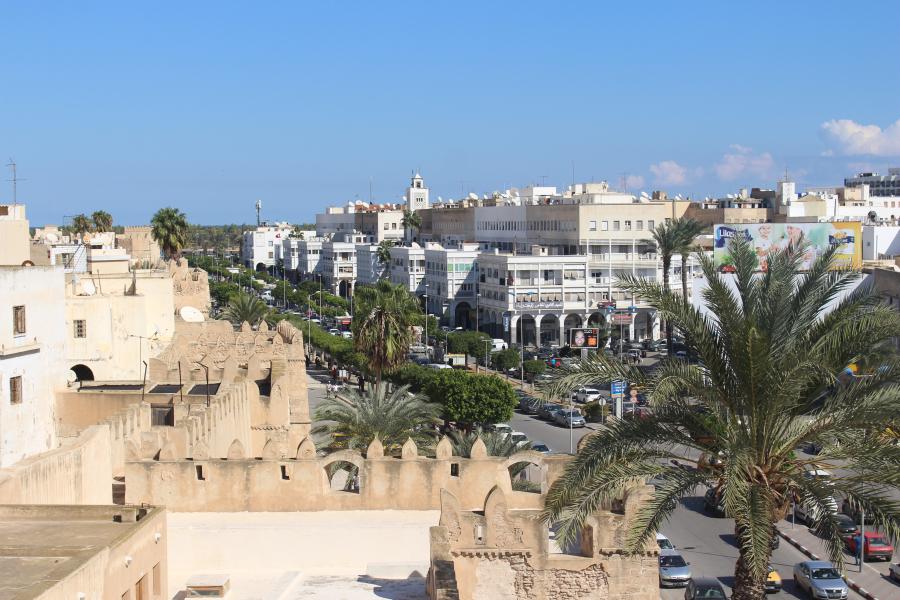 Accommodation
There are several apartments and sublets in different areas for Tunisia for reasonable prices. A one-bedroom apartment in the city center costs about $201 (approx. €166, £147, $255 CAD, $260 AUD) and outside the city center it would cost about $99 (approx. €81, £72, $125 CAD, $128 AUD) a month. A three-bedroom in the city would cost $383 (approx. €316, £280, $486 CAD, $495 AUD) and $270 (approx. €223, £197, $343 CAD, $349 AUD) outside the city. Also check resort prices for a long stay, as the winter is the low season you could get a really good deal there. Contacting a resort directly has also seen good results.
Packing List
Weather: The winter weather in Tunisia will normally be chilly during the day and cold during the night. You have to pack accordingly.

Warm clothing: Even when you go to a warm location like Tunisia you should not forget to take some things with you for your trip back home. When you return you are adapted to the warmer weather and need something to protect you from your hometown temperatures.

Consider the Weather: Always look at the type of weather in Tunisia. Things like humidity, wind, and rain do not show up in the temperature graph but can have a great impact on your wardrobe. There are several sites with long term forecasts and climate information. Is there often a short afternoon downpour like in the tropics, you maybe need to take a strong umbrella and shoos that can cope with the rain. If there is often a lot of wind you might need a more wind-resistant coat.

Check the local Shopping options: Try to find information about the local shopping options near your location in Tunisia. Are there stores where you can buy all your daily supplies, or are some things difficult to get? For some more remote locations, the options can be limited. If a certain item is really important for you might need to take it with you.

Look at the Local Culture: The local culture in Tunisia can impact your wardrobe. If most activities are in more upscale locations you might take some more appropriate clothes with you. Or travelling if you travel to certain countries women need to cover themselves in certain areas.

Amenities: Know what's Included in your house or apartment. Is there a coffee maker, a toaster, a washer and dryer, an iron, what is in the kitchen, what kind of towels are there? Things that are there means you do not have to take them with you. A furnished apartment or house can mean something from a few pieces of furniture to a well-stocked place with all the things you have at home. But most of the time your rental will not be stocked.

Mix and match: Wear layers so you can use your wardrobe more efficiently. And do not worry about wearing something more often, probably only you will notice this.

Important for you: If there is something that is really important for you that you want to have present in your house or apartment, take it with you. This can be something like a special knife for the kitchen, or a small mirror that you use in the morning. You can also purchase it locally if it is not that expensive.

Pet supplies: If you take your pet with you don't forget to take supplies for a few days with you. And enough medication, vitamins, or other supplies if you can not purchase them in Tunisia locally.

Food: Don't take a lot of food with you. Only when there is something you really can not live without you, and it is not too heavy you could consider taking it with you.

Towels: Not all locations include bigger towels for the swimming pool or a visit to the beach. If you have to take them and don't have a lot of room you can buy some big thin towels.

Office supplies: Normally you will not find any office supplies in your house or apartment. If you think you will use them you could pack some supplies like a scissor, notepaper, envelopes, some pens, and more depending on your needs.

Limit yourself: Don't take too many shoes and jackets, you will not need them that often.

Best-fitting: Bring your favorite and best-fitting items that can multi-function

Washer: Do you have a washer and dryer onsite, you don't need to pack a lot of clothes
Clothing
Basics
Casual
Smart
Footwear
Toiletries
Beauty
Hygiene
Clothing
Basics
Casual
Outdoor
Footwear
Accessories
Toiletries
Medicine
Miscellaneous
Other
Toiletries
Beauty
Hygiene
Hair
Other
Medicine
Miscellaneous
Technology
Travel and Free time
Travel
Free time
Important
Documents
Money