What to do in September in Barbados - 2024
Barbados is an island in the Caribbean region, but which lies out in the Atlantic many miles east of the Caribbean Sea. It has always been a popular destination for those wishing to spend their winter vacations in the tropics, for those who prefer walks on the beach and for lovers of water sports.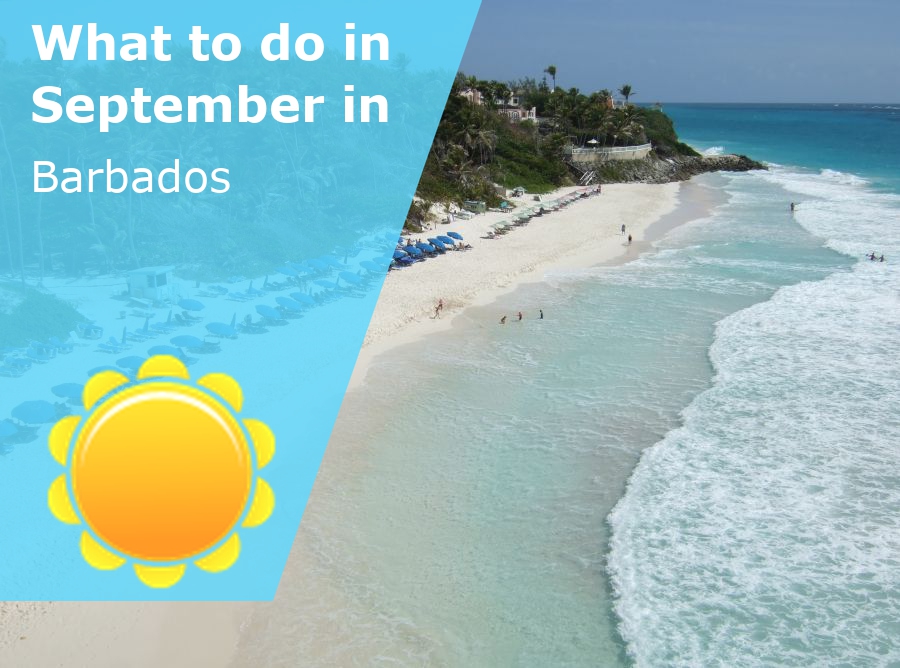 Before we have a look at what you can do in Barbados, let's first look at the weather you can expect in September.


September weather in Barbados
To get a good overview of the type of weather you can expect in September in Barbados, we will look at the day and night temperature, minimum and maximum water temperature, and if September is comfortable or humid
Generally, September in Barbados will be really nice. Historical data shows that you can expect an average temperature of around 80°F / 27°C. But due to the extreme humidity it can feel extremely uncomfortable. During the night, it will cool down to around 78°F / 26°C. Many will prefer a location with air conditioning due to the night temperature, and the high humidity level.
Barbados has its share of rainy days in September. You can expect around 19 rainy days, with on average 6 inches / 152 mm of rain during the whole month.
But remember that rain can be short and heavy for many tropical locations, particularly during the rainy season. It means that the number of days with rain and the amount of rain can be high, but you will still see many lovely days with a short period of heavy rain.
The forecast for September 2024 is based on historical data and are averages. They will give a good indication what you can expect, but the daily temperature and rain will fluctuate during the month.
Things to see and do in Barbados
Barbados has many things to soo. With help from our visitors we have dived a list of things to see in. If you have any sugestions or improvements for this list, please let us know.
Downtown Bridgetown
Downtown Bridgetown is the capital of the country with museums, tunnels, a clock tower, a cathedral, a 1000-year-old tree, a park, a popular river, and a bridge.
Bathsheba Bay
Landmark
Throughout the Year
Bathsheba Bay is ideal for surfing as there is a Soup Bowl, but not swimming as there are ancient carol reefs underwater.
Carlisle Bay
Carlisle Bay has Bayshore Beach, Brownes Beach, and Pebble Beach. The place is ideal for fishing, batting, sunbathing, and diving.
St. Nicholas Abbey
Cultural
Throughout the Year
St. Nicholas Abbey is located very close to Cherry Tree Hill and a popular national park.
Animal Flower Cave
Nature/Wild Life
Throughout the Year
Animal Flower Cave has humpback whale watching tours in the spring months. Many natural windows help get a better view of the sea.
Shopping in Barbados
There are large supermarkets on the edge of Bridgetown. Smaller stores offer virtually everything a visitor or resident might need. The mall at the harbour has a good selection but is pricier than elsewhere. Barbados has a well-deserved reputation for its rum. Two distilleries are open for tours, and purchases there will be at the best price.
Activities in Barbados
Animal Flower Cave
Visit and dine at the Animal Flower Cave, which is located at the most northerly point of Barbados in the parish of St.Lucy. Opening hours are 11 am - 4 pm, Monday to Sunday.
Museum
Visit the Museum of Parliament and the National Heroes Gallery.
Landscaped gardens
Take a relaxing wander through the beautifully landscaped gardens, where antiques and statues mingle with exotic plants, and gentle opera and classical music float in the air.
Festivals
Attend various festivals. Some of these include The Barbados Food and Rum Festival (October-November), The Barbados Film Festival (January), Round Barbados Sailing Week (January), The International Bridge Festival (February), The Holetown festival, and the Jazz music festival (January).
Welchman Hall
Take a walk through Welchman Hall, a natural and protected gully.
Rainbow-colored fish
Snorkel or dive with rainbow-colored fish
Historic Distillery
Sample the golden tipple Rum at a historic distillery
Bajan Bus
Go sightseeing in the #1 Bajan Bus
Beaches
Explore the various beautiful beaches of Barbados
Jungle
Explore the tropical jungle on an island safari
Mount Hillaby
See Mount Hillaby, the highest point on the island. Make a stop on the East Coast to enjoy a delicious Bajan Buffet lunch served in a unique and unspoiled setting.
Restaurants in Barbados
Bajan cuisine is an odd mix of spicy, flavorful treats along with traditional English fayre. So be prepared for meals where fiery stews accompany beans on toast. Many hotels have good restaurants open to non-residents, both a la carte and buffet-style.
More things to see in Barbados
Gardening/Nature
Andromeda Botanic Gardens, Hunte's Garden
Arts & Crafts
The Barbados Art Gallery
The Beaches
Accra beach, Sandy Lane beach, Barbados Black Pearl Jolly Roger 1, Bath beach, Mullins beach, Maxwell Beach, Batts Rock Beach
Barbados beaches
Barbados has more than 75 beaches. On the west side (Caribbean side) you will find fine white sand with crystalline water
History/Bookstore
The Barbados Museum
More information about Barbados
What to do in Barbados in other months
Weather in Barbados for each month