What to do in September in Denia, Spain - 2024
Dénia is a historical coastal city in the province of Alicante, Spain, on the Costa Blanca halfway between Alicante and Valencia, and the capital and judicial seat of the comarca of Marina Alta. Denia's historical heritage has been influenced by

Napoleonic and
Greek,
Iberian,
Roman,
Christian civilizations.
Islamic,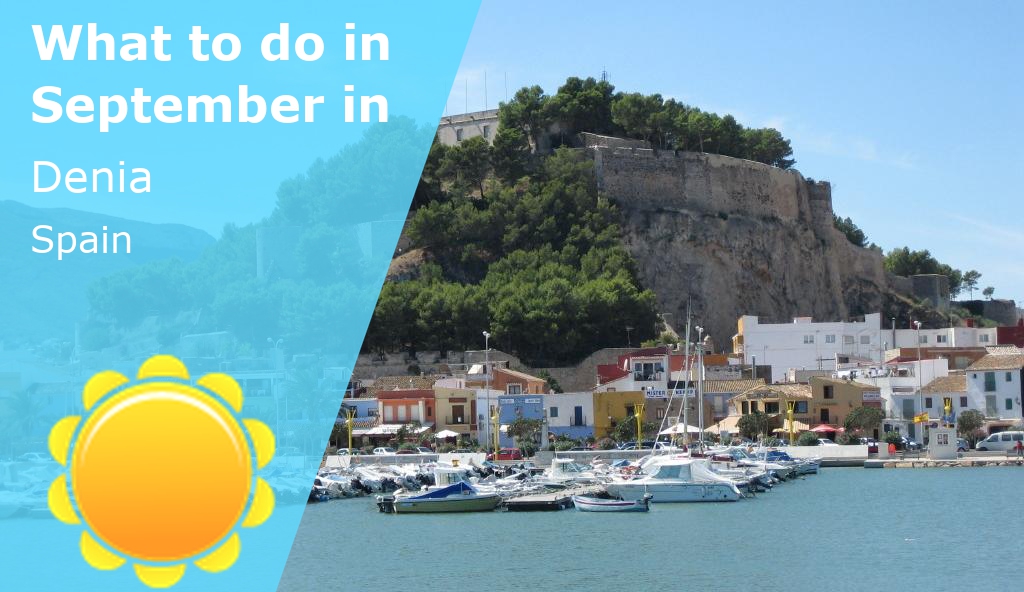 Before we have a look at what you can do in Denia, let's first look at the weather you can expect in September.


September weather in Denia Spain
To get a good overview of the type of weather you can expect in September in Denia Spain, we will look at the day and night temperature, minimum and maximum water temperature, and if September is comfortable or humid
Generally, September in Denia Spain will be really nice. Historical data shows that you can expect an average temperature of around 84°F / 29°C. As the humidty is low, it will feel very comfortable. During the night, it will cool down to around 66°F / 19°C.
Denia Spain has some rainy days in September. You can expect around 5 rainy days, with on average 0.8 inches / 20 mm of rain during the whole month.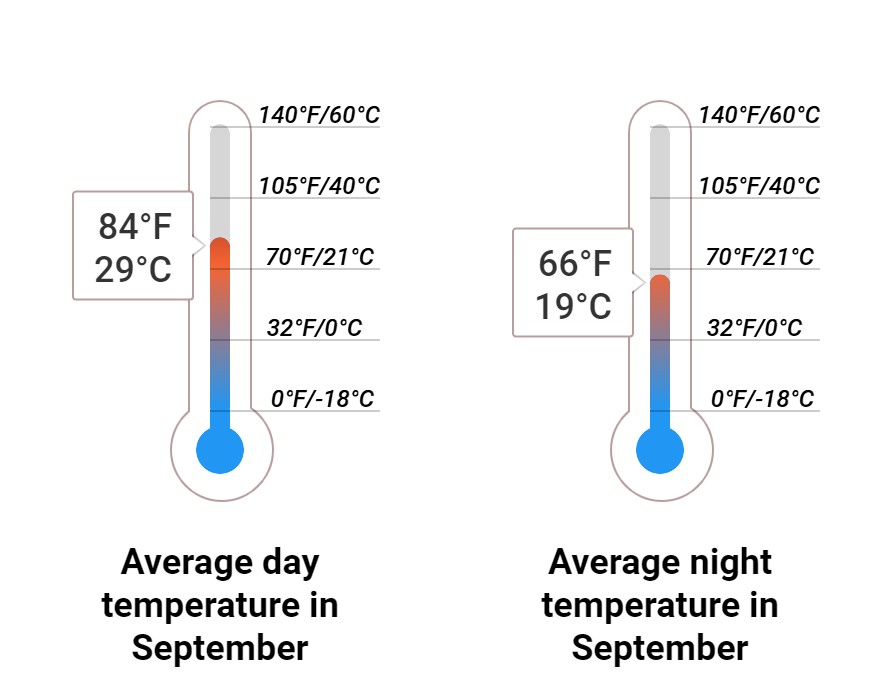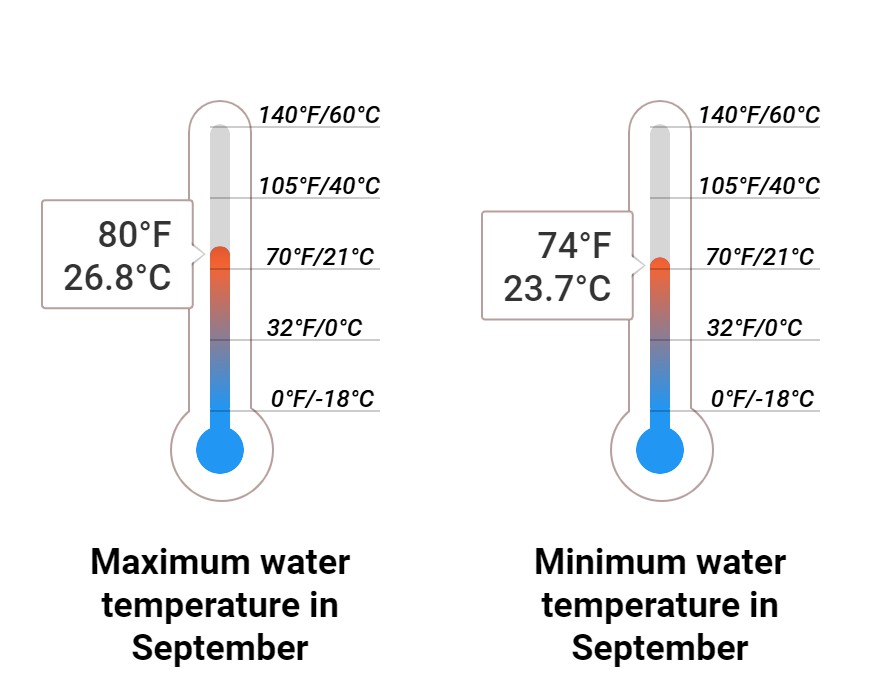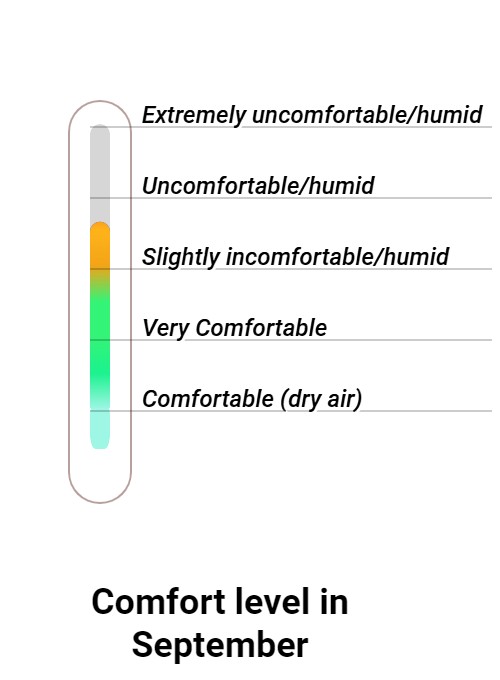 The forecast for September 2024 is based on historical data and are averages. They will give a good indication what you can expect, but the daily temperature and rain will fluctuate during the month.
Things to see and do in Denia
Denia has many things to soo. With help from our visitors we have dived a list of things to see in. If you have any sugestions or improvements for this list, please let us know.
Montgó
Nature/Wild Life
Throughout the Year
Montgó is an easy-to-climb mountain. A shooting club is located next to it.
Punta del Raset
Punta del Raset is a wide open and less crowded beach providing enough privacy to enjoy some leisure time.
Les Marines
Les Marines is a golden sand beach great for sunbathing, diving, fishing, and surfing.
Shopping in Denia
Dénia is a city with a year-round population. For instance in December most of the stores, bars and restaurants in the center are open. Maybe some restaurants or stores near the seaside might be closed in the winter time. The city is noticeably quieter than in the summer months.There are some areas consisting of vacation rentals that may be a bit deserted in the winter.
Activities in Denia
Sailing and Fishing
Several options at the port which includes sailing, boat trips to Javea, spending the day at sea and even catching a ferry ride to the island of Ibiza.
Fallas
A famous festival held in March where huge statues are burnt down in the streets.
Golf
Denia has its own 18-hole golf club (Club La Sella) and is located very near to the main town.
Denia Cuisine
Denia is famous for its food. Its cuisine is a part of Unesco's heritage and every food lover's dream!
Carved Cova
A remarkable rock formation a few kilometres away from Denia. A sight worth seeing.
Walking and Cycling
Ascend to Montgó
People head over to Montgo for a spectacular view of the marina and other parts of the Costa Blanca.
Monday Market
A local market day where dozens of stalls are put up every week. Almost every basic necessity is available.
Restaurants in Denia
The fish in Dénia is of excellent quality. If you visit the fish market in the late afternoon, you will witness the arrival of fishing boats to the port and you can participate in the fish auction and take advantage of it to buy fresh fish, just caught. Moreover, the Dénia area has a great wine tradition, such as the wines of Jalón and the vineyards of Teulada. The region also offers products of denomination of origin such as cherries from the Alicante mountains and wine from Marina Alta.
More things to see in Denia
Denia's Toy Museum
This museum features a large toy collection from the early 20th century to the '60s. The museum is built in a former train station, (
22 km (14 Miles)

north of Moraira, and has a large variety from the Sauquillo and Ferchen factories.
Beaches
Denia has a variety of beaches as it occupies almost twenty kilometres of the coastline. These include Les Marines, LAlmadrava, Les Rotes and many others.
Denia Castle
A historical site, located on a rocky cliff which overlooks the marina and the town. A visit to the castle is highly recommended.
Lonja de Denia
The local fish market
Calle Marques de Campo
Denia's shopping street which has many options for bars and restaurants.
More information about Denia Spain
What to do in Denia Spain in other months
Weather in Denia Spain for each month