Dyson V11 Torque Drive Extra: Best Vacuum For Snowbirds
The Dyson V11 Torque Drive is a Cordless vacuum that has made cleaning easier. It is made up of the latest technologies that can help you deep clean anywhere. And to increase the run time, it intelligently adjusts the suction and running time. It consists of an LCD screen that displays the running time and alerts in case of any problems faced while you vacuum. It is travel friendly and easily cleaned too. Pet owners can benefit the most from it. Its latest technology makes picking up dander and dirt very effective and easy, with minimum effort needed. This vacuum is also very helpful in keeping your house clean and healthy by cleaning the dirt. It even picks up the hair, dander, and, most importantly, many microscopic allergens not visible to the naked eye.
In general, Dyson V11 vacuums are efficient cordless vacuums that perform even better than some corded competitors. The battery lasts for over an hour doing mixed jobs and should be enough for most of the house. It can cope with thick carpets, emptying is easy, and there are handy extensions. It is an excellent option for people traveling in an RV or to have at your location.
This article will give my honest review and all the details you need to know before purchasing the V11 torque drive cordless vacuum or a newer Dyson model. The size, cost, colors offered, attachments you get with it. And the ones you can buy separately. How you clean the vacuum, who could get the most benefit with the technologies of V11 torque drive. And the pros and cons from my experience from the last year.
Specifications of the Dyson V11 torque drive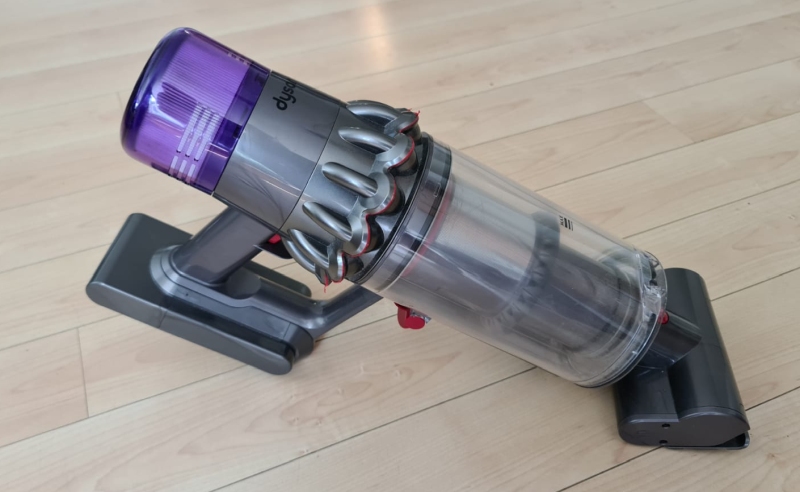 Size
The Dyson V11 vacuum is 50.6″ in length
9.8″ wide (cleaning head)
10.3″ in height (motor body).
The dust bin capacity of Dyson V11 is 0.2 gallons / 0.757 liters or the equivalent of approximately 3 cups of dry waste.
The weight of this vacuum is 6.68 pounds (stick vacuum), which is the heaviest of any Dyson V-series vacuums. In practice, I found it easy to carry everywhere. Only when you use it as a handheld vacuum for an extended period will you feel the weight.
The Dyson V11 can also be used as a handheld vacuum by shortening it. This makes it slightly lighter, smaller, and easy to carry. I use it to clean my car, the couch, or on the stairs. As a handheld, the dimensions are:
15″ in length (motor body with no attachments)
4.5″ Wide (motor body)
10.3″ in height (motor body)
4.2 poundsin weight (motor body with no attachments)
Attachments
The Dyson V11 Torque Drive includes six attachments that are as follows:
– A high torque cleaner head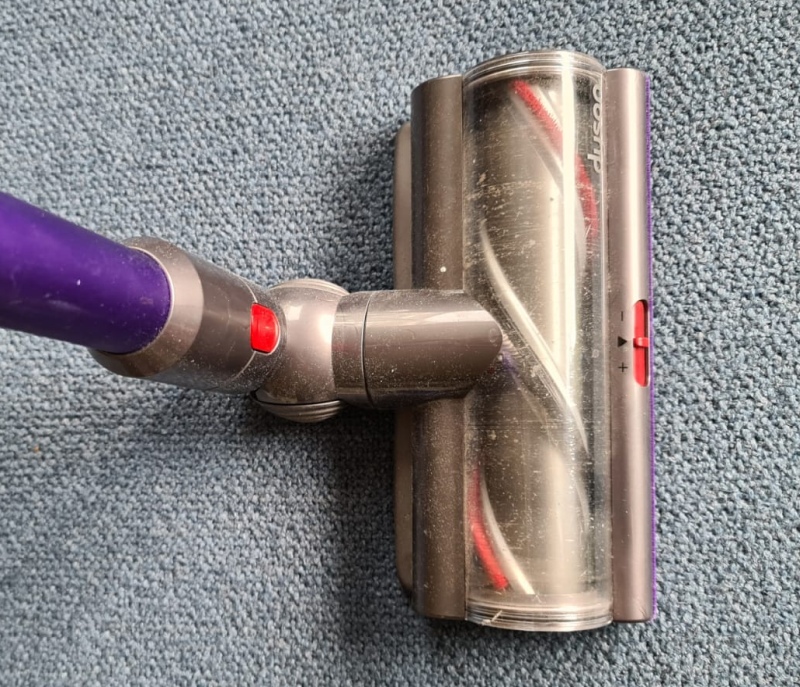 – A mini motorized tool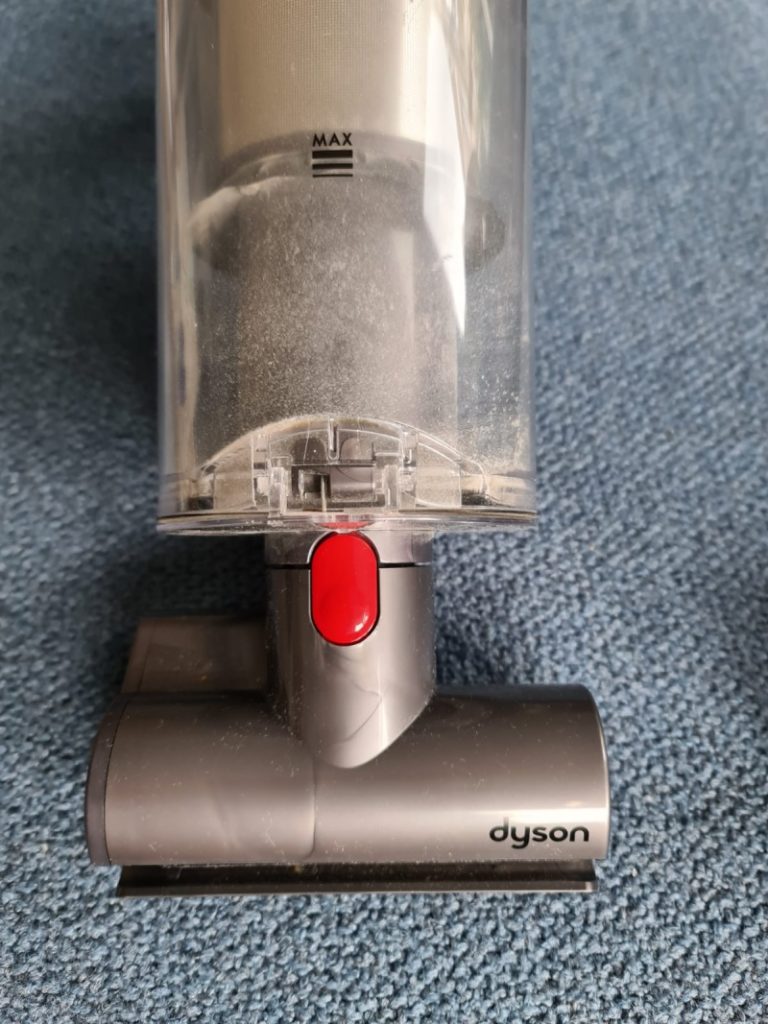 – A combination tool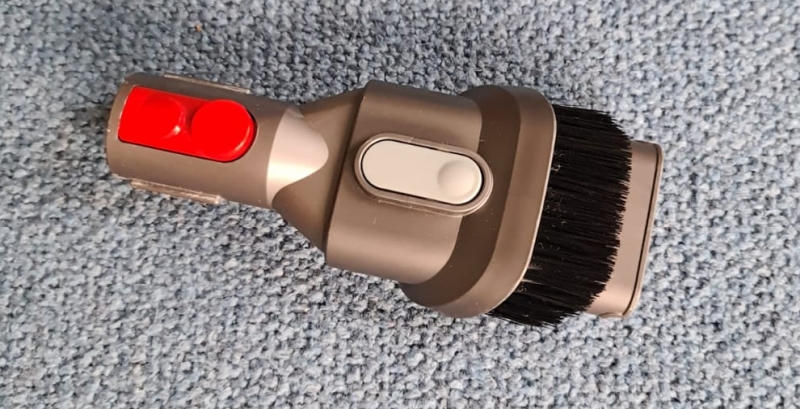 – A crevice tool
– A stubborn dirt brush
– A mini soft dust brush.
The crevice tool and the mini soft dust brush can be used for numerous purposes. The crevice tool is great for getting into hard-to-reach corners and crannies around the house. The mini soft dust brush lessens the time it takes to dust the apartment to half. When you have to swap the attachments, all you have to do is hold down the red button on the attachment and pull it off the vacuum – easiest of all. This works really well.
What you will really use depends on your own cleaning habits. I use mostly the high torque cleaner head for normal hoovering. And the crevice and combination tool for handheld operation. Sometimes I use the mini motorized tool to clean my couch.
Different color choices.
Nickel & Blue (only Dyson V11 Torque Drive)
Copper (only Dyson V11 Torque Drive)
Nickel & Purple (only Dyson V11 Animal)
All three of these color schemes look pretty consistent. The color of the wand was the main color difference.
Cost
The Dyson V11 Torque Drive is a really costly cleaning tool. I paid more than $500 for it. People who are familiar with the Dyson appliances know for a fact that the brand's top-of-the-line performances justify the high cost. And I agree. Prior to using it, I was slightly skeptical, but after seeing how much dust came from our carpet I changed my mind. Even after using our corded hoover, the Dyson would still pick up dust from it. Seeing was believing.
Every attachment and piece of the V11 is constructed solidly, and as long as you take good care of your belongings, it will definitely last for years and even can go up cleaning for a decade. The products of Dyson are also built to be repaired, not replaced. There are even service centers that offer this facility in most major cities of the US. The battery from my model is replaceable, so I can purchase a new one when it loses capacity.
Dyson V11 Torque Drive Vacuum Test-12 Month Usage
Dyson V11 Torque Drive was put to the test inside my house with hardwood floors, rugs in certain areas, and low-pile carpets. A cat having long hair was also kept in the apartment to check how well the vacuum handles the hair of the pet in combination with the daily dirt and dust.
Review- After using the V11 for a year
The Dyson V11 Torque drive vacuum, after being used for 12 months, was reviewed, and my other family members and I are still really satisfied. It was a significant investment, but it was worth it. I noticed that it is now much easier to grab it and clean something quickly. Before, I had to get the hoover, get the cord out, put it in the mains hoover, and put it back. Not a big deal, but not something you quickly do. With the cordless Dyson, it is so easy that even my older children use it.
It's effortlessly the best cordless vacuum that I have used to date. I have used many portable ones, but they lack power or were difficult to empty and clean. Even after using it for a year, the V11 performed just as well as it did on the first day. There was no such visible decline in cleaning actions, suction, or battery life.
We have made it our go-to vacuum for basically every cleaning job around the office and home. The most significant thing noticed while using this vacuum is that our carpet is cleaner than before.
The usage of the Dyson V11 is also noticeably easier. Its weight and cordless design make it easier for us to vacuum regularly, and not after a long time did we notice that we were using it daily. The head of the high torque cleaner juggles smoothly and can swivel into the hooks and corners (for instance, the space between the legs of a dining room table and chairs) with relative ease. The cleaner head's wide-diameter brush roll was also found to resist tangling of long hair and consuming rug borders better than our previous vacuum.
– The cleaning of Dyson cordless vacuum
Cleaning the Dyson V11 Torque Drive is relatively quick and easy. Every attachment requires regular wiping occasionally, and for the rollers, be it in the cleaner head or mini motorized tool, it can be removed easily for when you have to take out the hair tangled in there.
The easiest part observed to clean is the vacuum itself. You can detach the filter from the handle and rinse it if required. That is usually about once a month. The "point and shoot" mechanism lets you dump the contents in one swift motion for when the storage bin is full, and you have to empty it. Because the content from the bin is visible, you know when to empty it. And emptying is so much easier than with our previous vacuum. Remove the tool empty it with one quick motion.
Many consumers noticed that the storage bin could get jammed from time to time. We never faced this issue. At last, the LED screen of the vacuum tells you about any blockages in the pathways of its airflow, ending the hand-to-nozzle suction test at once. I have had this a couple of times. You vacuum under the bed, and a sock is sucked up. Getting it out from the stick was less straightforward. I needed a long thin wooden stick to doing this. But this happened only once.
Pros
The most time-saving, intelligent, and powerful cordless vacuum in the market.
Transitioning from carpet to hardwood is made easy with the auto mode. It really works.
Great suction power.
Both a stick vacuum and a portable vacuum
Pretty compact.
Suitable for small spaces with minimal storage.
Lightweight enough to easily carry to all your locations.
Has up to a 60-minute run time.
3 cleaning modes (eco, auto, or boost)
Displays remaining cleaning power in real-time
185 AW of suction power on boost mode
Replaceable battery (most models of late 2020)
Cons
Dyson V11 torque drive does not stay upright in one position. If you are vacuum and have to move something, you have to place it on the ground. Leaning to the wall can be dangerous as the center of gravity is high, so it quickly falls over.
One of the most expensive brands and models
Comparatively smaller dust bin capacity. But I have to say that this never bordered me. It is so easy to empty.
Some people complain it is difficult to push the vacuum when in boost mode. I only noticed this slightly when hovering over a carpet. I use the machine always in auto mode, and in that case it automatically switches to boost mode.
My problems with previous cordless vacuums and the Dyson solution
From the multiple cordless vacuums that I have owned and used, I had 3 major complaints. When looking for a new vacuum, I paid extra attention to it. Now, after a year, I will let you know if I still have those complaints:
– Problem No. 1: I do not know how long I still can hoover
When using a portable vacuum, I never know how long I could continue. The models never lasted long, and often I started something and had to stop when the battery was empty.
Dyson Solution:
Dyson has introduced an LCD screen at the top of the V11's handle, displaying the vacuuming mode being used and the remaining time. This time counts down.
Effective Or not?
Yes. The screen is something I really like. It is so convenient to see how much time is left. And it turned out to give a good indication of the time left. Of course, it depends on the jobs you do. If you vacuum a carpet, the machine will change to its boost mode, with much higher battery usage. But in general, with mixed usage, I never experienced a real problem. The big advantage is also that it lasts much longer than my previous models.
– Problem No. 2: When the filter or the bin was full and the suction decreased.
With my previous handheld vacuums, I had the problem that the suction decreased when the filter or the bin was getting full. But I did not always notice this. So you do the work and find out that I needed to redo part of it. 
Solution:
The same LCD screen displayed an alert message that lets users know if there's a problem with the filter or when the machine is clogged. In case of any problem, a digital image is illustrated its origin.
Effective or not?
Yes. I have had this a couple of times. You stop and clean it.
– Problem No. 3: Short battery life
My previous cordless vacuums always had short battery life. They always worked in one power setting, the highest. But the downside was that the battery did not last very long. My wish for the replacement was a much longer battery life. And if possible multiple power levels so that I could use a lower setting when I did not need that much suction.
Solution:
An auto mode feature was introduced that automatically adjusted the suction type of vacuum where the user didn't have to toggle a switch like in the earlier models (and most other vacuums).
Effective or not?
Yes, in the tests we conducted, the auto mode changed the vacuum's suction to different modes on different types of floor. After 1 second, you hear the motor increasing speed and increasing the suction. It works very well. And it saves battery power when the boost mode is not needed, contributing to longer battery life.
My personal conclusion
If you are willing to invest in an excellent vacuum, the Dyson V11 torque drives a cordless stick vacuum is a great option. People using the cordless vacuum for the First-time are certain to get shocked when they discover how time-saving it is to use a cordless vacuum as you won't waste time wrestling with a cord or when you have to hunt for an outlet. Almost after a week of cleaning with the Dyson V11, vacuuming will not even feel like a chore to you anymore — so if the thought of cleaning your house has ever caused you panic, this might be the tool that can change your life.
This vacuum is highly recommended for people who are willing to invest a little extra for a tool that's truly top of the line. It saves your time, energy, effort and helps keep your home cleaner with little to no effort by you. Over time we have virtually tested almost every major vacuum cleaner available in the US. The  Dyson V11 was the best choice and #1 pick.
The major selling point of Dyson is the V11 Torque Driver's ability to "intelligently optimize suction and run time across all floor types." This claim was found to be true, and the feature was concluded to be an incredibly useful one. The V11's ability to shift from carpet to hardwood floor and back again without waiting for a long time for the vacuum to adjust to the floor mode, have repeatedly made us choose this over any other vacuum in the market. The trash bin of the Dyson right after the first test run of the vacuum on rugs and carpets was full. This made us believe that this vacuum by Dyson is very effective in picking the dirt, hair, and dust rather than the model we used before. Or better, the two models we used before. We used both a cordless handheld vacuum and a bigger corded one, now replaced by one machine.