Spend your fall, winter, or spring in Gran Canaria, Spain: Is Gran Canaria a good snowbird location?
Gran Canaria is one of Spain's Canary Islands, off northwestern Africa. This is a small, beautiful island with gorgeous beaches made up of black lava seascapes and white sand beaches that give the essence of the Caribbean. Some of it's beaches include San Agustín, Anfi del Mar, Playa de Amadores and Gui Gui Beach. In the north, capital city Las Palmas is a major stop for cruise ships and duty-free shopping.
Gran Canaria is located in the Atlantic Ocean about 93 Miles (150 km) off the northwestern coast of Africa and about 840 Miles (1352 km) from Europe. Gran Canaria is also the third most populated island in Spain after Tenerife and Mallorca.
This island is called a "miniature continent" due to the different climates and variety of landscapes found, with long beaches and dunes of white sand, contrasting with green ravines and picturesque villages.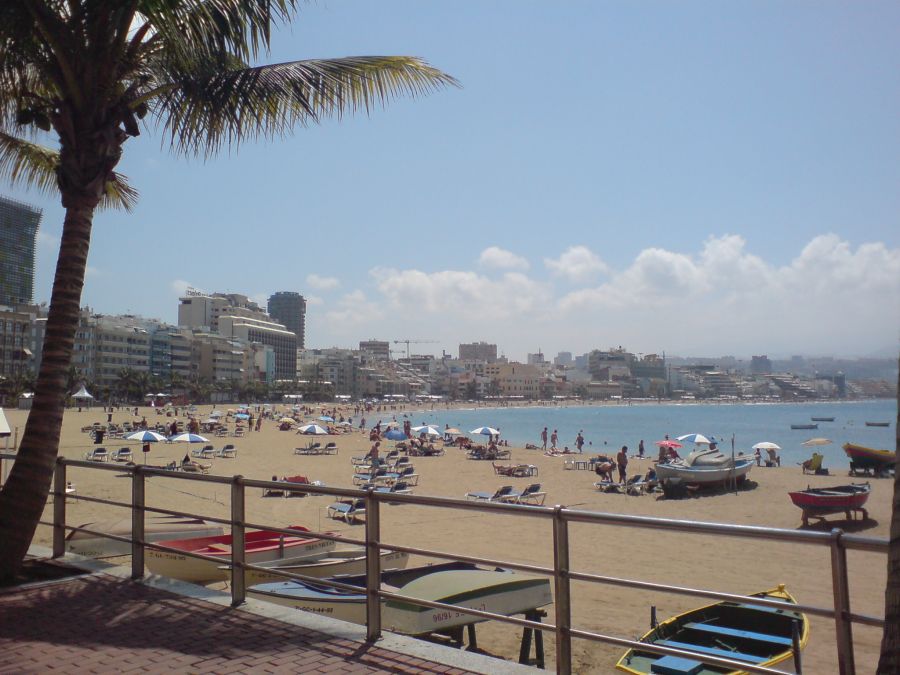 Why should people stay in Gran Canaria
The weather in Gran Canaria in the winter time is generally quite warm and sunny over the coastal areas. In comparison, the mountainous regions tend to be cool to cold, cloudy and have more frequent periods of rain.
Snowbirds coming to Gran Canaria to escape the long cold and dull days of winter of their home country, won't be disappointed. While it won't necessarily be sunny all day every day, they can be assured that they will see plenty of opportunities to soak up the sun's rays at the beach.
In winter, snowbirds will appreciate the mild temperatures and can often sunbathe, although they cannot exclude some days of bad weather. When planning for the winter trip, snowbirds are advised to bring light clothes for the day, a sweater and a jacket for the evening, and possibly a raincoat or umbrella.
Climate
The climate is subtropical oceanic on the coasts, that is, very mild and sunny most of the year. Winters on the coasts are mild and spring-like, while summers are sunny and warm; there is also little rainfall, concentrated in the period from October to March.
In winter, the average temperature in the daytime temperatures can range from 61°F - 75°F (16°C - 24°C) with much cooler nights. There is a big difference between the north side of the island where the Passat winds bring more clouds and rainy weather. The south of the island is shielded from these clouds due to the high mountains in the center of the island and has much sunnier and warmer weather.

Safety
Fortunately, the locals know that their money comes from snowbirds , so they work to keep tourists safe and happy. Luckily, that means that crime is not rampant here and tourists are very safe.
However, snowbirds should be aware, petty theft does still exist here, as it does nearly everywhere. Personal possessions should not be left unattended.
Communication, internet, and cellphone in Gran Canaria
The majority of Canarians possess a basic knowledge of English, and most western European languages, but especially French, German, Italian and Portuguese. It is well worth taking along a small Spanish-English dictionary or phrase book, especially if snowbirds are travelling away from the major resorts or urban districts. Also, the Internet serves as a rich resource for learning the lingo.
As Gran Canaria is part of Spain, European residents can use their mobile phones without any problems (roam like home). For non-EU residents, it is advised to check the rates, and if needed buy a local sim card. International telephone calls can be made from almost anywhere in the Canary Islands. Snowbirds should look out for the distinctive blue booths around and they will have the choice of using coins, phone cards (tarjetas telefónicas) and sometimes credit cards. The country code for Gran Canaria is the same as Spain (34) followed by a nine-digit number usually starting with 928. Telephone calls made from bars, restaurants and hotels are usually a great deal more expensive than the street pay booths. The cheap rate for international calls is the night tariff from 22.00 p.m to 08.00 a.m and all day Sunday.
The Post Offices are open from 09.00 a.m to 14.00 p.m and close an hour earlier on Saturdays. There are no telephones in Post Offices. They do have stamps but so do tobacconists and other shops that sell postcards. Postboxes are yellow in colour but the service is quite laid-back. Snowbirds who have important or urgent mail, it is better they use one of the international courier companies instead.
There are a number of Internet cafés on the island and access costs around €2 (approx. $2.14, £1.73, $2.88 CAD, $3.24 AUD) per hour. If snowbirds are traveling with their laptop and need access to a phone connection, they should be wary of using hotel-room outlets – the PABX system could destroy their processor. Jacks like those used in the US are standard and make connecting a modem simple. Also, most hotels in Gran Canaria offer a wifi connection free of charge.
Wintersun Locations in Gran Canaria
Las Palmas de Gran Canaria: The biggest city and capital of the island is the place where you can experience Gran Canaria's ss culture and local traditions. There are several shopping centers and restaurants. In the historic district, La Vegueta, you can find the Museo Casa de Colon, where Christopher Columbus stayed during his time in Gran Canaria.
Playa del Inglés: Translated as the English beach it is one of the biggest holiday complexes of Spain. Very touristic with a nice beach, many large resorts, a huge selection of restaurants, shopping centers, and bars.
Maspalomas: With its famous sand dunes and the Maspalomas light tower one of the most well-known locations of the island. A beautiful beach, several shopping centers, and many restaurants, and many resorts. are the biggest draw to this part of the island.
Meloneras: More high-end resorts not far from Playa del Inglés and Maspalomas.
Puerto Rico: Located in the southwest of the island with an artificial beach with sand from the Sahara Desert.
Puerto del Mogán: A loverly port, also called Little Venice due to its many canals. A charming town with color full houses and a nice beach.
Things to see in Gran Canaria
Gran Carania has notable places that are worthwhile visiting:
Archeological sites: some well-known rock formations are El Cura (also known as El Fraile), The Frog (La Rana), Roque Bentayga, the Roque de Gando, and the Peñón Bermejo.
The Beaches: Snowbirds get to experience the beautiful beaches of Gara Canaria. Some of which include Anfi del Mar, Playa de Amadores, Gui Gui Beach are definitely worth the while.
N.B- Every beach uses a flag system to warn locals and snowbirds about the water conditions. A green flag means all is OK. The yellow flag means only experienced swimmers should go out in the water. The red flag says no swimming allowed at all for safety reasons. Pay attention to the flag system for your own safety and the safety of your family.
Nature & Parks: The Rural Park of Nublo, The Doramas Jungle, the Azuaje Ravine, Tamadaba, Pino Santo, Palmitos Park amongst others are a must-see.
Art/History: The Cathedral of Santa Ana is the area's focal point and has a striking neo-Gothic design. Meanwhile, the Casa de Colón – where Christopher Columbus is said to have stayed in 1492 – clearly dates from the Renaissance era.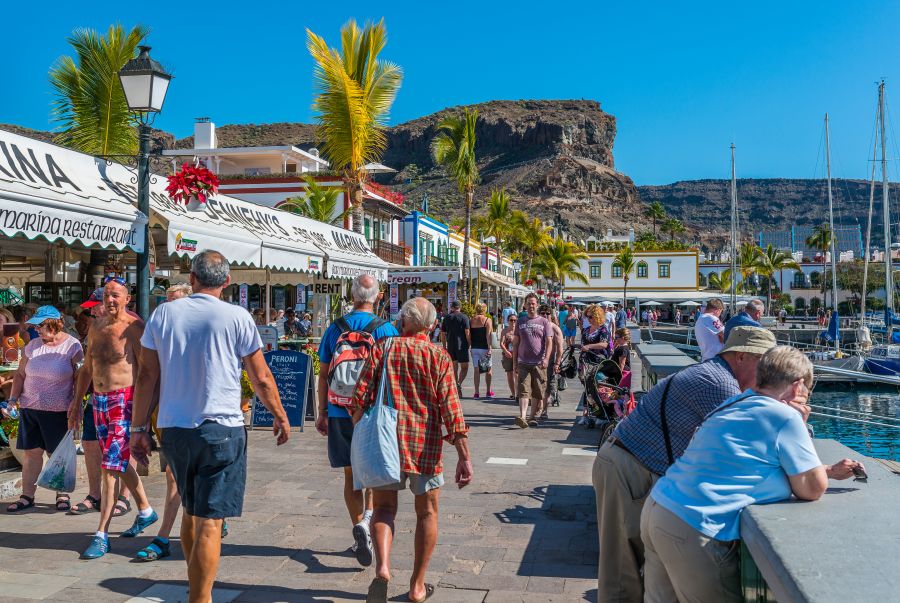 Activities in Gran Canaria in the fall, winter, or spring
Walking: A hike to the middle of Gran Canaria – Roque Nublo
Walking: Take a walk through Gran Canaria's history- Vegueta
Bird Park: Visit the Palmitos bird park
Rum: Sip some Arehucas rum: Sample Gran Canaria's finest liquor. Arehucas Rum is a traditional and much-loved drink which is made in Gran Canaria and exported around the world
Sioux City Park: Visit the Wild West in Gran Canaria
Teror: Discover the town of Teror
Las Palmas: See the sights at Las Palmas de Gran Canaria
Dinner show: Glam up for Garbo's dinner show: Garbo's is a Gran Canaria institution. This glamorous gala cabaret has been serenading audiences since 1997 with show-stopping song and dance numbers, and enough sequins
Carnival of Las Palmas de Gran Canaria: this is one of the most famous Carnivals in Spain and is held in Gran Canaria. It usually takes place between February and March.
The Three Kings Day (January 6th): Apparently, Spanish people celebrate Christmas until the first week of January.
All Saints' Day (November 1th): snowbirds enjoy Theatre plays, films, and religious tradition.
World of Music, Arts and Dance Festival in Gran Canaria (WOMAD): this awesome festival puts together music and art from around the world in Las Palmas de Gran Canaria.
Shopping + Restaurants. Are they open in the fall, winter, or spring?
The winter season is a really important part of the year in Gran Canaria, shops and restaurants will all be open in the winter.
When it comes to shopping in Gran Canaria, snowbirds should aim for Calle Triana and its surrounding streets. A bustling part of the historical neighborhood of Vegueta, this pedestrianized street, and its colorful old buildings are home to high street stores like H&M, Zara, and the United Colors of Benetton. There are also several Spanish brands and local boutiques to look around. The first Sunday of every month is a special "shopping party", with street stalls and performances adding to the attractions.
Cuisine of Gran Canaria is influenced by a combination of aboriginal flavors, Latin American cooking, as well as some African touches. Many small dishes or tapas are served around the island and are known locally as enyesques. Traditional Canarian meals usually start with soup and are followed by a main dish, consisting of local meat or fish. The ingredients of Gran Canarian cuisine are often simple but rich and flavorful, including desserts like bienmesabea paste of almonds, honey, and sugar often served with ice cream or cream. As far as drinks go, there are a number of local wines and liquors.
Popular restaurants include Déjate Llevar (also known as Let Me Take U), La Aquarela Restaurant, La Marinera Restaurant, Wapa Tapa, and Deliciosa Marta amongst others. Snowbirds should note that while meal prices in Gran Canaria can vary, the average cost of food in Gran Canaria ranges from €11 (approx. $11, £9, $15 CAD, $17 AUD) per day. Breakfast prices are usually a little cheaper than lunch or dinner.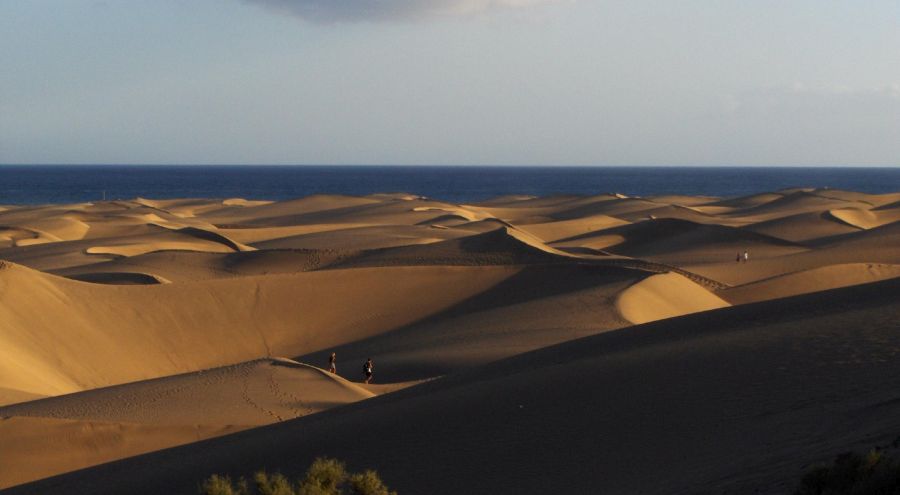 Transport
Gran Canaria Airport, sometimes also known as Gando Airport or Las Palmas Airport, is the main way of entry to the island. The airport is located in the eastern part of Gran Canaria on the Bay of Gando (Bahía de Gando), about 12 Miles (19 km) south of the city center of Las Palmas de Gran Canaria, and 16 Miles (26 km) from the popular tourist areas in the south. Flights to and from international destinations are available.
Once on the island public transportation is available, organized, and affordable. There are regular buses that run all around Gran Canaria. The Autoridad Única del Transporte de Gran Canaria (Gran Canaria Transport Authority, TGC) manages the network and operates a number of bus stations across the island. Bus tickets may be purchased with cash, and AUTGC also operates a contactless electronic ticket called the TransGC Card, which is valid across the whole network.
Car rentals are also available. Other nearby islands can also be reached by ferry.
Health
Snowbirds will find a wide selection of clinics and hospitals offer high-quality medical care, both private and national. The people from Gran Canaria are very health conscious indeed. Thankfully, the Canary Islands are not renowned for any particular diseases and the worst snowbirds can get is a hangover from too much partying. It's very important to be aware of the risks from sunburn, dehydration or insect bites.
Many snowbirds visit Gran Canaria for its celebrated therapeutic value. It's especially popular with residents of European countries with colder weather that visit looking for relief from ailments such as arthritis and MS. The local chemists (farmacias), recognisable by a green cross sign, will have just about anything you may require and there is always one open after hours in each area. The location of the duty chemist is indicated on every chemist's door.
Two main hospitals in Las Palmas- the older Hospital Insular and newer Hospital Doctor Negrin, located closer to the Canteras beach.
There are many English-speaking doctors and dentists. Your hotel will always be able to recommend one.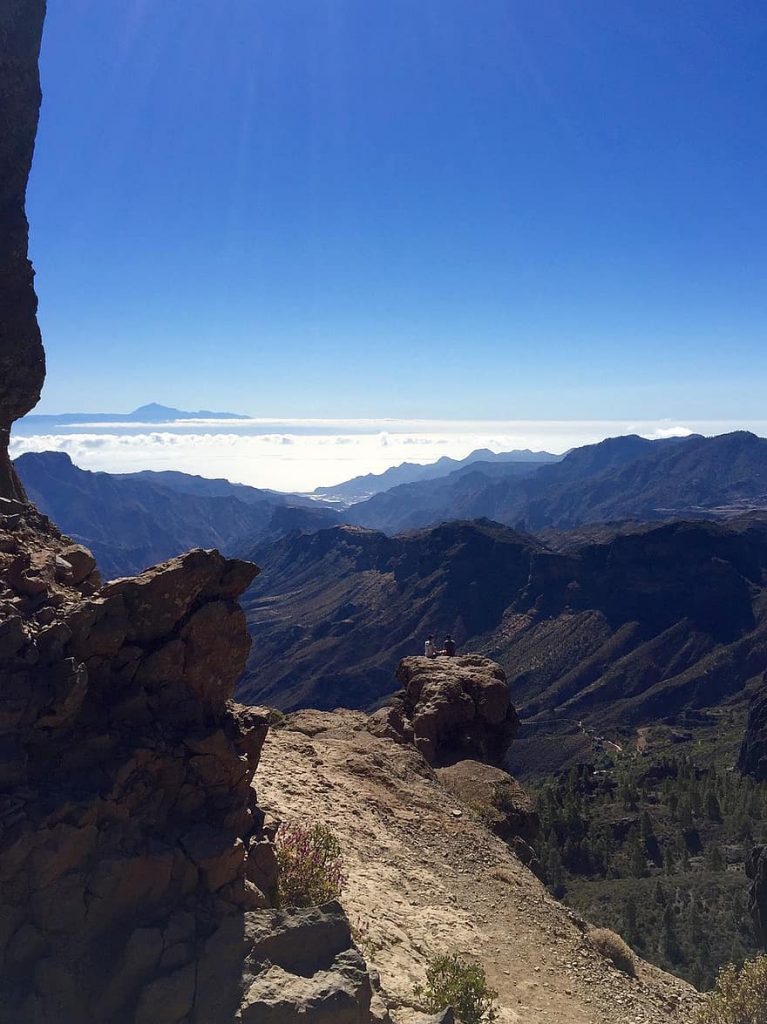 Accommodation
Gran Canaria offers not only beautiful beaches but also beautiful holiday homes with pools, country houses, apartments and bungalows. Some include Sunsuites Carolina, Marina Bayview, El Greco Apartments Traveler, Bora Bora The Hotel, La Casita de Las Palmas, Casa Cinzia and Hotel Pujol amongst others.
These budget friendly hotels in Gran Canaria, from charming guest houses, offer snowbirds a great stay experience with tropical gardens and even with outdoor pools and tennis courts.
Accommodation prices range from $53 (approx. €49, £42, $71 CAD, $80 AUD) per night.
Packing List
Weather: The fall, winter, and spring weather in Gran Canaria (Spain) will normally be warm during the day, but can be chilly during the night. Of course in the fall and spring it will be warmer than in the winter. You have to pack accordingly.

Warm clothing: Even when you go to a warm location like Gran Canaria (Spain) you should not forget to take some things with you for your trip back home. When you return you are adapted to the warmer weather and need something to protect you from your hometown temperatures.

Consider the Weather: Always look at the type of weather in Gran Canaria (Spain). Things like humidity, wind, and rain do not show up in the temperature graph but can have a great impact on your wardrobe. There are several sites with long term forecasts and climate information. Is there often a short afternoon downpour like in the tropics, you maybe need to take a strong umbrella and shoos that can cope with the rain. If there is often a lot of wind you might need a more wind-resistant coat.

Check the local Shopping options: Try to find information about the local shopping options near your location in Gran Canaria (Spain). Are there stores where you can buy all your daily supplies, or are some things difficult to get? For some more remote locations, the options can be limited. If a certain item is really important for you might need to take it with you.

Look at the Local Culture: The local culture in Gran Canaria (Spain) can impact your wardrobe. If most activities are in more upscale locations you might take some more appropriate clothes with you. Or travelling if you travel to certain countries women need to cover themselves in certain areas.

Amenities: Know what's Included in your house or apartment. Is there a coffee maker, a toaster, a washer and dryer, an iron, what is in the kitchen, what kind of towels are there? Things that are there means you do not have to take them with you. A furnished apartment or house can mean something from a few pieces of furniture to a well-stocked place with all the things you have at home. But most of the time your rental will not be stocked.

Mix and match: Wear layers so you can use your wardrobe more efficiently. And do not worry about wearing something more often, probably only you will notice this.

Important for you: If there is something that is really important for you that you want to have present in your house or apartment, take it with you. This can be something like a special knife for the kitchen, or a small mirror that you use in the morning. You can also purchase it locally if it is not that expensive.

Pet supplies: If you take your pet with you don't forget to take supplies for a few days with you. And enough medication, vitamins, or other supplies if you can not purchase them in Gran Canaria (Spain) locally.

Food: Don't take a lot of food with you. Only when there is something you really can not live without you, and it is not too heavy you could consider taking it with you.

Towels: Not all locations include bigger towels for the swimming pool or a visit to the beach. If you have to take them and don't have a lot of room you can buy some big thin towels.

Office supplies: Normally you will not find any office supplies in your house or apartment. If you think you will use them you could pack some supplies like a scissor, notepaper, envelopes, some pens, and more depending on your needs.

Limit yourself: Don't take too many shoes and jackets, you will not need them that often.

Best-fitting: Bring your favorite and best-fitting items that can multi-function

Washer: Do you have a washer and dryer onsite, you don't need to pack a lot of clothes
Clothing
Basics
Casual
Smart
Footwear
Toiletries
Beauty
Hygiene
Clothing
Basics
Casual
Outdoor
Footwear
Accessories
Toiletries
Medicine
Miscellaneous
Other
Toiletries
Beauty
Hygiene
Hair
Other
Medicine
Miscellaneous
Technology
Travel and Free time
Travel
Free time
Important
Documents
Money
Other locations close to this location:
Travelers' Map is loading...
If you see this after your page is loaded completely, leafletJS files are missing.
If you have any additions, or comments on the content on this page, please use our contact form to let us know.
Detailed weather during the year for Gran Canaria Spain
What to do during the year in Gran Canaria Spain