What to do in May in Playa Blanca, Spain - 2023
Playa Blanca (Spanish for "White Beach") is the southernmost town of the Spanish island of Lanzarote. It is the newest resort on the island, and is part of the municipality of Yaiza.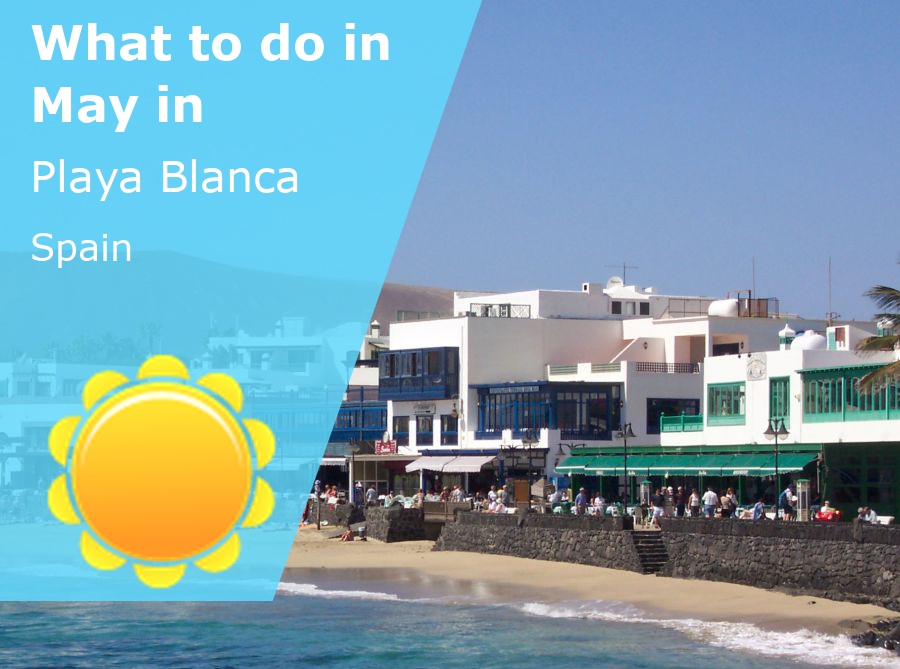 Before we have a look at what you can do in Playa Blanca, let's first look at the weather you can expect in May.


May weather in Playa Blanca Spain
To get a good overview of the type of weather you can expect in May in Playa Blanca Spain, we will look at the day and night temperature, minimum and maximum water temperature, and if May is comfortable or humid
Generally, May in Playa Blanca Spain will be really nice. Historical data shows that you can expect an average temperature of around 78°F / 26°C. As there is not a lot of humidity, it will feel comfortable. During the night, it will cool down to around 59°F / 15°C.
Playa Blanca Spain does not have a lot of rainy days in May. You can expect around 1 rainy days, with on average 0 inches / 1 mm of rain during the whole month.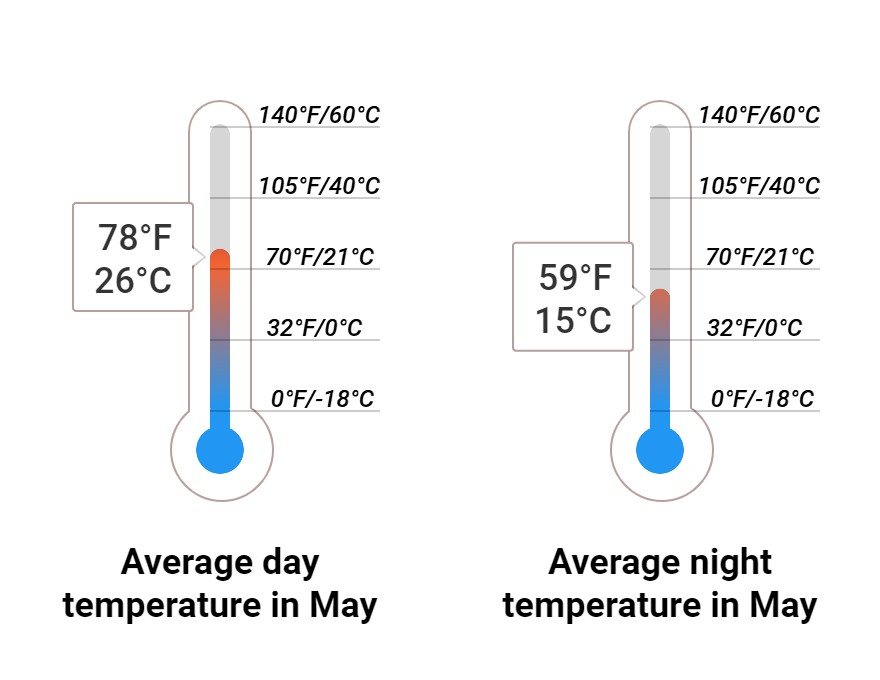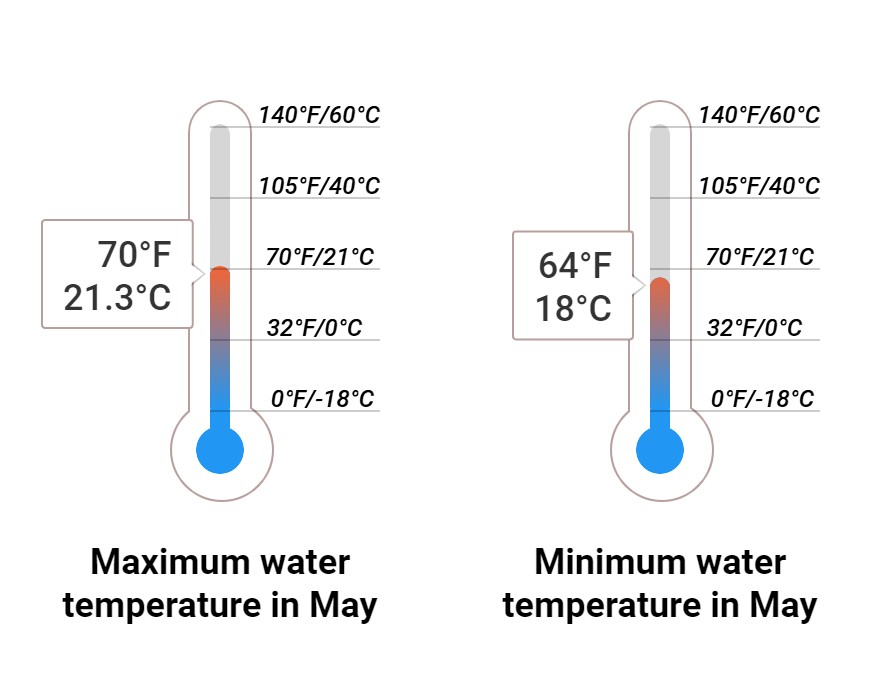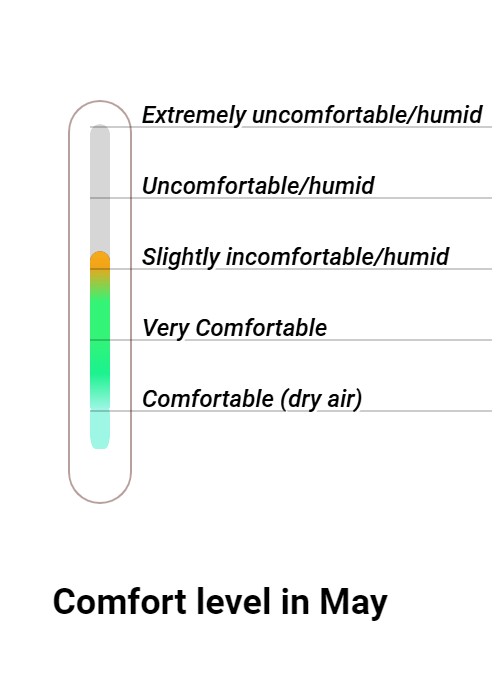 The forecast for May 2023 is based on historical data and are averages. They will give a good indication what you can expect, but the daily temperature and rain will fluctuate during the month.
Things to see and do in Playa Blanca
Playa Blanca has many things to soo. With help from our visitors we have dived a list of things to see in. If you have any sugestions or improvements for this list, please let us know.
Romería de San Isidro – 15th May
On Romería de San Isidro, there is a procession that is led by a group in the foreground made up of a mass of bodies. Camels are a special part of this procession.
Ironman Triathlon Competition
In Ironman Triathlon Competition,the athletes have swimming, cycling, and running competitions all in one day.
Día de la Cruz (Day of the Cross) – 3rd May
Cruces de Mayo is celebrated at the beginning of May. It means The May Crosses Festival. Huge crosses are decorated with fresh colorful flowers and prominently displayed in the city squares. Crosses made up of flowers are used for decoration.
Playa Blanca beach
Playa Blanca beach is ideal for sunbathing.
Playa Dorada
Playa Dorada beach is suitable for kids.
Playa Flamingo
Playa Flamingo is the most beautiful beach here.
Shopping in Playa Blanca
For shopping, Marina Rubicon, Playa Blanca- one of the biggest ports on the Canary Islands and operates every Wednesday and Saturday from 09.00 to 14.00.
For the more local markets, the Teguise Market opens every Sunday between 09.00-14.00. It is the biggest and best-known street market.
Activities in Playa Blanca
Castillo de las Coloradas
A visit to the Castillo de las Coloradas, an old watchtower.
Underwater museum
Experience the first underwater museum in Europe at the Atlantico Museum
Los Charcones
Swim at Los Charcones
Carnival
Attend the Playa Blanca Carnival
Beaches
Visit one of the many beautiful beaches
El Golfo
A trip to El Golfo (Green Lagoon)- an incredible phenomenon in the cove, where seawater is trapped in the form of a lake and has turned a wonderful acidic green color due to the algae which live and grow there.
Festival of Music
The festival usually takes place between January and February and is one snowbird should not miss.
Feria del Queso y la Cabra
Attend the Feria del Queso y la Cabra which is the Festival of Cheese & Goat. This event started back in 2013, and it has gained huge popularity amongst snowbirds and locals alike.
Salt Flats
Visit the Janubio Salt Flats
Femes
See the mountain village of Femes and the Montana Roja volcano posing on the other side.
Submarine tour
Join a submarine tour to see the underwater world.
Marina Rubicon market
Shop at Marina Rubicon market
Boat trip
Join a boat trips starting at playa Blanca harbour.
Restaurants in Playa Blanca
There are a number of good restaurants in Playa Blanca some of them are open even in the winter.
More things to see in Playa Blanca
The Beaches
snowbirds can soak up in the beautiful beaches of Playa Blanca which are great places to lay back and chill out. The main beaches are Playa Blanca, Playa Flamingo, Playa Dorada, and Papagayo.
Nature & Landscapes
the sheltered Playa Flamingo which is surrounded by subtropical gardens, the mountain of Montana Roja and Timanfaya National Park
More information about Playa Blanca Spain
What to do in Playa Blanca Spain in other months
Weather in Playa Blanca Spain for each month