Spend your fall, winter, or spring in Playa Blanca, Spain: is Playa Blanca a good snowbird location?
Playa Blanca" means "white beach," and snowbirds flock here to swim and sunbathe. Huge yachts bob up and down at the marina, where snowbirds will also find many shops and restaurants and a lively market. Playa Blanca is situated on the south side of Lanzarote and through the years has become the third-largest tourist area on the island as well as one of the best recreational spots in Lanzarote.
Awarded on various occasions for its beauty, this peaceful and pleasant spot is the ideal place for snowbirds to relax. Playa Blanca has much to offer snowbirds who want to combine staying in a luxury hotel located in a vibrant area with lovely beaches and a charming atmosphere.
Once a small fishing village, the island's third-largest resort has gained a reputation as one of the premium places in Lanzarote, welcoming sun-seeking snowbirds throughout every year. It is a little quieter than other resorts in Lanzarote, which suits the visitor seeking a more laid-back holiday experience.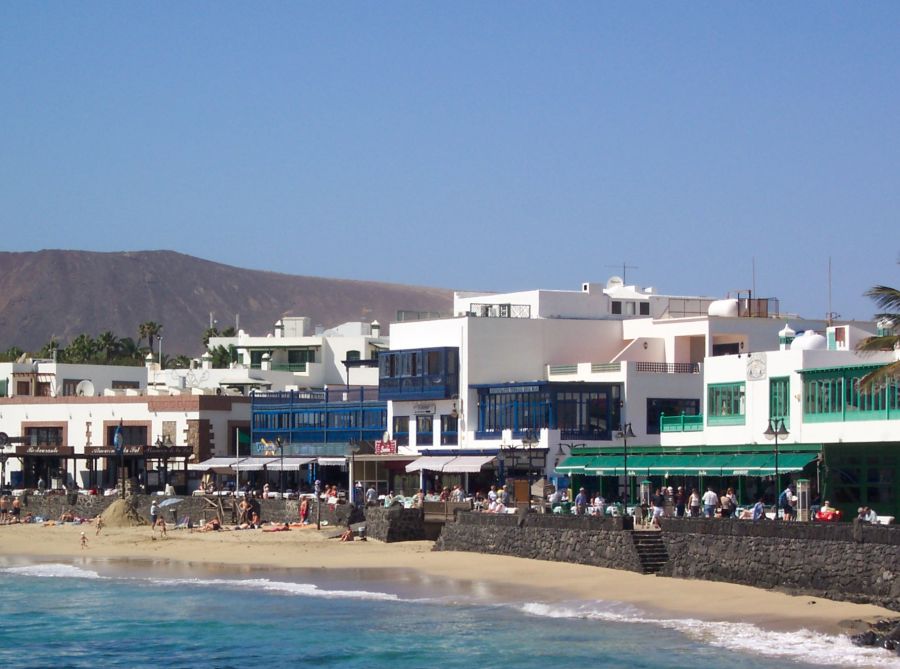 Why should people visit during the fall, winter, or spring?
Winter is a popular time to visit Playa Blanca because the wind drops, temperatures cool slightly and it is generally quieter than the summer peak season. Playa Blanca is a great holiday hotspot with warm weather all year round, fantastic facilities, and a chance for snowbirds to really relax and enjoy themselves. There are plenty of opportunities to enjoy the outdoors, though snowbirds might want to wrap up warm in the evenings when it can be much cooler.
Climate
Playa Blanca is generally less windy than the rest of the island, due to its Southern location on the island. The weather in Playa Blanca is typically Canarian island weather with warm summers and mild winters, with gradual weather changes and minimal rainfall. With an average of 300 days of sunshine each year Playa Blanca is also a popular winter sun destination. The winter temperature averages around 23°C (73°F), but keep in mind that the evenings are colder. A heated pool is needed to swim during the winter.

Safety
Playa Blanca is extremely safe, especially in the Faro Park area. The town itself is one of the safest quietest places on the island, as there are few late-night bars or clubs. However, snowbirds should still be aware, petty theft does still exist here, as it does nearly everywhere. Personal possessions should not be left unattended.
Communication, Internet, and cellphone in Playa Blanca, Lanzarote, Spain
As in the rest of Spain, in the Canary Islands, the official language is Spanish. However, there are many people who speak English, the second most spoken language, and many people also understand German. In almost all public establishments, such as stores, restaurants, hotels, etc., there is at least one person who speaks English or German.
From different parts of the beautiful island, snowbirds will be able to keep in touch with people. Snowbirds need to look out for the public telephone booths that take coins, credit cards, and phone cards (tarjetas telefónicas). When making an international call from Lanzarote, dial 00 first, then your country code (the United Kingdom 44, Republic of Ireland 353, US 1, Canada 1, Australia 61, etc), followed by the area code, and then the number you want to reach. The country code for Lanzarote is 34, followed by a nine-digit number starting with 928. Of course, telephone calls can also be made from the comfort of one's hotel room. Calls are cheaper on Sundays and after 22.00 hrs.
As Lanzarote is part of Spain, European residents can use their mobile phones without any problems (roam like home). For non-EU residents, it is advised to check the rates, and if needed buy a local sim card.
Post offices are open from 09.00 to 14.00 hrs and close an hour earlier on Saturdays, and there are no phones there. However, snowbirds can buy stamps for their postcards. The postal service is quite laid-back so for important or urgent mail, snowbirds should use an international courier company.
There are a number of Internet cafés on the island and access is very cheap. Wireless access is also available in many bars, cafés, and of course, is accessible in hotels.
Things to see in Playa Blanca, Lanzarote, Spain
Playa Blanca has notable places that are worthwhile visiting:
The Beaches: snowbirds can soak up in the beautiful beaches of Playa Blanca which are great places to lay back and chill out. The main beaches are Playa Blanca, Playa Flamingo, Playa Dorada, and Papagayo.
Nature & Landscapes: the sheltered Playa Flamingo which is surrounded by subtropical gardens, the mountain of Montana Roja and Timanfaya National Park
Activities in Playa Blanca, Lanzarote, Spain during winter
Submarine tours
Snorkeling
Take boat trips
A visit to the Castillo de las Coloradas, an old watchtower.
Visit the beaches
Experience the first underwater museum in Europe at the Atlantico Museum
See the mountain village of Femes and the Montana Roja volcano posing at the other side
Shop at Marina Rubicon market
Swim at Los Charcones
Visit the Janubio Salt Flats
A trip to El Golfo (Green Lagoon)- an incredible phenomenon in the cove, where seawater is trapped in the form of a lake and has turned a wonderful acidic green color, due to the algae which live and grow there.
Attend the Playa Blanca Carnival
Attend the Feria del Queso y la Cabra which is the Festival of Cheese & Goat. This event started back in 2013 and it has gained huge popularity amongst snowbirds and locals alike.
Festival of Music: The festival usually takes place between January and February and is one snowbird should not miss.
Shopping + Restaurants. Are they open in the fall, winter, or spring?
There are a number of good restaurants in the old town of Playa Blanca on the coastline that are open in the winter. Some are much better than others. There are many bars in Playa Blanca that offer sports viewing, karaoke, and live entertainment. Alternatively, snowbirds can travel to local places for a more lively atmosphere.
While meal prices in Playa Blanca can vary, the average cost of food in Playa Blanca should cost around per night €14 (approx. $14, £12, $20 CAD, $23 AUD) per person and €36 (approx. $37, £31, $51 CAD, $59 AUD) per day. Breakfast prices are usually a little cheaper than lunch or dinner. The price of food in sit-down restaurants in Playa Blanca is often higher than fast food prices or street food prices.
For shopping, Marina Rubicon, Playa Blanca- one of the biggest ports on the Canary Islands and operates every Wednesday and Saturday from 09.00 to 14.00. Around 30 stalls mostly selling clothing and general souvenirs are available. Snowbirds can find all kinds of restaurants, shops, and bars along the Playa Blanca boardwalk, and the streets running parallel to it, at the edge of the old town.
For the more local markets, the Teguise Market opens every Sunday between 09.00-14.00. It is the biggest and best-known street market; busy with hundreds of stalls and thousands of people. In total contrast to Teguise, Haria market stages a laid-back, small-scale market every Saturday morning, with twenty to thirty stalls set up in the shade of the towns. It operates every Saturday between 09.00-14.00.
Transport
The nearest airport to Playa Blanca is Arrecife (ACE). IC Bus Lanzarote operates a bus from Arrecife Airport Terminal 1 to Estación Playa Blanca hourly. Tickets cost €4 (approx. $4, £3, $5 CAD, $6 AUD) and the journey takes 58 minutes.
It is easy to walk the whole town on foot, so snowbirds do not need to worry about transportation. There are taxis easily available if needed.
There is a bus service every half an hour around the town. In early October 2008, Playa Blanca became the first town on the Island to have a dedicated local bus service, rather than through buses only. The price is a flat-rate €1.30 (approx. $1.36, £1.13, $1.86 CAD, $2.14 AUD) per journey for an adult, regardless of distance traveled around the town.
There are three ferry lines to choose from in which to make the journey. Firstly there is the Fred Olsen Express ferry, called the 'Bocayna Express' which makes the trip in 20 minutes. The second ferry is the Naviera Armas, called the 'Volcan de Tindaya', which makes 7 daily crossings each way, each one being of 35 minutes duration. The third is the 'Princesa Ico Glass Bottomed Boat'.
Health
In general, snowbirds who have European health cards (the old e11) are entitled to free emergency medical care in the local health centers (Centro Salud).
Lanzarote Public Healthcare: The main hospital on the island is located just on the outskirts of the capital, Arrecife. Most of the staff here do not speak English but they will be courteous and treat snowbirds in the same way as a local patient.
Private Medical Care: Given that the main hospital is some distance from Playa Blanca, many snowbirds who need to see a doctor prefer to use one of the private surgeries that can be found in the resort for immediate attention. As these are private clinics, snowbirds will have to pay to see the doctor as well as for any prescriptions or treatments given to them. The range of treatments they can cover includes cardiology, pediatrics, general practice, and gastroenterology. Clinica Jorgani is run by a team of medical professionals, all of whom speak English. Seeing the doctor is by a previously arranged appointment at one of their clinics, but they will also make house visits if needed.
Dental: For snowbirds who need to visit the dentist while on holiday, there are several dental clinics in Playa Blanca. They are all private, as no dental care is covered by the health service in Spain – however, most treatment is still cheaper than in the UK.
Accommodation
On top of Lanzarote's natural appealing climate, this seaside town is home to a leading 5-star hotel which comes highly recommended by the travel experts Discount Rent A Car, Lda. The Princesa Yaiza Suite Hotel Resort is a great place to stay with top-class facilities, unrivaled personal service, and guestrooms with an air of luxury. All this and more are set in lovely surroundings with breathtaking beachfront views. For more budget-friendly hotels, the following are some of the popular places with pools:
Jardines Del Sol By Diamond Resorts
White Suites
Hotel The Mirador Papagayo
Casa Domingo, Ona Las Casitas
Accommodation prices range from €88 (approx. $92, £76, $126 CAD, $144 AUD) per night, but longterm rentals will be a lot cheaper.
Packing List
Weather: The fall, winter, and spring weather in Playa Blanca (Lanzarote) will normally be warm during the day, but can be chilly during the night. Of course in the fall and spring it will be warmer than in the winter. You have to pack accordingly.

Warm clothing: Even when you go to a warm location like Playa Blanca (Lanzarote) you should not forget to take some things with you for your trip back home. When you return you are adapted to the warmer weather and need something to protect you from your hometown temperatures.

Consider the Weather: Always look at the type of weather in Playa Blanca (Lanzarote). Things like humidity, wind, and rain do not show up in the temperature graph but can have a great impact on your wardrobe. There are several sites with long term forecasts and climate information. Is there often a short afternoon downpour like in the tropics, you maybe need to take a strong umbrella and shoos that can cope with the rain. If there is often a lot of wind you might need a more wind-resistant coat.

Check the local Shopping options: Try to find information about the local shopping options near your location in Playa Blanca (Lanzarote). Are there stores where you can buy all your daily supplies, or are some things difficult to get? For some more remote locations, the options can be limited. If a certain item is really important for you might need to take it with you.

Look at the Local Culture: The local culture in Playa Blanca (Lanzarote) can impact your wardrobe. If most activities are in more upscale locations you might take some more appropriate clothes with you. Or travelling if you travel to certain countries women need to cover themselves in certain areas.

Amenities: Know what's Included in your house or apartment. Is there a coffee maker, a toaster, a washer and dryer, an iron, what is in the kitchen, what kind of towels are there? Things that are there means you do not have to take them with you. A furnished apartment or house can mean something from a few pieces of furniture to a well-stocked place with all the things you have at home. But most of the time your rental will not be stocked.

Mix and match: Wear layers so you can use your wardrobe more efficiently. And do not worry about wearing something more often, probably only you will notice this.

Important for you: If there is something that is really important for you that you want to have present in your house or apartment, take it with you. This can be something like a special knife for the kitchen, or a small mirror that you use in the morning. You can also purchase it locally if it is not that expensive.

Pet supplies: If you take your pet with you don't forget to take supplies for a few days with you. And enough medication, vitamins, or other supplies if you can not purchase them in Playa Blanca (Lanzarote) locally.

Food: Don't take a lot of food with you. Only when there is something you really can not live without you, and it is not too heavy you could consider taking it with you.

Towels: Not all locations include bigger towels for the swimming pool or a visit to the beach. If you have to take them and don't have a lot of room you can buy some big thin towels.

Office supplies: Normally you will not find any office supplies in your house or apartment. If you think you will use them you could pack some supplies like a scissor, notepaper, envelopes, some pens, and more depending on your needs.

Limit yourself: Don't take too many shoes and jackets, you will not need them that often.

Best-fitting: Bring your favorite and best-fitting items that can multi-function

Washer: Do you have a washer and dryer onsite, you don't need to pack a lot of clothes
Clothing
Basics
Casual
Smart
Footwear
Toiletries
Beauty
Hygiene
Clothing
Basics
Casual
Outdoor
Footwear
Accessories
Toiletries
Medicine
Miscellaneous
Other
Toiletries
Beauty
Hygiene
Hair
Other
Medicine
Miscellaneous
Technology
Travel and Free time
Travel
Free time
Important
Documents
Money
Other locations close to this location:
Travelers' Map is loading...
If you see this after your page is loaded completely, leafletJS files are missing.
If you have any additions, or comments on the content on this page, please use our contact form to let us know.
Detailed weather during the year for Playa Blanca Spain
What to do during the year in Playa Blanca Spain