What to do in October in Oman - 2024
Oman, officially the Sultanate of Oman, is a country on the southeastern coast of the Arabian Peninsula in Western Asia and the oldest independent state in the Arab world. Oman is a country that deserves to be seen at least once in a lifetime. In fact, in addition to its immense coastline, this country has a very long history to discover and fabulous desert landscapes.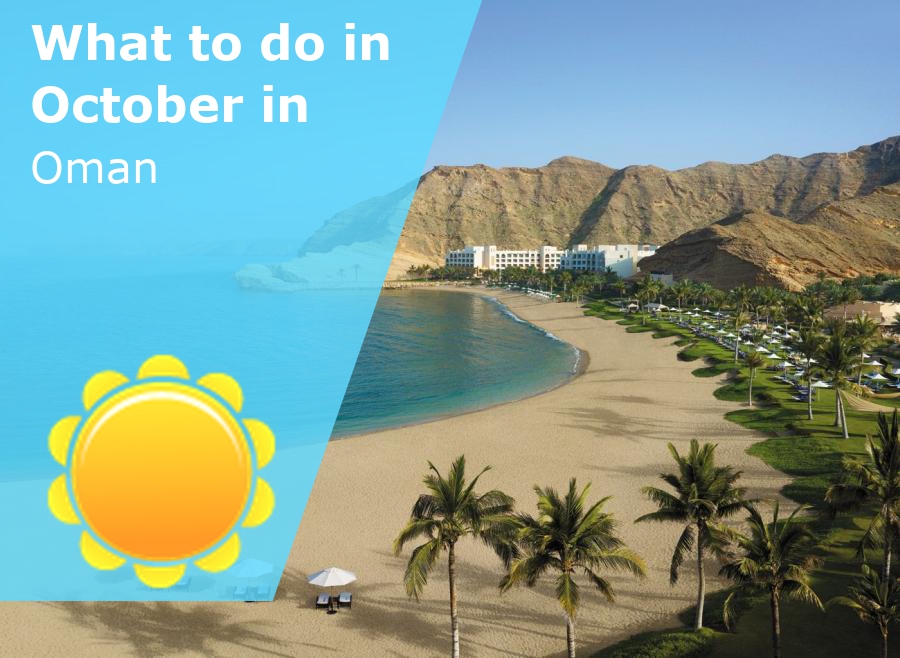 Before we have a look at what you can do in Oman, let's first look at the weather you can expect in October.


October weather in Oman
To get a good overview of the type of weather you can expect in October in Oman, we will look at the day and night temperature, minimum and maximum water temperature, and if October is comfortable or humid
Generally, October in Oman will be quite hot. Historical data shows that you can expect an average temperature of around 93°F / 34°C. But due to the moderate humidity it can feel slightly uncomfortable for some. During the night, it will cool down to around 69°F / 21°C. Many will prefer a location with air conditioning due to the high humidity level.
Oman does not have a lot of rainy days in October. You can expect around 2 rainy days, with on average 0.1 inches / 2 mm of rain during the whole month.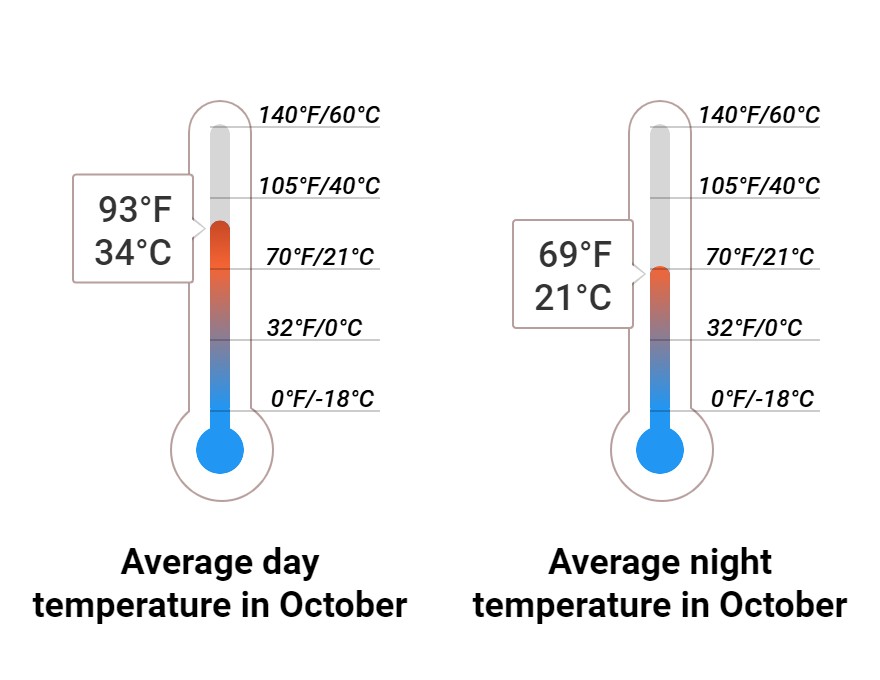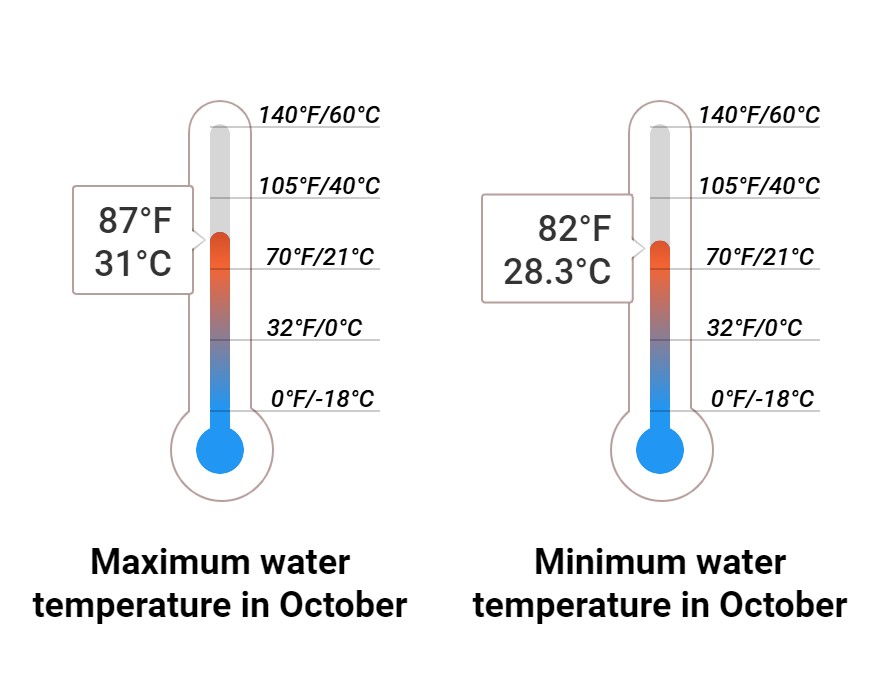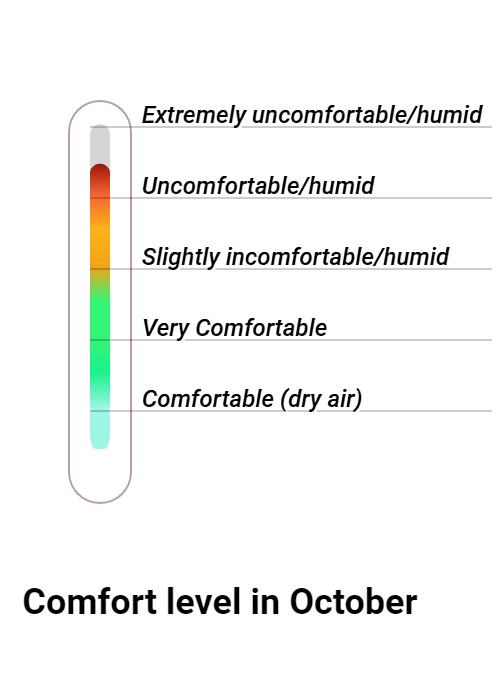 The forecast for October 2024 is based on historical data and are averages. They will give a good indication what you can expect, but the daily temperature and rain will fluctuate during the month.
Things to see and do in Oman
Oman has many things to soo. With help from our visitors we have dived a list of things to see in. If you have any sugestions or improvements for this list, please let us know.
Jibreen (Jabreen) Castle
Cultural
Throughout the Year
Jibreen (Jabreen) Castle is a few centuries old place. Standing and staring at the magical walls, you can imagine how they resisted foreign attacks.
Nizwa Fort
Cultural
Throughout the Year
You can take a full-day trip here. Nizwa Fort shows how the locals protected themselves and their generations against enemies.
Shatti Al Qurum
Shatti Al Qurum is the longest beach in Oman. There are restaurants, resorts, cafes, and shopping malls here.
Ras Al Jinz Turtle Reserve
Nature/Wild Life
Throughout the Year
20,000 turtles lay eggs at Ras Al Jinz Turtle Reserve each year.
Nakhal Fort
Cultural
Throughout the Year
Nakhal Fort gives you a glimpse of the history of the Sultanate of Oman.
Musandam beaches
Musandam beaches are ideal for swimming, kayaking, boating, and walking.
Al Hazm Fort
Cultural
Throughout the Year
Al Hazm Fort is an ancient place. Very beautifully yet simply, it showcases the local lifestyle in the hardships several centuries ago.
Prophet's Birthday
Prophet's Birthday is held in the month of October but its exact date is subject to change according to the appearance of the moon. In Arabic, it is called Mawlid al-Nabi. People decorate their houses and distribute food to the poor.
Sultan Qaboos Grand Mosque
Cultural
Throughout the Year
Sultan Qaboos Grand Mosque is a well-decorated building. It is an architectural wonder with lamps, a chandelier, and a golden dome.
Al Rustaq Fort
Cultural
Throughout the Year
Al Rustaq Fort is an old building. You must visit it to learn more about the local traditions.
Wadi Bani Khalid
Nature/Wild Life
Throughout the Year
There are several springs and pools in Wadi Bani Khalid valley.
Shopping in Oman
Oman, like any other Arabian country houses old traditional markets called Souq. The best Souq for Oman Shopping are: Nizwa Souq. Muttrah Souq.

From atmospheric souks to glitzy modern malls, traditional Omani handicrafts and internationally branded goods, Muscat provides a rich and varied shopping experience.
Activities in Oman
Shopping in souks
Oman is renowned for its frankincense which is available in many souks around the country. You can also pick up other locally made items the country is famous for, like scarves, jewelry, and perfumes.
Visit the beaches
With over 3000km of simply amazing coastline, there are tons of pristine beaches to visit in Oman. The pleasant yet warm winter weather is perfect for a stroll down the beach or enjoying a nice meal.
Visit a perfumery
One of the most niche and expensive perfume houses are located in Oman. You can take a tour of the Amouage perfumery.
Tour castles
Being one of the oldest countries in the Middle East, there are tons of castles and forts to be explored.
Restaurants in Oman
The national dish is called "" Qabuli"", consisting of; spiced rice, lamb or chicken, split peas and caramelized onions. It can be found in many restaurants across the country. In addition to local cuisine, you can also find many restaurants with international cuisine.

Farzi Cafe Oman
Al Fanar Shisha Cafe
Bin Ateeq
More things to see in Oman
Nizwa fort
Nizwa fort is one of the oldest and most interesting palaces in Oman. There are signs all over the palace detailing the fort's history and explaining its defense systems.
Bimmah sinkhole
The Bimmah sinkhole is amidst this usually dry and desert region almost a miracle with the most beautiful blue lake. Located next to a road in the wadi Shab, the sinkhole is rumored to have been made by a meteor.
Sultan Qaboos Mosque
The Sultan Qaboos Mosque is the most important spiritual site in Oman and is located in its capital city of Muscat. The architectural details on the building are truly elegant and attention-grabbing and the mosque is free to enter. Remember to wear long-sleeved clothes, and women are required to wrap a scarf around their heads to cover their hair.
Oman desert
The Oman desert is part of the empty quarter and is an interesting sight with waves of sand dunes as far as the eyes can see. You can also take camel rides and enjoy a local desert dinner.
Royal opera house muscat
The stunning Royal opera house muscat has had many ballets and opera performances hosted within its stunning walls since it was opened in 2011.
More information about Oman
What to do in Oman in other months
Weather in Oman for each month