Spend your fall, winter, or spring in Oman: Is Oman a good snowbird location?
The sultanate of Oman is located in western Asia on the southeast coast of the Arabian Peninsula. You may imagine dry, treeless deserts when you think of this Arabian country and you would not be far off as you can find all of that in Oman however, the coastal regions are different, beautiful, and welcoming. In stark contrast, this verdant region is known for its agricultural produce like grapes. Its diverse topography makes the country all the more fascinating and intriguing as your winter destination.
Also known as the pearl of Arabia, the stunning country is characterized by ancient architecture. Remains that point to Neolithic and Palaeolithic civilizations such as stone tools have also been found in Oman. Recently, it was ranked as the most improved nation in development and is regarded as a high-income country.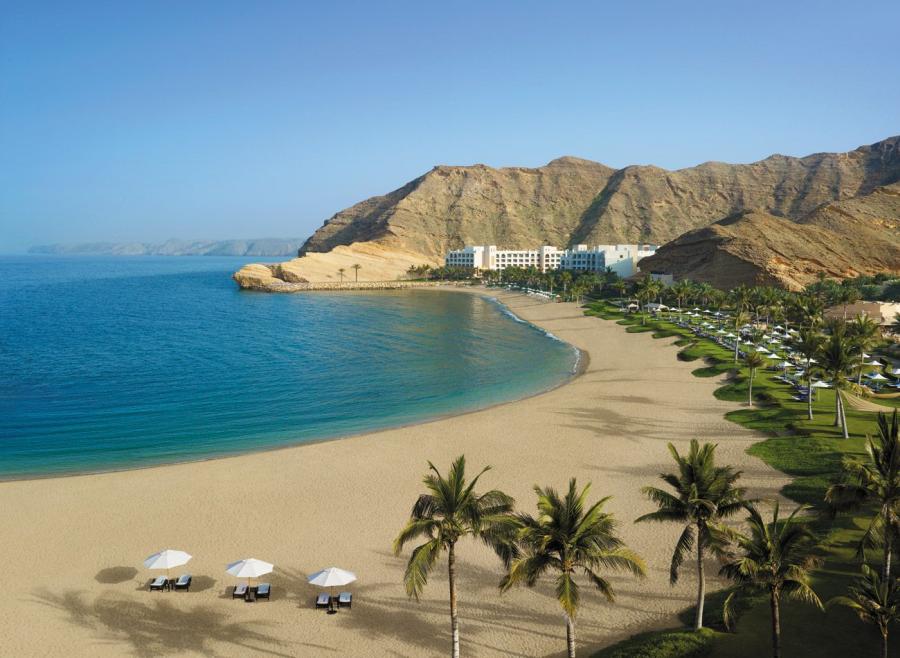 Why should people stay in Oman
Oman could be a winter haven for many snowbirds. The milder winter temperatures mean its cooler than it usually is in summer and you can explore as much as you want to in pleasant weather. There are a number of interesting sites and attractions like stunning architectural masterpieces. The people of Oman through conservative are welcoming and tourism is one of the country's major exports. It has a stable political climate and the country is generally a safe place to be. Traditional Arabian cuisine and culture beckon to snowbirds as well as its beaches and fascinating topography. Winters spent in Oman are an incredible and worthwhile experience that would be hard to top.
Climate
The country has 4 distinct seasons unlike many others in the surrounding regions. Most of the country's area is a tropical desert with an arid climate. It has low annual rainfall and hardly any naturally occurring water bodies in its central regions. During the summers it can get extremely hot with temperatures reaching 50°C (122°F). However, during the winter things cool down considerably and the weather becomes pleasant enough for site seeing and other adventures. Temperatures in the winter are usually around 15°C - °C (59°F - 32°F). There is also occasional rainfall during the winter so it would help to pack some rain gear

Safety
Oman is considered a very safe country for tourists. The monarchy is keen to promote tourism so crime rates are extremely low and heavily punishable. Despite its volatile location, Oman is among the safest countries in the middle east. Snowbirds are advised to observe local laws and keep on the lookout against petty crimes and rare cases of assault. Remember to keep your valuable item close at all times and be mindful of your surroundings. Since Oman is an Islamic monarchy, be advised to dress modestly, refrain from consuming alcohol in public and respect the culture. You are not allowed to take pictures of military and government buildings.
Communication, internet, and cellphone in Oman
The official languages spoken in Oman are Arabic and its second language is English. Snowbirds will not have trouble communicating as many people speak English fluently. Signs, maps, and menus are available in English as well so navigating your way around should be no trouble.
There are two major cellphone providers in Oman you can use to stay connected. Either Omantel or Ooredoo. Ooredoo offers a tourist sim that gives you more data and can be used in neighboring countries. You can buy a sim card at the airport. Both providers have similar prices and an Omantel tourists pack cost $13 (approx. €12, £10, $17 CAD, $20 AUD) for 2GB of data, free WhatsApp, and 50 call minutes. This pack is valid for 10 days. You can subscribe for more data at $15 (approx. €14, £12, $20 CAD, $23 AUD) for 4GB of data.
Wintersun Locations in Oman
Muscat: You will find luxury resorts, white beaches, and hot sunny winter weather. You can camp out in the Wahiba Sands desert, and walk along trails in wadis (valleys). If you are there in the autumn you have the chance to see turtles laying and hatching their eggs on one of the beaches.
Masirah island – this town is perfect for snowbirds looking for beaches, history, sun, and wildlife all rolled into one. It's off the coast of Oman and has a small-town feel to it. You can get a ferry to the mainland should you ever tire of exploring the many shipwreck and turtle hatching grounds the town has to offer.
Salalah – if you are looking to stay on the greener side of Oman, then Salalah is for you. It's the ancestral home of the reigning monarch and there are many historical attractions to explore like old architecture and palaces.
Nizwa – the former capital of Oman is now an incredible slower-paced town with majestic forts. These ancient buildings date back to the ninth century with interesting features like honey traps. There are many local markets and souks where you can shop for souvenirs.
Things to see in Oman
The Oman desert – part of the empty quarter, the Oman desert is an interesting sight with waves of sand dunes as far as the eyes can see. You can also take camel rides and enjoy a local desert dinner.
Sultan Qaboos Mosque – the most important spiritual site in Oman is located in its capital city of Muscat. The architectural details on the building are truly elegant and attention-grabbing and the mosque is free to enter. Remember to wear long-sleeved clothes and women are required to wrap a scarf around their heads to cover their hair.
Nizwa fort – this is one of the oldest and most interesting palaces in Oman. There are signs all over the palace detailing the history of the fort and explaining its defense systems.
Bimmah sinkhole – amidst this usually dry and desert region is the most beautiful blue lake in a sinkhole. Located next to a road in the wadi Shab, the sinkhole is rumored to have been made by a meteor.
Royal opera house muscat – this opera theatre has had many ballets and opera performances hosted within its stunning walls since it was opened in 2011.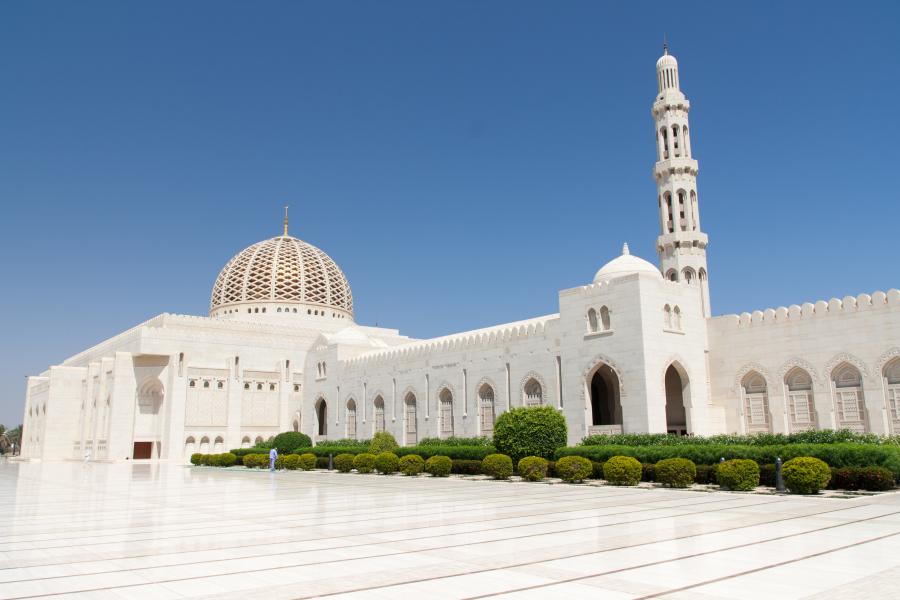 Activities in Oman in the fall, winter, or spring
Visit the beaches – with over 3000 km (1865 Miles)

of simply amazing coastline, there are tons of pristine beaches to visit in Oman. The pleasant yet warm winter weather is perfect for a stroll down the beach or enjoying a nice meal.

Tour castles – being one of the oldest countries in the Middle East, there are tons of castles and forts to be explored.
Shopping in souks – Oman is renowned for its frankincense which is available in many souks around the country. You can also pick up other locally made items the country is famous for like scarves, jewelry, and perfumes.
Visit a perfumery- one of the most niche and expensive perfume houses is located in Oman. You can take a tour of the Amouage perfumery.
Shopping + Restaurants. Are they open in the fall, winter, or spring?
There are numerous shops that stay open in the winter in Oman. Whether you are looking for a uniquely Omani experience in a souk or you want some western retail therapy, there are enough stores to cater to your needs. There are malls with boutiques, chain stores from international brands, and food courts where you can relax after a long day of thorough shopping. There are also many restaurants open during the winter in Oman. They serve a variety of tantalizing local cuisine served In majlis dining style where you sit on sedans one the floor. There are also restaurants that serve up intercontinental treats if you're looking for some more familiar food.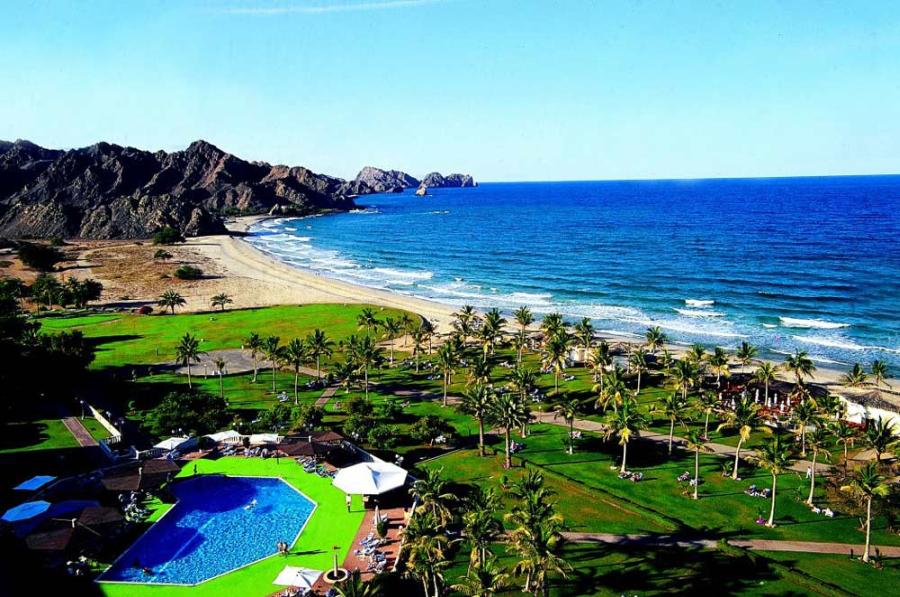 Transport
Domestic flights are not uncommon in Oman and there are regular flights between Salalah and Muscat for low rates. Most international flights land in Muscat International Airport and from there you can take a taxi into town before taking either a bus or another taxi to your preferred destination.
Oman has a comprehensive bus network that links every part of the country. They're run by the government and are among the cheapest way to get around the country. There are also ferries and water taxis for navigating the waterways and islands of Oman.
If you want to have a convenient means of exploring the country at your own pace, then you can rent a car. The roads are state of the art however be careful of other drivers and animals crossing the road. You can rent a car for $43 (approx. €40, £35, $58 CAD, $67 AUD) a day.
There are two private taxi companies that have apps you can book a trip on. You can also use this service to get a ride from the airport into the city. They are clean, safe, and metered although rides can be expensive. There are other taxis usually painted in orange and white that operate within cities which you can use as an alternative. Remember to negotiate and settle on a price before getting in.
Health
Oman's world-class healthcare system is free to its citizens and funded by the government in public hospitals. Snowbirds can either opt to use a public hospital for lower medical costs although there may be a longer wait time or they can use a private hospital instead. Private hospitals are more expensive however they are well equipped and have little or no line. Omani doctors are well trained and speak English fluently so communicating with them will be easy. Also, remember to get comprehensive travel insurance before leaving your home country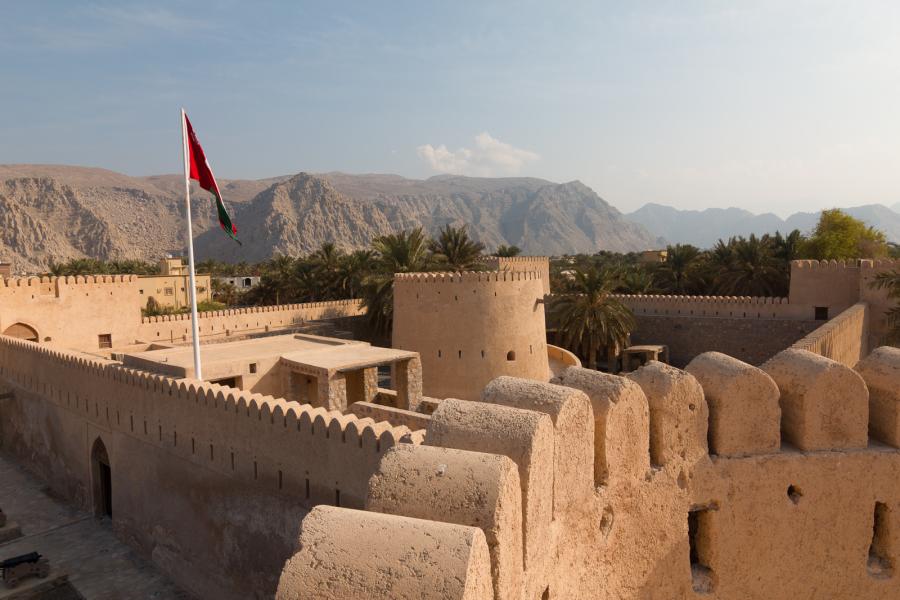 Accommodation
There are several property rental portals where snowbirds can find accommodation options. You also have the option of getting a local real estate agent if you would rather not go through the process of house hunting yourself. A one-bedroom flat would cost around $415 (approx. €392, £340, $560 CAD, $647 AUD) and a three-bedroom would cost around $909 (approx. €860, £745, $1226 CAD, $1417 AUD) for a month.
Packing List
Weather: The fall, winter, and spring weather in (Oman) will normally be warm during the day, but can be chilly during the night. Of course in the fall and spring it will be warmer than in the winter. You have to pack accordingly.

Warm clothing: Even when you go to a warm location like (Oman) you should not forget to take some things with you for your trip back home. When you return you are adapted to the warmer weather and need something to protect you from your hometown temperatures.

Consider the Weather: Always look at the type of weather in (Oman). Things like humidity, wind, and rain do not show up in the temperature graph but can have a great impact on your wardrobe. There are several sites with long term forecasts and climate information. Is there often a short afternoon downpour like in the tropics, you maybe need to take a strong umbrella and shoos that can cope with the rain. If there is often a lot of wind you might need a more wind-resistant coat.

Check the local Shopping options: Try to find information about the local shopping options near your location in (Oman). Are there stores where you can buy all your daily supplies, or are some things difficult to get? For some more remote locations, the options can be limited. If a certain item is really important for you might need to take it with you.

Look at the Local Culture: The local culture in (Oman) can impact your wardrobe. If most activities are in more upscale locations you might take some more appropriate clothes with you. Or travelling if you travel to certain countries women need to cover themselves in certain areas.

Amenities: Know what's Included in your house or apartment. Is there a coffee maker, a toaster, a washer and dryer, an iron, what is in the kitchen, what kind of towels are there? Things that are there means you do not have to take them with you. A furnished apartment or house can mean something from a few pieces of furniture to a well-stocked place with all the things you have at home. But most of the time your rental will not be stocked.

Mix and match: Wear layers so you can use your wardrobe more efficiently. And do not worry about wearing something more often, probably only you will notice this.

Important for you: If there is something that is really important for you that you want to have present in your house or apartment, take it with you. This can be something like a special knife for the kitchen, or a small mirror that you use in the morning. You can also purchase it locally if it is not that expensive.

Pet supplies: If you take your pet with you don't forget to take supplies for a few days with you. And enough medication, vitamins, or other supplies if you can not purchase them in (Oman) locally.

Food: Don't take a lot of food with you. Only when there is something you really can not live without you, and it is not too heavy you could consider taking it with you.

Towels: Not all locations include bigger towels for the swimming pool or a visit to the beach. If you have to take them and don't have a lot of room you can buy some big thin towels.

Office supplies: Normally you will not find any office supplies in your house or apartment. If you think you will use them you could pack some supplies like a scissor, notepaper, envelopes, some pens, and more depending on your needs.

Limit yourself: Don't take too many shoes and jackets, you will not need them that often.

Best-fitting: Bring your favorite and best-fitting items that can multi-function

Washer: Do you have a washer and dryer onsite, you don't need to pack a lot of clothes
Clothing
Basics
Casual
Smart
Footwear
Toiletries
Beauty
Hygiene
Clothing
Basics
Casual
Outdoor
Footwear
Accessories
Toiletries
Medicine
Miscellaneous
Other
Toiletries
Beauty
Hygiene
Hair
Other
Medicine
Miscellaneous
Technology
Travel and Free time
Travel
Free time
Important
Documents
Money
Other locations close to this location:
Travelers' Map is loading...
If you see this after your page is loaded completely, leafletJS files are missing.
If you have any additions, or comments on the content on this page, please use our contact form to let us know.
Detailed weather during the year for Oman
What to do during the year in Oman