Spend your fall, winter, or spring in Aruba: is Aruba a good snowbird location?
Aruba is an island and a constituent country of the Kingdom of the Netherlands in the southern Caribbean Sea. It measures 32 km (20 Miles) long from its northwestern to its southeastern end and 10 km (6 Miles) across at its widest point.
Together with Bonaire and Curaçao, Aruba forms a group referred to as the ABC islands. Collectively, Aruba and the other Dutch islands in the Caribbean are often called the Dutch Caribbean. Its capital is Oranjestad.
Most of the island's population resides in or around the two major city-like districts of Oranjestad (the capital) and San Nicolaas. The districts in Aruba are as follows:
Noord
Oranjestad
Paradera
San Nicolaas
Santa Cruz
Savaneta
The island's economy is dominated by four main industries: tourism, aloe export, petroleum refining, and offshore banking. Its main trading partners are Colombia, the United States, Venezuela, and the Netherlands.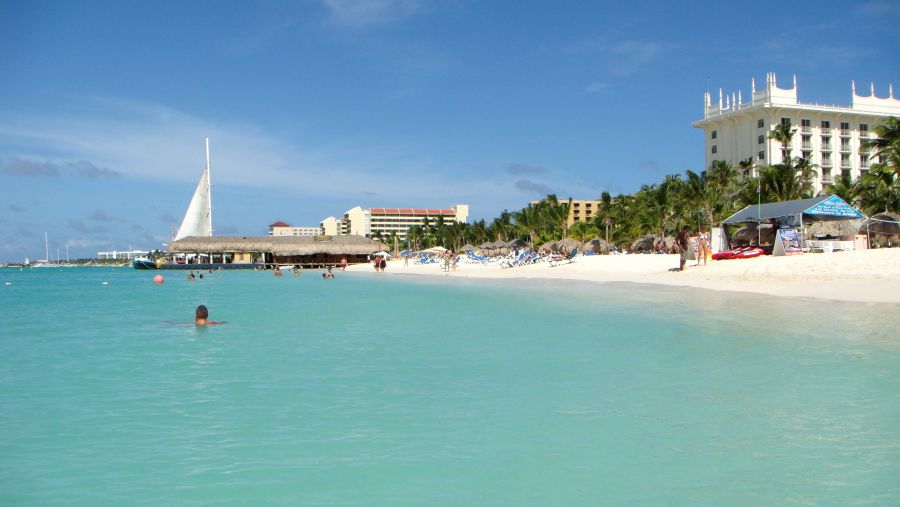 Why should people visit during the fall, winter, or spring?
Aruba consistently ranks as having the least amount of rainfall in the Southern Caribbean. The calming trade winds will keep snowbirds cool in the pleasant weather. Snowbirds can expect reliably great weather throughout the winter period.
The island is also alive with sights, sounds, and culinary delights found on no other Caribbean island. With friendly people eager to welcome and embrace snowbirds; with surprising natural wonders to explore, and countless ways to relax, the happy island is the perfect place to relax and rejuvenate one's mind, body, and soul.
Climate
In Aruba, the climate is tropical, hot all year round: temperatures range around 29°C - 31°C (84°F - 88°F) throughout the year. The air is muggy, but the wind tempers the heat. The trade winds blow constantly, and the east coast is affected by strong sea currents, while the western and southern coasts are more sheltered, and made of sandy beaches.

Safety
Aruba is one of the safest exceptions to many of the problems that plague other Caribbean islands. Year after year, Aruba consistently ranks as one of the safest destinations in the Caribbean, with low rates of both violent and petty crime.
However, snowbirds should be aware, petty theft does still exist here, as it does nearly everywhere. Personal possessions should not be left unattended.
Communication, Internet, and cellphone in Aruba
The official languages are Papiamento and Dutch, but most Arubans speak a minimum of four languages, including English and Spanish
There are two telecommunications providers: Setar, a government-based company, and Digicel, which is privately owned. Setar is the provider of services such as the internet, video conferencing, GSM wireless technology, and landlines. Digicel is Setar's competitor in wireless technology using the GSM platform.
Snowbirds who want to use their phones in Aruba should remember to contact their phone provider before flying to Aruba and ask them if their service works on the island. If so, ask for an international plan.
Roaming while in Aruba can cost snowbirds hundreds of dollars. However, buying a new sim card (local phone number) will save money. Snowbirds can buy a sim card with a data plan at Digicel or Setar which costs you about $21 (approx. €19, £16, $28 CAD, $31 AUD). Snowbirds should also remember to let the store fix the APN (Access Point Name) settings to ensure having a good data connection to their network.
Things to see in Aruba
Aruba has notable places that are worthwhile visiting:
The Beaches: Arashi Beach, Baby Beach, Caves of Aruba, Eagle Beach, Palm Beach, Palm Island, Rodgers Beach, Aruba, and Flamingo.
Golf: Consistently ranked as one of the best golf destinations in the world, Aruba houses the fantastic Tierra Del Sol Golf where golf lovers can spend their time and newbies can take golf courses.
Tennis: Beach tennis players can reserve a court and paddles at the Aruba Beach Tennis Clubhouse at Tropicana Resort located in Eagle Beach. Additional beach tennis courts and paddles can be found behind Moomba Beach Bar in Palm Beach. All courts are well-lit at night so you can practice and play 24/7.
Natural wonders: The Natural Bridges, Ayo and Casibari Rock Formations, Natural Pool (Conchi), Hooiberg, Mount Jamanota
Other major attractions: Alto Vista Chapel, Arikok National Park, Bushiribana and Balashi, California Lighthouse, Frenchman's Pass, Quadiriki Caves, and Sint Nicolaas, Aruba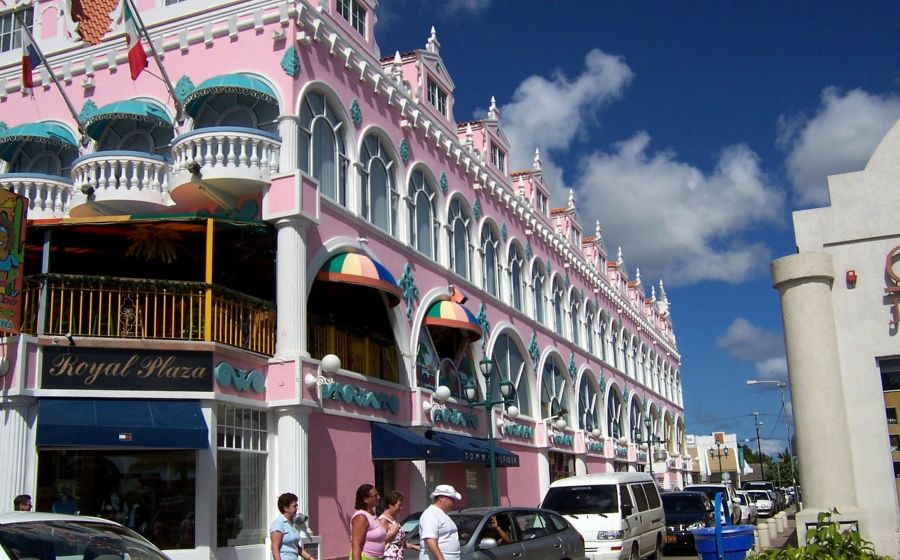 Activities in Aruba during winter
Swimming, Snorkeling
Sailing
Scuba Diving & Snorkeling
Underwater Tours
Deep-Sea Fishing
A visit to the California Lighthouse at Sunset
Interact with animals at Philip's garden
Try your luck at the casinos that line Palm Beach.
Pet & feed donkeys at their sanctuary
Observe Aruba's history in San Nicolas
Visit the Ostrich Farmers
The festival of Carnaval in January
Enjoy the sunshine of Eagle Beach
See the Natural Bridge ruin
Go on a hike through Arikok National Park
Join in celebrating Saint Nicolas Day in December.
Visit The California Dunes located at Hudishibana.
Discover the sheer serenity atop Yamanota, the island's highest elevation point.
Get away from the crowds and treat yourself to the quiet solitude of Baby Beach.
Take part in or just be a spectator at the international tennis tournament which takes place in November at the Beach Tennis.
Participate in the Aruba Fire Prevention Run which is a 10k and 5k race open for locals and snowbirds or just be a spectator. It takes place in October.
Attend the annual International Pro-Am Golf Tournament which offers a mix of golf, sun, and fun during a 2-day, 36-holes golfing competition in Aruba.
Shopping + Restaurants. Are they open in the fall, winter, or spring?
From traditional Dutch to Asian, African, and Spanish, dining options are as diverse and welcoming as the people of Aruba. Snowbirds can eat fresh fish straight from the sea, share a glass of wine at sunset with their toes in the sand, or indulge in classic Italian in the shadow of a century-old lighthouse.
Aruba's vibrant restaurant scene is a happy opportunity to sample delicious cuisine inspired by over 90 unique nationalities. Snowbirds get to savor the rich flavors of the keshi yena, and taste an authentic side of Aruba prepared with love. Some amazing places to dine include Gelatissimo, Que Pasa? Aruba Restaurant, Art Gallery & Bar, Café 080.
Aruba is a shopper's paradise and a haven for locally made crafts and international brands. Just steps from the Port, stroll through downtown Oranjestad's bustling shopping area lined with jewelry, fragrance, designer stores, Dutch delicacies, Aruba aloe products, and Cuban cigars. Snowbirds can also peruse the colorful galleries, shops, and boutiques of San Nicolas and take an authentic piece of Aruba home with you. They will find one-of-a-kind gifts, goods, and accessories made by Aruba's own artists and craftsmen. Whatever snowbirds are looking for, they find it here.
The Ostrich Farm organizes the monthly local farmers market. Snowbirds will find the farmers market's goal is to promote products and artwork made and produced in Aruba. More and more local farmers are actively growing vegetables, fruits, farming animals such as chicken and pigs and selling them to the public. There are locals that make their own wine and liqueur, others grow local plants and fruit trees and make natural herbal teas and medicine.
Transport
Aruba's Queen Beatrix International Airport is located near Oranjestad. To get from Aruba's Queen Beatrix International Airport (AUA) to one's hotel, it will be easiest to take a taxi. Fares are fixed. For example, fares to the high-rise area will cost ; rides to low-rise properties generally cost .
The best way to get around Aruba is by bus. The island's Arubus system is reliable and affordable with buses running every 15 minutes from 5:45 a.m. until 6 p.m. and every 40 minutes until 11:30 p.m. The central bus station sits in downtown Oranjestad, adjacent to the cruise ship terminal. Retour cards good for two trips cost about . Day passes, which cover unlimited travel on all the routes, cost less than $10 (approx. €9, £7, $13 CAD, $15 AUD). The bus covers the major resort areas and downtown, as well as Baby Beach.
Snowbirds will find the fixed-rate taxis are a stress-free means of getting to and from most sites, especially if they intend to spend most of the vacation around their hotel. Snowbirds can have their hotel concierge call a taxi, they can grab one easily at the airport, or sometimes they can be flagged down off the street (look for cars with a "TX" in the license plate), though it's best to call ahead. Before getting in, ask the driver what the fare will be to get to your destination. Snowbirds can also look at his or her fare chart during the ride. Taxis here at not metered, so it's best to agree on the fare before starting the trip.
Having a car can be handy for treks to Arikok National Park or out of reach sites like Baby Beach or the Donkey Sanctuary Aruba. Snowbirds can rent a car near the cruise terminal or the airport and daily rates can range anywhere from $40 (approx. €36, £31, $54 CAD, $60 AUD). Snowbirds should keep in mind speed limits and distances are posted in kilometers. Also, an international driving permit is not needed.
Health
Aruba is well equipped to handle virtually every medical problem. In unique cases where the island's own medical services do not cover the emergency, a patient can be quickly airlifted to nearby facilities (i.e. In Curacao).
Aruba boasts of the Dr. Horacio Oduber Hospital, a medical facility equipped with reputable medical staff, 280 beds, and modern equipment. The hospital, opened in 1976, is located across from Punta Brabo Beach and is within walking distance of some of the hotel district. It functions as a general hospital with established ties to the U.S., Colombian, Venezuelan, Puerto Rican, and Dutch hospitals for specialized treatment and care.
Most of the hotels in Aruba have a consulting General Practitioner and dentist on call and front desk personnel can set up appointments if necessary. In case of an emergency at the hotel, the front desk personnel can contact the hotel physician who will direct the patient to the hospital if necessary.
In case of an emergency outside the hotel, all travelers can go to the emergency room of Aruba's general hospital (Dr. Horacio Oduber located in Oranjestad where they will be attended. The Emergency Department has an attending physician on site 24 hours a day. The medical specialists are on call. The facility is wheelchair accessible.
Snowbirds can find doctors and dentists that speak English, as well as other languages.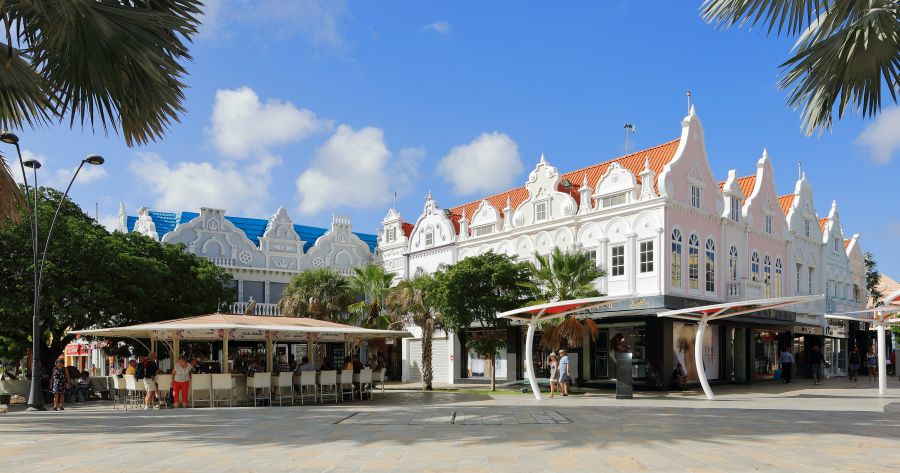 Accommodation
There are a fair number of resorts, hotels, short-let apartments available for rent in Aruba. The houses are usually well equipped with basic amenities and furnished. A breakdown of the five best areas in Aruba include:
Oranjestad – A good place to stay in Aruba for the first time
Eagle Beach – Budget-friendly location
Palm Beach – close to the Nightlife
Arashi Beach – The place to stay for Diving
Palm Beach – Family-friendly location.
Accommodation prices range from $54 (approx. €49, £42, $73 CAD, $81 AUD) per night.
Packing List
Weather: The fall, winter, and spring weather in Aruba will normally be hot during the day and hot/warm during the night. Of course in the fall and spring it will be warmer than in the winter. You have to pack accordingly.

Warm clothing: Even when you go to a warm location like Aruba you should not forget to take some things with you for your trip back home. When you return you are adapted to the warmer weather and need something to protect you from your hometown temperatures.

Consider the Weather: Always look at the type of weather in Aruba. Things like humidity, wind, and rain do not show up in the temperature graph but can have a great impact on your wardrobe. There are several sites with long term forecasts and climate information. Is there often a short afternoon downpour like in the tropics, you maybe need to take a strong umbrella and shoos that can cope with the rain. If there is often a lot of wind you might need a more wind-resistant coat.

Check the local Shopping options: Try to find information about the local shopping options near your location in Aruba. Are there stores where you can buy all your daily supplies, or are some things difficult to get? For some more remote locations, the options can be limited. If a certain item is really important for you might need to take it with you.

Look at the Local Culture: The local culture in Aruba can impact your wardrobe. If most activities are in more upscale locations you might take some more appropriate clothes with you. Or travelling if you travel to certain countries women need to cover themselves in certain areas.

Amenities: Know what's Included in your house or apartment. Is there a coffee maker, a toaster, a washer and dryer, an iron, what is in the kitchen, what kind of towels are there? Things that are there means you do not have to take them with you. A furnished apartment or house can mean something from a few pieces of furniture to a well-stocked place with all the things you have at home. But most of the time your rental will not be stocked.

Mix and match: Wear layers so you can use your wardrobe more efficiently. And do not worry about wearing something more often, probably only you will notice this.

Important for you: If there is something that is really important for you that you want to have present in your house or apartment, take it with you. This can be something like a special knife for the kitchen, or a small mirror that you use in the morning. You can also purchase it locally if it is not that expensive.

Pet supplies: If you take your pet with you don't forget to take supplies for a few days with you. And enough medication, vitamins, or other supplies if you can not purchase them in Aruba locally.

Food: Don't take a lot of food with you. Only when there is something you really can not live without you, and it is not too heavy you could consider taking it with you.

Towels: Not all locations include bigger towels for the swimming pool or a visit to the beach. If you have to take them and don't have a lot of room you can buy some big thin towels.

Office supplies: Normally you will not find any office supplies in your house or apartment. If you think you will use them you could pack some supplies like a scissor, notepaper, envelopes, some pens, and more depending on your needs.

Limit yourself: Don't take too many shoes and jackets, you will not need them that often.

Best-fitting: Bring your favorite and best-fitting items that can multi-function

Washer: Do you have a washer and dryer onsite, you don't need to pack a lot of clothes
Clothing
Basics
Casual
Smart
Footwear
Toiletries
Beauty
Hygiene
Clothing
Basics
Casual
Outdoor
Footwear
Accessories
Toiletries
Medicine
Miscellaneous
Other
Toiletries
Beauty
Hygiene
Hair
Other
Medicine
Miscellaneous
Technology
Travel and Free time
Travel
Free time
Important
Documents
Money
Other locations close to this location:
Travelers' Map is loading...
If you see this after your page is loaded completely, leafletJS files are missing.
If you have any additions, or comments on the content on this page, please use our contact form to let us know.
Detailed weather during the year for Aruba
What to do during the year in Aruba