Brazil is among the top-rated destinations for many travelers around the world especially snowbirds and it's not hard to see why. Located in South America, the beautiful tropical climate and outgoing people make touring the country one of the most exciting adventures of a lifetime. It is the largest country in South America and is inhabited by some of the most beautiful creatures in the world plus more than 211 million people. Its capital city of Brasilia is often praised as one of the fastest-growing multicultural and ethnically diverse cities in the world as more people from around come to visit and even migrate to live in the country. The official language of Brazil is Portuguese with a few German, Italian, and English speaking nationals. Many people in the major cities speak and understand English while locals in smaller regions may speak a bit of broken English.
Brazil has a rich history as one of the earliest inhabited places in the Americas, some of the earliest human remains which date back over 11,000 years and pottery dating over 8,000 years' indicative of complex prehistoric culture, significant populations, and sophisticated communities were found in Brazil. The country has some of the most diverse wildlife and is home to one of the largest ecosystems in the world, the Amazon river basin. The country is rich in culture, history, and natural resources including protected habitats and ranks among the countries with the most UNESCO world heritage sites making it one of the most sought after tourist destinations in the world.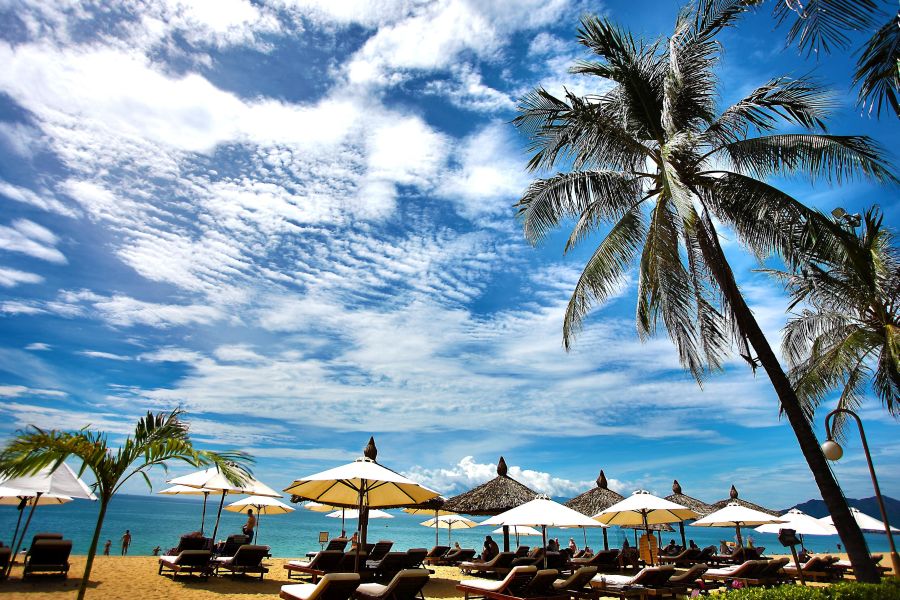 Why should people stay in Brazil
Brazil is a great place for snowbirds seeking to visit beautiful warm locations with exciting food, rich culture, and fun activities year-round. There is no shortage of places to visit even in the winter months as the pleasant temperature makes it ideal for long walks, shopping in local markets, and sightseeing. Lots of shops remain open in the winter and the country remains full of life so if you prefer a busier environment, Brazil is a great place to visit in the winter. With a number of attractions in different cities, snowbirds can expect to have a wonderful trip regardless of which part of the country you choose to visit. Finding accommodation is also relatively easy as there lots of houses and apartments available for short lets.
Climate
Brazil has a typically warm and equatorial climate which is subtropical and humid with a few dry areas in the northeast. The climate varies in different regions and the country experiences summer from December till February where temperatures are usually between 30°C - 40°C (86°F - 104°F)Winters are short and cool in Brazil lasting only three months from June to August however it does not snow and depending on the region you decide to visit, there might be a bit of rainfall but temperatures rarely dip below 20°C - °C (68°F - 32°F).

Safety
When it comes to staying safe while in Brazil, snowbirds are advised to remain on high alert and be wary of their surroundings at all times of the day but most especially at night time. Like most developing countries, Brazil has high crime rates especially in urban areas that attract a lot of tourists. However, as long as you stay alert and take precautions such as staying with your travel group, carrying small amounts of cash at a time, and keeping it securely, plus being aware of common distracting ploys used by criminals, you should remain safe.
Communication, internet, and cellphone in Brazil
Most Brazilian nationals speak the country's official language, Portuguese. Snowbirds who have some understanding of Portuguese will have a swell time brushing up their language skills and for others who do not speak the language, you can take a quick course to learn the basics of everyday communication.
Wi-Fi is usually slow in Brazil and many snowbirds opt to use local sims which is usually fairly easy to set up and data prices are relatively cheap. You can get 1GB worth of mobile data for as low as $2 (approx. €1.68, £1.5, $2.6 CAD, $2.71 AUD). Since WhatsApp is the primary channel of communication, telephone companies do not charge for it including international calls made on the platform.
Wintersun Locations in Brazil
Fortaleza– for snowbirds who are looking to do some shopping and spend time on the beach sunbathing and swimming, Brazil's fifth-largest city is the perfect place to be. It's close to all fishing villages and beaches on the Cearà coast with nice restaurants and hotels.
Recife– characterized by beaches and waterways, Recife is also known as the Venice of Brazil and lies on the northeastern coast of the country. There are tons of colonial buildings left over from its the time of being a Dutch colony and it has easy access to some of the most beautiful islands and beaches in Brazil.
Salvador – another beautiful and historic city to look out for in Brazil is Salvador. The third-largest city in Brazil also boasts its own flamboyant carnival inspired by its beautiful culture. There are also beautiful beaches and impressive buildings snowbirds can spend time exploring.
Manaus – one of the most intriguing natural pheromones occurs in Manaus where two rivers meet without mixing. The city is lovely and has landmarks like the Rio Negro Palace and Amazonas Opera House where snowbirds can experience rich Brazilian culture and heritage.
Olinda – artisan studios, museums, restaurants, colonial-style houses, and churches are all part of what adds to the charm of Olinda. This quaint town is nestled on a hilltop on the Atlantic coast and draws daytime festival-goers with its mellow annual carnival celebrating music and dance.
Things to see in Brazil
Brazil has some of the most beautiful and popular attractions in the world some of which include:
Colonial towns – due to the heavy presence of natural resources such as Gold and Diamonds from mines surrounding towns like Ouro Preto, colonial towns in this region are a sight to behold. The churches and mansions are stunning Baroque and Rococo architectural creations that make one feel as though they have been transported back in time.
Modernist architecture – for all of its beautiful colonial architecture and old-world structures, Brazil also has its fair share of modern architecture. Brazil's capital city of Brasilia is filled with Avant-garde buildings and is famous for its singular architectural concept. Beautiful government buildings, as well as cathedrals, museums, and gardens can be found throughout the city and most are just a short walk away from the next.
Beaches – Brazil's coast is characterized by beautiful white sandy beaches separated from bustling traffic so beachgoers can truly appreciate the beauty of the crashing waves as they sunbathe, walk along the sand or dip their toes in the ocean.
Palaces – leftovers from when Brazil was a royal empire and the colonial seat of Portuguese royalty, there are beautiful palaces where the royal families used to live that are now open to the public for exploration.
Waterfalls – there are beautiful waterfalls protected by national parks where you can get captivating views of the cascading water from different angles. One of the most popular waterfalls is the Iguacu Falls which is at the point where Argentina, Brazil, and Paraguay meet. The collection of 247 waterfalls form a semicircle with some of the falls reaching over 100 meter (328 feet) high.
Christ The Redeemer – one of the most recognizable statues in the world, the 30 meter (98 feet) tall statue of Christ the Redeemer can be found in Rio de Janeiro, Brazil. This colossal statue sits on top of a chapel that is most often used for weddings surrounded by a wide plaza. The popular statue is at the summit of a 790 meter (2592 feet)height of Corcovado and is accessed by a 3.5 km (2 Miles)train ride.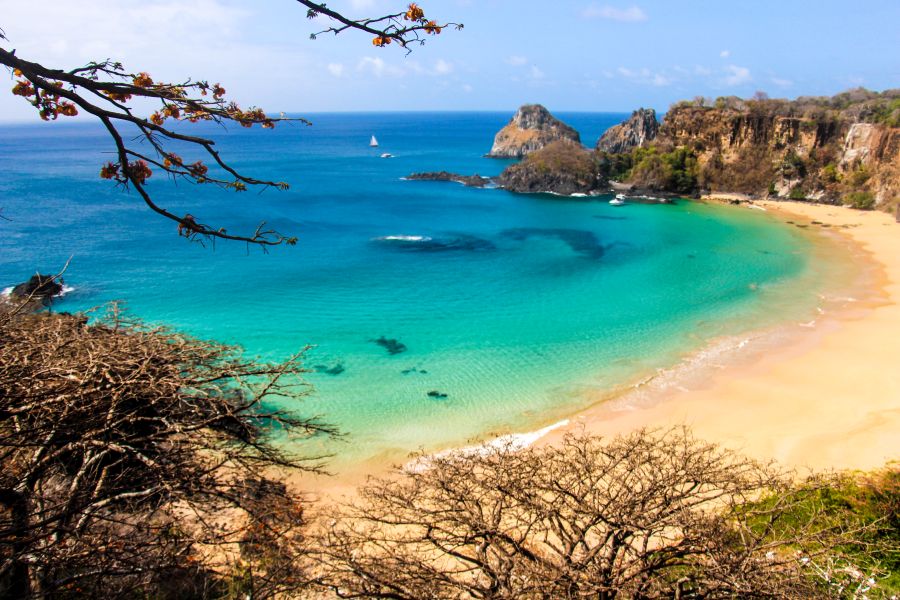 Activities in Brazil in the winter
Thanks to its many regions with their own special attractions, there is no shortage of activities snowbirds can indulge themselves in. Some of these include:
The royal Portuguese cabinet of reading – located in Rio de Janeiro, lovers of books and avid readers will have a blissful time walking the aisle of the library with the largest collection of Portuguese books outside of Portugal.
Visiting national parks – Brazil has a number of stunning and quiet parks dotted with benches where snowbirds can sit and observe nature.
Try a Churrasco – Churrasco's are a kind of Brazilian barbecue that you can enjoy in the company of friends relaxing and enjoying grilled meat and black beans with local beer.
Attend a carnival – usually hosted in February, one of the most exciting and fun activities to participate in when visiting Brazil is to watch a carnival. There are non-stop parties with people dressed in bright colors and feathers.
Take a dance class – Brazilians are known as some of the most rhythmic dancers in the world and what better place to learn how to do the samba than in Brazil? There are lots of samba schools in the cities where you can sign up for a short class.
Shopping + Restaurants. Are they open in the winter?
Most shops and restaurants remain open during the summer in Brazil (that is the winter in the northern hemisphere), as the weather does not undergo much change. This is a time for most tourists and locals to head to the many boutiques and stores that line the towns for some retail therapy. Everything from luxury items like designer perfumes and accessories, clothing to food items, and snacks can be bought easily. Restaurants offering local cuisine and intercontinental dishes are usually open in the winter so you can try out some local dishes, seafood, and drinks in bars as well. If you are interested in shopping for locally made souvenirs, crafts, and Brazilian traditional fashion, many local markets offer such items and are usually open at this time.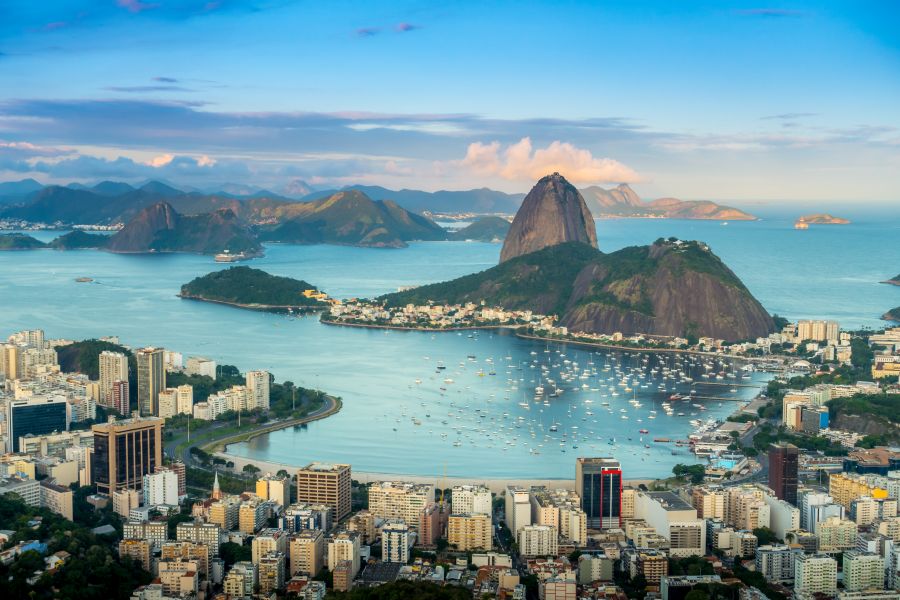 Transport
Brazil has the second-highest number of airports in the world second only to the US and flights from one city to another are not uncommon. The two busiest airports are located in Sao Paulo and Rio de Janeiro so you most likely would land there before heading to your preferred city. Snowbirds should consider purchasing a Brazilian Air Pass before arriving in Brazil. They are valid for 30 days and enable you have access to cheaper domestic flights. Intercity flights are also usually more affordable and quicker than using a bus to get around. GOL airlines, LATAM Airlines, and Azul Airlines are just a few that offer domestic flights within Brazil. Domestic flights begin from $95 (approx. €79, £71, $123 CAD, $128 AUD)
Buses in brazil are usually on time and leave as scheduled so it's important to be at your terminal a few minutes before your trip is slated to begin. Buses are operated by private companies and are usually clean and tidy. Tickets for trips are non-refundable and prices for trips within a city begin at $1 (approx. €0.84, £0.75, $1.3 CAD, $1.36 AUD) intercity bus prices begin from $ (approx. €0, £0, $0 CAD, $0 AUD)
You can take a metered taxi within the city but snowbirds may have to bargain with a taxi driver outside the city before settling on a price. A taxi ride from the airport to your chosen accommodation or hotel may cost around $18 (approx. €15, £13, $23 CAD, $24 AUD)
Renting a car is not advisable for snowbirds who plan to stay within one city. Intercity travel by rental car would only be practical in the southern parts of brazil as the roads are better and safer than the roads in Northern brazil.
Health
Brazilian healthcare is among the best in South America and the Ministry of Health is in charge of medical services, hospitals, and public health so it's citizens and permanent residents are entitled to free healthcare. There are also private hospitals available which snowbirds may prefer to use as they have shorter waiting times but they often cost more than public hospitals.
Purchasing travel medical insurance before leaving your country can also help offset medical expenses. The majority of the doctors in Sao Paulo and Rio de Janeiro speak English thanks to foreign training so they will have little to no trouble understanding you. The main hospitals in these regions include Hospital das Clinicas in Sao Paulo and Hospital Samaritano & Hospital Copa D'Or in Rio de Janeiro. When faced with an emergency, call 192 and an ambulance will be sent to you.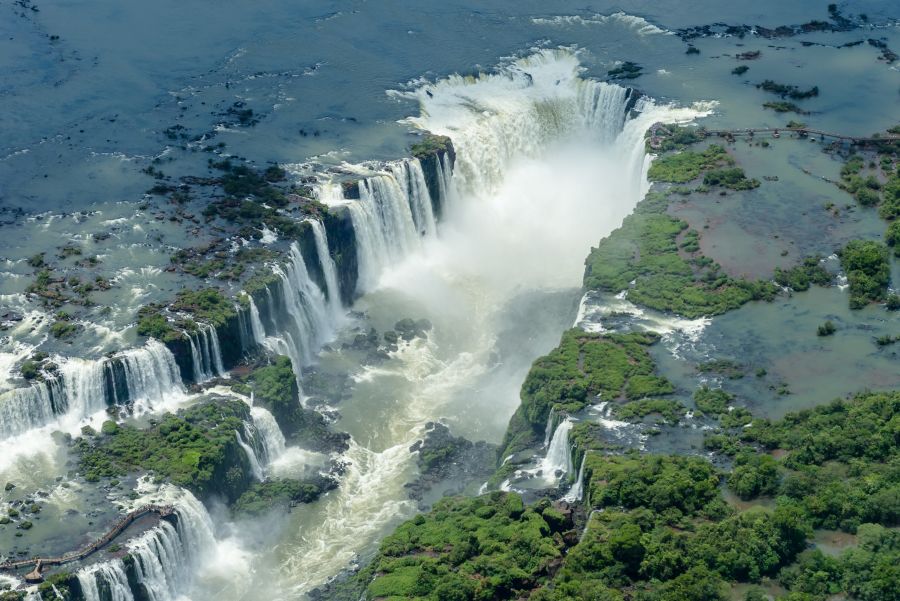 Accommodation
There are a number of short let apartments and houses which you can rent in Brazil. Snowbirds can rent a one-bedroom in the city centre of Rio De Janeiro for $333 (approx. €279, £249, $432 CAD, $451 AUD) and outside the city for $223 (approx. €187, £167, $289 CAD, $302 AUD)For people seeking a bigger accommodation, you can get a three-bedroom apartment in the city centre for $639 (approx. €535, £479, $830 CAD, $867 AUD) and outside the city centre for $463 (approx. €388, £347, $601 CAD, $628 AUD) Snowbirds should also explore their options and check housing listings like Airbnb to compare prices in order to get the best deals.
Packing List
Weather: The winter weather in Brazil will normally be hot during the day and hot/warm during the night. You have to pack accordingly.

Warm clothing: Even when you go to a warm location like Brazil you should not forget to take some things with you for your trip back home. When you return you are adapted to the warmer weather and need something to protect you from your hometown temperatures.

Consider the Weather: Always look at the type of weather in Brazil. Things like humidity, wind, and rain do not show up in the temperature graph but can have a great impact on your wardrobe. There are several sites with long term forecasts and climate information. Is there often a short afternoon downpour like in the tropics, you maybe need to take a strong umbrella and shoos that can cope with the rain. If there is often a lot of wind you might need a more wind-resistant coat.

Check the local Shopping options: Try to find information about the local shopping options near your location in Brazil. Are there stores where you can buy all your daily supplies, or are some things difficult to get? For some more remote locations, the options can be limited. If a certain item is really important for you might need to take it with you.

Look at the Local Culture: The local culture in Brazil can impact your wardrobe. If most activities are in more upscale locations you might take some more appropriate clothes with you. Or travelling if you travel to certain countries women need to cover themselves in certain areas.

Amenities: Know what's Included in your house or apartment. Is there a coffee maker, a toaster, a washer and dryer, an iron, what is in the kitchen, what kind of towels are there? Things that are there means you do not have to take them with you. A furnished apartment or house can mean something from a few pieces of furniture to a well-stocked place with all the things you have at home. But most of the time your rental will not be stocked.

Mix and match: Wear layers so you can use your wardrobe more efficiently. And do not worry about wearing something more often, probably only you will notice this.

Important for you: If there is something that is really important for you that you want to have present in your house or apartment, take it with you. This can be something like a special knife for the kitchen, or a small mirror that you use in the morning. You can also purchase it locally if it is not that expensive.

Pet supplies: If you take your pet with you don't forget to take supplies for a few days with you. And enough medication, vitamins, or other supplies if you can not purchase them in Brazil locally.

Food: Don't take a lot of food with you. Only when there is something you really can not live without you, and it is not too heavy you could consider taking it with you.

Towels: Not all locations include bigger towels for the swimming pool or a visit to the beach. If you have to take them and don't have a lot of room you can buy some big thin towels.

Office supplies: Normally you will not find any office supplies in your house or apartment. If you think you will use them you could pack some supplies like a scissor, notepaper, envelopes, some pens, and more depending on your needs.

Limit yourself: Don't take too many shoes and jackets, you will not need them that often.

Best-fitting: Bring your favorite and best-fitting items that can multi-function

Washer: Do you have a washer and dryer onsite, you don't need to pack a lot of clothes
Clothing
Basics
Casual
Smart
Footwear
Toiletries
Beauty
Hygiene
Clothing
Basics
Casual
Outdoor
Footwear
Accessories
Toiletries
Medicine
Miscellaneous
Other
Toiletries
Beauty
Hygiene
Hair
Other
Medicine
Miscellaneous
Technology
Travel and Free time
Travel
Free time
Important
Documents
Money