Morocco is a beautiful North-African country. It is bordered by the Atlantic ocean and Mediterranean sea. Morocco's location at the intersection of Africa and Europe makes it a crossroads of Berber, Arabian and European cultures. The country's capital, Rabat is known for its Islamic and French-colonial heritage represented in arts and landmarks. Rabat's popular landmark, the Berber-era Kasbah of the Udayas is a 12th Century Royal fort surrounded by gardens, and it overlooks the ocean. Marrakech is one of the most popular cities in Morocco. It has a Shop-filled median with a maze-like medieval quarter, and it offers outstanding entertainment.
Morocco's landscapes could be described as magnificent. The landscapes feature mountains and the sea, and the country enjoys the Mediterranean climates. Arabic and French are the most popular and widely spoken languages in Morocco. English is also spoken to a reasonable extent.
Why should people stay in Morocco
Morocco is one dream destination to get away from winter back at home, as it offers a much warmer climate. There are more than enough choices for adventure, arts & cultural experiences. In this amazing country, snowbirds can enjoy breathtaking scenery and landscapes. The locals are friendly and welcoming. It is a modern society with deep traditional roots. There's a lot to experience, from the vast ocean view, gardens, vibrant market squares, museums, and tasty meals, Morocco is an unbeatable destination for snowbirds.
Climate
Morocco's climate varies across its diverse geography. Generally, the climate is subtropical and moderate, and the Atlantic & Mediterranean breezes cool off the temperature. In the coastal cities, the temperature on the average ranges from 64°F - 82°F (18°C - 28°C) in the summer. Inland, high temperature often exceeds 95°F (35°C). You will experience more temperature, with very hot summers and fairly cold winters.
The weather in Morocco is warm and dry in the Spring and Autumn. Many consider it to be the most pleasant time to visit Morocco.

Safety
Snowbirds have nothing to worry about when traveling to Morocco because generally, it is considered a safe place to visit. The crime rate there is really low but a little extra vigilance is advised because it is easy for something to happen. As a snowbird in Morocco, you are more likely to encounter scams or pickpockets than anything more serious, but it is still necessary that you take proper precautions always.
Communication, internet, and cellphone in Morocco
Arabic is the official language of Morocco, and French is the second widely spoken language. You could easily encounter signs, menus, instructions, and other written information to be either in Arabic. English is one of the most widely spoken foreign language in Morocco.
Considering to use your SIM card from home will be quite expensive, so it's cheaper to purchase a local SIM card. The top network service providers are Marco Telecom, Orange, and Inwi. These SIM cards cost about $2 (approx. €1.65, £1.46, $2.54 CAD, $2.59 AUD) or $4 (approx. €3, £2, $5 CAD, $5 AUD) depending on the provider, and they offer deals like data bonuses or discounts on calls and texts to various countries.
You could easily pick one of these SIM cards at the airports or Tobacco kiosks. A picture of your passport will be taken when you purchase a SIM card. It is a protocol, so don't be alarmed.
Wintersun Locations in Morocco
Rose Valley: Many snowbirds want to enjoy warm calm daily life and unbelievable views. If you would like to surround yourself with blooming fresh flowers and breathe in the fragrance, the Valley of Roses is the location for you. You could drive around, walk through the rose bushes, and probably experience the intoxicating valley of the Roses flower festival.
Marrakech: You can get to visit mosques, palaces, and gardens in the city of Marrakech. If you're also interested in shopping, you could purchase traditional textiles, jewelry, and pottery in the bustling markets in the maze-like alleys. The 12th century Moorish Koutoubia Mosque can be found in Marrakech, and its minaret has become a symbol of the city.
Asilah: With its sandy beaches, Asilah is an old town built in the 15th century by colonial Portuguese. It is an ideal location for snowbirds looking to live in a small laidback city that looks like something out of a beautiful gigantic painting. The murals painted around the town makes it somewhat of an art hub. There's also usually an annual art festival.
Oudaias Kasbah: Snowbirds can enjoy this awesome place by taking a stroll through the streets where all of the houses are painted white, with bright blue parapets. It is quiet, so you don't have to worry about crowds. It is located within the vicinity of a mid-eleventh century mosque, the Kasbah Mosque. You can also have fun at the beaches or fragrant smelling at the Andalusian Gardens.
Essaouira: A small fortified fishing town with lots of history, close to Marrakech. A nice beach that is more developed than other beach towns.
Safi: On the Atlantic side of Morocco, Safi is a small fishing town with a nice beach only a short walk away. The center has a Medina with plenty of stalls.
Al Hoceima: On the Mediterranean coast Al Hoceima is a popular tourist destination. You will find many isolated beaches and have a nice view of the Rif Mountains that are not far away.
Agadir: Located in the middle of the country, Agadir is one of the biggest coastal cities in Morocco. A good place to enjoy Moroccan heritage and culture.
Asilah: In northern Morocco, not far from Tangier, Asilah is a small charming beach town with a lot of history. The city walls are intact and nicely preserved. It has earned a reputation as a refuge for artists.
Things to see in Morocco
Jemma el-Fna: This is a marketplace and square located in Marrakech's town area. It is one of the main squares of Marrakech for locals and tourists. Snowbirds can shop for textiles, jewelry, and food with the square.
Koutoubia: The Koutoubia Mosque or Kutubiyya Mosque is the largest mosque in Marrakech. The minaret is considered to be an important landmark and a symbol of Marrakech.
The Majorelle Garden: This is a two and half acre of botanical and artist's landscape garden. Apart from the beautiful gardens, the Cubist Villa houses a couple of museums.
Ouzoud Falls: Located [Convert Value="150″ from="km"] northeast of Marrakech, near the village of Tanaghmeilt. It is a group of several tall waterfalls that all empty into the El-Abud River gorge. Its name Ouzord means "the act of grinding grain", so across the area, it is common to see a number of mills within the area.
Activities in Morocco in the winter
Fragrance smelling: Snowbirds can get to visit flower gardens across Morocco and enjoy smelling different amazing fragrances.
Food tasting: In experiencing Morocco, snowbirds can explore with their taste buds. Restaurants offer both iconic local dishes and international meals. Some of the iconic dishes are Tajine, Tangia, Zaalouk, Baklara, Ragout, Shawarma, etc.
Stroll through Aït Benhaddou: Aït Benhaddou is a traditional fortified pre-Saharan village made of a group of buildings surrounded by high defensive walls.
Explore the market scene: While in Morocco, snowbirds can take the opportunity to explore the country's bustling markets. You can easily find a souvenir to take back home, everything else you might need and also so much that you won't be needing.
Visit Museums: Snowbirds can visit a great number of museums that focus on different aspects of Morocco. With its Berber, Arabic, and French backgrounds, a visit to the museum would be an interesting activity for Snowbirds in Morocco looking to enjoy their stay.
Shopping + Restaurants. Are they open in the winter?
There are enough shopping options in Morocco, in large cities, you will find many bigger and smaller shops that offer all products including international brands and big supermarkets. Also, the famous Moroccan Medinas (markets) are worth a visit. You will find everything from food to carpets. It is expected that you discuss the price, but expect to pay more than a local. In smaller and more remote towns you will find much smaller shops.
Your day to day shopping can be done at supermarkets, in small towns you will find small shops that sell everything you need. Except for the stores that are targeting tourists, most will be open in the winter period. Restaurants and small places beside the road are popular locations to enjoy all of the traditional dishes, as well as some popular home meals.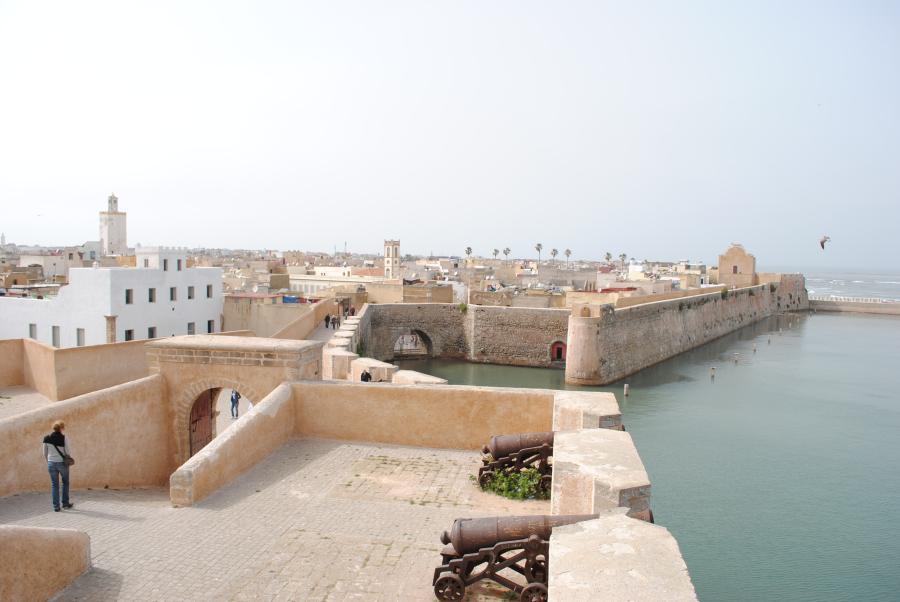 Transport
Snowbirds can get to Morocco through the international airports or by sea from Spain. There are also many domestic flights run by the national airline; Royal Air Morocco (RAM), and depending on the season there are many low cost airlines with flights as well. There are 18 airports spread across Morocco.
Public transportation in Morocco has many options to meet your needs. Once in Morocco, getting around town or between towns is generally easy. There are plenty of buses and they are one of the most frequented means of transportation and they are inexpensive. There's also a tram across town. A working rail network links the entire country conveniently.
Taxis are also available in Morocco. You could get one by contacting a company or simply getting one off the street. Car rentals are also an option in Morocco. They can make moving around be a lot faster, and convenient. Fares are usually regulated and some vehicles have meters. Road signs are in Arabic and French, so it is helpful to learn to read the basic stuff in either language or have a guide.
Health
The quality of healthcare the system varies across locations. The general hospitals are not always in good shape due to lack of funding, and visitors are advised to visit them for minor issues only. Private facilities offer a better quality of healthcare and are found in most larger cities or towns. You may have often to pay in cash for any medical treatment in Morocco. Check with your health insurance provider before your travel. However, Healthcare practitioners in Morocco are very professional and most communicate in French, Arabic, and some in English.
Accommodation
Snowbirds can easily find a place to rent for the period of their stay. It could be exclusive to tourists or also include locals. There are lots of riads, lodges, apartments, and villas in different parts of the country. The price change is relatively affected by Location and size. A two-bedroom apartment in Marrakech with furniture inclusive could cost about €500 (approx. $605, £442, $768 CAD, $783 AUD) per month. A mini-house could cost €300 (approx. $363, £265, $461 CAD, $469 AUD) monthly. Villas are usually more expensive and could cost €1000 (approx. $1210, £885, $1537 CAD, $1566 AUD) to rent one.
However, some cheaper options might mean having to live with an inconvenience or two.
The price for renting accommodation reduces or increases as you get farther from the country's capital and you could enjoy parks like an amazing view or beautiful landscape.
Packing List
Weather: The winter weather in Morocco will normally be chilly during the day and cold during the night. You have to pack accordingly.

Warm clothing: Even when you go to a warm location like Morocco you should not forget to take some things with you for your trip back home. When you return you are adapted to the warmer weather and need something to protect you from your hometown temperatures.

Consider the Weather: Always look at the type of weather in Morocco. Things like humidity, wind, and rain do not show up in the temperature graph but can have a great impact on your wardrobe. There are several sites with long term forecasts and climate information. Is there often a short afternoon downpour like in the tropics, you maybe need to take a strong umbrella and shoos that can cope with the rain. If there is often a lot of wind you might need a more wind-resistant coat.

Check the local Shopping options: Try to find information about the local shopping options near your location in Morocco. Are there stores where you can buy all your daily supplies, or are some things difficult to get? For some more remote locations, the options can be limited. If a certain item is really important for you might need to take it with you.

Look at the Local Culture: The local culture in Morocco can impact your wardrobe. If most activities are in more upscale locations you might take some more appropriate clothes with you. Or travelling if you travel to certain countries women need to cover themselves in certain areas.

Amenities: Know what's Included in your house or apartment. Is there a coffee maker, a toaster, a washer and dryer, an iron, what is in the kitchen, what kind of towels are there? Things that are there means you do not have to take them with you. A furnished apartment or house can mean something from a few pieces of furniture to a well-stocked place with all the things you have at home. But most of the time your rental will not be stocked.

Mix and match: Wear layers so you can use your wardrobe more efficiently. And do not worry about wearing something more often, probably only you will notice this.

Important for you: If there is something that is really important for you that you want to have present in your house or apartment, take it with you. This can be something like a special knife for the kitchen, or a small mirror that you use in the morning. You can also purchase it locally if it is not that expensive.

Pet supplies: If you take your pet with you don't forget to take supplies for a few days with you. And enough medication, vitamins, or other supplies if you can not purchase them in Morocco locally.

Food: Don't take a lot of food with you. Only when there is something you really can not live without you, and it is not too heavy you could consider taking it with you.

Towels: Not all locations include bigger towels for the swimming pool or a visit to the beach. If you have to take them and don't have a lot of room you can buy some big thin towels.

Office supplies: Normally you will not find any office supplies in your house or apartment. If you think you will use them you could pack some supplies like a scissor, notepaper, envelopes, some pens, and more depending on your needs.

Limit yourself: Don't take too many shoes and jackets, you will not need them that often.

Best-fitting: Bring your favorite and best-fitting items that can multi-function

Washer: Do you have a washer and dryer onsite, you don't need to pack a lot of clothes
Clothing
Basics
Casual
Smart
Footwear
Toiletries
Beauty
Hygiene
Clothing
Basics
Casual
Outdoor
Footwear
Accessories
Toiletries
Medicine
Miscellaneous
Other
Toiletries
Beauty
Hygiene
Hair
Other
Medicine
Miscellaneous
Technology
Travel and Free time
Travel
Free time
Important
Documents
Money