Spend your fall, winter, or spring in Cadìz, Spain: Is Cadìz a good snowbird location?
Cadìz is one of the oldest inhabited cities of Europe and is located in the south of Spain at the Atlantic ocean side. The working town with an important port is home to the Spanish navy. In Phoenician language, Cadìz is known as "The Wall". It has more than 100 watchtowers used for spotting ships and is surrounded by beautiful beaches. Columbus sailed from Cadìz port on his second voyage.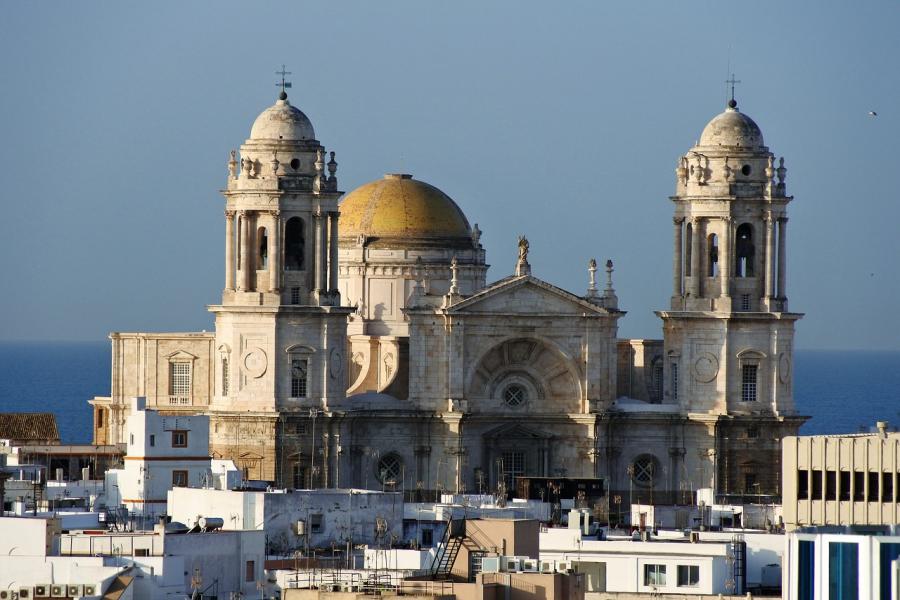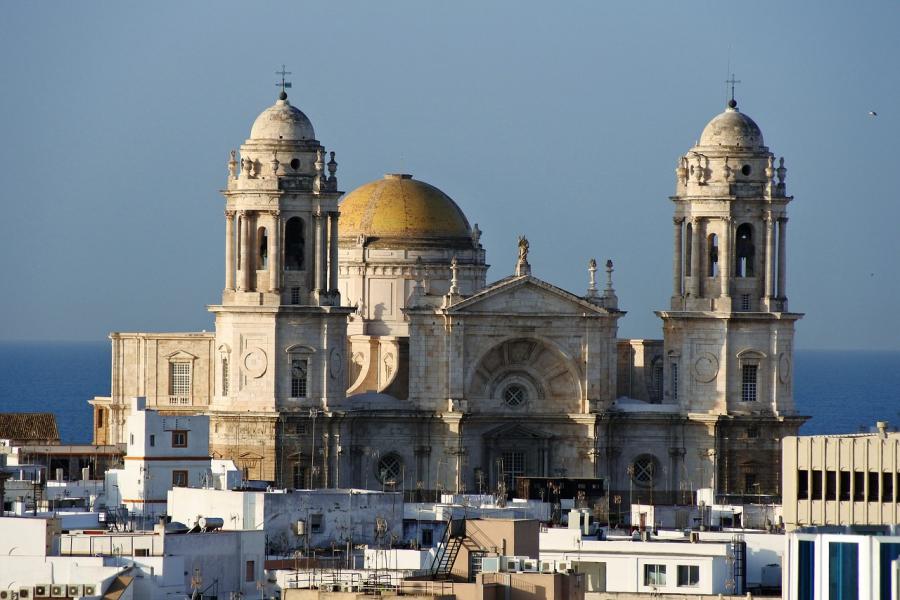 Why should people stay in Cadìz during the fall, winter, or spring?
Cadìz touches the Atlantic part of Spain and can be quite windy. The town is often sunny, but winter also sees depressions arriving with rain. The best part about visiting Cadìz in winter is that you can get cheaper prices on accommodations and get to visit the top places with ease. Most of the attractions, restaurants, and other places are open during winters. You can enjoy a serene environment along with a lot of festivals that are held in Cadìz during the winter season.
Climate
Cadìz has often pretty pleasant weather in the winter, but it can be very windy. Also, expect cloudy and multiple days with rain. The evening can be chilly, so take appropriate clothing with you. During winter temperatures mostly vary between 10°C (50°F) to 20°C (68°F). It is advised to look for accommodation with some sort of heating.

Things to see in Cadìz
Cadìz has a lot of places that are worth visiting:
Museo de Cadìz: Archeological museum including displays of fine arts and puppets. Entry from

€1.5 (approx. $1.61, £1.31, $2.2 CAD, $2.39 AUD)

Cathedral Nueva: Architecture dates back to the 18th century.
Gran Teatro Falla: Theater with amazing architecture and events all years round.
La Catela: The most beautiful beach in Cadìz. At sunset, you can see many fishing boats.
El Chato: Known for its golden sand dunes and vegetation.
Oratorio de San Feligo Neri: Historical Church with the adjoining museum.
Ayuntamiento de Cadìz: magnificent architecture that was built in two stages.
Mueso Historico Municipal: It has a model of Cadìz city from 1799.
Castillo San Sabastian: Historic fortress.
Genovès Park: largest green area in the town, botanical garden.
Things to see not far from Cadìz
There are a lot of things you can see and do around Cadìz. Here a small selection:
Seville: You can take a day trip to Seville and explore historical beauty. You can find many train connections from Cadìz to Seville.
Castillo de San Romualdo: It is a castle located 16 km (10 Miles)

from Cadìz and dates back to the 13th century.

Parque Huertas: located in San Fernando (13 km (8 Miles)

) from Cadiz. This wetland is home to many wildlife.

Pueblos Blancos: A historical town located 40 km (25 Miles)

from Cadìz. It is known for its unique beauty, incredible history, and white houses.

Chiclana de la frontera: This is another fine example of a beautiful Spanish town, 26 km (16 Miles)

from Cadìz. It is known for its golden sand and magnificent beaches.
Activities in Cadìz in the fall, winter, or spring
Cadìz is a lively town with a lot of activities:
Walking: there are many nice routes in and around Cadiz
Cat houses: you can feed the cats by putting food in the bowls left for the cats around the southern coastline.
Fishing: you can go fishing in Puerto America.
Festivals: Cadiz is known for its many festivals in winter. Check with the local tourist office for more information.
Yoga: Join some of the wonderful yoga classes.
Music: there are many places in Cadìz where you can enjoy dances and music.
City tour: for 22 euro you can get a full one-day city bus tour.
Guided walking tour: Explore and learn about the city. Check with the local tourist office for more information.
Segway Tour: you can explore the city on a Segway.
Fish auction: you can watch live fish auction on Puerto de Conil.
Excursion to Morocco: you can take a full-day tour to Morocco by boat.
Horse Riding: Ride through Grazalema Natural Park.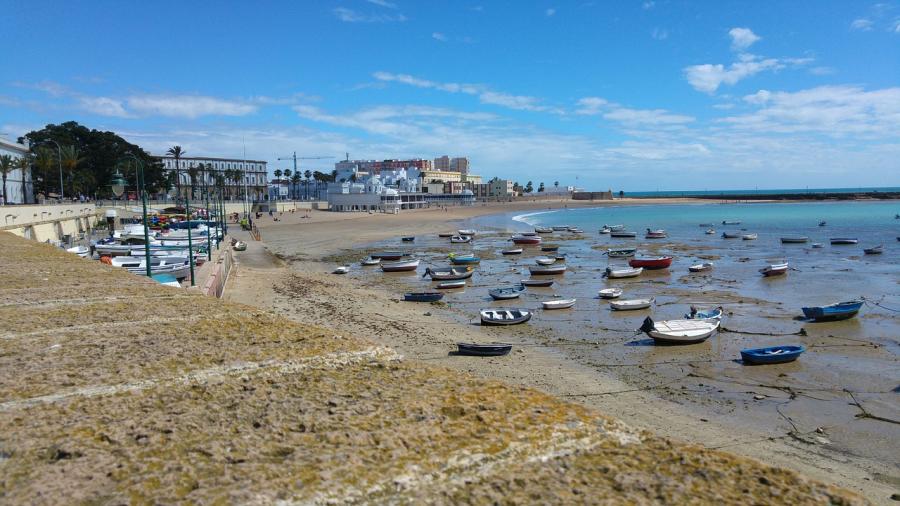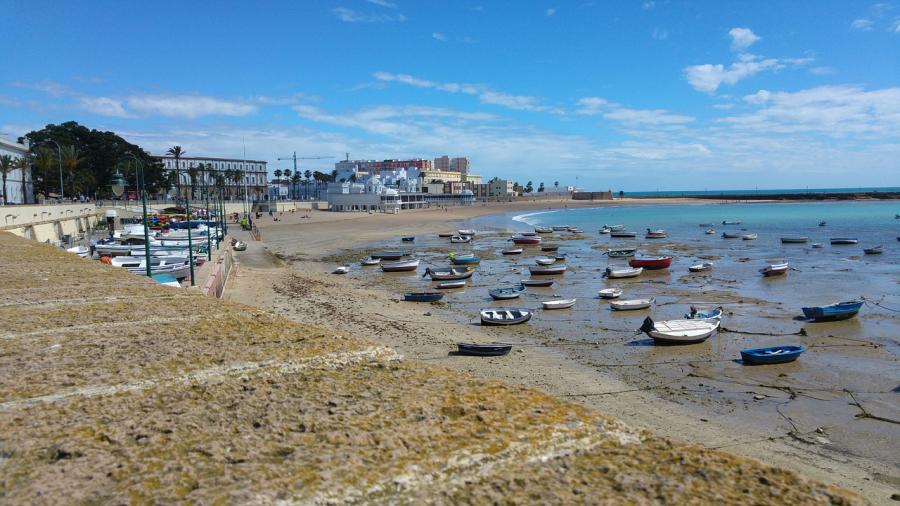 Shopping + Restaurants. Are they open in the fall, winter, or spring?
There is a huge variety of shops and restaurants in Cadìz, being a working town, almost all of these places are open in winter. There are many grocery stores, shopping malls, and a seafood market. that also remain open during the winter season. Some of them are:
Downtown Cadìz: Walk through the center with its many shops and restaurants
El Corte Ingles Bahia de Cadìz: The famous Spanish shop.
Mercado Central de Abastos: Many stalls offer fresh products like meat, fish, household goods, and more.
DIA, Mecadona: some of the many supermarket brands you can find
You can find different types of restaurants, both budget-friendly and more up-class. Cadìz is well known for its famous dish Pescadito frito, which is fried fish served Cadiz-style. Another famous dish from their local cuisine includes Tortillitas de camarones (crispy shrimp fritters).
Transport
The bus is a great way to explore the city and the surrounding area. Cadiz has one main bus station opposite the train station and almost in the center. Check here for the routes and timetable: https://moovitapp.com/index/en/public_transit-lines-Bahia_de_Cadiz-4325-926219
There is a train station in the center of Cadìz. There are multiple stops in and near the city and it acts as a sort of metro system (Cercanías Cádiz) around the Bay of Cadiz. You can also travel to many cities in Spain like Sevilla, Cordoba, and Madrid. Check the schedule at https://www.renfe.com/.
The nearest airport to Cadìz is in Jerez Aiport. It is not a busy airport, so check what flights are available during the winter season. The cheapest way to Cadiz is by bus, but sadly there are not a lot of bus connections available. From the airport, it takes around 75 minutes to Cadìz. A little bit more expensive is to use the train, it is faster and more frequently. Of course, you can also take a taxi to reach Cadìz.
An alternative could be to fly to Sevilla and travel by train to Cadiz. This takes just under 2 hours and there are around 16 trains per day. https://www.thetrainline.com/en/train-times/seville-to-cadiz
Health
There are multiple hospitals and health care centers in Cadìz. Normally you will find somebody that can help you in English:
There are also many dental clinics in and near Cadìz:
Accommodation
There is a large selection of long term apartments and rentals in and around Cadìz. The Winter period sees fewer tourists so you can get a better deal. Check websites like Idealista (www.idealista.com), Think Spain (www.thinkspain.com), and Airbnb (www.airbnb.com).
You can get an medium size Apartment/flat from

€500 (approx. $536, £437, $732 CAD, $798 AUD)

per month. Prices may vary according to facilities. You can also get a larger penthouse, fully equipped and furnished starting from

€750 (approx. $804, £656, $1098 CAD, $1197 AUD)

per month. Garage included.
Winter Camping
Cadìz does not have any camping sites near the city. The nearest are
Camping Playa las Dunas: It is 22 km (14 Miles) from Cadiz. It has a lot of facilities. Prices start from

€12 (approx. $12, £10, $17 CAD, $19 AUD)

per night.
RV/Campers/Motorhome
If you have a Camper or Motorhome there are 2 sites in Cadìz and one just outside of the city:
Packing List
Weather: The fall, winter, and spring weather in Cadìz (Spain) will normally be chilly during the day and cold during the night. Of course in the fall and spring it will be warmer than in the winter. You have to pack accordingly.

Warm clothing: Even when you go to a warm location like Cadìz (Spain) you should not forget to take some things with you for your trip back home. When you return you are adapted to the warmer weather and need something to protect you from your hometown temperatures.

Consider the Weather: Always look at the type of weather in Cadìz (Spain). Things like humidity, wind, and rain do not show up in the temperature graph but can have a great impact on your wardrobe. There are several sites with long term forecasts and climate information. Is there often a short afternoon downpour like in the tropics, you maybe need to take a strong umbrella and shoos that can cope with the rain. If there is often a lot of wind you might need a more wind-resistant coat.

Check the local Shopping options: Try to find information about the local shopping options near your location in Cadìz (Spain). Are there stores where you can buy all your daily supplies, or are some things difficult to get? For some more remote locations, the options can be limited. If a certain item is really important for you might need to take it with you.

Look at the Local Culture: The local culture in Cadìz (Spain) can impact your wardrobe. If most activities are in more upscale locations you might take some more appropriate clothes with you. Or travelling if you travel to certain countries women need to cover themselves in certain areas.

Amenities: Know what's Included in your house or apartment. Is there a coffee maker, a toaster, a washer and dryer, an iron, what is in the kitchen, what kind of towels are there? Things that are there means you do not have to take them with you. A furnished apartment or house can mean something from a few pieces of furniture to a well-stocked place with all the things you have at home. But most of the time your rental will not be stocked.

Mix and match: Wear layers so you can use your wardrobe more efficiently. And do not worry about wearing something more often, probably only you will notice this.

Important for you: If there is something that is really important for you that you want to have present in your house or apartment, take it with you. This can be something like a special knife for the kitchen, or a small mirror that you use in the morning. You can also purchase it locally if it is not that expensive.

Pet supplies: If you take your pet with you don't forget to take supplies for a few days with you. And enough medication, vitamins, or other supplies if you can not purchase them in Cadìz (Spain) locally.

Food: Don't take a lot of food with you. Only when there is something you really can not live without you, and it is not too heavy you could consider taking it with you.

Towels: Not all locations include bigger towels for the swimming pool or a visit to the beach. If you have to take them and don't have a lot of room you can buy some big thin towels.

Office supplies: Normally you will not find any office supplies in your house or apartment. If you think you will use them you could pack some supplies like a scissor, notepaper, envelopes, some pens, and more depending on your needs.

Limit yourself: Don't take too many shoes and jackets, you will not need them that often.

Best-fitting: Bring your favorite and best-fitting items that can multi-function

Washer: Do you have a washer and dryer onsite, you don't need to pack a lot of clothes
Clothing
Basics
Casual
Smart
Footwear
Toiletries
Beauty
Hygiene
Clothing
Basics
Casual
Outdoor
Footwear
Accessories
Toiletries
Medicine
Miscellaneous
Other
Toiletries
Beauty
Hygiene
Hair
Other
Medicine
Miscellaneous
Technology
Travel and Free time
Travel
Free time
Important
Documents
Money
Other locations close to this location:
Travelers' Map is loading...
If you see this after your page is loaded completely, leafletJS files are missing.
If you have any additions, or comments on the content on this page, please use our contact form to let us know.
Detailed weather during the year for Cadìz Spain
What to do during the year in Cadìz Spain