Spend Your Fall, Winter, or Spring in Ibiza, Spain: Is Ibiza A Good Snowbird Location?
Ibiza is the most prominent of the Balearic Islands in the Mediterranean Sea. The nightlife in Ibiza Town and San Antoni is world-famous, with major European nightclubs having spots on the island. It is 150 km (93 Miles) from the city of Valencia. It is also a UNESCO World Heritage Site. The official language of the island is Catalan.
Asides from the thriving nightclub scene, Ibiza is also well known for its quiet villages, yoga retreats, beaches, bars, and shops. There is also a historic side of the island in Ibiza town, that could be explored, and the island is an intersection of many cultures like Punic, Byzantine, Muslim, Roman, Phoenician, and Catalan.
There is a thriving natural environment in Ibiza. Like the Posidonia Oceanica which is part of the World Heritage declaration because they help in maintaining the marine ecosystem and the preservation of the sand on the local beaches and the clean clear waters. Ibiza is a great location to enjoy your holiday, surrounded by the Mediterranean Sea, beautiful scenes, arts, shopping, and other leisure opportunities.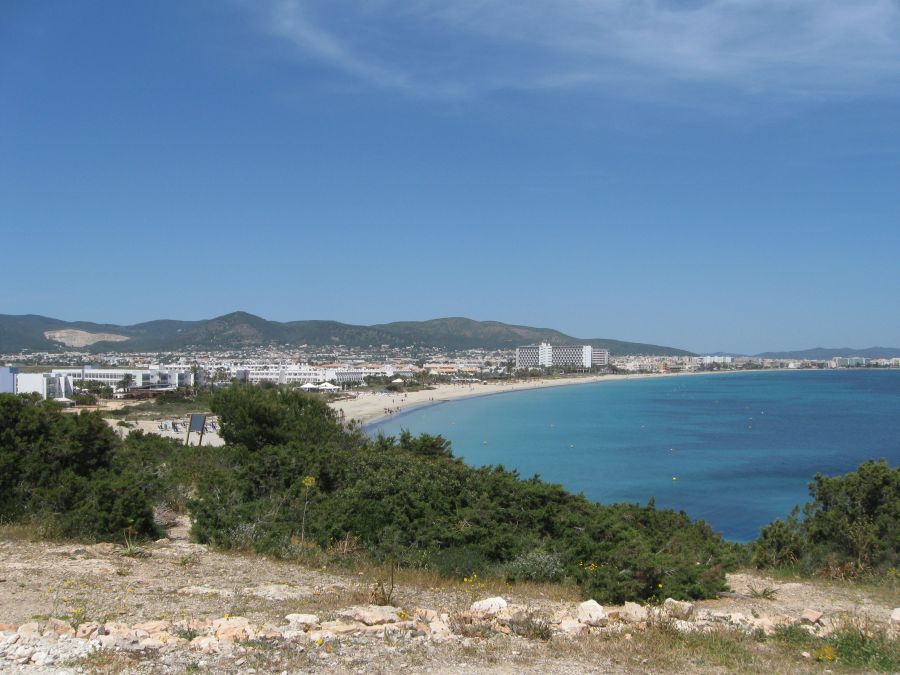 Why should people visit during the fall, winter, or spring?
In Ibiza, snowbirds have so many interesting opportunities for how to spend their holiday. You could visit the gorgeous beaches, beautiful landscapes, historic sites, and enjoy splendid sunny weather. Winter in Ibiza is much quieter and slow-paced than it is at other times of the year. It will be a much-appreciated tempo for snowbirds that dislike large crowds and loud noises. Although many businesses will be closed because winter is off-season, there will be some stores, restaurants, and bars open.
Climate
Ibiza has a warm, sunny, and dry climate. There are long hours of sunshine and clear skies. The island enjoys hot summers and mild winters. Temperatures in the summer season could climb up to 30°C (86°F), and during the winter, temperatures can drop to 25°C (77°F) by noon.

Safety
Ibiza is considered a safe place for tourists. Tourists can rest easy without the worry of an incident occurring. The crime rate in Ibiza is much lower than in Spain. However, to prevent the chances of such events, snowbirds must ensure that they exercise some caution. Don't flaunt cash or other valuables around, don't share travel plans with strangers, be sure you lock your accommodation before heading out, and take official transport only.
Communication internet, and cellphone in Ibiza, Spain
Snowbirds from the EU can roam like home, but if you are from a non-EU country and choose to roam it can result in a very high call or data charges. As an alternative, you may get a Spanish SIM card, or buy a new mobile phone. You may need to buy a new phone even after purchasing a local SIM card because your own phone might not accept a Spanish SIM card unless you unlock it.
There are four major Spanish mobile network service providers: Orange, Movistar, Vodafone, and Yoigo. You can purchase these SIM cards at the airport or other shops around. They could cost you about €20 (approx. $20, £17, $28 CAD, $32 AUD) to set up, and you will be needing some valid ID to make purchases of phones or SIM cards. These service providers offer call and data plans that are flexible, with prices depending on the provider, or duration of the plan.
Snowbird Locations in Ibiza, Spain
Cala Benirras: Located in the northern seaboard of Ibiza, Cala Benirras is a quiet pebble beach area. There is also a compact cove. Snowbirds can visit the area for a more laid back chill experience. You can enjoy swimming in the clear waters, sunbathing by the beach, or enjoying the food and other services in the area.
Cala Comte: This is a beach on the southwestern part of Ibiza. It is less frequent during the winter because many tourists leave already. So for snowbirds, it is an ideal location to bask in the golden sands of the beach, enjoy a wonderful view, and possibly meet a few other tourists around.
Platja d'en Bossa: Platja d'en Bossa is a popular holiday resort in Ibiza. Most visitors to this area are usually German, Italian, or British. It is approximately 3 km (2 Miles) to the south of Ibiza Town, and 3.2 km (2 Miles)

away from the island's main airport.
Things to see in Ibiza, Spain
Cova de Can Marca: this is a natural cave system that could be explored by snowbirds. For a fee to go on tours, you can see and experience wonderful bioluminescent life thriving in the caves, adding a mysterious glow to the environment.
Dalt Vila: A UNESCO site, the Dalt Vila is the oldest and highest part of Ibiza Town built in the 16th century by Charles V. In this area, you will see a long stretch of old walls that were constructed to fend off enemy attacks, cannons, and other remains of the islands past.
Island of Es Vedra: This is an uninhabited island off Ibiza's southwest coast, which is also a protected natural park. It is a beautiful place to capture the rugged landscapes with your camera, and also see some of the wildlife in the area including goats, lizards, and falcons.
Aquarium Cap Blanc: This is sure to be an unforgettable experience. The aquarium is located underground, in a sea cave where local fishermen used to trap lobsters. At this attraction, snowbirds will be able to admire different marine species like rays, morays, and conger from raised boardwalks.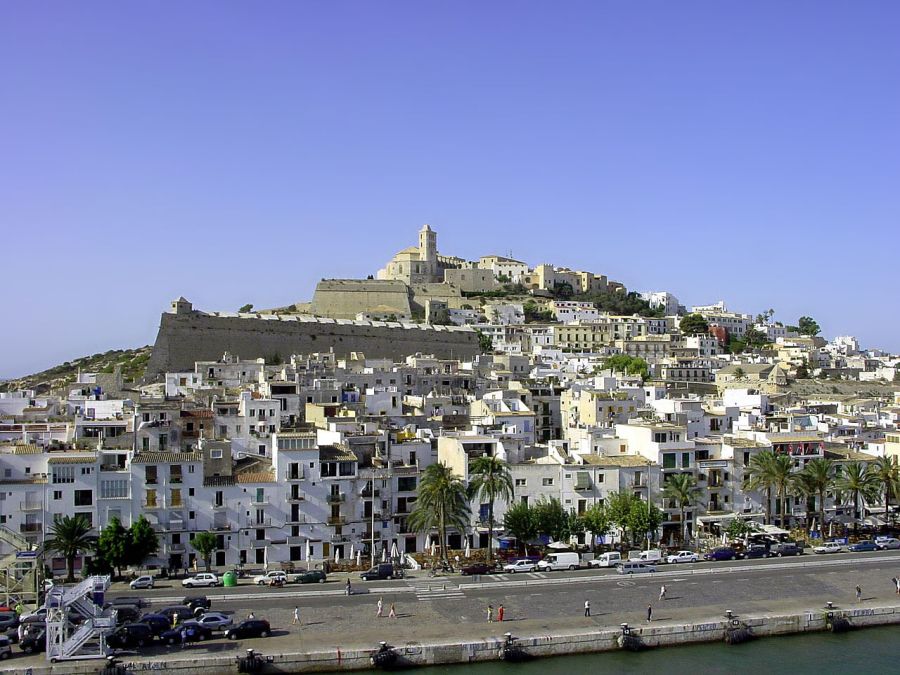 Activities in Ibiza, Spain during winter
Snorkeling: Explore the ocean and sea life by snorkeling in the waters surrounding Ibizia.
Spa Visits: Snowbirds can enjoy some relaxing body treatment at some of the spas in the area.
Beaches: With so many beaches in Ibiza, you will only have to pick which one suits you.
Nature Parks: Nature lovers can have a thrilling experience at some of the nature parks that can be found around the island.
Cruises and sailing: there are companies that can provide you with excellent ship cruises and sailing experiences for a fee.
Shopping + Restaurants. Are they open in the fall, winter, or spring?
To match the renowned fast-paced life in Ibiza, the shopping scene is also thriving. All around the island, you will easily find both high-end and local stores available. In the winter, you may not find all of the stores open, but those that stay open still provide a variety of choices of items to purchase.
Snowbirds can also enjoy exploring the dining scene in Ibiza. There's no lack of top-class restaurants available during the winter. You can get to have a pleasant meal for cheaper rates than you might expect. You can find international favorites, and local cuisines available. Some of the local meals you will love having a taste of being, Flao, Sobrassada, Paella, gazpacho, and Arros a banda.
Transport
It is very easy to move around Ibiza because it is a small island, and the transport network is very affordable, efficient, and easy to understand. Many snowbirds will arrive on the island at the Ibiza Airport. It is 7 km (4 Miles) southwest of Ibiza town.
In Ibiza, you can enjoy various kinds of transportation. From the airport, you can find a taxi for hire, or you could afford long queues by booking one before your trip. Buses are the cheapest and easiest way to not only get from the airport but also to get around town. Buses reach all the cities and towns in Ibiza, and bus stops can be easily located. They are comfortable and air-conditioned.
Alternatively, you can opt for taxis. They can be easily hailed on the streets. The taxis here charge based on a metered system. You could ask the receptionist at a restaurant you are dining at, or a hotel staff to help you call one. Snowbirds could also rent cars to drive themselves around. It is very affordable to rent a car in Ibiza, and there are a lot of companies that offer such services in the area. Renting a car gives you the ability to explore at your own pace. You will be required to provide some legal information and a driver's license to rent a car.
Health
The healthcare system in Ibiza is very effective. There are private and state-provided services available on the island. For EU citizens, a European Health Insurance Card (EHIC) entitles them to free emergency treatment. When visiting some hospitals or medical centers, it is up to you to inform the staff what service you require. The doctors and dentists here are very well trained and usually speak English too. For an emergency, you can call 061. Some of these hospitals on the island are Ibiza Medical Centre, Hospital Can Misses, Clinica Rosario, and Clinica Galeno Group.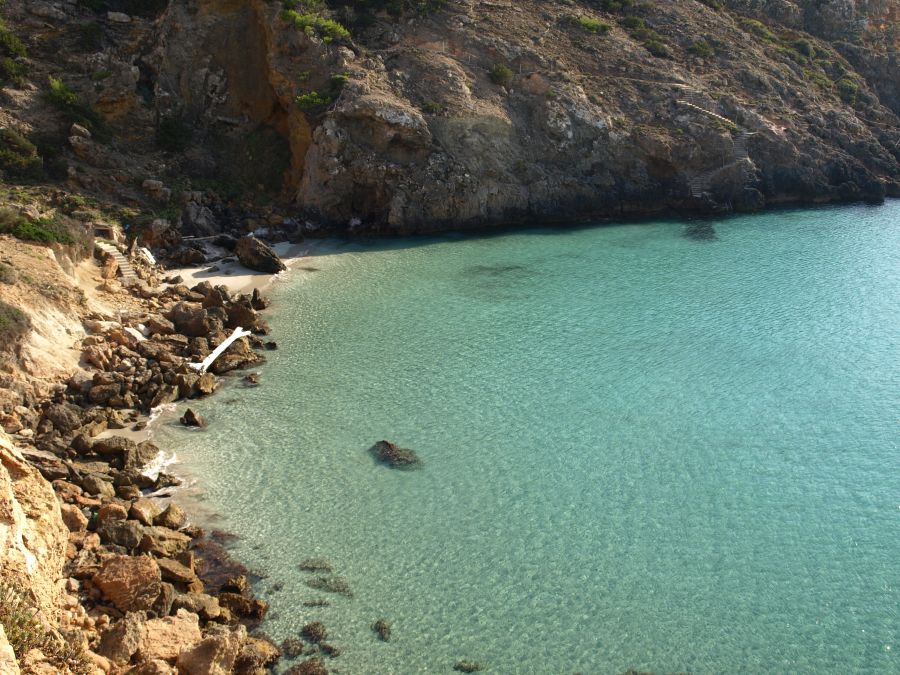 Accommodation
Ibiza is known for its high taste and expensive lifestyle. Accommodation on the island is quite expensive. There are hotels, villas, and apartments across the island, and they provide the maximum comfort you could expect. In areas popular with tourists like Sant Anton, a two-bedroom apartment could cost about $700 (approx. €666, £577, $956 CAD, $1098 AUD) monthly. However, accommodation in areas less frequented by tourists, the same kind of apartment, with amenities could cost you $500 (approx. €476, £412, $683 CAD, $784 AUD) per month.
Winter Camping
It is possible to have a winter camping experience in Ibiza, but you will have to make a reservation. There aren't many options though, but you will have a splendid time. A couple of the campgrounds in Ibiza are Camping San Antonio and, Camping Laplaya Ibiza.
RV/Campers/Motorhome Location
The only officially known RV park is at Camping Cala Nova Ibiza.
Packing List
Weather: The fall, winter, and spring weather in Spain (Ibiza) will normally be warm during the day and can be cold during the night. Of course in the fall and spring it will be warmer than in the winter. You have to pack accordingly.

Warm clothing: Even when you go to a warm location like Spain (Ibiza) you should not forget to take some things with you for your trip back home. When you return you are adapted to the warmer weather and need something to protect you from your hometown temperatures.

Consider the Weather: Always look at the type of weather in Spain (Ibiza). Things like humidity, wind, and rain do not show up in the temperature graph but can have a great impact on your wardrobe. There are several sites with long term forecasts and climate information. Is there often a short afternoon downpour like in the tropics, you maybe need to take a strong umbrella and shoos that can cope with the rain. If there is often a lot of wind you might need a more wind-resistant coat.

Check the local Shopping options: Try to find information about the local shopping options near your location in Spain (Ibiza). Are there stores where you can buy all your daily supplies, or are some things difficult to get? For some more remote locations, the options can be limited. If a certain item is really important for you might need to take it with you.

Look at the Local Culture: The local culture in Spain (Ibiza) can impact your wardrobe. If most activities are in more upscale locations you might take some more appropriate clothes with you. Or travelling if you travel to certain countries women need to cover themselves in certain areas.

Amenities: Know what's Included in your house or apartment. Is there a coffee maker, a toaster, a washer and dryer, an iron, what is in the kitchen, what kind of towels are there? Things that are there means you do not have to take them with you. A furnished apartment or house can mean something from a few pieces of furniture to a well-stocked place with all the things you have at home. But most of the time your rental will not be stocked.

Mix and match: Wear layers so you can use your wardrobe more efficiently. And do not worry about wearing something more often, probably only you will notice this.

Important for you: If there is something that is really important for you that you want to have present in your house or apartment, take it with you. This can be something like a special knife for the kitchen, or a small mirror that you use in the morning. You can also purchase it locally if it is not that expensive.

Pet supplies: If you take your pet with you don't forget to take supplies for a few days with you. And enough medication, vitamins, or other supplies if you can not purchase them in Spain (Ibiza) locally.

Food: Don't take a lot of food with you. Only when there is something you really can not live without you, and it is not too heavy you could consider taking it with you.

Towels: Not all locations include bigger towels for the swimming pool or a visit to the beach. If you have to take them and don't have a lot of room you can buy some big thin towels.

Office supplies: Normally you will not find any office supplies in your house or apartment. If you think you will use them you could pack some supplies like a scissor, notepaper, envelopes, some pens, and more depending on your needs.

Limit yourself: Don't take too many shoes and jackets, you will not need them that often.

Best-fitting: Bring your favorite and best-fitting items that can multi-function

Washer: Do you have a washer and dryer onsite, you don't need to pack a lot of clothes
Clothing
Basics
Casual
Smart
Footwear
Toiletries
Beauty
Hygiene
Clothing
Basics
Casual
Outdoor
Footwear
Accessories
Toiletries
Medicine
Miscellaneous
Other
Toiletries
Beauty
Hygiene
Hair
Other
Medicine
Miscellaneous
Technology
Travel and Free time
Travel
Free time
Important
Documents
Money
Other locations close to this location:
Travelers' Map is loading...
If you see this after your page is loaded completely, leafletJS files are missing.
If you have any additions, or comments on the content on this page, please use our contact form to let us know.
Detailed weather during the year for Ibiza Spain
What to do during the year in Ibiza Spain