Spend Your Fall, Winter, or Spring in Maspalomas, Gran Canaria: Is Maspalomas A Good Snowbird Location?
In the south of the island of Gran Canaria is the beautiful tourist town of Maspalomas. It stretches from Bahia Feliz in the east, and Meloneras in the west. It is known for its vast expanse of protected coastal dunes that is a part of the Maspalomas Dunes nature reserve. There are several ecosystems like palm groves, the la Charca Lagoon, and the dunes. The is also abundant birdlife like plovers, snipes, and herons.
The locals in Maspalomas are hospitable and friendly people, always welcoming to tourists from all over the world. Spanish is widely spoken, but also in English. Faro de Maspalomas, a lighthouse in the town, first lighted in the late 19th century is a famous landmark.
Why should people visit during the winter?
Maspalomas is such a great location to visit at any time of the year, because of its wonderful climate. It is suitable for snowbirds. There is also plenty of interesting activities to enjoy during the winter, and things to see also. From sandy beaches usually visited by other tourists in the area to beautiful natural landscapes, snowbirds will be thoroughly entertained.
Climate
Maspalomas enjoys long sunny days all year round. The climate is a constant hot one. The highest average temperature in Maspalomas is 25°C (77°F), and the lowest is 19°C (66°F). August is the warmest month, while January is the coldest. Even when it's winter in Maspalomas, the weather is still warm enough for snowbirds. There is a difference between the north of the island, where the Passat winds bring clouds and sometimes some rain, and the south that is protected by the mountains in the center. This results in sunny and warmer weather in Maspalomas.

Safety
In Maspalomas, snowbirds won't have to worry about their safety while visiting. Most of the people you will meet are tourists. There are hardly any cases of petty crimes like theft, or cases of more serious crimes. However, it is still advisable that you be cautious during your stay.
Communication, internet, and cellphone in Maspalomas, Gran Canaria
Spanish is the official language of Maspalomas, but English is also spoken to a large extent, to the favor of snowbirds who cannot speak Spanish. You shouldn't have an issue communicating with locals or other tourists, and making a purchase will be easy.
As Gran Canaria is part of Spain, European residents can use their mobile phones without any problems (roam like home). For non-EU residents, it is advised to check the rates, and if needed buy a local sim card.
In terms of network service providers, Vodafone, Movistar, and Simyo are some of the networks available. They all offer considerably cheap calls and data services.
Alternatively, you could use the phones in your apartment or hotels to make international calls, or you could make use of one of the phone booths that are around some local shops.
Things to see in Maspalomas, Gran Canaria
Natural Dune Reserve of Maspalomas: A visit to the Protected dunes will give the snowbirds a mini desert experience.
Holiday World Maspalomas: Ideal for kids also, this is a whimsical amusement center with rides that will keep the younger ones entertained throughout the stay.
Maspalomas Lighthouse: Snowbirds can visit this historic lighthouse that has become a landmark on the island & also see the lively beachfront zone.
Playa de Maspalomas: This is a more peaceful beach that is less busy compared to others, that is backed by sand dunes.
Maspalomas Golf: Golf enthusiasts can enjoy a great golfing experience on the island at this flat 18-hole golf course & driving range.
Aqualand Maspalomas Water Park: This is a large outdoor water park with 30 slides that are a thrilling thing to see for everyone, even children.
La Charca: This is a natural reserve area with a lagoon, lake, and some wildlife.
Parque Botanico De Maspalomas: This is a flourishing botanical Park with a variety of plants. An ideal place for snowbirds interested in exploring or experiencing some nature.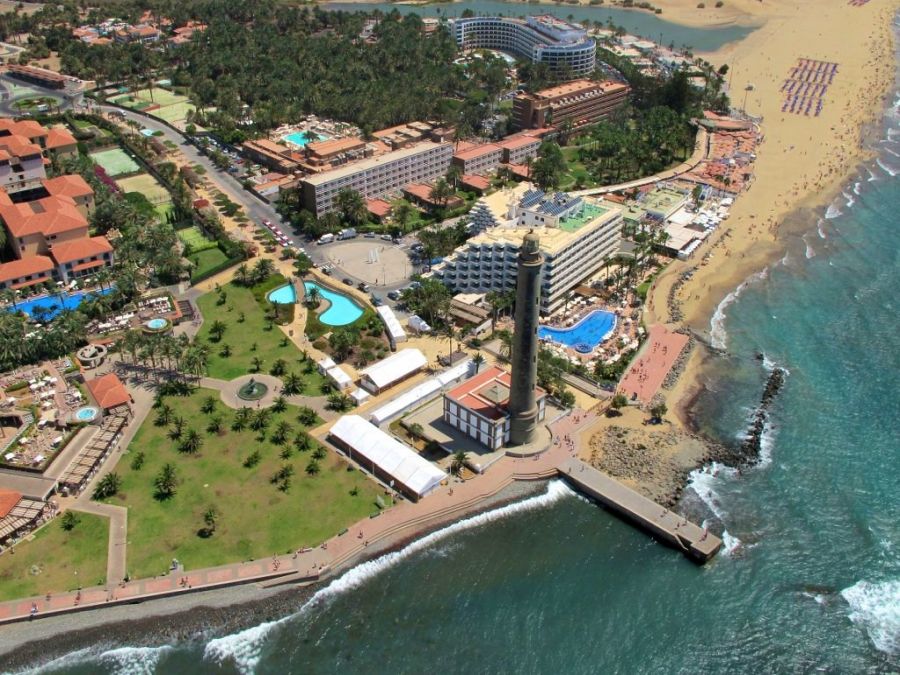 Things to see not far from Maspalomas, Gran Canaria
Playa del Inglés: A walking distance east from Maspalomas, is the busiest beach in Europe, Playa del Inglés. Its golden sand, endless shops, and cafes make it a top spot for those interested in nightlife by the beach.
Gran Casino Costa Meloneras: In nearby Las Palmas, Snowbirds can enjoy some thrilling casino experience at the Gran Casino Costa Meloneras.
Activities in Maspalomas, Gran Canaria in the fall, winter, or spring
Golfing: there are multiple golf courses scattered around Maspalomas. Snowbirds can indulge themselves in some mini-golfing, or play at the popular Maspalomas Golf Course.
Spa treatment: Maspalomas has so many thriving spas and wellness centers, that you don't have to look too hard to find one. Snowbirds can give their bodies some pampering and 100% tender care, at any of these top-class places.
Nature Trips: Maspalomas has a raw beauty that all nature lovers will appreciate. It doesn't just offer the famous sand dunes as the main attraction. If you're looking for a break from the beach, or simply interested in nature, you could visit a couple of places like La Charca, Dunas Mirador, El Parque Botanico de Maspalomas or Parque Urbano del Sur.
Art classes: Join an art class and learn how to paint, draw, or start with pottery.
Cooking: Always wanted to improve your cooking? Join a cooking class and learn how to cook something special.
Shopping + Restaurants. Are they open in the fall, winter, or spring?
As a tourist resort, there is no lack of stores and other shopping centers in Maspalomas. Whatever season, they are going to be a lot of them open for business. You will find a couple of international brands in these stores. You could also purchase local artisan items, souvenirs, and other everyday items.
Winter visitors will also enjoy a food adventure in restaurants around the beaches. You could have meals that remind you of home, or you could also try out new delicacies.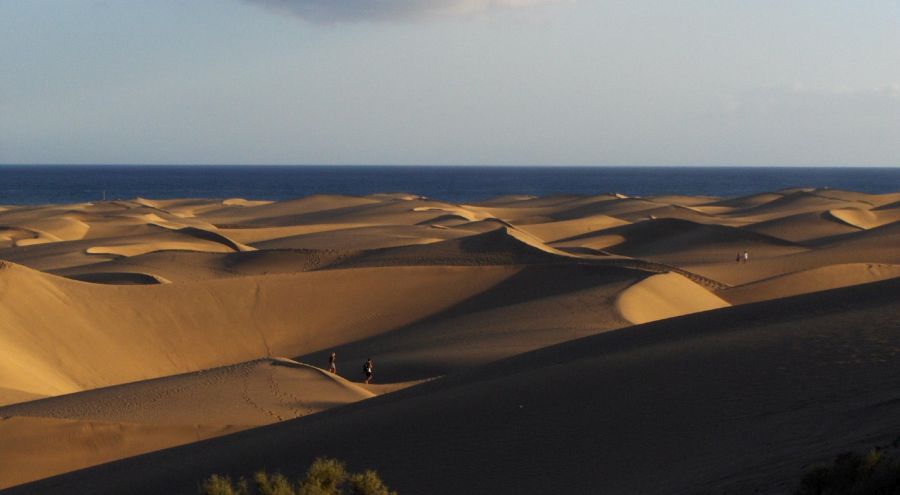 Transport
Snowbirds will arrive on the island at the Gran Canaria Airport through connecting flights. Upon arrival, snowbirds can get to their destination in town via buses, taxis, or car rentals.
Buses are the most common means of transport in Maspalomas. They are cheap, convenient, and quite fast. You don't have to worry about arriving late anywhere, because the island itself is a small one.
Taxis are available alternatives for buses. They cost more but offer more comfort, and could save you some time. Also, if you are interested in driving yourself around, to experience the area, you could rent a car from available car rental services either at the airport or in the town. This is the most expensive option, but it could be an interesting experience to drive yourself around the resort.
Health
The health care system in Maspalomas is of modern standards. It could be rated above average. You could either go for public or private services. For public facilities, you will need a European Health Insurance Card (EHIC) this affords you really low charges for your treatment. As expected, private health care typically costs more. Many doctors and dentists speak English. Restaurants you eat at, bars you visit, or hotels are some of the places you could get a great hospital or medical center recommendations from. Some of these facilities are Hospitals San Roque, Hospiten Roca, Mutua Universal San Bartolome de Tirajana, Svenska Läkarmottagningen Gran Canaria, and Clinika Beach.
There are also local chemists (farmacias) available. They usually stay open after hours and they have almost anything you may need.
Accommodation
There are world-class hotels and villas all around Maspalomas. They offer the best kinds of amenities for visitors to the area. For snowbirds, however, these hotels and resorts can be very pricey. You will have to pay nightly charges and they will set you back a couple of thousands of dollars. For cheaper accommodation, these are usually available farther from popular spots. For a two-bedroom flat in such parts, you might have to pay $700 (approx. €637, £553, $951 CAD, $1056 AUD) a month or a little bit more. These cheaper options also have basic amenities available and you might be lucky enough to get accommodation that comes with an incredible view.
Packing List
Weather: The fall, winter, and spring weather in Maspalomas (Gran Canaria) will normally be warm during the day, but can be chilly during the night. Of course in the fall and spring it will be warmer than in the winter. You have to pack accordingly.

Warm clothing: Even when you go to a warm location like Maspalomas (Gran Canaria) you should not forget to take some things with you for your trip back home. When you return you are adapted to the warmer weather and need something to protect you from your hometown temperatures.

Consider the Weather: Always look at the type of weather in Maspalomas (Gran Canaria). Things like humidity, wind, and rain do not show up in the temperature graph but can have a great impact on your wardrobe. There are several sites with long term forecasts and climate information. Is there often a short afternoon downpour like in the tropics, you maybe need to take a strong umbrella and shoos that can cope with the rain. If there is often a lot of wind you might need a more wind-resistant coat.

Check the local Shopping options: Try to find information about the local shopping options near your location in Maspalomas (Gran Canaria). Are there stores where you can buy all your daily supplies, or are some things difficult to get? For some more remote locations, the options can be limited. If a certain item is really important for you might need to take it with you.

Look at the Local Culture: The local culture in Maspalomas (Gran Canaria) can impact your wardrobe. If most activities are in more upscale locations you might take some more appropriate clothes with you. Or travelling if you travel to certain countries women need to cover themselves in certain areas.

Amenities: Know what's Included in your house or apartment. Is there a coffee maker, a toaster, a washer and dryer, an iron, what is in the kitchen, what kind of towels are there? Things that are there means you do not have to take them with you. A furnished apartment or house can mean something from a few pieces of furniture to a well-stocked place with all the things you have at home. But most of the time your rental will not be stocked.

Mix and match: Wear layers so you can use your wardrobe more efficiently. And do not worry about wearing something more often, probably only you will notice this.

Important for you: If there is something that is really important for you that you want to have present in your house or apartment, take it with you. This can be something like a special knife for the kitchen, or a small mirror that you use in the morning. You can also purchase it locally if it is not that expensive.

Pet supplies: If you take your pet with you don't forget to take supplies for a few days with you. And enough medication, vitamins, or other supplies if you can not purchase them in Maspalomas (Gran Canaria) locally.

Food: Don't take a lot of food with you. Only when there is something you really can not live without you, and it is not too heavy you could consider taking it with you.

Towels: Not all locations include bigger towels for the swimming pool or a visit to the beach. If you have to take them and don't have a lot of room you can buy some big thin towels.

Office supplies: Normally you will not find any office supplies in your house or apartment. If you think you will use them you could pack some supplies like a scissor, notepaper, envelopes, some pens, and more depending on your needs.

Limit yourself: Don't take too many shoes and jackets, you will not need them that often.

Best-fitting: Bring your favorite and best-fitting items that can multi-function

Washer: Do you have a washer and dryer onsite, you don't need to pack a lot of clothes
Clothing
Basics
Casual
Smart
Footwear
Toiletries
Beauty
Hygiene
Clothing
Basics
Casual
Outdoor
Footwear
Accessories
Toiletries
Medicine
Miscellaneous
Other
Toiletries
Beauty
Hygiene
Hair
Other
Medicine
Miscellaneous
Technology
Travel and Free time
Travel
Free time
Important
Documents
Money
Other locations close to this location:
Travelers' Map is loading...
If you see this after your page is loaded completely, leafletJS files are missing.
If you have any additions, or comments on the content on this page, please use our contact form to let us know.
Detailed weather during the year for Maspalomas Gran Canaria
What to do during the year in Maspalomas Gran Canaria