Spend your fall, winter, or spring in Dominica: is Dominica a good snowbird location?
Dominica is a mountainous Caribbean island nation with natural hot springs and tropical rainforests. To the west is Dominica's capital and chief port Roseau, with colorful timber houses and botanic gardens. The island is 29 Miles (47 km) long and has a maximum breadth of 16 Miles (26 km).
Dominica lies between the French islands of Guadeloupe and Marie-Galante to the north and Martinique to the south. The country has been a member of the Commonwealth since its independence in 1978.
Its economy is dependent upon agriculture, which is intermittently destroyed by hurricanes. Attempts to diversify have had some success, with the growing tourism industry and a small offshore financial sector. Dominica is divided into 10 parishes, as seen below:
Saint Andrew Parish
Saint David Parish
Saint George Parish
Saint John Parish
Saint Joseph Parish
Saint Luke Parish
Saint Mark Parish
Saint Patrick Parish
Saint Paul Parish
Saint Peter Parish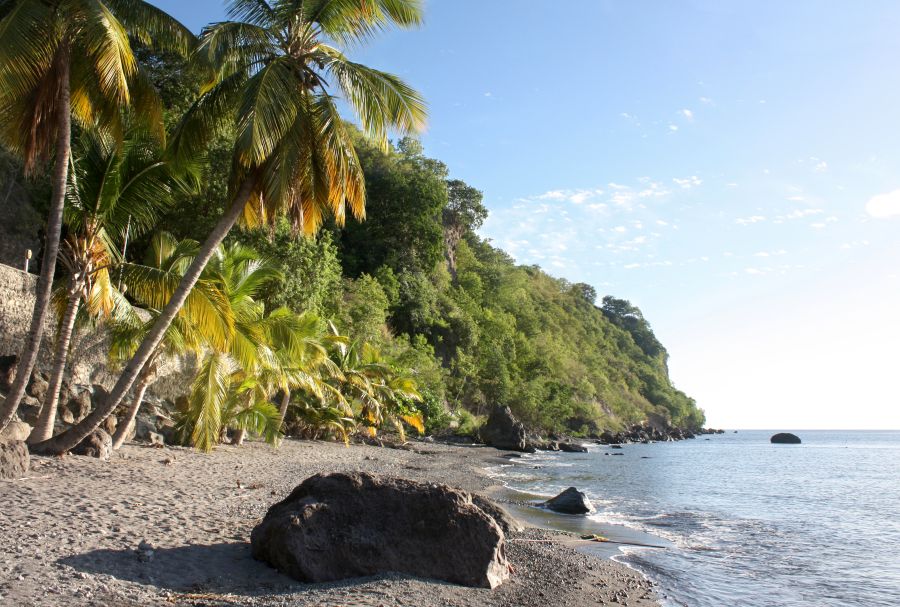 Why should people visit during the fall, winter, or spring?
Known as "The Nature Island of the Caribbean," Dominica remains an unspoiled paradise for snowbirds, especially naturalists. Most snowbirds spend the winter in Dominica to escape colder climates and enjoy the island's stunning natural splendors. Dominica's great natural beauty, especially its spectacular mountainous topography, has impressed generations of nature lovers.
Climate
Dominica has a pleasant climate, particularly during the cooler months from December to March. Winter average temperatures ranges anywhere from 29°C - 30°C (84°F - 86°F). The winter period normally does not see hurricanes (the hurricane season is from June to November).

Safety
Dominica is a safe island in the Caribbean; tourist-targeted crime is rare and residents are more than willing to help out. However, snowbirds should be sure to keep close track of their valuables and lock their rental car when driving or parked.
Communication, Internet, and cellphone in Dominica
English is the official language, but a French patois is commonly spoken, and the original Carib language is evidenced in a number of place names. The local cell phone networks are Digicel and Flow. Snowbirds will need to get to their offices in Roseau or Portsmouth to buy a SIM card. There are no kiosks at the airport.
Snowbirds can also get their phones unlocked and can add on a 4G data plan to their phone to gain internet access but should ask about available plans and prices. Quite a number of restaurant/bar establishments also offer free Wi-Fi so, snowbirds can also use that, although the connection can be sporadic at times.
Snowbird locations in Dominica
Roseau, capital and chief town of Dominica: The main buildings include a Roman Catholic cathedral, St. George's Church (Anglican), Government House, and Victoria Memorial Museum. There are botanic gardens and nearby waterfalls and thermal springs.
St. John Parish: The best-known tourist attractions in St. John's are the Indian River and the Cabrits National Park, which consists of the Cabrits Peninsula and Fort Shirley.
St. George's Parish: Home to the Morne Trois Pitons National Park
The Carib Territory: the traditional village, filled with handcrafted souvenirs.
Village of Laudat: Laudat is referred to as a "gateway" because it is the sole entry point to many of the island's sights, including the Boiling Lake, Fresh Water Lake, and Titou Gorge. It is 11 km (7 Miles)

from Roseau.
Things to see in Dominica
Dominica has notable places that are worthwhile visiting:
The Beaches: some of the best beaches in Dominica include Champagne Beach, Mero Beach, Batibou Beach, Soufriere Bay & Toucari Beach
Gardening/Nature & Parks: Morne Trois Pitons National Park, Papillote Tropical Gardens, Champagne Reef
Waterfalls & Rivers: Indian River, Chaudiere Pool, Layou River, Emerald Pool, Spanny Falls, Saltoun Falls.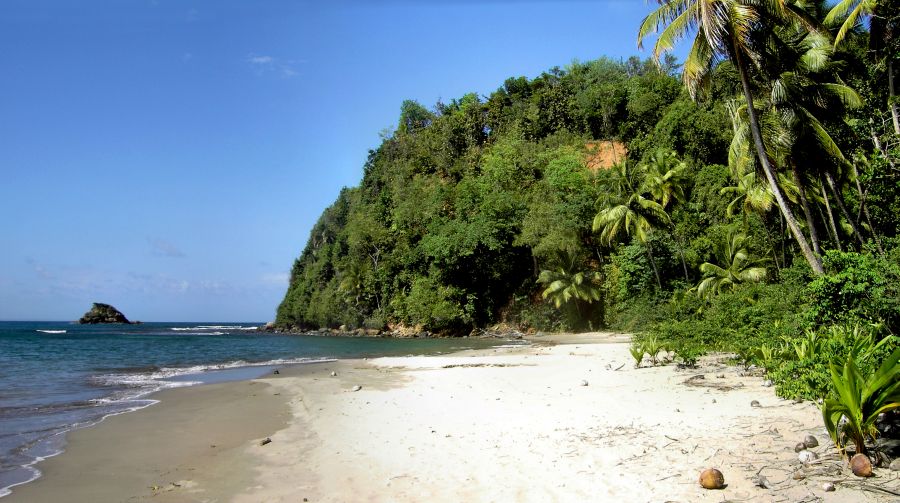 Activities in Dominica during winter
Horse Riding
Sailing & Paddle-boarding
Deep-sea fishing
Snorkeling
Turtle, Whale & Dolphin Watching
Take yoga classes
Take a Historic Walking Tour of Roseau
Visit and shop at the Old Market for crafts and souvenirs
Visit the Dominica Museum (open Mon-Sat)
Explore the Botanical Gardens and Parrot Research Center
Hikes through the trails of Middleham Falls, Boeri Lake & Freshwater Lake Loop trail.
Explore Morne Trois Pitons National Park which is the jewel of Dominica. Highlights of the park include Boiling Lake, Victoria Waterfall, Trafalgar Falls, mist-shrouded Boeri Lake, Middleham Falls, Titou Gorge, Emerald Pool, and the steaming Valley of Desolation.
Experience Dominica's Jazz 'n Creole festival held in October at Fort Shirley in Cabrits National Park.
Take part in Dominica's Independence Celebrations which usually takes place from October through November.
Attend Dominica's Carnival which takes place in February or March.
Shopping + Restaurants. Are they open in the fall, winter, or spring?
Popular meals include rice and peas, Stew chicken, Stew beef, fried and stewed fish, and many different types of hearty fish broths and Soups which are packed full of dumplings, carrots, and ground provisions. While eating in an elegant hotel or continental restaurant may be perfectly acceptable to some snowbirds, for the adventurous snowbird Dominica offers many alternatives.
Family restaurants, local eateries, small guest houses, and cafes can be the most authentic and satisfying way to sample the bounty of Dominican foods and drinks. In these inauspicious places, each meal is lovingly created, carefully prepared, and perfectly seasoned. As a bonus winter, visitors often get a chance to chat with some very interesting folks – friendly chefs, owners, and servers – and there is no extra charge for the useful information snowbirds will pick up along the way.
Dominica is popular for its diverse selection of handmade products, which are sold by local merchants throughout the island. The Carib Indian Territory is the best place to visit to buy baskets, hand-painted shirts, wood carvings, screw-pine tableware, pottery, and natural soaps. Groceries and produce like jellies, jams, gum, sauces, coffee, and medicinal herbs are also popular buys.
There are many shops around Roseau. Be sure to visit the famous Old Market Plaza, which was once a slave trading post, but is now a handicrafts market. There are vegetable stalls every Wednesday, Friday, and Saturday morning and travelers are encouraged to support the local farmers.
There are no big shopping malls or complexes in Dominica. Most stores on the island are open Monday to Friday, from 8:00 a.m. to 1:00 p.m. and from 2:00 p.m. to 4:00 p.m. On the weekends, shopping hours are greatly reduced, closed all day on Sunday and Saturday only from 8:00 a.m. to 1:00 p.m.
Transport
Dominica has two airports: Melville Hall (DOM) and Canefield (DCF) Airports. Melville Hall is the larger of the two, and most snowbirds to Dominica arrive through this airport, which accommodates commercial airlines. The best way to get around Dominica is by taxi or car since the top activities are fairly spread out.
Traveling by car is the most efficient way to get around Dominica, but should only be attempted by the most confident drivers. If you choose to rent a car, be sure to get one with four-wheel drive, as the roads get quite bumpy. Keep in mind that the island is still recovering from Hurricane Maria, and as such major roads may be in poor condition. Snowbirds will need to buy a driving permit, which costs about $12 (approx. €11, £9, $16 CAD, $18 AUD) available at rental agencies, the airport, and the Traffic Department office in downtown Roseau. Eagle Car Rentals, Courtesy Car Rental, and Island Car Rentals are three popular companies on the island.
Taxis are highly recommended for traveling/moving around because even the island's residents are sometimes too scared to navigate its tricky roads. Snowbirds can hire a taxi at both airports or at most hotels and guesthouses. Prices are regulated but rather expensive. If snowbirds want a sightseeing tour around the island, drivers usually charge anywhere from about $70 (approx. €65, £56, $93 CAD, $105 AUD) but they can negotiate a special price if they ride with other passengers. Getting a taxi past sundown, the best bet is to call ahead as taxis can be hard to find at night. Taxis are identified by their license plates; H, HA, or HB usually precede the registration numbers on the number plates. Ride-hailing apps, such as Uber, do not operate in Dominica.
The public transportation system, which mainly consists of minibus operators, can be an affordable way to get around. Fares range between $1 (approx. €0.93, £0.8, $1.34 CAD, $1.51 AUD) but the expensive taxis are significantly more reliable. Snowbirds can easily spot a bus by the letter "H" on the license plate. Buses will stop anywhere on the main street as long as one can flag it down. Buses are not reliable for night travel.
Health
There are several major hospitals. Local medical needs are handled by health centers throughout the island. Primary care services are provided at no cost at 7 health centers and 44 clinics around the country.
Princess Margaret Hospital is the main hospital. There is a smaller hospital in Portsmouth and cottage hospitals at Marigot and Grand Bay. There is some commercial outpatient care provided by private practitioners. Tertiary care is mostly provided outside the country.
Snowbirds can find doctors and dentists that speak English as well as other languages.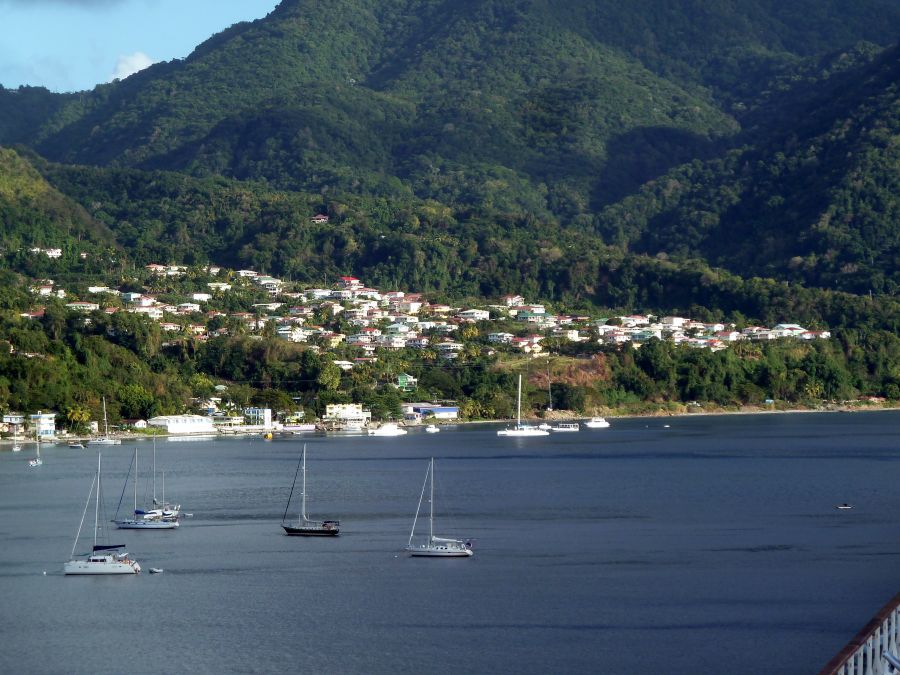 Accommodation
There are a fair number of resorts, hotels, short-let apartments available for rent in Dominica. The houses are usually well equipped with basic amenities and furnished. Some of the best budget-friendly hotels in Dominica are The Champs, Hotel, Restaurant & Bar, Fort Young Hotel & Castle Comfort Dive Lodge.
Accommodation prices range from $22 (approx. €20, £17, $29 CAD, $33 AUD) per night.
Camping in Dominica
Dominica has several camping's that are open in the Winter. Both for campers, caravans, and tents. Most of them have special winter offers. As some periods in the winter can be quite busy it is advisable to make a reservation.
Eco del Mar: This campground welcomes guests with conveniences like free breakfast, a restaurant, and free self-parking. Prices are about

$170 (approx. €158, £136, $228 CAD, $257 AUD)

per night.
Rancho Tipico Cueva de las Águilas: This campground welcomes guests with free breakfast and conveniences like a private beach and free valet parking. Prices are about

$53 (approx. €49, £42, $71 CAD, $80 AUD)

per night.
3 Rivers Eco Lodge & Campsite
Big Banana Campground
Rodney's Wellness Retreat
Brandy Manor Guest House and Campground
Camping Zion View
Accommodation prices range from $20 (approx. €18, £16, $26 CAD, $30 AUD) per night.
Packing List
Weather: The fall, winter, and spring weather in Dominica will normally be hot during the day and hot/warm during the night. Of course in the fall and spring it will be warmer than in the winter. You have to pack accordingly.

Warm clothing: Even when you go to a warm location like Dominica you should not forget to take some things with you for your trip back home. When you return you are adapted to the warmer weather and need something to protect you from your hometown temperatures.

Consider the Weather: Always look at the type of weather in Dominica. Things like humidity, wind, and rain do not show up in the temperature graph but can have a great impact on your wardrobe. There are several sites with long term forecasts and climate information. Is there often a short afternoon downpour like in the tropics, you maybe need to take a strong umbrella and shoos that can cope with the rain. If there is often a lot of wind you might need a more wind-resistant coat.

Check the local Shopping options: Try to find information about the local shopping options near your location in Dominica. Are there stores where you can buy all your daily supplies, or are some things difficult to get? For some more remote locations, the options can be limited. If a certain item is really important for you might need to take it with you.

Look at the Local Culture: The local culture in Dominica can impact your wardrobe. If most activities are in more upscale locations you might take some more appropriate clothes with you. Or travelling if you travel to certain countries women need to cover themselves in certain areas.

Amenities: Know what's Included in your house or apartment. Is there a coffee maker, a toaster, a washer and dryer, an iron, what is in the kitchen, what kind of towels are there? Things that are there means you do not have to take them with you. A furnished apartment or house can mean something from a few pieces of furniture to a well-stocked place with all the things you have at home. But most of the time your rental will not be stocked.

Mix and match: Wear layers so you can use your wardrobe more efficiently. And do not worry about wearing something more often, probably only you will notice this.

Important for you: If there is something that is really important for you that you want to have present in your house or apartment, take it with you. This can be something like a special knife for the kitchen, or a small mirror that you use in the morning. You can also purchase it locally if it is not that expensive.

Pet supplies: If you take your pet with you don't forget to take supplies for a few days with you. And enough medication, vitamins, or other supplies if you can not purchase them in Dominica locally.

Food: Don't take a lot of food with you. Only when there is something you really can not live without you, and it is not too heavy you could consider taking it with you.

Towels: Not all locations include bigger towels for the swimming pool or a visit to the beach. If you have to take them and don't have a lot of room you can buy some big thin towels.

Office supplies: Normally you will not find any office supplies in your house or apartment. If you think you will use them you could pack some supplies like a scissor, notepaper, envelopes, some pens, and more depending on your needs.

Limit yourself: Don't take too many shoes and jackets, you will not need them that often.

Best-fitting: Bring your favorite and best-fitting items that can multi-function

Washer: Do you have a washer and dryer onsite, you don't need to pack a lot of clothes
Clothing
Basics
Casual
Smart
Footwear
Toiletries
Beauty
Hygiene
Clothing
Basics
Casual
Outdoor
Footwear
Accessories
Toiletries
Medicine
Miscellaneous
Other
Toiletries
Beauty
Hygiene
Hair
Other
Medicine
Miscellaneous
Technology
Travel and Free time
Travel
Free time
Important
Documents
Money
Other locations close to this location:
Travelers' Map is loading...
If you see this after your page is loaded completely, leafletJS files are missing.
If you have any additions, or comments on the content on this page, please use our contact form to let us know.