Spend Your Fall, Winter, or Spring in St. Vincent And The Grenadines: Is St. Vincent And The Grenadines A Good Snowbird Location?
St. Vincent and the Grenadines are a group of southern Caribbean islands that comprises the main island, St. Vincent, and other smaller islands. Across the country are harbors that are usually filled with yachts, private isles, spectacular coral reefs, secluded coves, lush mountain peaks, and volcanic landscapes. It is a known sailing destination and its white-sand beaches like Princess Margaret. The capital, Kingstown is a laid-back town located on the main island. There is also a prominent volcano, La Soufriere, located on the island, which stands at 1234 meter (4049 feet).
St. Vincent and the Grenadines is a very friendly and hospitable Caribbean destination that attracts travelers from all over the world all-year-round to its colonial architecture, botanical gardens, and fish markets. The popularity of the country is partly linked to when it was used as a setting for the Pirates of the Caribbean films. English and French patois are the official languages of the country. Although colonized by the Europeans, there are still some artifacts that date back to the Carib Indians, who were the initial inhabitants of the islands.
Why should people visit during the fall, winter, or spring?
The Islands are a great destination for Snowbirds to spend their winter for many reasons. The climate in St. Vincent and the Grenadines is a pleasant tropical one, so snowbirds can enjoy activities like exploring the beautiful beaches, uninhabited islands, swimming, and scuba diving. For snowbirds visiting, they will find many shops and restaurants open and offering affordable and memorable services. Above all, you can enjoy your winter in the area without the stress of ineffective transportation, and you can have a great time knowing you are safe.
Climate
In Saint Vincent and the Grenadines, the climate is tropical. It remains relatively hot and humid throughout the year, with abundant rainfall when the season comes. Winter is often regarded as the best time to visit because the nights are cooler and the days remain hot. The overall average high temperature in the country is 29°C (84°F), while the average low temperature is 24°C (75°F). The winter period normally does not see hurricanes (the hurricane season is from June to November).

Safety
St. Vincent and the Grenadines is a very friendly and hospitable Caribbean destination, with crime rates that are relatively low when compared to other travel destinations or major cities of the world. While the country is generally a safe place to spend your holiday, snowbirds need to keep an eye out for pickpockets, bag snatching, and muggings. As a precaution, snowbirds should ensure that they don't carry their valuables along all the time, be aware of the surroundings, and avoid sharing their itinerary with strangers.
Communication, Internet, and cellphone in St. Vincent and the Grenadines
Although St. Vincent and the Grenadines is lagging in terms of network service, there is a great level of service provision in the country. There are two main telecommunication service providers in the country: FLOW and Digicel. Both companies provide customers and visitors with mobile, internet and WIFI connections.
Your mobile phone from home can be used on the islands with either of the sim cards. You could easily purchase a sim card at any of the authorized dealers that are around town. A picture ID (most likely your passport) will be required to purchase a sim card.
Alternatively, snowbirds can choose to roam with their home network service providers, but this option will cost more than you might want to spend.
Snowbird locations in St. Vincent and the Grenadines
Union Island: This splendid Island is home to an international airport that offers domestic flights to some of the other islands, and international flights to some other locations. Snowbirds on the island can take advantage of the airport to explore other islands, and also have a memorable time staying in the guesthouses on the island and dine at wonderful restaurants.
Petit St Vincent: Petit St Vincent, or PSV as it is locally known, is the southernmost island in St. Vincent and the Grenadines. The island is an eco-friendly resort. Snowbirds can visit the area to enjoy its white-sand beaches and clear blue waters that they could swim in or sail around in boats.
Mayreau: This is the smallest inhabited island of the Grenadines. It is a very quiet location that doesn't get troves of visitors. Snowbirds are attracted to its laid back nature, a resort, and a salt pond.
Things to see in St. Vincent and the Grenadines
La Soufriere: Snowbirds can visit the Islands' active volcano and walk through scenic trails.
Mopion Island: This is a small sand island with a single umbrella.
Fort Charlotte: Fort Charlotte is a historical landmark in Saint Vincent with scenic views and old cannons still on the fort.
Princess Margaret Beach: A popular beach with a small harbor, clear turquoise water, and sailing boats.
Macaroni Beach: This is a white sand beach with waves crashing ashore and a scenic view.
Falls of Baleine: A popular small waterfall to swim in, or take pictures
Botanical Gardens: Founded in 1765, nature lovers can visit this lush botanical garden to see some special plant species, as well as some birds.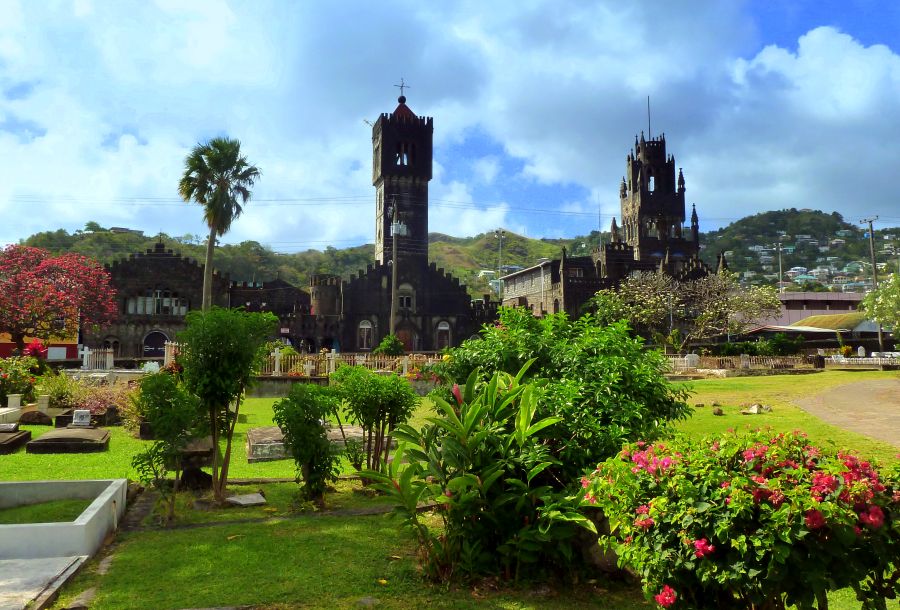 Activities in St. Vincent and the Grenadines during winter
Walking: The small size and few crowds make walking around the beautiful island a relaxing activity.
Swimming: Snowbirds can choose to go swimming in the sea, and watch the sea life existing around in the water.
Snorkeling: The reefs, abundant sea life, and clear waters make for ideal spots for snorkeling.
Visit Old Hegg Turtle Sanctuary: You can pay a visit to the well-known turtles and sea turtles sanctuary.
Explore the beaches
Shopping + Restaurants. Are they open in the fall, winter, or spring?
Many of the islands in the archipelago of St. Vincent and Grenadines are resort islands with many shops and restaurants to tend to visitors. These businesses usually close during the offseason, but however, there are usually many shops that stay open during the winter. Snowbirds can shop for their basic daily needs, as well as items from popular international brands. In terms of pricing, you could make cheaper purchases compared to your experience back home.
Seafood is in abundance in the country. All the restaurants you may visit have various seafood delicacies on their menu, as well as other local and international dishes. Snowbirds can enjoy fresh food washed down with a cold Hairoun beer, or choose to explore with their taste buds.
Transport
Snowbirds arriving at St. Vincent and the Grenadines by air can arrive at the Argyle International airport. Apart from this airport, there are other airports on various islands like Mustique, Palm Island, Union Island, Bequia, and Canouan Island. These airports operate flights between the islands in the area.
There are taxis available on some of the larger islands like St. Vincent and Bequia and on some other smaller islands like Petit St. Vincent and Mayreau, there are none available. However, these smaller islands are so small in size that you could easily walk around to your destination. Taxis don't operate on a meter, but have a fixed fare set by the government. There some local companies you could call for taxis or you could hail one by the road.
Snowbirds could also rent cars as an adventurous way to explore the islands. Seeing as some of the roads on the islands are not paved, it would make sense to rent an SUV. There are companies like Avis or Hertz that can offer these services.
For public transport, buses are available in the form of minivans owned by private companies but regulated by the government. These vans have the letter "H" on their license plates. You could easily flag down these buses by the road, or you could head to a bus terminal.
There are also water taxis that operate between islands.
Health
In comparison to other developed nations, the medical services in St. Vincent and the Grenadines are quite basic and limited. There are over ten public and private hospitals that offer basic and complicated medical issues. Snowbirds seeking medical treatment should be aware that they may be required to pay an advance in cash at the hospitals and medical centers. As a result of this, snowbirds are advised to purchase health insurance before visiting.
The doctors and dentists in these facilities are trained professionals, and they speak English, and other languages. Some of the medical facilities in the country include Maryfield Hospital, Port Elizabeth, Kingstown General Hospital, and Lowmans, and Bequia Casualty Hospital.
Accommodation
There is a wide range of options for accommodation in St. Vincent. Around the islands, there are resorts, hotels, villas, and other comfortable apartments that are of high standards, with all of the basic modern amenities available. The downside is that these options are usually expensive as most of the people on the island are usually tourists. A two-bedroom apartment on St. Vincent could cost as high as $3000 (approx. €2863, £2483, $4115 CAD, $4758 AUD) monthly.
Packing List
Weather: The fall, winter, and spring weather in St. Vincent And The Grenadines will normally be hot during the day and hot/warm during the night. Of course in the fall and spring it will be warmer than in the winter. You have to pack accordingly.

Warm clothing: Even when you go to a warm location like St. Vincent And The Grenadines you should not forget to take some things with you for your trip back home. When you return you are adapted to the warmer weather and need something to protect you from your hometown temperatures.

Consider the Weather: Always look at the type of weather in St. Vincent And The Grenadines. Things like humidity, wind, and rain do not show up in the temperature graph but can have a great impact on your wardrobe. There are several sites with long term forecasts and climate information. Is there often a short afternoon downpour like in the tropics, you maybe need to take a strong umbrella and shoos that can cope with the rain. If there is often a lot of wind you might need a more wind-resistant coat.

Check the local Shopping options: Try to find information about the local shopping options near your location in St. Vincent And The Grenadines. Are there stores where you can buy all your daily supplies, or are some things difficult to get? For some more remote locations, the options can be limited. If a certain item is really important for you might need to take it with you.

Look at the Local Culture: The local culture in St. Vincent And The Grenadines can impact your wardrobe. If most activities are in more upscale locations you might take some more appropriate clothes with you. Or travelling if you travel to certain countries women need to cover themselves in certain areas.

Amenities: Know what's Included in your house or apartment. Is there a coffee maker, a toaster, a washer and dryer, an iron, what is in the kitchen, what kind of towels are there? Things that are there means you do not have to take them with you. A furnished apartment or house can mean something from a few pieces of furniture to a well-stocked place with all the things you have at home. But most of the time your rental will not be stocked.

Mix and match: Wear layers so you can use your wardrobe more efficiently. And do not worry about wearing something more often, probably only you will notice this.

Important for you: If there is something that is really important for you that you want to have present in your house or apartment, take it with you. This can be something like a special knife for the kitchen, or a small mirror that you use in the morning. You can also purchase it locally if it is not that expensive.

Pet supplies: If you take your pet with you don't forget to take supplies for a few days with you. And enough medication, vitamins, or other supplies if you can not purchase them in St. Vincent And The Grenadines locally.

Food: Don't take a lot of food with you. Only when there is something you really can not live without you, and it is not too heavy you could consider taking it with you.

Towels: Not all locations include bigger towels for the swimming pool or a visit to the beach. If you have to take them and don't have a lot of room you can buy some big thin towels.

Office supplies: Normally you will not find any office supplies in your house or apartment. If you think you will use them you could pack some supplies like a scissor, notepaper, envelopes, some pens, and more depending on your needs.

Limit yourself: Don't take too many shoes and jackets, you will not need them that often.

Best-fitting: Bring your favorite and best-fitting items that can multi-function

Washer: Do you have a washer and dryer onsite, you don't need to pack a lot of clothes
Clothing
Basics
Casual
Smart
Footwear
Toiletries
Beauty
Hygiene
Clothing
Basics
Casual
Outdoor
Footwear
Accessories
Toiletries
Medicine
Miscellaneous
Other
Toiletries
Beauty
Hygiene
Hair
Other
Medicine
Miscellaneous
Technology
Travel and Free time
Travel
Free time
Important
Documents
Money
Other locations close to this location:
Travelers' Map is loading...
If you see this after your page is loaded completely, leafletJS files are missing.
If you have any additions, or comments on the content on this page, please use our contact form to let us know.