Miami is bordered by the Atlantic coast and it is commonly known as the 'Capital of Latin America'. It is the largest city with a Cuban-American plurality and it is one of the most popular vacation spots in America. Miami was founded by a Cleveland native named Julia Tuttle. Today, the city of Miami is popular for its glitz, glamor, and beaches which are some of the most popular beaches in the world. The beauty of the city embeds your heart so deep that you would never want to leave.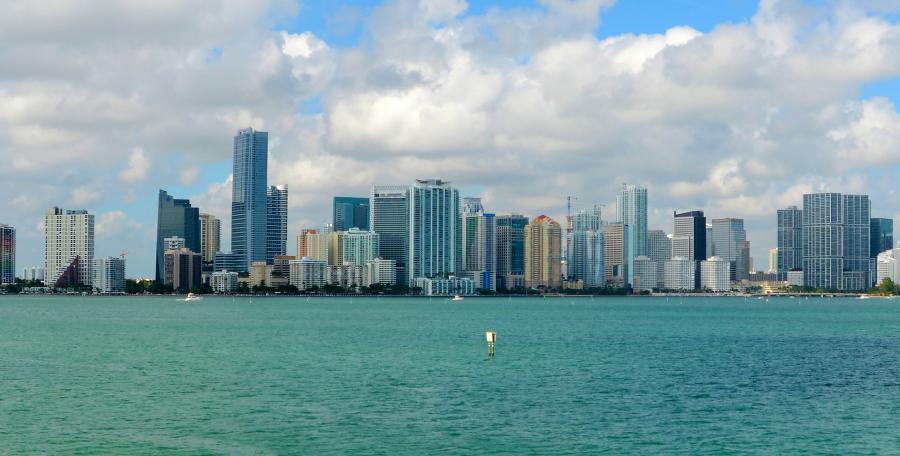 Why should people visit during the winter?
The extravagant lifestyle in Miami is very evident, which makes it one of the best locations to visit during winter because it never slows down. The activities, shops, restaurants, and recreational areas are open all year round. The weather in the city is always pleasant. You can enjoy your stay relaxing under the sun and taking in the warmth of the winter sun on the beaches. You would hardly run out of things to do in this city.
Climate
Miami is just above the sea level and it has one of the best climates during winter. The temperature rarely goes below 61°F (16°C) or above 86°F (30°C) during winter. Also during the night it never gets really cold, and there is hardly any rain during this season. The winter period normally does not see hurricanes (the hurricane season is from June to November).

Things to see in Miami, Florida
Miami is an important tourist location, and there are many places that you can visit. Some of these include:
Phillip and Patricia Frost Museum of Science: The Frost Science occupies four buildings: the Aquarium, the Frost Planetarium, the West, and the North Wings. The 250,000 square-foot museum entertains people of all ages with science.
Vizcaya Museum & Gardens: An Italian Renaissance-style villa and gardens set on Biscayne Bay. The place is crammed with European antiques and works of decorative art spanning from the 16th to the 19th centuries.
Miami Beach: It is one of the most famous beaches in the world. It is separate from the city with its shops and restaurants. A lot of events are held here. Do not miss out on the nightlife of Miami Beach.
Jungle Island: One of Miami's oldest tourist attractions, it is the iconic eco-park. It was founded in 1936. There are many fun attractions in this park for all ages.
Fairchild Tropical Botanic Garden: This 83-acre garden is named after renowned botanist and Miami resident David Fairchild. It is filled with tropical splendor, lush rainforest with a stream, sunken garden, dramatic vistas, an enormous vine pergola, and a museum of plant exploration.
Things to see not far from Miami, Florida
There are many neighboring towns and places in the surrounding areas that are worth a visit:
Everglades National Park: It is located 40 Miles (64 km) from Miami. This expansive swamp is a critical habitat for thousands of species, including the endangered Florida panther, the threatened American crocodile, and the lovable manatee.
Hollywood Beach Broad walk: It is located 25 Miles (40 km) from Miami. It was awarded as America's Best Beach Broad walk. It is a haven for the bicyclists, joggers, and kids with roller-blades. You can also go on a late-night walk along the beach.
Naval Air Station Fort Lauderdale Museum: It is located 25 Miles (40 km) from Miami. It is the only military museum in Broward County, packed with displays about naval aviation, World War II history, and Flight 19. It was once a naval complex of more than 200 buildings.
Fort Lauderdale: It is located 23 Miles (37 km) from Miami. It is a beautiful city that you can visit. One of its biggest attractions is its canal ways and beaches. The city offers several amenities for entertainment all through the day.
Key West: Visit the most southern part of the US, and drive over the Overseas Highway.
Activities in Miami, Florida in the winter
When it comes to finding a good activity to entertain yourself, Miami has many options available:
Wynwood Cycle Party Bar Crawl: Ride through the streets of Miami's art district. Visit three of its best bars on this party bike bar crawl in Wynwood for 2 hours.
Fishing: There are many preserves and beaches in the area where you can go fishing.
Swimming in Venetian pool: It is a spring-fed pool with great architecture and art. You can enjoy other amenities as well.
Yacht excursion: You can enjoy excursions on private yachts. You can enjoy food and music while exploring the Atlantic coasts.
Seaplane tours: You can enjoy seaplane tours of Miami. You will enjoy the aerial view of Miami. Prices vary according to duration.
Parasailing: you can enjoy parasailing and other kinds of water sports. Many companies operate on the beaches of Miami.
Festivals: You can witness some amazing festivals in Miami during winter. In Miami, something is happening all the time.
Car show: You can witness some amazing car shows in Miami if you are a car lover ranging from classical to sports cars, you can see every kind of car in these shows.
Yoga Retreats: You can find some top-class fitness and yoga retreats in Miami so that you can stay healthy.
Golf: Play golf at one of the most exquisite golf courses, The Biltmore Golf Courses. It has an 18-course ground with amazing amenities.
Day trips to other cities: There are many places worth visiting outside Miami. Small islands and preserves.
Shops & Restaurants. Are they Open in winters?
Miami has many smaller and bigger shopping centers and shopping malls. You will find all the main US chains, and a lot of local stores.
Legion Park Farmers Market is one of the best farmer's markets in the area. It provides an open space for local vendors to install their stalls. You can find fresh produce like fruits, vegetables, locally baked items, and organic honey.
Tropicana Flea market is another large flea market in the area. You can find a variety of items in this market. You can also find the best souvenir shops in this flea market.
Miami is a very lively city with a huge variety of food available. Miami was founded by a citrus grower so you will find citrus as the main ingredient in a lot of dishes. Some famous dishes that you can find in most of the restaurants in Miami that you should try are key lime pie, stone crab claws, frittatas, Cuban sandwich, flan, ceviche, and fish sandwich. Miami is also known for its ice cream and coffee.
Transport
Miami has its Miami International Airport, that has many local and international flights. It is located just outside the city. Travel to and from the airport is very easy and cheap. You can rent a car, take the metro rail, metro bus, airport shuttle, Uber, or taxi from the airport to reach your destination. You can also use the Metrorail orange line that specifically operates for the airport.
In Miami, you have the option to use a train or metro rail service. For inter-city travels, trains are a good option, Amtrack operates in Miami. You can check your schedule and pre-book your travel through the Amtrack website. Metrorail is one of the cheapest ways to move around the city but it only has two tracks. But there are multiple metro rail transfer stations available throughout the city.
Bus services are great in Miami. You can either travel through metro movers or Miami's city bus. Metro mover is the best option to travel if you want to go to downtown Miami. Metro city bus operates on 95 routes with over 1000 buses. You can get to wherever you want very easily. Metro bus has routes available for every corner of the city. Metro bus costs as low as $2.25 (approx. €1.86, £1.65, $2.86 CAD, $2.91 AUD).

Health
Miami is a very high tech city. You can find incredible good care and treatment in both private and public hospitals in Miami. Clinics with separate services are also available. All the hospitals have 24/7 emergency and departments to treat every kind of illness:
Accommodation
You can find many real estate companies operating in Miami. You can rent accommodation according to your needs and wants. Accommodation is expensive in Miami but you can also find a decent apartment for $500 (approx. €413, £365, $635 CAD, $647 AUD) if you research extensively, and book in time.
Some major operators in Miami are:
RV/Campers/Motorhome
There are many RV sites available within the city but most of them do not have a website. The nearest are:
Larry and Penny Thompson Memorial Park and Campground: It is located 18 Miles (29 km) from Miami. It has 249 RV sites with all the facilities. Prices start from $33.90 (approx. €28, £24, $43 CAD, $43 AUD) per night. (https://www.miamidade.gov/parks/larry-penny.asp)
Miami Everglades RV Resort: It is located 21 Miles (34 km) from Miami. 471 full sites available for RV or motorhomes. All modern facilities are available. Prices start from $58 (approx. €47, £42, $73 CAD, $75 AUD) per night. (https://www.rvonthego.com/florida/miami-everglades-rv-resort/)
Packing List
Weather: The winter weather in Miami (Florida) will normally be warm during the day, but can be chilly during the night. You have to pack accordingly.

Warm clothing: Even when you go to a warm location like Miami (Florida) you should not forget to take some things with you for your trip back home. When you return you are adapted to the warmer weather and need something to protect you from your hometown temperatures.

Consider the Weather: Always look at the type of weather in Miami (Florida). Things like humidity, wind, and rain do not show up in the temperature graph but can have a great impact on your wardrobe. There are several sites with long term forecasts and climate information. Is there often a short afternoon downpour like in the tropics, you maybe need to take a strong umbrella and shoos that can cope with the rain. If there is often a lot of wind you might need a more wind-resistant coat.

Check the local Shopping options: Try to find information about the local shopping options near your location in Miami (Florida). Are there stores where you can buy all your daily supplies, or are some things difficult to get? For some more remote locations, the options can be limited. If a certain item is really important for you might need to take it with you.

Look at the Local Culture: The local culture in Miami (Florida) can impact your wardrobe. If most activities are in more upscale locations you might take some more appropriate clothes with you. Or travelling if you travel to certain countries women need to cover themselves in certain areas.

Amenities: Know what's Included in your house or apartment. Is there a coffee maker, a toaster, a washer and dryer, an iron, what is in the kitchen, what kind of towels are there? Things that are there means you do not have to take them with you. A furnished apartment or house can mean something from a few pieces of furniture to a well-stocked place with all the things you have at home. But most of the time your rental will not be stocked.

Mix and match: Wear layers so you can use your wardrobe more efficiently. And do not worry about wearing something more often, probably only you will notice this.

Important for you: If there is something that is really important for you that you want to have present in your house or apartment, take it with you. This can be something like a special knife for the kitchen, or a small mirror that you use in the morning. You can also purchase it locally if it is not that expensive.

Pet supplies: If you take your pet with you don't forget to take supplies for a few days with you. And enough medication, vitamins, or other supplies if you can not purchase them in Miami (Florida) locally.

Food: Don't take a lot of food with you. Only when there is something you really can not live without you, and it is not too heavy you could consider taking it with you.

Towels: Not all locations include bigger towels for the swimming pool or a visit to the beach. If you have to take them and don't have a lot of room you can buy some big thin towels.

Office supplies: Normally you will not find any office supplies in your house or apartment. If you think you will use them you could pack some supplies like a scissor, notepaper, envelopes, some pens, and more depending on your needs.

Limit yourself: Don't take too many shoes and jackets, you will not need them that often.

Best-fitting: Bring your favorite and best-fitting items that can multi-function

Washer: Do you have a washer and dryer onsite, you don't need to pack a lot of clothes
Clothing
Basics
Casual
Smart
Footwear
Toiletries
Beauty
Hygiene
Clothing
Basics
Casual
Outdoor
Footwear
Accessories
Toiletries
Medicine
Miscellaneous
Other
Toiletries
Beauty
Hygiene
Hair
Other
Medicine
Miscellaneous
Technology
Travel and Free time
Travel
Free time
Important
Documents
Money