Spend your fall, winter, or spring in Peniscola, Spain: Is Peniscola a good snowbird location?
Peniscola is sometimes called the 'city in the sea' or 'Gibraltar from Valencia'. The impressive fortified seaport with its castle and lighthouse is built on a rocky peninsula separated from the rest of the city by a small strip of land. With a history going back before the Greeks, the beautifully restored castle was built more than 700 years ago and is open to the public. Between the city walls, you find narrow streets, and from the castle, you have a wide view of the beaches and the beautiful natural park in the d'irta mountains. The old town is used for several movies including Game of Thrones.

Why should people stay in Peniscola during the fall, winter, or spring?
Peniscola, north Valencia has a beautiful fortified old town. It can be a good choice for people that like to spend the winter in a warmer place. The mild winter climate is a little bit colder than further south, but still has many nice sunny days that can be spent outside. A lot of restaurants will be closed, but there is still enough choice. There are 5 km (3 Miles) of fine sand beaches north of the city and rocky coast with beautiful and cozy coves in the south. For the winter period, you can find od deals for apartments and houses, and if you are camping, there are multiple options as well.
Climate
Peniscola experiences typical Mediterranean weather with a mild winter. Even in the winter, there are only a limited amount of overcast days and often the temperature reaches 20°C (68°F). Perfect to spend part of the day outside. There will only be a few days of rain. It is possible that a storm visits the area, but only a few days later this will be followed by nice sunny weather.

Things to see in Peniscola
Peniscola is known for its Templar castle standing high on a rock and seems surrounded by the Mediterranean Sea. There are plenty of places you can visit:
Walkthrough history. Peniscola is stunning from a distance, but it also more stunning when you get inside those medieval castle walls; explore more of its history. The old town is sited 64 meter (210 feet)

above the sea and in the narrow streets, you get a feeling of how people lived centuries ago. From some places, you have an uninterrupted view out over the sea or look at the sandy beaches form Peniscola.

The castle of Papa Luna: The main attraction in Peniscola is the majestic castle that was used as the residence for the Avignon pope Benedict XIII (Pedro de Luna). It has a fascinating history and plenty of panoramic views.
Museo del Mar: The museum of the sea shows some of the maritime heritage. You will learn about the ships they used and find anchors and bronze helmets.
Casa de las consas: Another exciting feature of the town is this small house, squeezed among many others on a very narrow street but very outstanding because of its unique façade. It has cheerful bright blue shuttered windows, and as the Spanish name indicates, it is covered entirely with shells.
EI faro: The lighthouse of Peniscola can be spotted on your way out of the main castle gates. It helped sailors navigate around the rocky coast.
El Bufador: Not far from the castle you will find a cavity formed by waves. When the sea is rough the seawater fills the cavity with a lot of noise and spray.
Things to see not far from Peniscola
Peniscola is surrounded by many potential sightseeing areas that one can visit. Some of them are mentioned below:
Valencia: A little bit more than an hour away Peñíscola is the cosmopolitan city if Valencia. It has a historical center but also the modern architecture of the City of Arts and Sciences. Also worthwhile is the Oceanarium, the third largest aquarium in Europe. Of visiting the City of the Arts and Sciences with the Prince Felipe Museum of Science and an Imax theatre.
Parrot Garden: See more than 50 different species of parrots in a subtropical garden (https://www.jardindelpapagayo.com/).
Morella: The well preserved medieval town is surrounded by a 1.5 km (0.9 Miles)

wall and is located at the top of a mountain. You can find medieval architecture in its narrow streets. Visit the castle to enjoy the views from there.

Vall d'Uixó: A nice old town with two historical city centers. The main attraction is Les coves de sant Josep (Saint Joseph's caves). The caves have the longest navigable underground river in Europe, almost 3 km (2 Miles), that you can visit on a boat tour. The tour takes about 40 minutes and the temperature inside is around 20°C (68°F)

.

The Ebro Delta: North of Peniscola you find the Ebro Delta, one of the largest wet areas in the Mediterranean. It is the second-largest natural park in Spain and you can visit rice fields and a large lagoon. Don't forget to eat the famous Aroz Negro (Black rice).
Activities in Peniscola in the fall, winter, or spring
Peniscola may be quieter in the winter season, but there are still a lot of activities one can participate in to make the stay worthwhile:
Take a boat trip from Peniscola and explore the old town from the Mediterranean Sea and see different views of the coastline. You will sail on their boast called three Sundays as you view the vast walled city of Peniscola.
Be a fisherman for a day: Stay a full day on a traditional fishing boat and experience the life of a fisherman (https://www.tripandfeel.com/experiencias-turismo-pesquero/pesca-turismo/pesca-turismo-grupos-peniscola-degustacion-marinera/).
Seafood lunch at the port of Peniscola. In a fisherman's town it is always a good idea to eat some seafood. Enjoy the sun and the view of the old town.
If you are into walking, there are a lot of nice walks in and around Peniscola.
Enjoy events like Christmas, Carnaval, Andalusia day,
Historical Workshops: If you are interested in history and art and would like to know more about it join one of the historical workshops organized in the castle. Check the local tourist office for dates and further detail.
Historic guided tour: Join one of the guided tours and learn more about the city. The tours are free and organized several times a year. To participate it is necessary to register previously at the Tourist Information center.
Visit the Medieval Market held on specific dates at the end of the year. For three days, the streets and squares of the old quarter are filled with parades and various stalls selling handicrafts.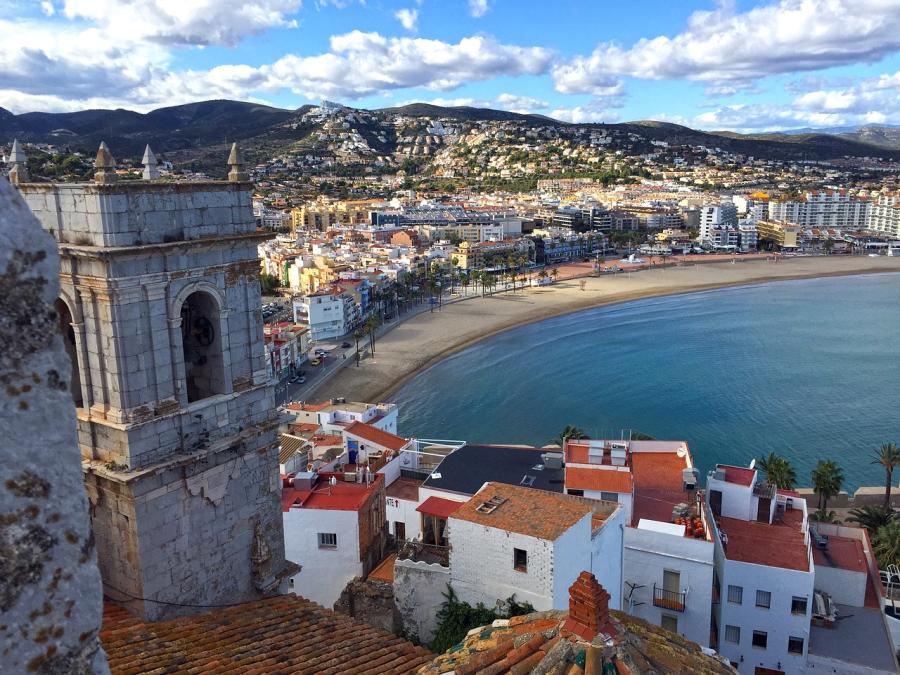 Shopping + Restaurants. Are they open in the fall, winter, or spring?
Peniscola city has a nice amount of shops and restaurants, but a lot of them will not be open in the winter. And some of them will only be open on weekends. But there will still be enough choice if you like to go out for lunch or dinner.
For shops, it is a similar situation. In particular, the shops focusing on tourists will be closed. Some smaller supermarkets can be closed, but most larger supermarkets will be open.
Every Monday there is a market in Mestre Bayarri street. You can find vegetables, fruit, and other products.
Fish market: Every weekday afternoon there is a fish market where you can buy fresh fish fresh directly from the sea. Most of the fish are from the local fleet, you can see them returning at the port earlier in the day.
Transport
– Bus
Peñíscola does not have a bus station, but they're a few bus companies that run buses to the city.
– Train
Peniscola does not have a train station. The closest station is Benicarlo, 5 km from the center. You can take a bus or taxi to the train station. With the train, you can travel to Barcelona in about 2 hours and Valencia in just over 1 hour (https://www.thetrainline.com/en/stations/benicarlo-peniscola).
– Airport
The closest airport to Peniscola is Castellón-Costa Azahar Airport, 47 km (29 Miles) from the centre. But this airport has only a limited amount of flights. A taxi from the airport cost around €50 (approx. $52, £43, $71 CAD, $82 AUD) to €60 (approx. $63, £51, $85 CAD, $98 AUD) depending on the time of day. There is no direct bus to Peniscola. You can reach the airport by bus from Castelló, €12 (approx. $12, £10, $17 CAD, $19 AUD) and Valencia, €30 (approx. $31, £25, $42 CAD, $49 AUD). (https://mediterraneoholidays.com/aeropuerto/aeropuerto-ruta-sur).
Further away is Reus airport, 127 km (79 Miles) and Valencia Airport, 146 km (91 Miles). Valencia airport has the best connections to other destinations. From Valencia airport, you can travel to Peniscola by train and bus. For the train, you first have to go to Valencia's main train station. A good option is to use the Metro (subway). From there you can take the train to Benicarlo. And from Benicarlo the bus to Peniscola. The total travel cost around €20 (approx. $21, £17, $28 CAD, $32 AUD). The bus costs from €15 (approx. $15, £12, $21 CAD, $24 AUD), but this is not a direct route it can take quite some travel time. Check: https://www.rome2rio.com/map/Valencia-Airport-VLC/Pe%C3%B1%C3%ADscola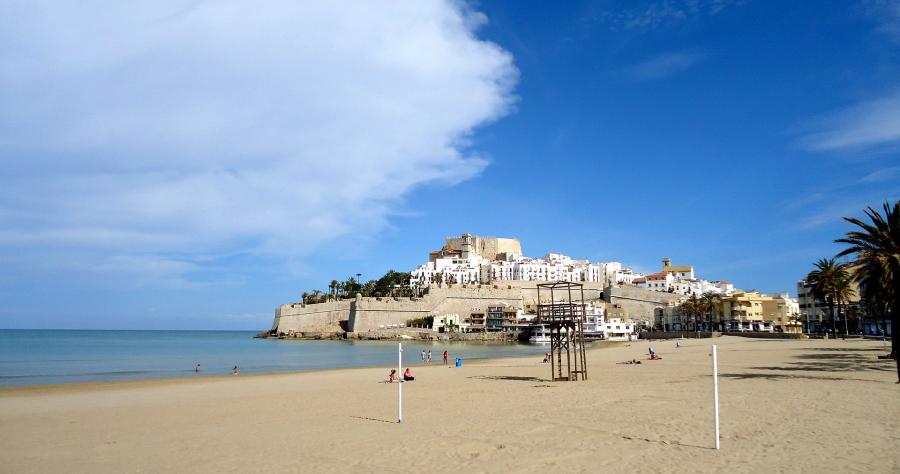 Health
There is no real hospital in Peniscola, but there is a nice health center: Centro De Salud De Peñíscola. There they have doctors that can help with most emergencies. A bigger hospital you can find in Vinaròs , Hospital Comarcal de Vinaròs. This is 22 km (14 Miles) from the center of Peniscola. Or Hospital Provincial Centre de Castelló that is 72 km (45 Miles) away.
In Peniscola, there are several doctors, dentists, and pharmacies, but keep in mind that not all of them will speak English.
Accommodation
Peniscola has enough choices for apartments and rentals. Both in the town itself, or near the beach further from the center. You can find long-term apartments (more than 1 month) in the center of Peniscola from around €400 (approx. $422, £346, $570 CAD, $658 AUD). Sea view will be more expensive. You can find houses from around €600 (approx. $633, £519, $855 CAD, $988 AUD) a little bit further from the beach and more expensive as you come closer to the Mediterranean sea.
Winter Camping
There are several campings near Peniscola that are also open in the winter:
Camping bungalow soi D'or: The camping is located 3 km (2 Miles) from the center of Peniscola. Most places with electricity. Price from

€12,60 (approx. $12, £10, $17 CAD, $19 AUD)

per night for 21 days or more. https://www.campingsoldor.com/
Camping los pinos located in Peniscola, less than 3 km (2 Miles) from the center of Peniscola. For 2 adults, caravan and electricity the price is around

€20 (approx. $21, £17, $28 CAD, $32 AUD)

per night. https://campinglospinos.com/en/
Bungalows camping Ferrer, 600 meter (1969 feet) from the Peniscola beach. For 2 adults, a caravan or camper and electricity the price is starting at

€13 (approx. $13, £11, $18 CAD, $21 AUD)

per night.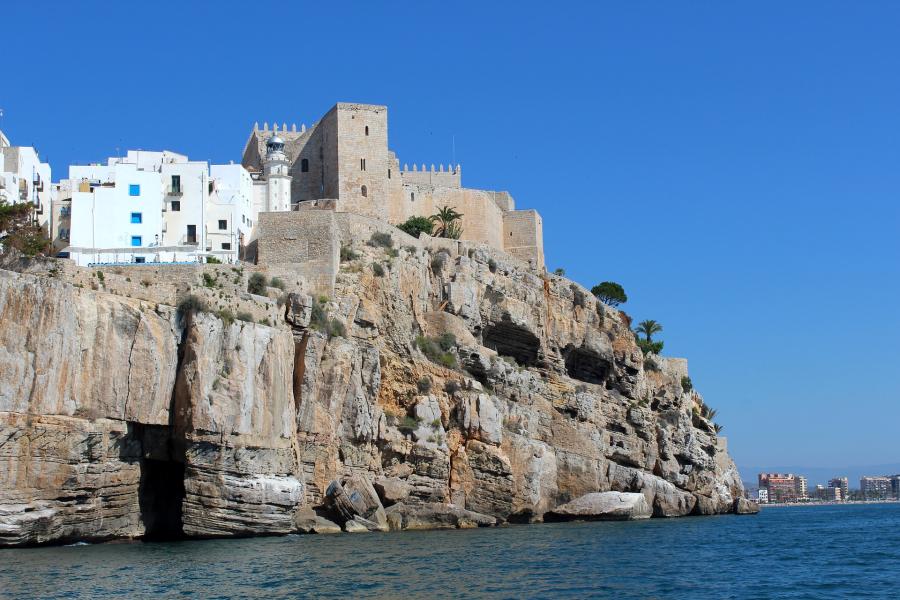 RV/Campers/Motorhome
There are several locations in Peniscola for Campers or Motorhomes:
Vizmar Motorhome Aire (Camping Vizmar), 600 meter (1969 feet) from the beach. Price for 1 month including electricity

€250 (approx. $264, £216, $356 CAD, $411 AUD)

. https://www.campingvizmar.com/
Stop & Go La Volta, Motorhome parking. Just over 1 km (0.6 Miles) from the beach. Price per night from

€8,50 (approx. $8, £6, $11 CAD, $13 AUD)

excluding electricity, but including water. Ni wifi. Busy place, so reservation needed. https://stopandgolavolta.com/
Packing List
Weather: The fall, winter, and spring weather in Peniscola (Spain) will normally be warm during the day and can be cold during the night. Of course in the fall and spring it will be warmer than in the winter. You have to pack accordingly.

Warm clothing: Even when you go to a warm location like Peniscola (Spain) you should not forget to take some things with you for your trip back home. When you return you are adapted to the warmer weather and need something to protect you from your hometown temperatures.

Consider the Weather: Always look at the type of weather in Peniscola (Spain). Things like humidity, wind, and rain do not show up in the temperature graph but can have a great impact on your wardrobe. There are several sites with long term forecasts and climate information. Is there often a short afternoon downpour like in the tropics, you maybe need to take a strong umbrella and shoos that can cope with the rain. If there is often a lot of wind you might need a more wind-resistant coat.

Check the local Shopping options: Try to find information about the local shopping options near your location in Peniscola (Spain). Are there stores where you can buy all your daily supplies, or are some things difficult to get? For some more remote locations, the options can be limited. If a certain item is really important for you might need to take it with you.

Look at the Local Culture: The local culture in Peniscola (Spain) can impact your wardrobe. If most activities are in more upscale locations you might take some more appropriate clothes with you. Or travelling if you travel to certain countries women need to cover themselves in certain areas.

Amenities: Know what's Included in your house or apartment. Is there a coffee maker, a toaster, a washer and dryer, an iron, what is in the kitchen, what kind of towels are there? Things that are there means you do not have to take them with you. A furnished apartment or house can mean something from a few pieces of furniture to a well-stocked place with all the things you have at home. But most of the time your rental will not be stocked.

Mix and match: Wear layers so you can use your wardrobe more efficiently. And do not worry about wearing something more often, probably only you will notice this.

Important for you: If there is something that is really important for you that you want to have present in your house or apartment, take it with you. This can be something like a special knife for the kitchen, or a small mirror that you use in the morning. You can also purchase it locally if it is not that expensive.

Pet supplies: If you take your pet with you don't forget to take supplies for a few days with you. And enough medication, vitamins, or other supplies if you can not purchase them in Peniscola (Spain) locally.

Food: Don't take a lot of food with you. Only when there is something you really can not live without you, and it is not too heavy you could consider taking it with you.

Towels: Not all locations include bigger towels for the swimming pool or a visit to the beach. If you have to take them and don't have a lot of room you can buy some big thin towels.

Office supplies: Normally you will not find any office supplies in your house or apartment. If you think you will use them you could pack some supplies like a scissor, notepaper, envelopes, some pens, and more depending on your needs.

Limit yourself: Don't take too many shoes and jackets, you will not need them that often.

Best-fitting: Bring your favorite and best-fitting items that can multi-function

Washer: Do you have a washer and dryer onsite, you don't need to pack a lot of clothes
Clothing
Basics
Casual
Smart
Footwear
Toiletries
Beauty
Hygiene
Clothing
Basics
Casual
Outdoor
Footwear
Accessories
Toiletries
Medicine
Miscellaneous
Other
Toiletries
Beauty
Hygiene
Hair
Other
Medicine
Miscellaneous
Technology
Travel and Free time
Travel
Free time
Important
Documents
Money
Other locations close to this location:
Travelers' Map is loading...
If you see this after your page is loaded completely, leafletJS files are missing.
If you have any additions, or comments on the content on this page, please use our contact form to let us know.
Detailed weather during the year for Peniscola Spain
What to do during the year in Peniscola Spain