Spend your fall, winter, or spring in Carboneras, Spain: Is Carboneras a good snowbird location?
Carboneras is located in the province of Almerìa at the Mediterranean Sea and hosts a lot of permanent residents. It is a coastal area so it is most famous for its long beaches and serene surroundings. There are a lot of shops and restaurants situated by the beach giving a relaxing environment. It is a popular destination for visitors who want to relax and spend quality time in winter.
Carboneras translates to Coal bunkers. All of Carboneras's forest was chopped down and then used for coal. The town is dry and bare but it contrasts incredibly with the blue of the Mediterranean Sea. In 1489 it was captured by the Catholic Monarchs, they build most of its glamorous fortress and palaces. In the 1960's it became popular in film making because of its aesthetic, Moroccan outlook. The town also deals with the salting of fish and the refining of chemicals and metals.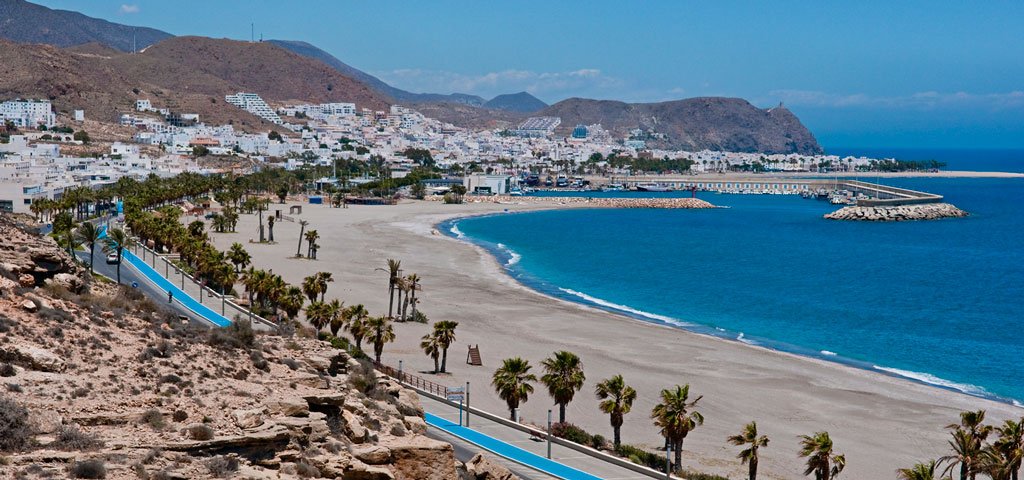 Why should people stay in Carboneras during the fall, winter, or spring?
Carboneras is a good choice to spend time in winters because of the mild temperatures mostly dry weather. The temperature rarely goes below 7°C (45°F). The place is quiet and calm in winter as there are not a lot of activities going around at that time, but due to the permanent residents, there are a lot of shops and restaurants open. There are a lot of historical places to visit and is ideal for people who enjoy spending their holidays peacefully.
Climate
Carboneras has a Mediterranean climate, with mild and dry winter. There is not a lot of rain in winter and a lot of sunny days. The nights can get a little chilly, so make sure that you have some heating in your house or apartment.

Things to see in Carboneras
Carboneras has a lot of places that are worth visiting:
Playa de Los Muertos: enshrouded below a cliff, there is a hidden beach which is a natural beauty. This beach is only accessible by foot, but it's worth it when you reach the destination.
Molino de Carboneras: A prodigious windmill that is the most prominent feature when you are driving towards the town. This windmill is a museum that provides a history of traditional grinding and other traditional activities.
The Fishing Port: It was built in 1991. You can find fishing boats and other recreational activities there.
Playa El Corral: This beach has clear water and in winter a quiet and serene surrounding.
Meas Roldan: It is a flat top extinct volcano. Stunning view. There is an old stone tower on top of it. Has a rich history from Moorish times.
Parque Andaluz: If you want a casual stroll to witness all the beauties of nature then this park is the perfect place for your strolls.
Things to see not far from Carboneras
There are several things you can do from Carboneras. Here is a small selection of places you can visit:
Playa el Playazo de Rodalquilar: A beautiful beach 34 km (21 Miles)

from Carboneras.

Mesa Roldán Lighthouse: A nice day trip to the light house located in Cabo de Gata-Nijar
Caserio San Pedro: It is a beautiful hilly place to visit and enjoy the calm greenery near Carboneras.
Boat Trips: There are several boat trips that you can make from Carboneras Harbor
Shopping: Almeria is a great place nearby where you can go for shopping.
Las Negras: Another beautiful coastal town near Carbonera, a good location for a day trip.
Activities in Carboneras in the fall, winter, or spring
Due to the permanent residents Carboneras is a lively town with enough activities. Some examples:
Bibliotecà Pùblica Municipal: It is a public library situated near the coast.
Yoga classes
Carnaval in Carboneras: Experience the Carnival with fancy dress costumes and dancing in the streets in the old town (February/March) and parade.
Easter: There is a full-fledged Easter festival that includes local gastronomy, auctions, and music, etc.
Cycling: If you like cycling and don't mind some hills Carboneras is a good location. You can rent bikes at several locations.
Boats Trips and Excursions: If the weather is nice take a boat trip and excursion from Carboneras harbor
Golf: If you like playing golf there is a golf course in Carboneras, Playa Macenas Beach and Golf Resort and one not far from Carboneras like the Club Marina Golf Mojacar and
Fitness: If you like to keep fit you can find gyms and group training in English.
Book a bus trip (https://www.bus-2.com/) to places like:

Las Marinicas
Castillo de San Andrès
Mesa Roldán
Lighthouse El Playazo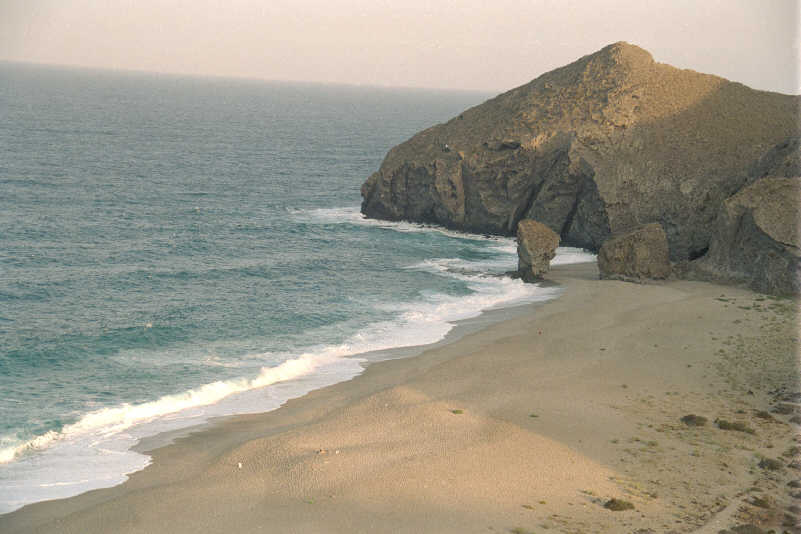 Shopping + Restaurants. Are they open in the fall, winter, or spring?
There are not a huge amount of shops and restaurants in Carboneras, but due to the permanent residents, a lot of them are open. Enough shopping options for day to day shopping. Almeria is 50 mins by car if you need more and bigger shops.
Some shops and restaurants focusing mainly on tourists can be closed and sometimes open for the weekend.
You can find different types of restaurants, both budget and more up class, including:
Ajo y Guindilla: A steak house
Asador Restaurante La Quesería: Grill
Alborán: Modern cuisine and tapas
Café bar la Marina: Sea food
El Santero Cafeteria: Cake shop
Churrerìa Rocìo: Churrela
Pasteleria Santero
There are two sea food markets located near the coast, Pescadores De Carboneras S C A and Asociación Productores de Pesca de Carboneras. There are multiple grocery stores and supermarkets:
Maxi Dia
Mercaadona
Komo Komo El Cacho
Carrefour Expres CEPSA
Supermercados Consum
Transport
The nearest airport to Carboneras is in Almeria. It is not a busy airport in winter, so check what the available options are. You can take a bus to Almeria from the airport, there you can take the bus towards Carboneras. On weekends there is just one bus that goes to Carbonera from Almeria, on weekdays there are 4 buses daily.
You can find more information about the local bus and routes here: https://getbybus.com/en/bus-from-carboneras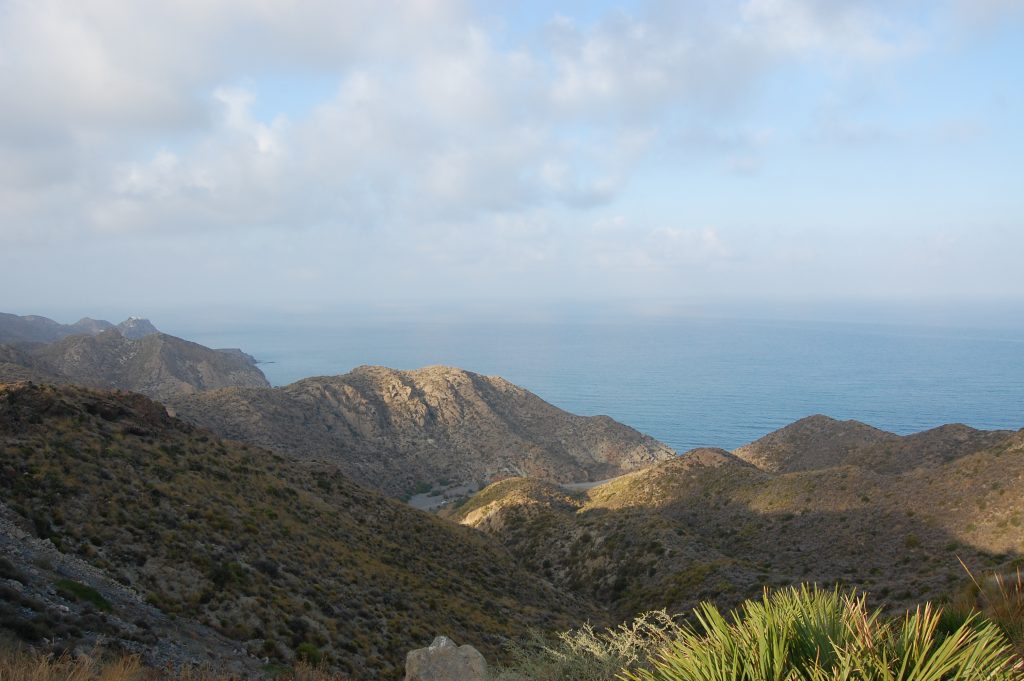 Health
Carboneras has a medical center:Centro de Salud Carboneras https://www.sspa.juntadeandalucia.es/servicioandaluzdesalud/el-sas/
In Almeria (about 50 min by car) you can find a private hospital, HLA Mediterranean Hospital. This hospital has a website in both Spanish and English: https://www.grupohla.com/es/hospitales-clinicas/hospital-mediterraneo
There are also several dental clinics in the region with a good history of satisfied customers. Some clinics are:
Accommodation
There are enough apartment options and rentals in Carboneras for a winter stay.
If you want a moderate accommodation, in the center of town 66m2 area, you can expect the rent to be starting from

€480 (approx. $514, £420, $703 CAD, $766 AUD)

.
For apartments with a private pool, big living area, and near the beach you can get the place for rentals starting from

€800 (approx. $858, £700, $1172 CAD, $1277 AUD)

.
A whole house or villa near the beach, with a heated pool and Jacuzzi, can be rented from

€1000 (approx. $1072, £875, $1465 CAD, $1596 AUD)

.
Winter Camping
Carboneras has multiple camping's that are open in the winters. Both for campers, caravans, and tents. Most of them have special winter offers. As some periods in the winter can be quite busy it is advisable to make a reservation.
Camping sopalmo: Tranquil place. All places with electricity, running water, and wastewater disposal. 30 plots. https://www.campingsopalmo.com/
Camping Los Gallardos: 125 parking pitches https://campinglosgallardos.com
Camping El Quinto: 300 meter (984 feet) from the village, 2km from the beach; Price for a longer period from

€24 (approx. $25, £21, $35 CAD, $38 AUD)

; https://www.camping.info/
RV/Campers/Motorhome
If you have a Camper or Motorhome you can find several locations in Carboneras.
Camper Park El Rancho: 2 km (1.2 Miles) from the town; 88 places, plot around 2.5 km (1.6 Miles) all with own electricity, water and drain; from around

€10 (approx. $10, £8, $14 CAD, $15 AUD)

for a night; https://www.campercontact.com
Camper Park El Rancho: 2 km (1.2 Miles) from the sea; vacant space, all the facilities are available including electricity, wifi, washing machine etc. Starts from

€8 (approx. $8, £7, $11 CAD, $12 AUD)

per day.
Camper Park Carboneras: This camper park has a pool. Starts at

€14 (approx. $15, £12, $20 CAD, $22 AUD)

a day. All facilities are available, pets are also allowed. It is near the coast and is a rural location.
Packing List
Weather: The fall, winter, and spring weather in Carboneras (Spain) will normally be warm during the day and can be cold during the night. Of course in the fall and spring it will be warmer than in the winter. You have to pack accordingly.

Warm clothing: Even when you go to a warm location like Carboneras (Spain) you should not forget to take some things with you for your trip back home. When you return you are adapted to the warmer weather and need something to protect you from your hometown temperatures.

Consider the Weather: Always look at the type of weather in Carboneras (Spain). Things like humidity, wind, and rain do not show up in the temperature graph but can have a great impact on your wardrobe. There are several sites with long term forecasts and climate information. Is there often a short afternoon downpour like in the tropics, you maybe need to take a strong umbrella and shoos that can cope with the rain. If there is often a lot of wind you might need a more wind-resistant coat.

Check the local Shopping options: Try to find information about the local shopping options near your location in Carboneras (Spain). Are there stores where you can buy all your daily supplies, or are some things difficult to get? For some more remote locations, the options can be limited. If a certain item is really important for you might need to take it with you.

Look at the Local Culture: The local culture in Carboneras (Spain) can impact your wardrobe. If most activities are in more upscale locations you might take some more appropriate clothes with you. Or travelling if you travel to certain countries women need to cover themselves in certain areas.

Amenities: Know what's Included in your house or apartment. Is there a coffee maker, a toaster, a washer and dryer, an iron, what is in the kitchen, what kind of towels are there? Things that are there means you do not have to take them with you. A furnished apartment or house can mean something from a few pieces of furniture to a well-stocked place with all the things you have at home. But most of the time your rental will not be stocked.

Mix and match: Wear layers so you can use your wardrobe more efficiently. And do not worry about wearing something more often, probably only you will notice this.

Important for you: If there is something that is really important for you that you want to have present in your house or apartment, take it with you. This can be something like a special knife for the kitchen, or a small mirror that you use in the morning. You can also purchase it locally if it is not that expensive.

Pet supplies: If you take your pet with you don't forget to take supplies for a few days with you. And enough medication, vitamins, or other supplies if you can not purchase them in Carboneras (Spain) locally.

Food: Don't take a lot of food with you. Only when there is something you really can not live without you, and it is not too heavy you could consider taking it with you.

Towels: Not all locations include bigger towels for the swimming pool or a visit to the beach. If you have to take them and don't have a lot of room you can buy some big thin towels.

Office supplies: Normally you will not find any office supplies in your house or apartment. If you think you will use them you could pack some supplies like a scissor, notepaper, envelopes, some pens, and more depending on your needs.

Limit yourself: Don't take too many shoes and jackets, you will not need them that often.

Best-fitting: Bring your favorite and best-fitting items that can multi-function

Washer: Do you have a washer and dryer onsite, you don't need to pack a lot of clothes
Clothing
Basics
Casual
Smart
Footwear
Toiletries
Beauty
Hygiene
Clothing
Basics
Casual
Outdoor
Footwear
Accessories
Toiletries
Medicine
Miscellaneous
Other
Toiletries
Beauty
Hygiene
Hair
Other
Medicine
Miscellaneous
Technology
Travel and Free time
Travel
Free time
Important
Documents
Money
Other locations close to this location:
Travelers' Map is loading...
If you see this after your page is loaded completely, leafletJS files are missing.
If you have any additions, or comments on the content on this page, please use our contact form to let us know.
Detailed weather during the year for Carboneras Spain
What to do during the year in Carboneras Spain