Spend your fall, winter, or spring in Ribeira Brava, Portugal: Is Ribeira Brava a good snowbird location?
Ribeira Brava is an independent city on the isolated island of Madeira, in the Portuguese Autonomous Region. It runs along the southern coast east of Ponta do Sol. The municipality earned its name for its magnificent gushing river. The name Ribeira Brava translates to "The Angry River". During the rainy seasons, the river becomes rapidly turbulent as it makes its way to the sea. It is also notorious for inflicting havoc over 8 km (5 Miles) of the route. The beauty and charm of this town make it an ideal destination for snowbirds who are looking for a tranquil location to nest for the winter.
Why should people visit during the winter?
Winter is one of the best seasons of the year to visit Ribeira Brava. The peak months of tourism are usually January, February, and October. Winter months are the peak of tourism in Ribeira Brava, almost all the recreational areas and restaurants open during winter. The beaches of Ribeira Brava are one of the highlights of this little town. However, you can find rentals at even lower prices during the slower tourism months. During the winter months, the city usually bustles with lots of tourism, you can indulge yourself in many festivals and events.
Climate
The weather in Ribeira Brava is very pleasant during winter. Temperatures can get quite low, as low as 9°C (48°F), but the sea breeze stabilizes the temperature quite well. Temperatures can also get as high as 20°C (68°F) so you can enjoy a day full of sunshine as well. You should also expect a lot of rain during winter.

Things to see in Ribeira Brava, Madeira, Portugal
Ribeira Brava is a very significant tourist location. There are many places to visit in the area. Some of these include:
Madeira Ethnographic Museum: The rustic architecture of this museum dates back to the 17th century. The museum displays different relics of the economic, cultural, and social norms of Madeiran culture. You will find different antiquities in the exhibition. They are organized by theme.
Forte de São Bento: This forte served as the defense tower for the village of Ribeira Brava. It was constructed in the 18th century. Its construction was validated by Governor Duarte Sodré Pereira to defend the village. Sometimes pirates assailed the coast which disturbed the villagers.
Miradouro de São Sebastião: if you want to enjoy the incredible panoramic view of the village of Ribeira Brava You can visit the São Sebastião viewpoint. You can also go to the beach to enjoy one of the best beaches in the world. Beaches of Ribeira Brava are known for their crystal clear waters.
Fajã dos Padres: This spectacular area is tucked away underneath a cliff on the southern coast of Ribeira Brava. It is not just any old coast. It is a flat piece of land seated in the shadow of Cabo Girão, the second tallest cliff in the world. This isolated spot has been colonized since the premature days of settlement on this island by the people who have cultivated banana, avocado, papayas, and guava among other things.
Igreja Matriz de São Bento: This 15th-century church was restored and preserved over many years but it remains a beauty to behold on the inside and outside. It is considered one of the most preserved regional monuments to date. It is characterized by several styles including gothic and Flemish.
Things to see not far from Ribeira Brava, Madeira, Portugal
There are many neighboring towns and places in the surrounding areas that one can visit.
Bica da Cana – Pináculo: It is located 26.7 km (17 Miles) from Ribeira Brava. On the breathtaking plateau of Paúl da Serra, Pináculo is a circular route that takes you on an amazing adventure inside nature. You will be amazed by the diversity of flowers and wildlife that you will find during your walk.
Safari Tour: It is located 16.4 km (10 Miles)

from Ribeira Brava. Explore the hidden gems of Madeira on this tour. You can book a tour of this amazing adventure. You get to see the incredible Jurassic landscapes and an incredible view of Porto Moniz. You can go for a dip at one of the natural pools if you feel like it.

Serra De Agua: It is located 13.1 km (8 Miles)

from Ribeira Brava. It is a small village located southwest of the island. The town's name was derived from the historical production of wood from sawmills. You get to see some incredible panoramic beauty of Portuguese island.

São Vicente Caves: It is located 26.7 km (17 Miles)

from Ribeira Brava. This cave was formed 890 years ago by a volcanic eruption. The lava that flowed into the sea cooled quickly because of the low temperatures, forming the caves. A tour of the caves costs
Activities in Ribeira Brava, Madeira, Portugal in the fall, winter, or spring
When it comes to finding a good activity to entertain yourself, Ribeira Brava has many options available.
Christopher Columbus Cruise: Here you will find 3 replicas of the boat Christopher Columbus used on his first voyage. For a small fee, you can go cruising in one along the Atlantic coast.
Swimming: if you enjoy swimming there are tons of natural pools scattered across this region. You could dive into a pool or go for a dip in the ocean
Historical tour of the city: You can book a guided tour or take a stroll around the city to explore the history of Ribeira Brava.
Fishing: Fishing is a very common activity in Riberia Brava. There is an abundance of fish like tuna, sailfish, kingfish, and cutlassfish. You can purchase fishing equipment from many shops around the town.
Wine tours: the whole region of Madeira is known for its agriculture. There are a lot of vineyards you can visit if you are into wine tasting.
Walking: There are many walkable routes available throughout the region. These routes are long and adventurous and you get to see incredible sights along the way.
Whale and Dolphin watching: Uplift your spirit with this exciting and educational dolphin and whale watching excursion.
Festivals: Put your camera to use at the many cultural festivals that you can attend in Ribeira Brava and surrounding cities. Events and festivals like parades and tuna festival are very famous.
Yoga Retreats: You can find some top-class fitness and yoga retreats in Ribeira Brava so that you can relax after a long walk in the city.
Golf: The nearest golf club, Palheiro Golf, is 24 km (15 Miles)

away. It is an 18 hole course with the most exquisite and dramatic views.

Day trips to other cities: there are many places worth a visit outside of Ribeira Brava. You can visit the nearby reserves as well.
Shopping + Restaurants. Are they open in the fall, winter, or spring?
Mercado Municipal is a farmers market located near the sea. You can find fresh fruits, vegetables and other fresh produce here. You can also buy meat and seafood. Fresh seafood is readily available as most shops and restaurants are situated near the sea. You can also find some really good traditional and locally made handicrafts here.
Ribeira Brava does not have a rich culinary history or culture but as it is a coastal city, it has some incredible seafood dishes available throughout the city. Ribeira Brava is rich and agriculture, subsistence farming is also very common so expect to see extensive use of fresh vegetables and fruits in the dishes. You can also find vegetarian options in the city, they are available with little or no hassle.
Transport
Getting a taxi is a little expensive, if you hire a car it might be difficult to drive around because you are not familiar with the route and the roads of Riberia Brava are very slopy.
A good number of bus stations can be found throughout the city. It is not a big town but, depending on where you reside, it might take some time to reach the nearest bus station. It is not very ideal to travel around the city by bus as there is no proper metro system available. But if you want to travel inter-city, then the bus is the cheapest option.
The nearest airport is Madeira Airport which is 29 km (18 Miles) from Ribeira Brava. The best and cheapest way to get from the airport to Ribeira Brava is by bus. It will cost you roughly around €8 (approx. $8, £6, $11 CAD, $13 AUD) to get to Ribeira Brava by bus. Getting a Taxi or renting a car are still considerable options.
Health
Ribeira Brava is a small town and so it has only one hospital available. You can find all the facilities and services at other private medical clinics located in Ribeira Brava or you can visit hospitals in surrounding cities for a checkup.
You can find other medical clinics around the city as well, they do not have a website but they provide up to standard services. It might prove difficult to find English speaking staff in most medical centers but a few of them have this facility available. You could use a translator to make inquiries or complaints. Some options from the health care centers are:
Centro de Saude Ribeira Brava: General hospital with 24/7 emergency.
ClínicaS – Ribeira Brava: Medical clinic (https://clinicasrb.negocio.site/)
Brava Dente-medicina Dentária Lda: Dental Clinic (GPS coordinates: 32.672283, -17.063438)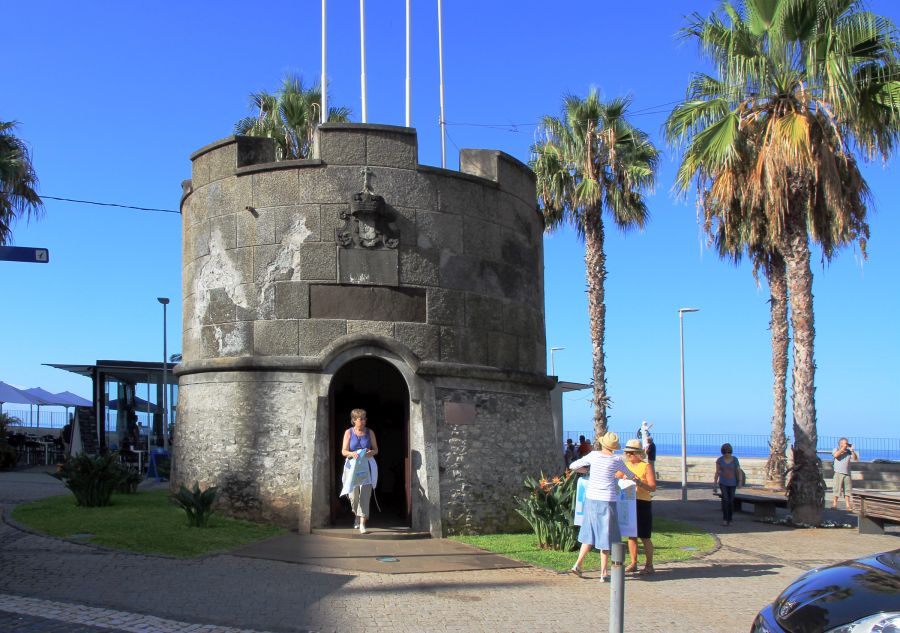 Accommodation
You will find several high-end and affordable real estate in Ribeira Brava. You can easily find accommodation that is best suited to whatever your needs are. Some major operators in Ribeira Brava are:
In Ribeira Brava, you can also find a 1-bed apartment for €300 (approx. $329, £260, $447 CAD, $497 AUD) during low tourism period
Winter Camping
There are no campgrounds located in or near Riberia Brava. The only campground in the region is:
Camping Park Do Porto Moniz: It is located 36.9 km (23 Miles) from Ribeira Brava. Prices start from €3 (approx. $3.29, £2.6, $4.48 CAD, $4.97 AUD) per night, depending on tent size. (https://www.portomoniz.pt/pt/visitantes/onde-ficar/campismo)
Packing List
Weather: The fall, winter, and spring weather in Ribeira Brava (Portugal) will normally be warm during the day and can be cold during the night. Of course in the fall and spring it will be warmer than in the winter. You have to pack accordingly.

Warm clothing: Even when you go to a warm location like Ribeira Brava (Portugal) you should not forget to take some things with you for your trip back home. When you return you are adapted to the warmer weather and need something to protect you from your hometown temperatures.

Consider the Weather: Always look at the type of weather in Ribeira Brava (Portugal). Things like humidity, wind, and rain do not show up in the temperature graph but can have a great impact on your wardrobe. There are several sites with long term forecasts and climate information. Is there often a short afternoon downpour like in the tropics, you maybe need to take a strong umbrella and shoos that can cope with the rain. If there is often a lot of wind you might need a more wind-resistant coat.

Check the local Shopping options: Try to find information about the local shopping options near your location in Ribeira Brava (Portugal). Are there stores where you can buy all your daily supplies, or are some things difficult to get? For some more remote locations, the options can be limited. If a certain item is really important for you might need to take it with you.

Look at the Local Culture: The local culture in Ribeira Brava (Portugal) can impact your wardrobe. If most activities are in more upscale locations you might take some more appropriate clothes with you. Or travelling if you travel to certain countries women need to cover themselves in certain areas.

Amenities: Know what's Included in your house or apartment. Is there a coffee maker, a toaster, a washer and dryer, an iron, what is in the kitchen, what kind of towels are there? Things that are there means you do not have to take them with you. A furnished apartment or house can mean something from a few pieces of furniture to a well-stocked place with all the things you have at home. But most of the time your rental will not be stocked.

Mix and match: Wear layers so you can use your wardrobe more efficiently. And do not worry about wearing something more often, probably only you will notice this.

Important for you: If there is something that is really important for you that you want to have present in your house or apartment, take it with you. This can be something like a special knife for the kitchen, or a small mirror that you use in the morning. You can also purchase it locally if it is not that expensive.

Pet supplies: If you take your pet with you don't forget to take supplies for a few days with you. And enough medication, vitamins, or other supplies if you can not purchase them in Ribeira Brava (Portugal) locally.

Food: Don't take a lot of food with you. Only when there is something you really can not live without you, and it is not too heavy you could consider taking it with you.

Towels: Not all locations include bigger towels for the swimming pool or a visit to the beach. If you have to take them and don't have a lot of room you can buy some big thin towels.

Office supplies: Normally you will not find any office supplies in your house or apartment. If you think you will use them you could pack some supplies like a scissor, notepaper, envelopes, some pens, and more depending on your needs.

Limit yourself: Don't take too many shoes and jackets, you will not need them that often.

Best-fitting: Bring your favorite and best-fitting items that can multi-function

Washer: Do you have a washer and dryer onsite, you don't need to pack a lot of clothes
Clothing
Basics
Casual
Smart
Footwear
Toiletries
Beauty
Hygiene
Clothing
Basics
Casual
Outdoor
Footwear
Accessories
Toiletries
Medicine
Miscellaneous
Other
Toiletries
Beauty
Hygiene
Hair
Other
Medicine
Miscellaneous
Technology
Travel and Free time
Travel
Free time
Important
Documents
Money
Other locations close to this location:
Travelers' Map is loading...
If you see this after your page is loaded completely, leafletJS files are missing.
If you have any additions, or comments on the content on this page, please use our contact form to let us know.
Detailed weather during the year for Ribeira Brava Portugal
What to do during the year in Ribeira Brava Portugal