Phoenix is the capital of Arizona, and it is located in the southwestern United States. Phoenix is also called "Valley of Sun". It a very lively city that is located in the desert, surrounded by mountains, but the city itself is plain. As it is a popular snowbird winter destination and has many permanent residents, you find many activities and lively areas around the city.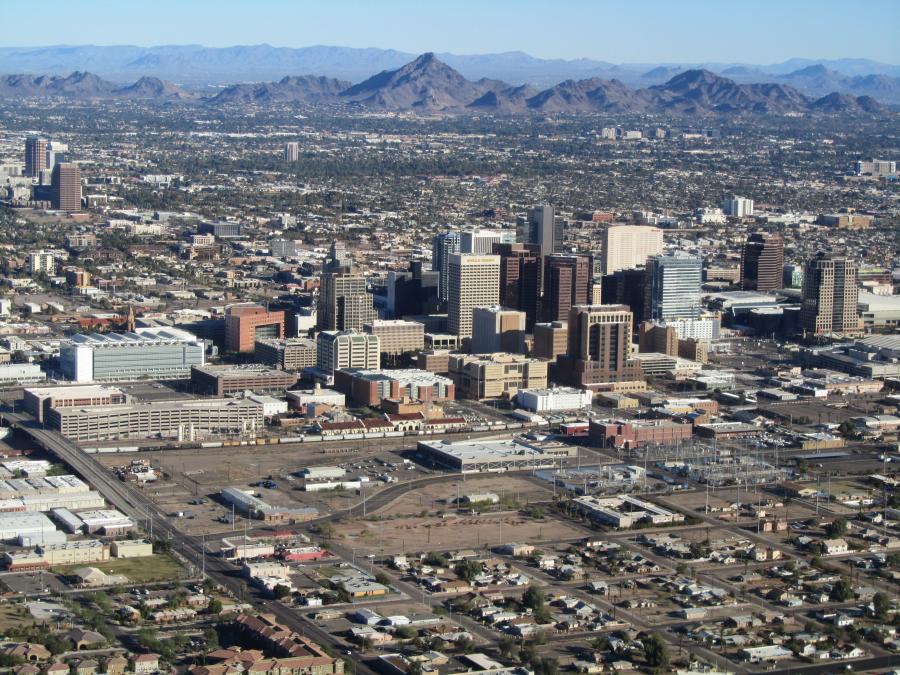 Why should people stay in Phoenix during the winter?
Phoenix is one of the most pleasant towns for the winter season and attracts many visitors during that time of the year. There is not a lot of rain and the weather is mostly sunny. You can enjoy the charm of the city without any extreme heat that you will see in the summer. It has many shopping malls, restaurants and things to do. From casual strolls in a park or around the city or mountains, all activities can be performed easily.
Climate
Phoenix is located in a desert so it can get extremely hot in the summer, but winters are very pleasant. It is 1086 feet (331 meter) above sea level and the winter temperature can go as high as 77°F (25°C) and as low as 47°F (8°C). So even at the lowest temperature, you can barely feel the cold. There is not a lot of rain throughout the year.

Things to see in Phoenix
There are many neighboring towns and places in the surrounding areas that one can visit.
The musical instrument museum (MIM): this museum has the widest range of musical instruments exhibit. Collected from over 200 countries in the world there are 6500 instruments which makes it most interesting.
Papago Park: It is a municipal park stretched over a wide area. It contains both historical places, a golf course, a zoo, lakes, and many other things. It is hard to cover all of the areas in just one day.
Botanical Desert Garden: It is Botanical Garden stretched over 50 acres. It contains a huge variety of flora from harsh plants of the desert to delicate blooms. In winters you can experience Las Noches de Las Luminarias.
Heard Museum: It is a private museum dedicated to display and appreciate the history and art of native American-Indian tribes. You can also experience the World Championship of Hoop Dance Contest here.
Heritage Square: It is a historical site that gives you a tour of the 1800's Victorian Phoenix. Rosson house museum is the crown site of this tour along with other townhouses. You can also visit the Science park.
Hall of Flame Fire Museum: This museum pays tribute to the firefighters and tells the history of firefighting. Here you can see some heroes who died on the line of duty along with the change in the firefighting industry. There are also some exhibits from Europe and Japan.
Things to see not far from Phoenix
Phoenix is an important winter location and has many places that you can visit. A small selection:
OdySea Aquarium: Located in Scottsdale (22 Miles (35 km)

from Phoenix). It covers an area of 200,000 square feet. It contains over 50 exhibits and 30,000 animals. You can experience marine life up-close.

Old Town Farmers Market: Located 13 Miles (21 km)

from Phoenix, It is a farmers market that operates on every Saturday. Here you can find fresh produce by local companies that are all chemical-free.

Taliesin West: It is located 29 Miles (47 km)

from Phoenix. Frank Lloyd Wright's winter home. It is a masterful architecture inspired by its surrounding desert. It was built in 1959 from the local material found in Phoenix.

Desert Diamond Casino: It is located 18 Miles (29 km)

from Phoenix. You can enjoy the nightlife here, might as well bet your luck there.

Superstition Mountain – Lost Dutchman Museum: It is located 40 Miles (64 km)

from Phoenix. Superstitious mountains are stretched over an area of 160,000 acres. It has a history dating back to 9000 years.
Activities in Phoenix in the winter
When it comes to finding a good activity to entertain yourself, Phoenix has a number of options available.
Art classes: Join one of the many art classes and learn how to paint, draw, or start with pottery.
Cooking: Always wanted to improve your cooking? Join one of the cooking classes and learn how to cook something special.
Music: There are many small venues where you can enjoy music.
Festivals: You can experience a huge variety of events during the winter period. One of the most beautiful experiences is the lantern festival.
Walking around the town: There are a lot of places where you can enjoy a nice walk.
Fitness and Yoga: You can find some top-class fitness and yoga retreats in phoenix so that you can stay healthy.
Golf: you can find some of the top golf courses in and around the city that also have other amusement activities like pools and arcade games.
Day trips to other cities: there are many worth visiting places outside phoenix. It is easy to plan day trips.
Shopping: Phoenix has a lot of shopping options around the city. You can visit high-end shopping malls or smaller specialized stores.
Hot air balloon: You can take a hot balloon ride during sunset and get to enjoy incredible views of the city.
Off-roading: as there is a huge desert area surrounding Phoenix, you can go off-roading to explore the area.
Shopping + Restaurants. Are they open in the winter?
Being a major city Phoenix has many shopping malls, restaurants, and specialized shops. You will find all major US stores being present. Having many permanent residents and being a major winter destination means that all will be open.
The whole food market is one of the many fresh produce market places that you can find in Phoenix. The whole food market is one of the places that provide both local and imported products along with organic items as well. You can also buy meat and fish from here. It is a large market that also contains housewares and wines.
There is no specific cuisine specifically related to Phoenix but there are some dishes that are very popular and you can find them at several restaurants even in winters. Pork chili verde is one of the most famous and liked dishes in the region. Machaca, Red beef, and Sonoran dog are also on the list of preferred local cuisines.
Transport
There are 3 airports in Phoenix. The nearest to the center of the city is Phoenix Sky Harbor International Airport. All kinds of transports are available from the airport to the city including train and bus. It cost as low as $14 (approx. €11, £10, $17 CAD, $18 AUD) for a train ride from the airport to the city.
Having a car can be convenient during your stay. You can rent one at the airport easily, but there are also numerous other locations if you do not want to rent one all the time.
Like the rest of the US, the bus system is pretty efficient in Phoenix as well. Several bus stations and terminals are available all over the city. You can use the bus to travel around the city as it is convenient and cheap. An easy way to find the best route is to use Google maps, find the directions from your starting point to the destination and click on transit. It will show you some of the public transport options. If you want to travel to further away destinations you can get a schedule at https://www.greyhound.com/en-us/bus-station-860431?utm_source=google&utm_medium=distrib&utm_campaign=google-distrib
The Phoenix Train station is located in the city itself. There are many stops and terminals in the city. Traveling around the city through the train is pretty convenient and cheap. Connections with other cities are also available. You can check a schedule at https://www.valleymetro.org/
Health
There are many top-notch medical and health care centers within the city of Phoenix. The city has two general hospitals, private hospitals, and private clinics as well. Private hospitals are preferred over the general hospital. All the hospitals have 24/7 emergency and all departments to treat every kind of illness:
Ebrazo Central Campus: General hospital with 24/7 emergency. (https://www.abrazohealth.com/)
Oasis Hospital: Hospital (https://locations.dignityhealth.org/)
Sandstone Oral Maxillofacial Surgery: Dental Clinic (https://sandstoneoms.com/)
Accommodation
There are a number of different rental companies present in Phoenix, whether you're looking for an apartment or a villa. Some of the most popular organizations that are commonly used include:
RV/Campers/Motorhome
If you are travelling with a Motorhome there are many easy in town options available like:
Covered Wagon RV Park (http://www.coveredwagonaz.com/rates/) has great parking spots to offer. It is one of the most preferred spots with all the facilities available. Prices start from $50 (approx. €41, £36, $63 CAD, $64 AUD) including a few facilities.
Desert Shadow RV Resort: there are 638 spaces available for RV parking. All the facilities are available in this resort. Prices start from $65 (approx. €53, £47, $82 CAD, $84 AUD) including a few facilities. (https://www.phoenixrvresorts.com/)
There are also many great camping options in the Phoenix area:
The Roost: It is a great camping site and is located in the city. Basic facilities like toilets and water are available. It costs

$20 (approx. €16, £14, $25 CAD, $25 AUD)

per night (https://www.hipcamp.com/arizona/the-roots/the-roost)
Pinnacle Farms campsite: It is a grassy campsite located in the city. Basic facilities like toilets and water are available. It costs

$24 (approx. €19, £17, $30 CAD, $31 AUD)

per night. (https://www.hipcamp.com/arizona/pinnacle-farms-south/pinnacle-farms-tent-campsite)
Packing List
Weather: The winter weather in Phoenix (Arizona) will normally be warm during the day and can be cold during the night. You have to pack accordingly.

Warm clothing: Even when you go to a warm location like Phoenix (Arizona) you should not forget to take some things with you for your trip back home. When you return you are adapted to the warmer weather and need something to protect you from your hometown temperatures.

Consider the Weather: Always look at the type of weather in Phoenix (Arizona). Things like humidity, wind, and rain do not show up in the temperature graph but can have a great impact on your wardrobe. There are several sites with long term forecasts and climate information. Is there often a short afternoon downpour like in the tropics, you maybe need to take a strong umbrella and shoos that can cope with the rain. If there is often a lot of wind you might need a more wind-resistant coat.

Check the local Shopping options: Try to find information about the local shopping options near your location in Phoenix (Arizona). Are there stores where you can buy all your daily supplies, or are some things difficult to get? For some more remote locations, the options can be limited. If a certain item is really important for you might need to take it with you.

Look at the Local Culture: The local culture in Phoenix (Arizona) can impact your wardrobe. If most activities are in more upscale locations you might take some more appropriate clothes with you. Or travelling if you travel to certain countries women need to cover themselves in certain areas.

Amenities: Know what's Included in your house or apartment. Is there a coffee maker, a toaster, a washer and dryer, an iron, what is in the kitchen, what kind of towels are there? Things that are there means you do not have to take them with you. A furnished apartment or house can mean something from a few pieces of furniture to a well-stocked place with all the things you have at home. But most of the time your rental will not be stocked.

Mix and match: Wear layers so you can use your wardrobe more efficiently. And do not worry about wearing something more often, probably only you will notice this.

Important for you: If there is something that is really important for you that you want to have present in your house or apartment, take it with you. This can be something like a special knife for the kitchen, or a small mirror that you use in the morning. You can also purchase it locally if it is not that expensive.

Pet supplies: If you take your pet with you don't forget to take supplies for a few days with you. And enough medication, vitamins, or other supplies if you can not purchase them in Phoenix (Arizona) locally.

Food: Don't take a lot of food with you. Only when there is something you really can not live without you, and it is not too heavy you could consider taking it with you.

Towels: Not all locations include bigger towels for the swimming pool or a visit to the beach. If you have to take them and don't have a lot of room you can buy some big thin towels.

Office supplies: Normally you will not find any office supplies in your house or apartment. If you think you will use them you could pack some supplies like a scissor, notepaper, envelopes, some pens, and more depending on your needs.

Limit yourself: Don't take too many shoes and jackets, you will not need them that often.

Best-fitting: Bring your favorite and best-fitting items that can multi-function

Washer: Do you have a washer and dryer onsite, you don't need to pack a lot of clothes
Clothing
Basics
Casual
Smart
Footwear
Toiletries
Beauty
Hygiene
Clothing
Basics
Casual
Outdoor
Footwear
Accessories
Toiletries
Medicine
Miscellaneous
Other
Toiletries
Beauty
Hygiene
Hair
Other
Medicine
Miscellaneous
Technology
Travel and Free time
Travel
Free time
Important
Documents
Money