Spend your fall, winter, or spring in Puerto Rico: is Puerto Rico a good snowbird location?
Puerto Rico, officially known as the Commonwealth of Puerto Rico (Estado Libre Asociado de Puerto Rico), is an unincorporated territory of the United States, located in the northeastern Caribbean, east of the Dominican Republic and west of both the U.S. Virgin Islands and the British Virgin Islands. Puerto Rico is only 100 Miles (161 km) long by 35 Miles (56 km) wide, making it the smallest island of the Greater Antilles.
Puerto Rico (Spanish for "rich port") consists of an archipelago that includes the main island of Puerto Rico and several islands: Vieques, Culebra, Mona, and numerous islets.
Puerto Rico is home to one cultural site on the UNESCO World Heritage List, La Fortaleza and San Juan National Historic Site in Old San Juan.
Seen as the gateway to the Caribbean, Puerto Rico's rich heritage blending Spanish and African cultures gives the island a personality unlike anywhere else. The cruise destination continues to entice snowbirds into staying longer to soak up more of the island's white-sand beaches and thriving food scene.
There are 3.3 million people living in Puerto Rico, and most of the population lives in the capital city, San Juan, and other larger towns, which are made up of different cultures and social classes. Top Cities to Visit in Puerto Rico are:
San Juan
Ponce
Caguas
Mayagüez
Bayamón
Carolina
Arecibo
Guaynabo
Cayey
Aguadilla
Fajardo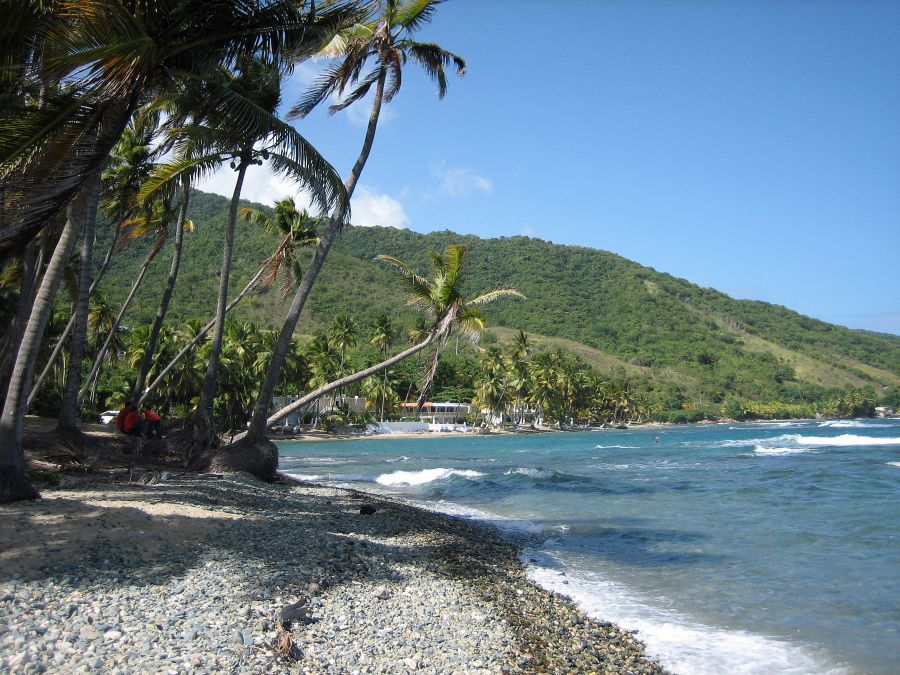 Why should people visit during the fall, winter, or spring?
While Puerto Rico's weather is warm year-round, snowbirds will skip a lot of the rain and humidity during the winter months from November through April. Temperatures aren't as high, but the sun is still out so a tan is guaranteed. Caribbean nights also get a bit cooler. Puerto Ricans are known for their warm hospitality, often considered very friendly and expressive to strangers.
Climate
The climate of Puerto Rico is tropical, hot all year round, with a hot and muggy season from May to October and a relatively cool season from December to March, with November and April as intermediate months.
As regards to the rains, the hot and muggy period from May to October tends to be rainy everywhere, while in the first months when the north-east trade winds blow (November and December, and partly January), the rains are still abundant on the slopes facing north and east.
In general, the coolest and least rainy period in Puerto Rico runs from December to March, which is also outside of the hurricane season; Making it the best period for snowbirds to visit. The average temperature is 80°C (176°F). The winter period normally does not see hurricanes (the hurricane season is from June to November).

Safety
Puerto Rico is a safe place to visit, however, there is a risk of natural disasters – such as earthquakes and hurricanes. The Puerto Rican government has however put a lot of resources into tourism initiatives to encourage snowbirds to visit the island nation. This work assists in recovering the country's economy, as tourism is the number one source of employment for locals.
Snowbirds should be on the lookout for petty crime, such as pickpocketing or robbery. Don't leave your valuables or belongings unattended and only take what you need out with you. Another hot tip: Don't do drugs. Drugs are a major problem here. That said, Puerto Rico has a lower crime rate than many major US cities.
Communication, Internet, and cellphone in Puerto Rico
Both Spanish and English are the official languages of Puerto Rico, but Spanish is without a doubt the dominant language, as the majority of the people in Puerto Rico are not proficient in English. Fewer than 20 percent of Puerto Ricans speak English fluently.
Puerto Ricans tend to stand close to those with whom they are speaking. This can happen during formal and informal conversations. Moving away from a person during a conversation could be seen as rude or disrespectful. A warm and friendly handshake is the customary form of greeting, but often a nod of the head is sufficient. Men who are close friends will embrace, and women friends will engage in a brief hug and a kiss on the cheek. Snowbirds should also remember to address people by a title, such as Señor, Señora, Professor, and Doctor when first introduced or informal situations.
Check your own carrier about the roaming cost for Puerto Rico. Depending on your plan roaming can be very expensive, and in those cases, we advise winter visitors to purchase a local Sim card.
Snowbird locations in Puerto Rico
San Juan: it is a beautiful, safe, vibrant, and one of the best places to stay in Puerto Rico. The neighborhood of Old San Juan, on the northmost tip of the city, is full of history: ancient forts, monuments, museums, and colorful historic houses.
Rincon: The town's two nicknames–Pueblo del Surfing (surfing town) and El Pueblo de los Bellos Atardeceres (the town of beautiful sunsets) are only two of reasons why Rincon is an excellent (and beautiful) place to stay.
The neighborhood of Santurce: just outside of Old San Juan, bursts with art and culture. Locals say that Santurce's photo-worthy street murals and electric nightlife make it one of the coolest places to go in Puerto Rico–and Santurce easily one of the top options for places to stay.
Vieques: This is an awesome place to stay if one wants to hang out with friendly wild horses, explore black-sand beaches, and enjoy all the benefits of island life and, conveniently, Vieques has some great hostel options.
Culebra: is a great place to stay especially for snowbirds looking for beachy things to do in Puerto Rico.
Things to see in Puerto Rico
Puerto Rico has notable places that are worthwhile visiting:
Architecture: Puerto Rico's architecture is a diverse mixture of different cultural and artistic influences, reflective of the island's history. Snowbirds will find Spanish Colonial, Gothic, Neoclassical, and Baroque architecture styles in close proximity to each other. The most notable of these include El Morro Fortress, San Cristobal Fortress, the San Juan Cathedral, and the Dominican Convent.
Arts & crafts: There is a strong artistic presence among Puerto Ricans, whether from artists formally trained in art schools, or self-taught amateurs. Snowbirds interested in Puerto Rican art can go to the Institute of Puerto Rican Culture in the Dominican Convent in Old San Juan. It is the best source of information on the island about Puerto Rican arts and crafts. Another good place to see Puerto Rican art is the Museum of the University of Puerto Rico in Río Piedras
The Beaches: These places are best for beaches in Puerto Rico- Combate Beach, Flamenco Beach, Seven Seas Beach, Sandy Beach, and Crashboat Beach amongst others.
Nature & Parks: National Forest System and El Yunque (which is home to 26 animal species that isn't found anywhere else in the world) as well as the picture-perfect La Mina waterfalls.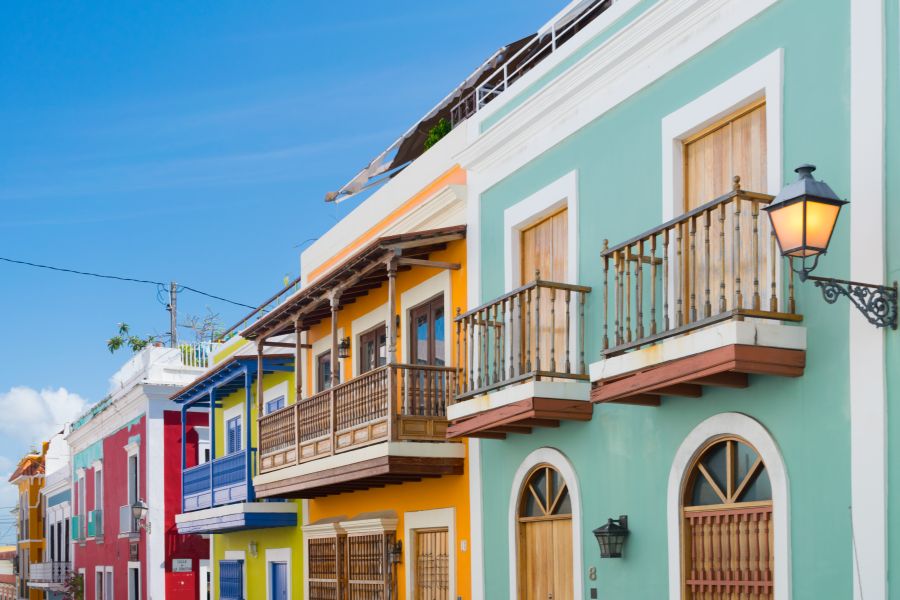 Activities in Puerto Rico during winter
Visit the different cities
A day's tour to the parks
Take strolls on the beach
Explore the beautiful architectural buildings
Try eating the local cuisines
Catch a ferry and visit Flamenco Beach on Culebra or
Head to Mosquito Bay on Vieques
Learn some basic Spanish to make the trip just a bit easier
Attend the following events:

Ciudad Encantada en Navidad – November/December. It takes place in the Tablado del Rio parking lot.
Dia de los Inocentes – December
Festival Comunitario de la Iglesia Católica – December
Certamen de Aguinaldo – January
Dia de los Reyes – January
Three Kings Day is the traditional gift-giving holiday on the island, commemorates the day that the three Wise Men brought gifts to the Christ child. In La Fortaleza the governor honors the tradition by handing out gifts to island children.
Festival de Bellas Artes – January in Anasco
Festival de la Calle de San Sebastian – January. This festival sponsored by the Institute for Puerto Rican Culture takes place in San Sebastian street for three days, celebrating Puerto Rican culture with a full program of parades, folkloric dances, music, food, and crafts.
Shopping + Restaurants. Are they open in the fall, winter, or spring?
Puerto Rico's shops and boutiques have a variety of things to buy. Cigars, ice cream, must-haves for the beach, handicrafts, vintage clothes, antiques, housewares. Major shops include The/Uncharted/Studio, Frankie Vintage, Concalma, Everything but Match Concept Store, El Galpon, Jewelry Merchants on Plaza Colón, Shopping Old San Juan.
The local markets offer a great local taste of the different towns to be found in Puerto Rico, and the opportunity to pick up some handy essentials too. Some of the best markets in Puerto Rico include Plaza del Mercado de Rio Piedras, Plaza del Mercado de Santurce, Aguadilla Farmers Market, Old San Juan Farmer's Market, Arecibo Flea Market.
Snowbirds who are hungry and excited about discovering new foods will be happy to learn that Puerto Rican cuisine promises to satisfy their taste buds with a unique tasty blend of Spanish, African, Taino, and American influences that can be traced back to the Arawaks and Tainos.
There are some Puerto Rican foods that snowbirds just must-try during the winter. They will have the chance to sample local specialties like lechón asado (roasted pork), pollo guisado (chicken stew with potatoes and green olives), and pasteles (mashed green bananas stuffed with meat and wrapped in banana leaves). They can also try the coconut-based coquito, the Puerto Rican version of eggnog, at almost any bar they visit. Regardless of taste or budget, snowbirds will find a wide range of delightful places to dine and drink in Puerto Rico. Some of the best places to experience cultural meals are Punto de Vista Restaurant & Bar, Ali Baba Restaurant, Cafe Cola'o, Oceano, and Cafe Don Ruiz amongst others.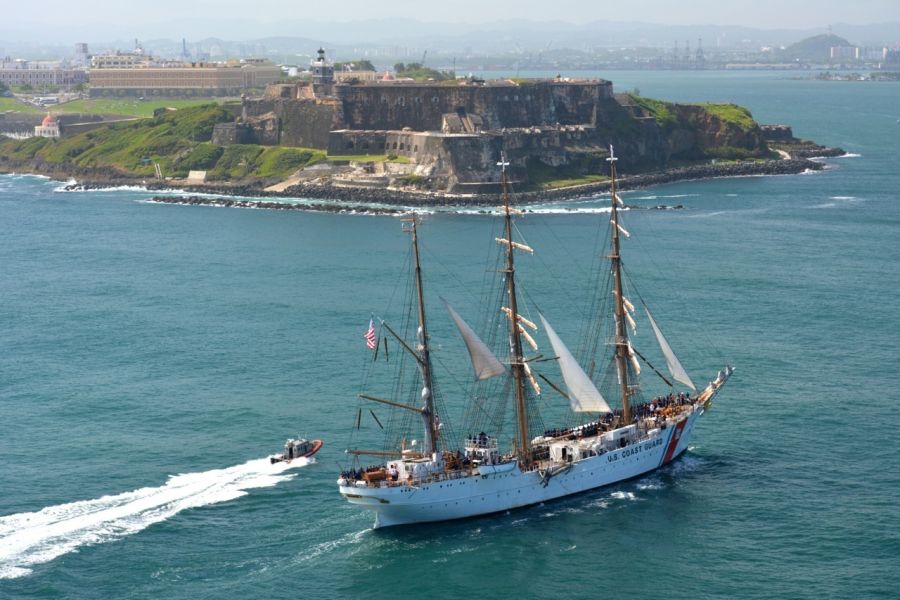 Transport
There are many options for getting around in Puerto Rico. Numerous flights connect various airports around the island, including Culebra and Vieques. There's a ferry service from San Juan to various nearby destinations, and from Fajardo to Vieques and Culebra. Throw in the train, bus, taxis, and públicos, and you won't have any problem reaching your destination or simply getting out and exploring what Puerto Rico has to offer.
By Taxi: From the airport, snowbirds should look for the Taxi Turístico, which carries the signature garita (sentry box) icon as their logo. They can also be found at designated taxi stands at various points in San Juan (including at Plaza de Armas and steps away from Plaza Colón). Taxis can be expensive, with rates from the airport to Condado, Old San Juan, and Isla Verde starting at

$15 (approx. €13, £11, $20 CAD, $22 AUD)

.
By Público: A público is a privately operated shuttle service that transports people all over the island. This is a great option if snowbirds have got time on their hands (a cross-island trip can easily run several hours long with multiple stops), want to see small, local towns along the way, and enjoy mingling with blue-collar locals.
By Bus: Puerto Rico's public buses are referred to as guaguas. Tourists in San Juan will be most interested in two lines: the A5, which travels from Old San Juan to Isla Verde, and the B21, which runs between Old San Juan, Condado, and the Plaza Las Américas Mall in Hato Rey. The Department of Transportation also runs an efficient Metrobus, which has the most extensive network in the city.
By Car Rental: Virtually, every car rental company has a presence in Puerto Rico, along with several local companies. A partial list includes Avis, Budget, Charlie Car Rental (the largest local agency on the island), Hertz, National Car Rental, Thrift, Maritza's Car Rental and Carlos Jeep Rental.
By Train: Train travel between cities doesn't exist, but snowbirds can get around metropolitan San Juan through the Tren Urbano (Urban Train), which is primarily a commuter train connecting residential and commercial points in the capital. As such, the Tren Urbano doesn't reach Old San Juan.
By Ferry: Puerto Rico has decent and very cheap ferry service. From Old San Juan, snowbirds can catch a ferry to Cataño (which is the cheapest way to get to the Bacardi distillery) or to Hato Rey (the banking district and the site of Plaza Las Américas.
By Plane: The quickest and most effective way to travel across the island or to Vieques and Culebra is via a small plane. Several charter services and local airlines operate from San Juan's international Luis Muñoz Marín Airport in Isla Verde or its smaller local Isla Grande Airport in Miramar. Among the airlines, you'll find here are Air Flamenco, Vieques Air Link, and Cape Air.
Health
Healthcare in Puerto Rico is of a high standard, but conditions do vary throughout the island. The standard of healthcare is similar to what one would expect in the US, but some areas are better equipped than others. While medical professionals in Puerto Rico are highly knowledgeable, there is a pronounced shortage of doctors due to the underfunding of public healthcare. Many move over to the US in search of better pay. The island is home to dozens of hospitals, not to mention clinics and pharmacies. There are also several hospitals and other healthcare facilities in San Juan that have medical staff on-site around the clock.
Public healthcare in Puerto Rico is managed under a government-run program. This program provides medical and healthcare services by means of contracting private health insurance companies. The quality of public healthcare is generally good, but due to the shortage of doctors, ex-pats should expect long waiting times even if they've made an appointment in advance. Most snowbirds opt for private healthcare.
Snowbirds can expect private healthcare in Puerto Rico to be of a high standard with shorter waiting times. Healthcare providers aren't always able to accept payments by card so it's a good idea to make it a habit to bring along some cash when going to the doctor.
Health hazards in Puerto Rico- There are no major health risks associated with Puerto Rico. Tap water is considered clean and safe to drink.
Routine vaccinations, such as those for measles, polio, tetanus, and others, should be kept up to date but there are no specific vaccinations required to enter Puerto Rico. In a medical emergency, call 911. Many operators will speak Spanish when answering a call but transfer to an English speaker is usually possible. Ambulances are run by private companies and require payment upfront. Health insurance may cover this but it's always best to confirm this ahead of time in case there is a future emergency.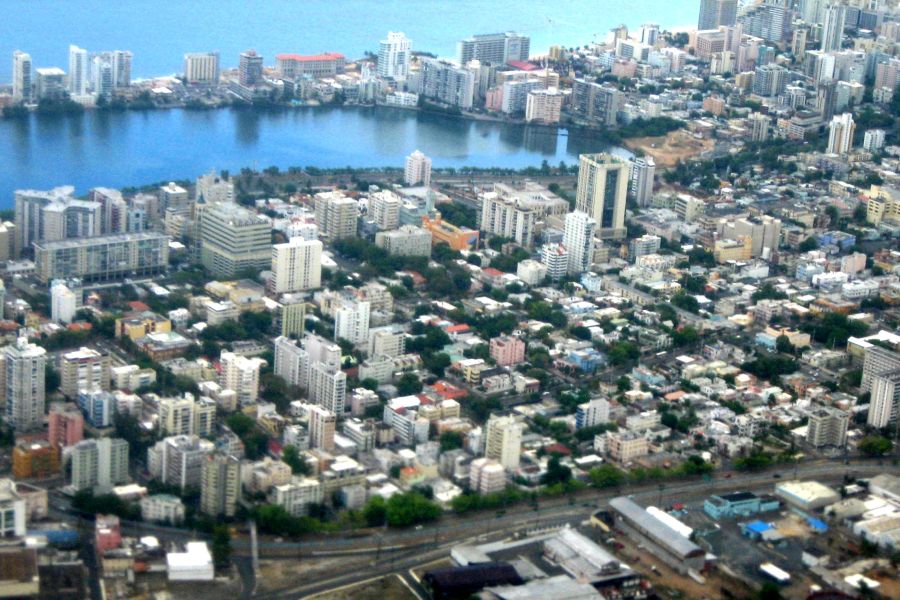 Accommodation
There are a fair number of resorts, hotels, short-let apartments available for rent in Puerto Rico. The houses are usually well equipped with basic amenities and furnished. Accommodation prices range from $34 (approx. €30, £26, $46 CAD, $51 AUD) per night.
Motorhomes/RV/Campers parks in Puerto Rico
For such a small island, Puerto Rico is packed full of exciting adventures and sights. The island has many opportunities for the snow to camp in varied settings, from coastline to dry forest to mountains. Here are a few of the campgrounds to consider:
The price for camping is $10 (approx. €9, £7, $13 CAD, $15 AUD) per day.
Parque Nacional Balneario Seven Seas
Punta Maracayo Camping Center
Sun Bay Campground
Parque Nacional Tres Hermanos, coastline of Anasco
El Yunque National Rainforest
Packing List
Weather: The fall, winter, and spring weather in Puerto Rico will normally be hot during the day and hot/warm during the night. Of course in the fall and spring it will be warmer than in the winter. You have to pack accordingly.

Warm clothing: Even when you go to a warm location like Puerto Rico you should not forget to take some things with you for your trip back home. When you return you are adapted to the warmer weather and need something to protect you from your hometown temperatures.

Consider the Weather: Always look at the type of weather in Puerto Rico. Things like humidity, wind, and rain do not show up in the temperature graph but can have a great impact on your wardrobe. There are several sites with long term forecasts and climate information. Is there often a short afternoon downpour like in the tropics, you maybe need to take a strong umbrella and shoos that can cope with the rain. If there is often a lot of wind you might need a more wind-resistant coat.

Check the local Shopping options: Try to find information about the local shopping options near your location in Puerto Rico. Are there stores where you can buy all your daily supplies, or are some things difficult to get? For some more remote locations, the options can be limited. If a certain item is really important for you might need to take it with you.

Look at the Local Culture: The local culture in Puerto Rico can impact your wardrobe. If most activities are in more upscale locations you might take some more appropriate clothes with you. Or travelling if you travel to certain countries women need to cover themselves in certain areas.

Amenities: Know what's Included in your house or apartment. Is there a coffee maker, a toaster, a washer and dryer, an iron, what is in the kitchen, what kind of towels are there? Things that are there means you do not have to take them with you. A furnished apartment or house can mean something from a few pieces of furniture to a well-stocked place with all the things you have at home. But most of the time your rental will not be stocked.

Mix and match: Wear layers so you can use your wardrobe more efficiently. And do not worry about wearing something more often, probably only you will notice this.

Important for you: If there is something that is really important for you that you want to have present in your house or apartment, take it with you. This can be something like a special knife for the kitchen, or a small mirror that you use in the morning. You can also purchase it locally if it is not that expensive.

Pet supplies: If you take your pet with you don't forget to take supplies for a few days with you. And enough medication, vitamins, or other supplies if you can not purchase them in Puerto Rico locally.

Food: Don't take a lot of food with you. Only when there is something you really can not live without you, and it is not too heavy you could consider taking it with you.

Towels: Not all locations include bigger towels for the swimming pool or a visit to the beach. If you have to take them and don't have a lot of room you can buy some big thin towels.

Office supplies: Normally you will not find any office supplies in your house or apartment. If you think you will use them you could pack some supplies like a scissor, notepaper, envelopes, some pens, and more depending on your needs.

Limit yourself: Don't take too many shoes and jackets, you will not need them that often.

Best-fitting: Bring your favorite and best-fitting items that can multi-function

Washer: Do you have a washer and dryer onsite, you don't need to pack a lot of clothes
Clothing
Basics
Casual
Smart
Footwear
Toiletries
Beauty
Hygiene
Clothing
Basics
Casual
Outdoor
Footwear
Accessories
Toiletries
Medicine
Miscellaneous
Other
Toiletries
Beauty
Hygiene
Hair
Other
Medicine
Miscellaneous
Technology
Travel and Free time
Travel
Free time
Important
Documents
Money
Other locations close to this location:
Travelers' Map is loading...
If you see this after your page is loaded completely, leafletJS files are missing.
If you have any additions, or comments on the content on this page, please use our contact form to let us know.
Detailed weather during the year for Puerto Rico
What to do during the year in Puerto Rico